Hi fellow Hiveians,
Today I'm sharing a long overdue post, the canning experience we went through! We did this the first two weekends in September but it's taken me a long time to actually get it written, for some reason lol.

Back to Roots
Some of the great things that have happened during this whole global situation have been that we have made an effort to get back to our roots in a lot of ways. This is the latest version of this! Our families have made their own sauces for a long time but it was always with canned tomatoes. When I was in my 20's I made a sauce with my brother out of the tomatoes in our garden and it was a lot of work but it was nice to do. This desire though was born out of a necessity to look for ways to save money in the long run and try to be more self sufficient in various ways. All told we boiled and canned over 500 pounds of tomatoes in a few days, it was crazy! It was much more efficient when we worked as a team, we both tried to do it on our own and had mixed results but when we did it together we, not surprisingly, were so much faster!
One of the things we realized is we weren't entirely sure how to make our own sauce from scratch, step by step. We knew we had to boil the tomatoes in a pot and remove the skins but then what? So we took a step in the right direction and started to boil them so we could get the skins off. By the time we finished all of the batches we got much better at it and learned the ways we could optimize the way we were doing it. The best things we invested in were that massive stock pot on the stove there and a mason jar lifter to grab the jars out of the boiling water with minimal risk to our hands or the jars. Ignore the Christmas countdown, that was a little build project from Home Depot that we love but don't really bother making it accurate until November or so lol.
The really tough part is separating out and getting rid of all the seeds! We read in various blogs that getting rid of the seeds before you can them will prevent them from rotting. We also read things that said the opposite but we didn't want to risk our first canning experience to go south since people were freaking out in the grocery stores earlier this year, we don't want to lose out on having some quality sauce when we need it. The beginning jars were all very meticulous with removing all of the seeds possible and as we got more and more tired after doing 3 and 400 pounds, there were a bit more seeds that ended up in them so we are kind of testing it out lol. We plan on eating those ones first.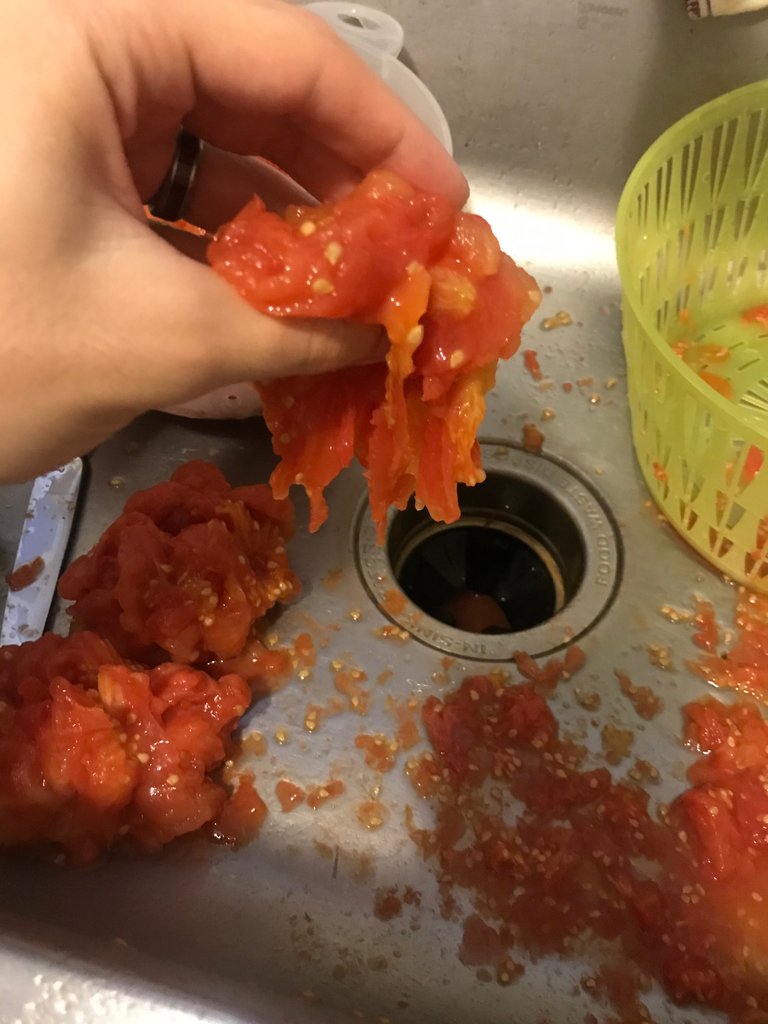 While you have your hands deep in the bowels of the tomatoes, ripping out the seeds, you set aside the cleaned ones in another bowl so that they are waiting to be blended. This whole process here is way better with two people so it was challenging doing it solo but I'm glad we both did this solo to see how difficult it was. We were also both stubborn and wanted to say that we could do it alone, so that was another factor lol.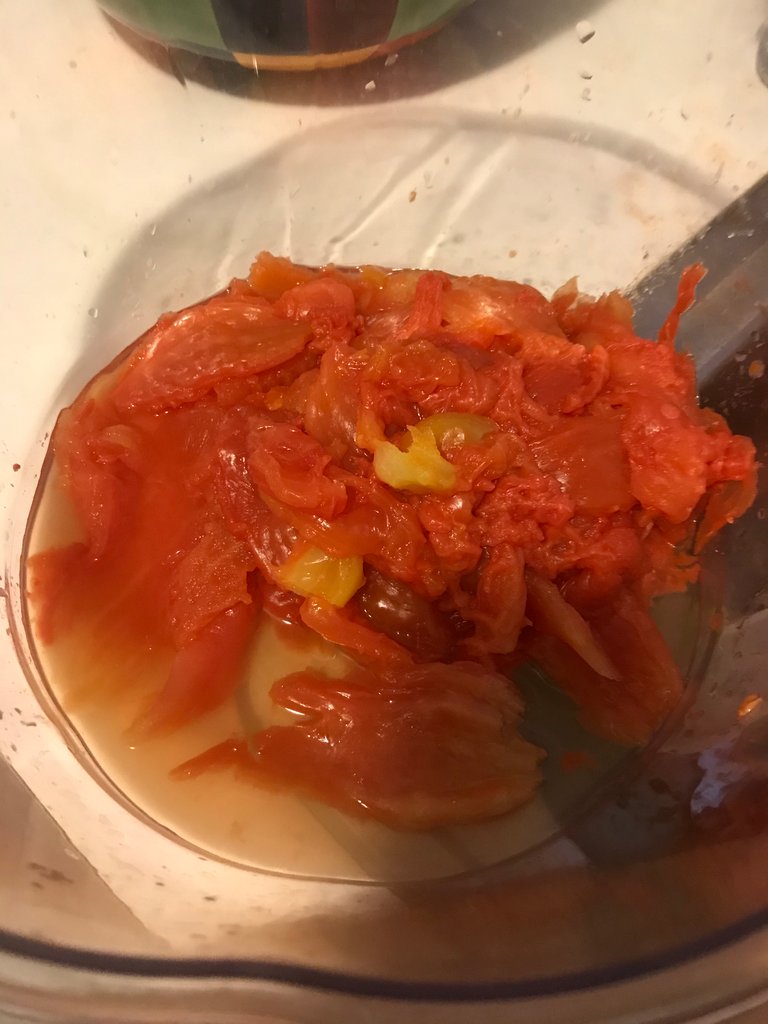 In another bowl on the counter are the tomatoes that are already cooked and waiting to be peeled. One thing we realized is that we definitely need a food mill. That is one of the tools we didn't buy because we wanted to make sure we could do it before we invested too much. The mason jars and the other stuff itself cost about 150$ altogether. The food mills are about 100$ for a decent one I think, so we wanted to try and minimize the investment to things that were critical in helping us. A food mill is nice to have but not crucial. We will probably buy one before the next season but we also have precious counter space so we are limited in that regard. My wife is a coupon queen when it comes to buying things so she's also waiting for a good deal on one.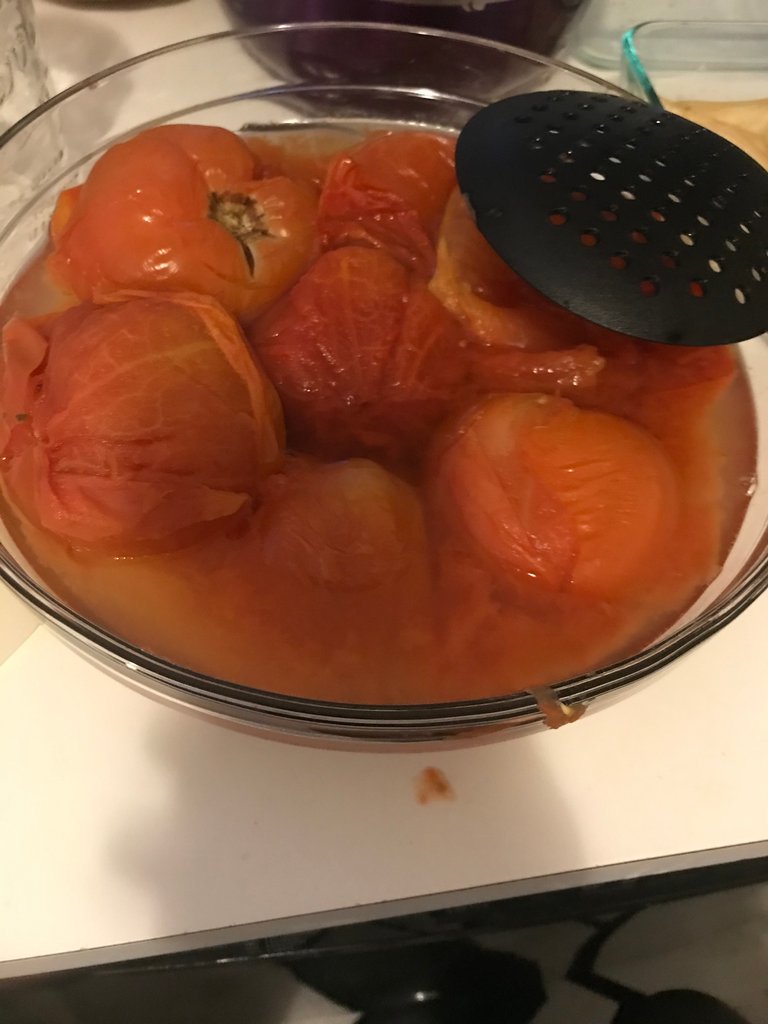 What I also did here was try to take out the things that didn't need to go down the garbage disposal so I could compost them. I hate having food scraps that go into the barrel so I either compost or chop it up in the disposal. All of this was slated for one of the compost piles, though some unhappy and not very nice people have complained about it recently so I'm looking for a new location to ditch the waste back to the environment. Looking forward to buying a house so we can have the land needed to do this on our own. Either that or we will end up buying a compost pot but I don't think my wife will be very keen on that lol.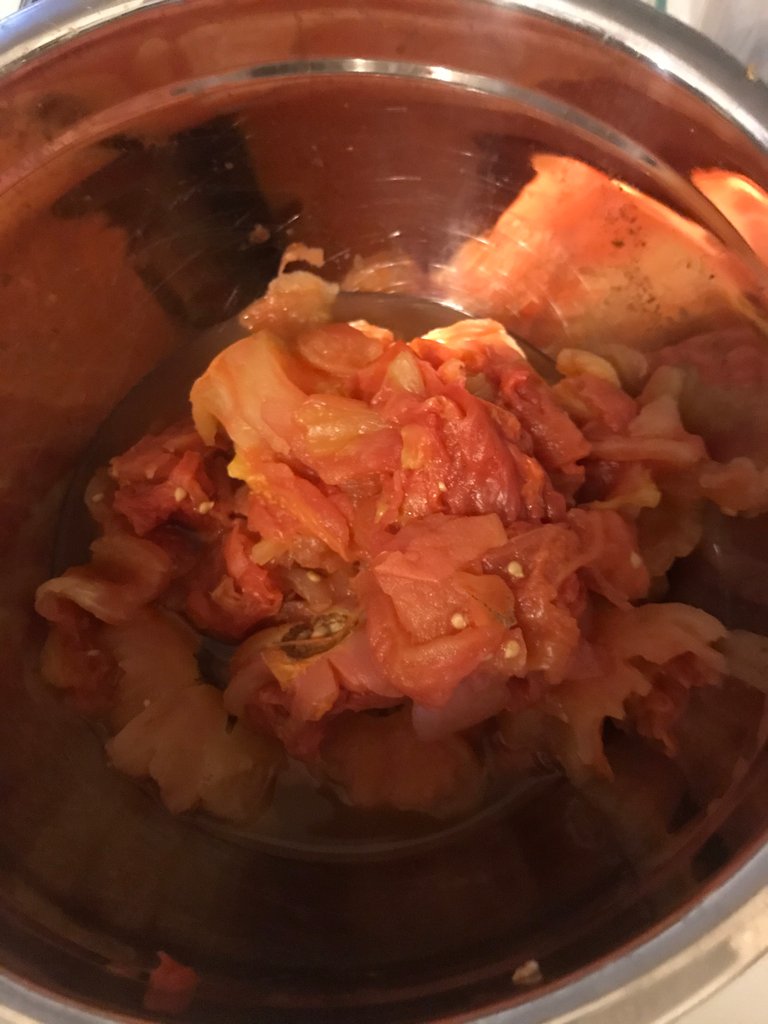 So I seem to have forgotten a crucial step but before it makes it into the pot you need to blend it up. We have a decent Ninja blender that has lasted us a long time but during this process of making and blending it all, it might have burned out. I haven't tested it since the last day but we also have an immersion blender as a backup so that was nice to have. Once it's blended up nicely we gave it a brief cooking with some oil, salt and pepper so it wasn't as unrefined and would hopefully speed up the process later when it comes to making a sauce. In my batch that I made by myself here I tried to emulate what happens at some of the companies and made a full sauce, garlic, basil and all.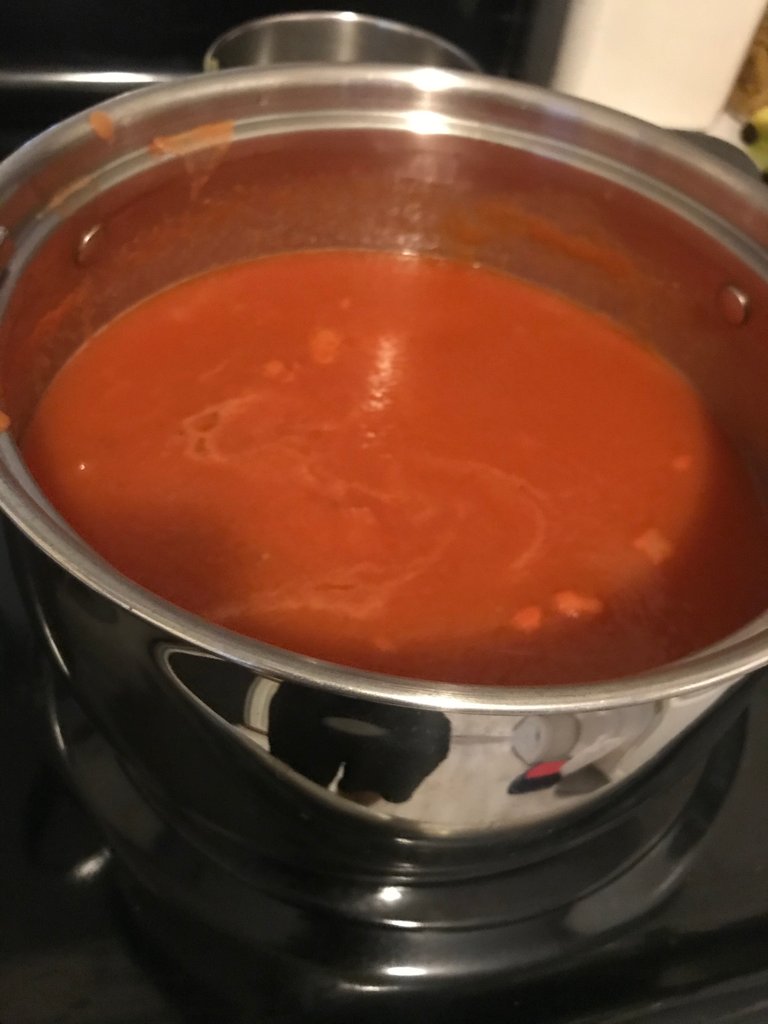 After about 4 hours of effort, this is all I got from 20 pounds of tomatoes lol. I was a little dismayed to say the least! But it ended up being because I made a full sauce, not just tomato purée. I haven't tried it yet so I'm hoping it comes out well but I did taste it a bit before I put it in the jar and it tasted good to me. I gave one of the jars to my dad for him to eat so I'm really hoping that it doesn't rot hahaha.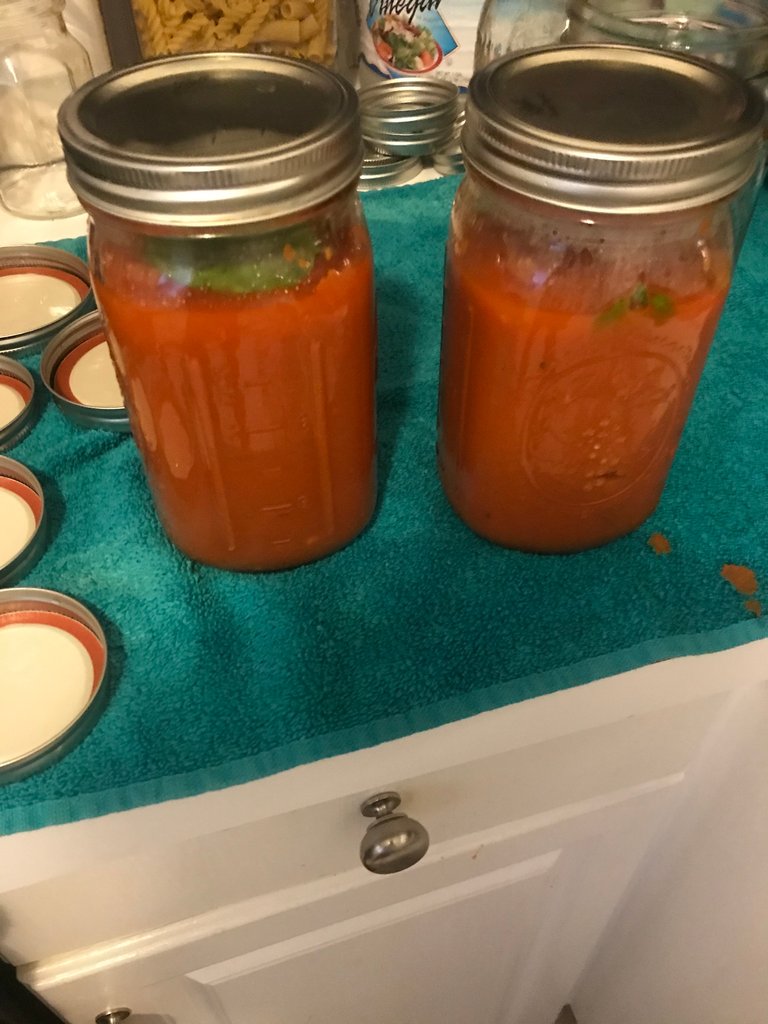 So now that the sauce was made and in the jars, we need to get it officially canned! We do it in a water bath in the massive stock pot. We try to maximize the things we are canning since we did the first batches since it costs a lot of water and electricity to get it done. This was a small batch but you have to start somewhere! To complete the water bath and canning process you have to boil the jars in water for 45 minutes, so it takes about 65-70 minutes in total, factoring how long it takes the water to get to boiling temperature. The jars also need to have a few inches of water above them so that the lids don't have a temperature difference. I think it would also break the jars if one part was cool and one was boiling hot but I'm not positive of that, just what seems logical to me.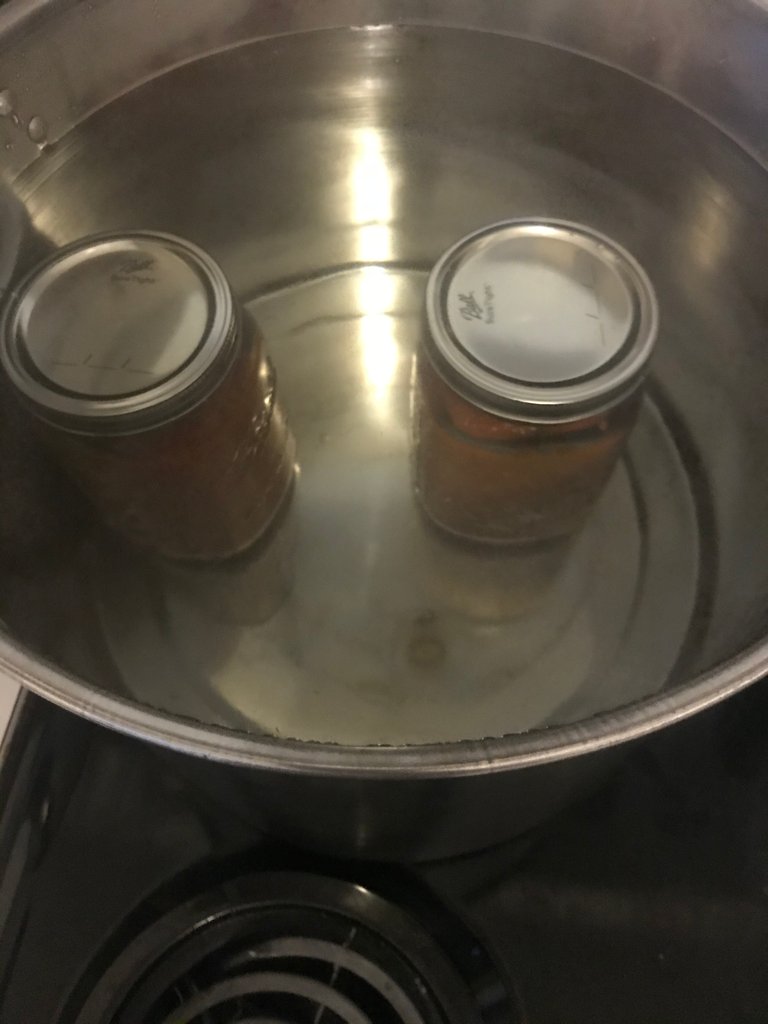 So here is a look at our loaded cabinet. We've dipped into it a little bit as of late but for the most part these are all still in there. That cabinet is a life saver, we never really used it much except to store random things but when we were looking to can, I immediately knew where it could be stored! It's dark and cooler since it's on the floor and the door is always closed so it also being several feet deep and pretty tall. The whole back 2 rows and most along the outer cabinet is full of 32 ounce jars full of tomatoes ready to be made into a formal sauce. The smaller jars were at first a little annoying but they allowed us to maximize the space and stack jars on top of the big ones.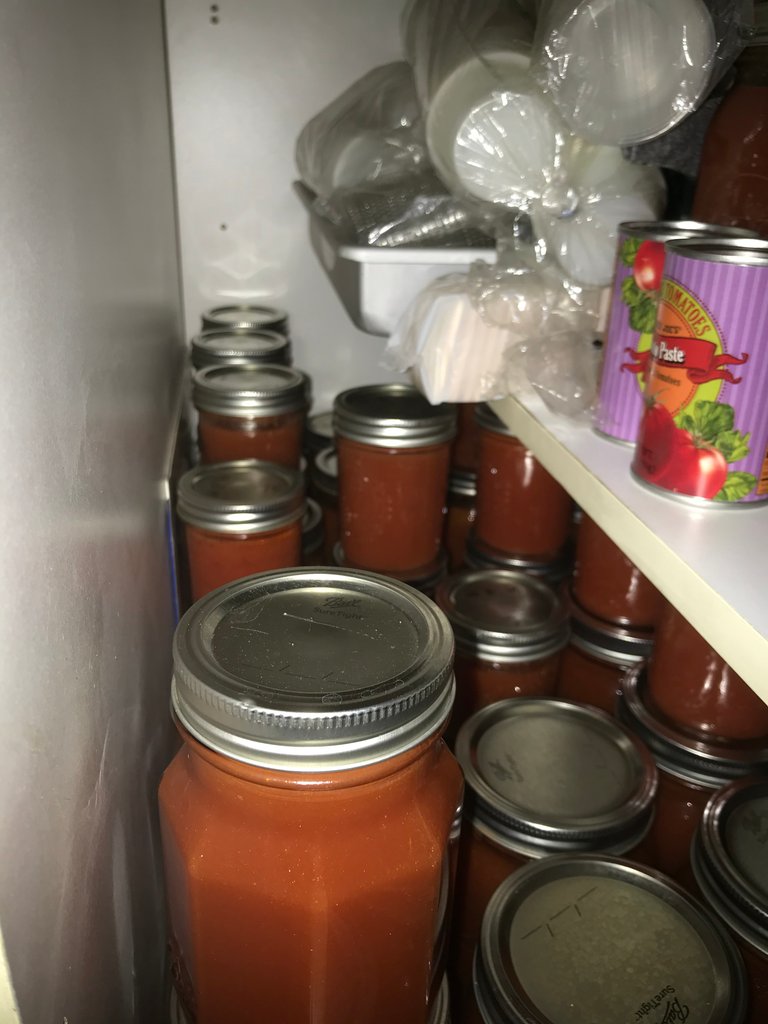 So the above was all for my single batch by myself. Below related to the quantity we got as a whole, after all 500 pounds were processed!
The little man had a lot of fun in some parts of the process. He watched us for a lot of it but he wanted to help so we put him to work helping us count and sort them. He helped make sure that the jars were sorted by size, several times lol.
The final stacking in the cabinet. We tried to date as many of these as we could remember to. That way once we are starting to take some out we have an idea of when we canned it and if we could take one that was done earlier. Mixed in was a good haul of tomato paste. I had tried to make our own tomato flakes from the skins of the tomatoes but it didn't turn out well enough for me to keep it. That will be a project for next year, I think!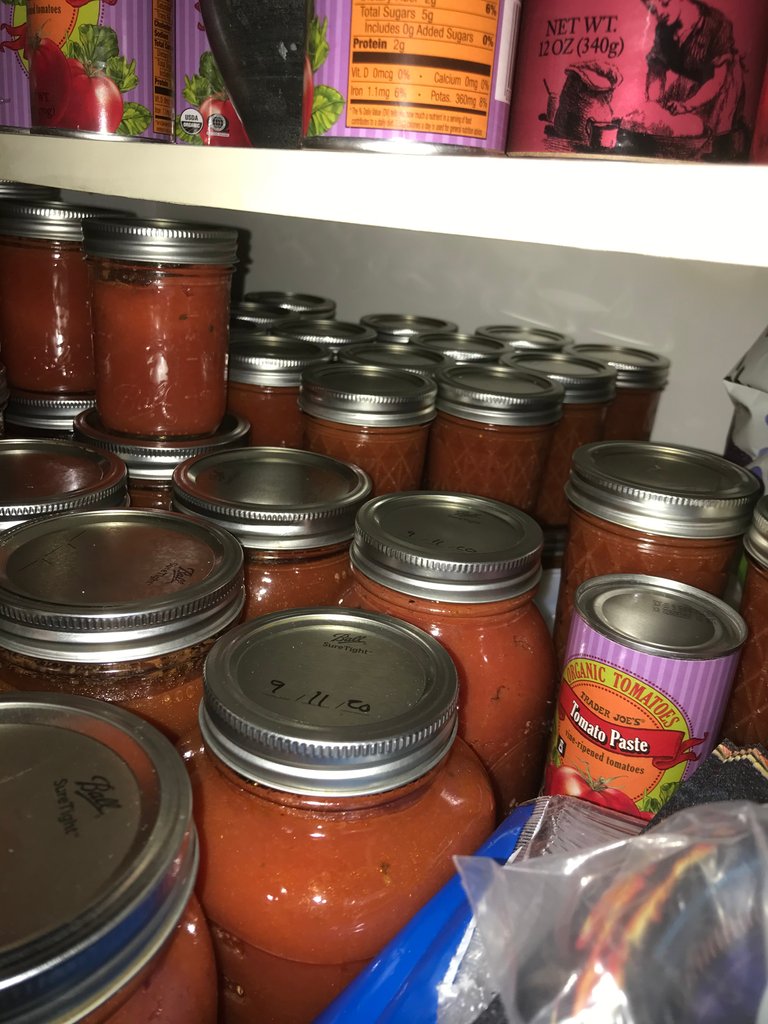 You?
What do you do or would you like to do in order to better prepare yourself for the future? Not necessarily relating it to this global stuff but to make yourself more self sufficient. It's always good to be able to do what you can on your own without relying on buying things from others, especially stores.

Connect with me!
Do you want to get paid, in crypto, for searching the internet? Try using and signing up for Presearch to earn some great crypto! I've currently got 1,415 PRE tokens, with a market value of $27.57. It doesn't sound like a lot but when you search using sites like Google you get paid $0! Join Presearch to break Google's stranglehold on the internet searches. If you'd like to sign up, use my referral link!
https://www.presearch.org/signup?rid=513043