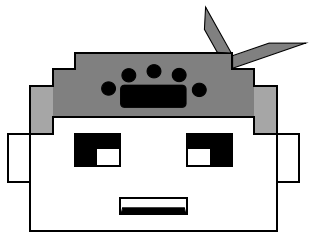 One of my follower ask : PAPA CHOI's restaurant no chef?
Ok, here our PAPA CHOI's restaurant chef as per your request, DAI HUNG
There are two meaning in pronunciation of this name in Cantonese one big fame another is big bear.
---
DAI HUNG, work as chef at PAPA CHOI's restaurant. He is also younger brother of MAMA CHOI. He is still single and MAMA CHOI always find opportunity to find his future wife especially on MADAM HUA. DAI HUNG and MADAM HUA frequently communicate with each other in discussing on restaurant daily food supply.
---
This is the process to draw DAI HUNG by using spreadsheet excel.
I copy DAI HUNG older sister, MADAM CHOI as sample to draw him. To suit DAI HUNG's name as mentioned above, I want to make DAI HUNG the tallest among all the characters which I had created. As chef, I make him wear head bandana with the restaurant's logo, the panda's paw. DAI HUNG eye similar to AH MEI, his niece (family trait genetic).

For chef's fashion, I make him wear kitchen's apron with restaurant's logo and short working boot.

For the hand gesture, one of the hand holding a plate of fried rice with flag another hand with cooking's spatula. Both of the hand wear hand gloves for hygiene impression. In addition of that I put two dots to make it look like the chef's white uniform. In order to draw all of these, the spreadsheet have to zoom in for clearer drawing by using shape function.

Delete MAMA CHOI samples after done draw DAI HUNG. Next, do a quote for his action.

The JPEG format after converted from spreadsheet excel. DAI HUNG done cooking the restaurant's Signature Egg Fried Rice and ready to serve it to customer.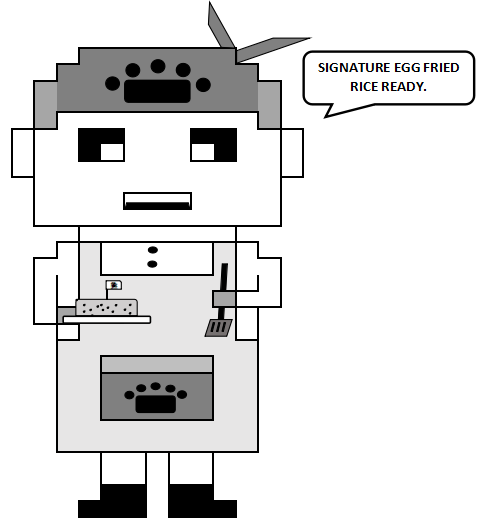 Look delicious and now I'm hungry.😦
Egg Fried Rice - Inspired by Uncle Roger...haiyaaa
---
You may refer to below links to know more the characters which I created:-
Special Recap
---
For your further information, all of the character above had been minted as NFT. I had successfully sold AH BOY my art as NFT for the price of 0.05BNB (at that time 25 USD @ 25.08.21) 😁 by using MetaMask wallet in pentas io platform. You may look at my profile to direct you to my NFT's arts site which I offer.


Click HERE
my profile or https://www.pentas.io/ to view other NFT's art.
Story Arc art for these characters coming soon🤩🤩🤩. However will continue introduce new character for my next post.🤐
💌Thanks for supporting.
My character creations drawn by excel spreadsheets so far and the family keep on expanding. Now 12 of them here😊