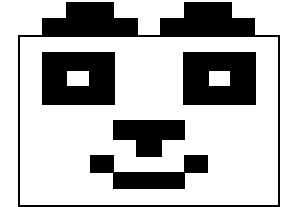 Today I'm going to draw a non-family member of AH BOY & LALA. His name is PAN.
PAN, not a panda and he is an employee of a restaurant which is one of PAPA CHOI's restaurant chain. He work as restaurant's panda mascot and attract customer from outside to dine in or tapau (takeaways) from the restaurant. AH MEI has unrequited love on him but PAN unaware on it.
OK, now we start to draw PAN by using spreadsheet excel.
I have to copy AH BOY and AH MEI from my previous work to the current new spreadsheet. I need to make PAN taller than AH MEI and around the same height with AH BOY. In order to draw the panda's head, I refer to the pictures of panda to draw it. Just make sure the panda's ear at above of the head. I make the panda smiling as the restaurant's mascot must looks friendly to attract customer.

This is the panda picture for my references to draw PAN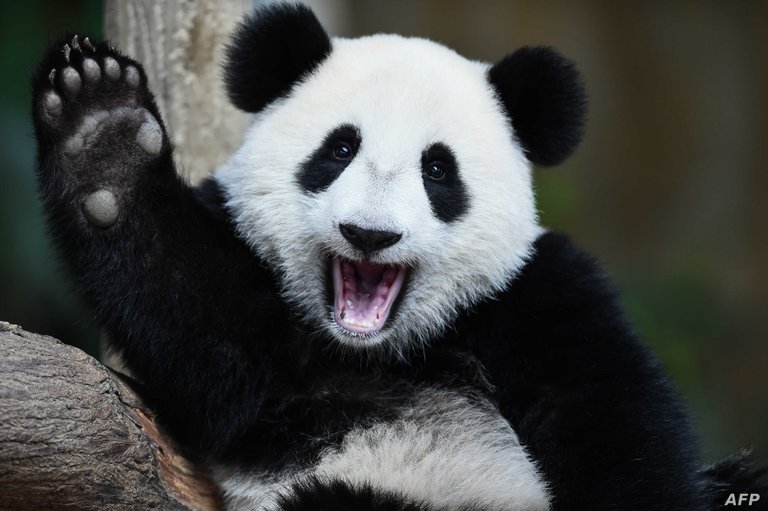 Next we shall proceed on drawing the panda body. I just refer the picture above to draw the panda's costume. It's too cute to look at the panda's paw in sample which I use as reference. Therefore, I decided to draw a similar paw for one of PAN's hand with hand raising gesture (the meaning of hi/come to my shop) while the other hand holding display board or card. The paw and the board use shape function to draw it. PAPA CHOI restaurant is a chinese oriented restaurant, so the board I put in chinese word 欢迎, The word means welcome.

Now, time to put some speech for PAN. Before that delete AH MEI and AH BOY from the spreadsheet.

The result after the spreadsheet converted to JPEG format. PAN now doing his job to attract customer to the restaurant.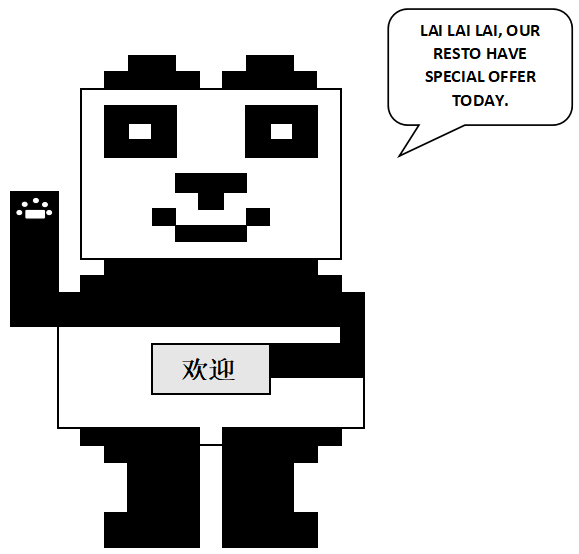 LAI LAI LAI - in chinese mean come come come
You may refer to below links for know more the characters which I created:-
For your further information, all of the character above had been minted as NFT. I had successfully sold AH BOY my art as NFT for the price of 0.05BNB (at that time 25 USD @ 25.08.21) 😁 by using MetaMask wallet in pentas io platform. You may look at my profile to direct you to my NFT's arts site which I offer.


Click HERE
my profile or https://www.pentas.io/ to view other NFT's art.
Next will be a female character. Stay tuned.😉
💌Thanks for supporting.
My character creations drawn by excel spreadsheets so far and the family keep on expanding. Now 8 of them here😊