A while back, I wrote about my air fryer. It's a nifty little appliance. If you want to delude yourself by thinking the junk food made from it is healthier, it's for you. All jokes aside, I like making foods with it. It's quick and efficient. I don't have to add extra oil and things smell less greasy.
         For some time, I have been experimenting with different recipes. Of course, I can never stray too far from chicken. Yes, I love my fried chicken. After messing with the breading, etc. for a while, I finally made the skin crispy as intended.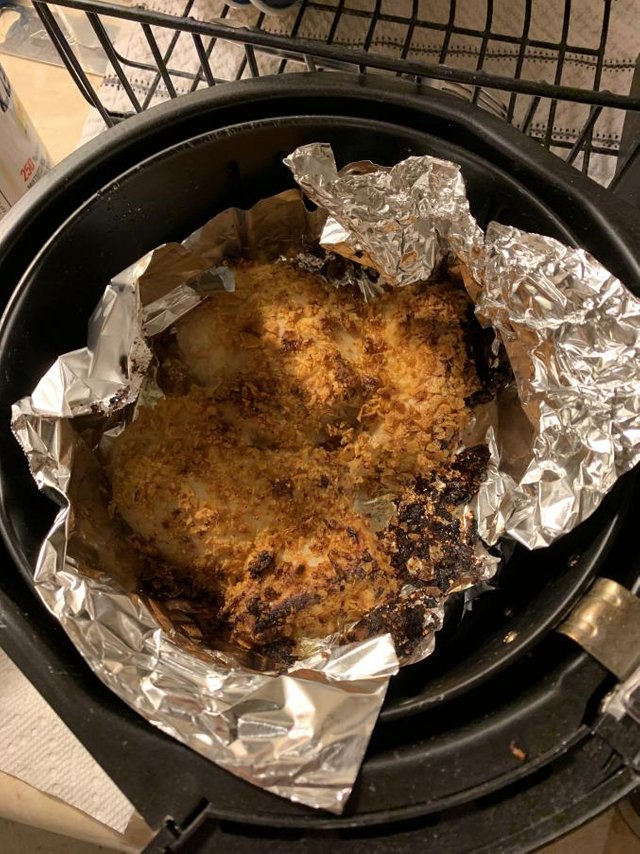 It's a vast improvement compared to what they look like before. Here's the picture of what my air fried chicken used to look like.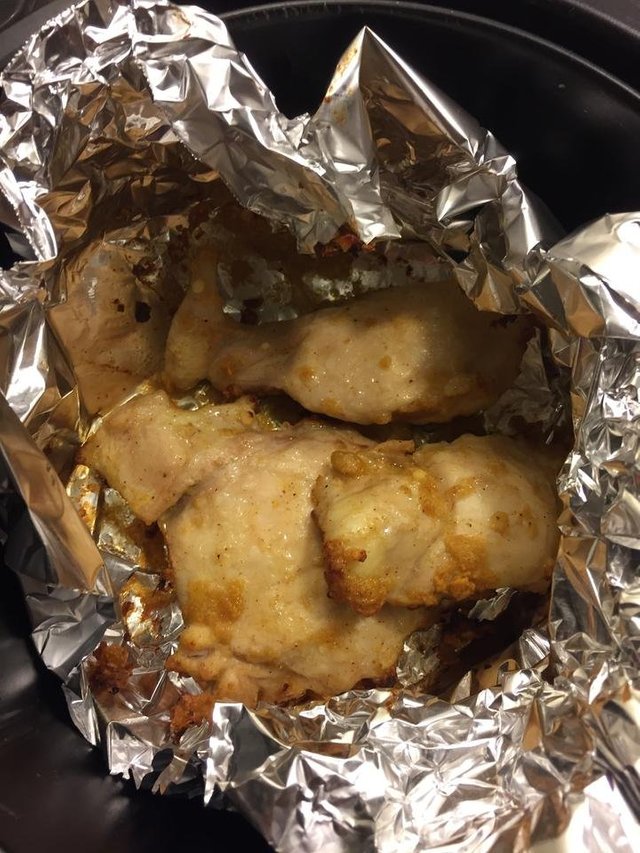 So, what did I do different over time? Well, for one thing, I moved away from putting the marinate and breadcrumbs together. It seems elementary for seasoned cooks, but I wanted to see what worked better for my taste buds. In the end, I made them separate.
         Another thing I experimented with was the marination time. Before, I would let the chicken pieces soak for at least 4-6 hours. Then, I moved on to overnight. Turns out, it usually taste better when I leave them in the batter for longer.
         In the pictures above, the marinate consists of simple mixture of buttermilk and paprika. The breading has some generic brand cereal with Parmesan cheese and some light seasonings.
         As for cooking instructions, it's easy.
         Line your fryer with aluminum foil. You cook one side for 13 minutes at 400°F. Then, you flip the chicken pieces over and cook for another 8 minutes on 300°F . Use a pair of tongs to move them if they are too hot to handle.
---
         It doesn't end there. Moving forward, I will have to experiment with different types of marinates. If it all works out, I will have my own prefect home recipe for myself.
         The end goal is to be able to make a variety of homemade foods with that appliance. I will give an update on that from time to time. Until then, eat well and live well.
The author of this post may or may not have an addiction to deep fried fowls.