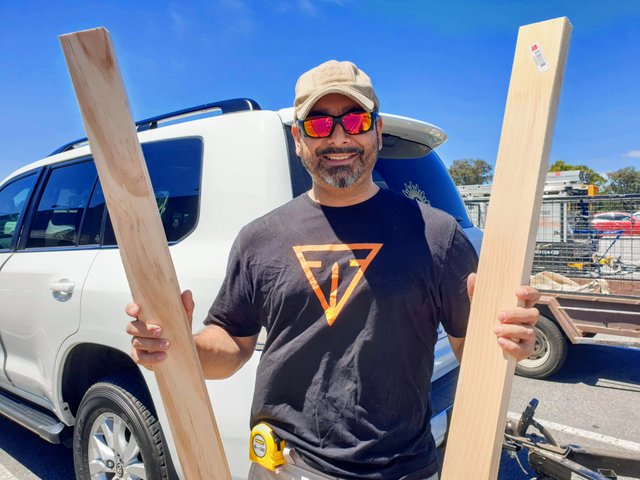 Here's my wood. What do you think, looks hard huh? Pretty long too. Oh the things I planned to do with that wood today...You know, give it a good screwing. Hmm yeah, what a way to spend Sunday!
The image above shows me gripping my wood in both hands with Faith behind the camera. This is in the carpark before I tossed my wood, into the trailer, and took it home for screwing.
Today was a chores day at home and I had a list of things I wanted to get done:
Pick up my trailer from my storage facility
Load it up at home with associated stuff
Take it to the dump (waste transfer station) and unload
Head to Bunnings to get wood (Big hardware warehouse here in Aus)
Help Faith in the garden with some heavy lifting
Make bench system in my workshop with wood
Tidy and organise in workshop (gun stuff mainly)
Have some lunch and a rest in the air conditioning
Back into the workshop for some more organising
Tidy up, put tools away and call it a day
That's pretty much it I guess, in a nutshell.
We started at about 8am and went through until just after 5pm, so a pretty good days work...And I utilised my wood with such skill! Yep, I'm pretty pleased with how my new bench turned out.
I have a pretty solid steel-framed bench in my workshop. It is one of those old school benches, out of an art room, so is a little higher than a normal bench allowing me to pull up a bar-stool to it, sit and work with ease. It's pretty cool, but not big enough. Fortunately it has a laminated wood bench top and so I had the idea to extend it.
I ended up manoeuvring it, (with great difficulty as it's heavy), into a corner thinking that an 'L'-shaped bench top would be cool, to make better use of the corner. I had a large piece of thick ply-board, about 50mm (2") thick and almost 180cm (6 feet) long laying around, a remnant of a previous handyman job. It's nice and wide at 800mm. Perfect for a bench top.
I don't want to overstate the difficulty level here folks, it was really all quite elementary. I set the ply on top of the existing bench, levelled it up and screwed it down. Obviously that meant the ply board was unsupported at one end which is where the wood I purchased came in.
After measuring the distance from the bottom of my new bench top to the concrete floor I simply created a couple of legs to support it. These were cut to length, 905mm, then simply screwed to a support piece to create two 'T' shaped legs which I screwed to the underside of the bench top after applying some liquid nails. (I typically over-engineer things.)
It wasn't really difficult and is certainly well-within my skill-set and the only thing I needed to buy was the wood for the legs. Job done.
We got a lot done today between the two of us today and things are looking pretty good around here now, clean and tidy with no excess items hanging around. We enjoy spending days like this, quietly working together and individually, towards a single goal. I'm lucky that my wife Faith is pretty hands on, especially in the garden as she loves gardening, and will pitch in where needed; She's good like that and we both feel a great sense of achievement.
Oh, something else cool happened...When we were taking the photo you see I found $20! Yep, it was just blowing along the ground in the wind and I snaffled it up. So...Not only got wood, but got free wood as it paid for the purchase we'd just made. (Thanks ye gods of wood!)
Anyway, that was Sunday so far. We're now showered up, separately unfortunately, and waiting for pizza to arrive for dinner. There's a couple of movies lined up tonight and that'll round out the weekend.
How was your weekend and what did you get up to. Did you get wood too?
---
Tomorrow isn't promised - Design and create your ideal life, don't live it by default
An original post written by a human
Discord: galenkp#9209 🇦🇺