A while back I connected with the legit and stand-up guy @freedompoint, from America, who made me a custom drop point knife then sent it all the way down to me here in Australia.
I wanted a tough knife to take the beating I'd give it in the harsh Aussie bush, and one that would hold a sharp edge for all the cutting it would do. It had to look rustic and to feel nice in the hand, solid and with a slightly forward balance. And what did I get? Well, I got exactly that!
It was cool because he posted videos of him building it and I got to watch it come together. You can see the end product here in a post I did a few days after receiving it.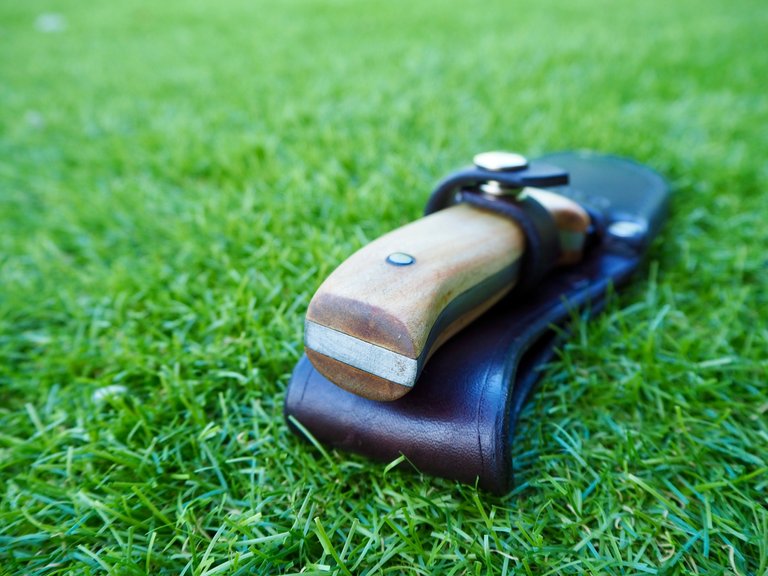 Considering how sharp the knife is, and the fact I would be carrying it around as I hunt, cull and in general around the outback, I needed a sheath for it. I decided to stay away from the more modern look of Kydex, which is a plastic product easily moulded precisely to receive a knife, and go instead for the more traditional leather option.
I ended up choosing a place in the small Adelaide Hills town of Hahndorf, a small leather-working business that has been there for as long as I can recall.
After discussions with the young leatherworker I left the knife (reluctantly) and sat back to wait for the completed product. Here's the rustic-looking shop below, in the main street of Hahndorf. The town is a mecca for tourists and a cool little spot. (Loads of good bakeries too!)

Due to the sharpness of the knife I decided to go for a very tough, thick and robust leather. It has also been made in a fairly plain manner to make it more suitable for heavy use, and the environments it will operate in; An ornate sheath would not have matched the knife or its purpose at all. The blade, and sheath, will be at my hip all the time and so the sheath will take a hammering through use.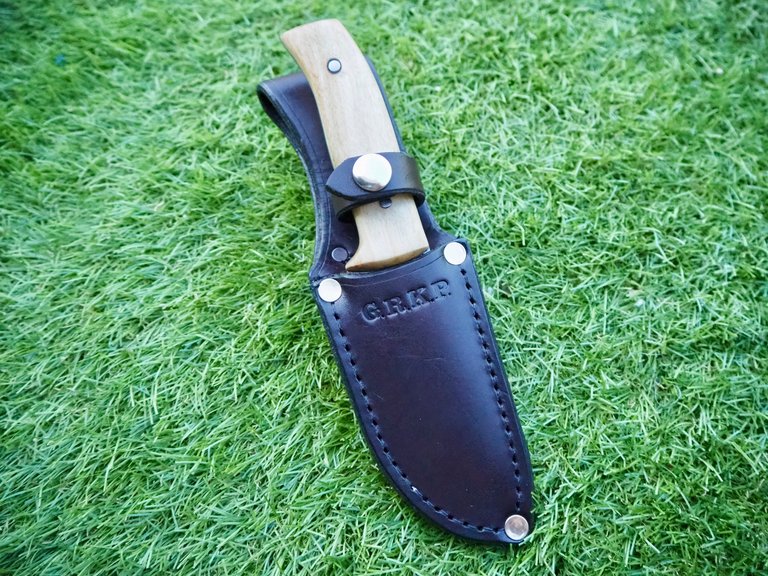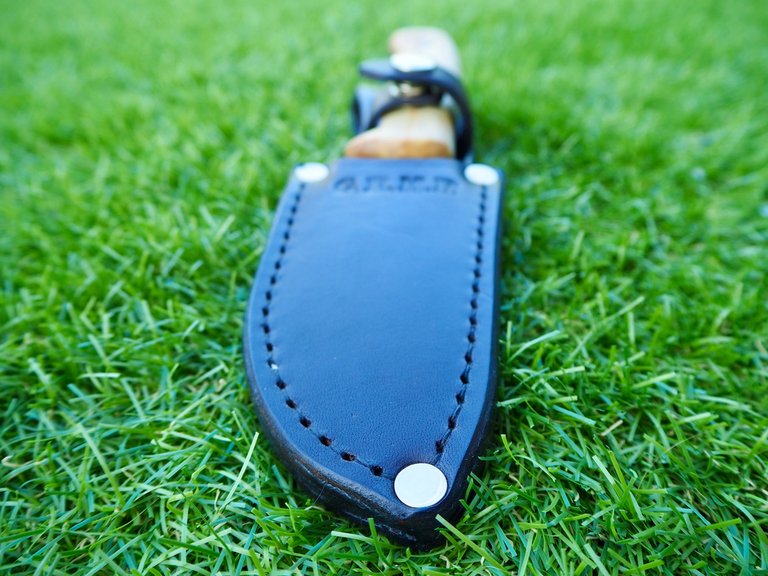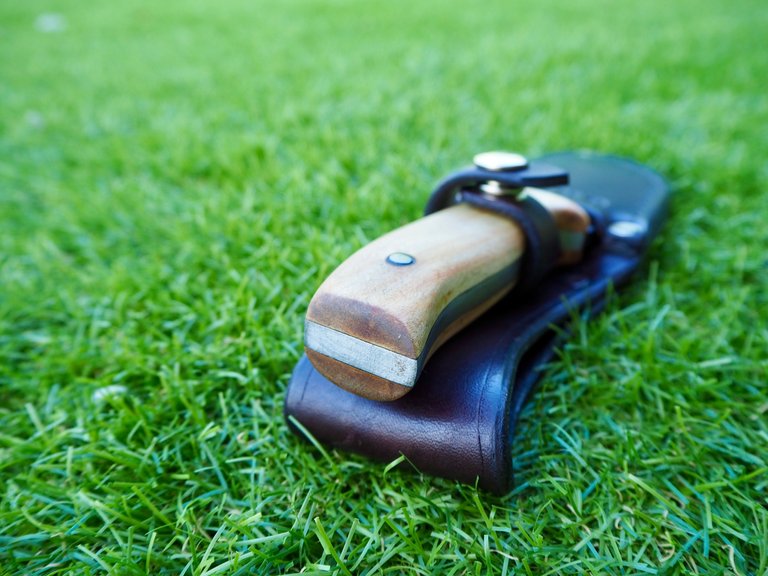 I added a clip around the handle although it sits snugly within the sheath without it snapped up. I added the clip as a safety-net; There is no chance for the knife to slip out under any conditions.
I need to condition the leather using a product called dubbin; It makes the leather more supple also providing dust, dirt and water protection. It's a simple process.
One simply uses a soft cloth to rub the dubbin in then adds some heat by rubbing the product in with bare fingers; The heat from my hands will allow the leather to more-readily soak up the dubbin. Once that is done a few times it will be good to go. I will repeat that process each year, or if the sheath gets wet.
The sheath cost me $70 which I thought was pretty good for a purpose-made and hand-crafted item. The workmanship is pretty good and it will certainly do the intended job. Am I pleased? Yep.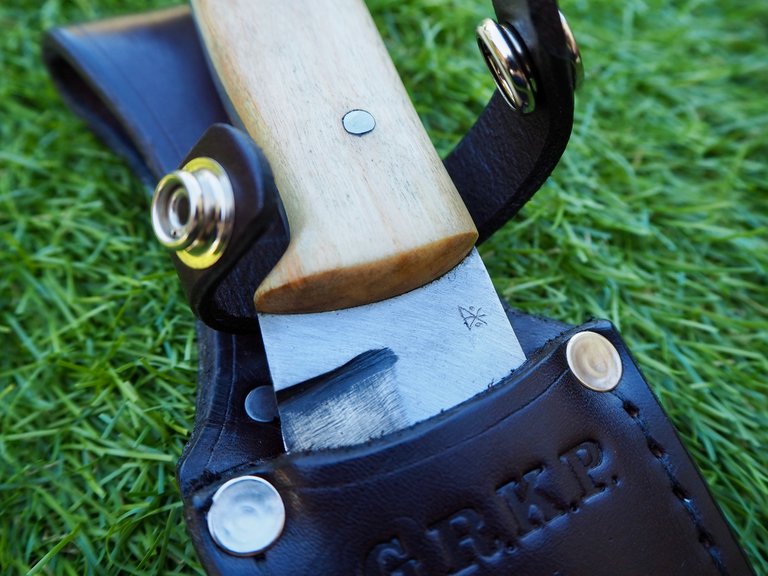 The sheath now completes the knife and it's time to get it out and earning its keep. @freedompoint asked yesterday "when will it will see some action?". Soon brother, soon. By the way man, how good does the knife/sheath combo look! (Rhetorical, because awesome is the only answer.)
I'm sure it'll perform for many years and when I am done with it I will pass it down to my nephew here in Australia sheath and all; He will make it cut for more years I'm sure.
Thanks to @freedompoint for taking the time to produce this knife. If you're interested in one for yourself or a gift hit him up on one of his posts and I'm sure he'll be able to help you with whatever it is you require. He can make any sort of knife, not just drop points like mine.
Thanks for reading.
---
Tomorrow isn't promised - Design and create your ideal life, don't live it by default
An original post written by a human
Discord: galenkp#9209 🇦🇺