A new dog?
First, who is Rheno? I've hardly ever talked about Rheno, right? Is Rheno a new dog? No, on the contrary. I never mentioned Rheno because I never personally knew Rheno. Rheno was my partner's dog.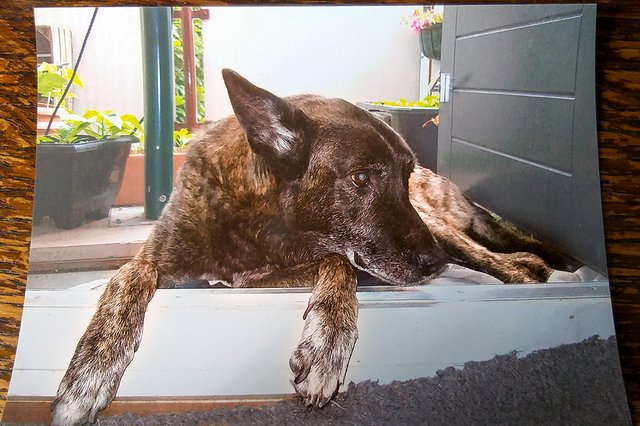 12 years of love together
He and Rheno had developed a special bond during the years they had been together, and that in itself was special because Rheno was severely 'damaged' and had no confidence in people when my partner took him out of the shelter. A skinny neglected Dutch Shepherd who dared to fall out if he didn't like it. For my partner, and for Rheno, it was love at first sight when they saw each other in the shelter. Probably some sort of recognition on both sides. Which resulted in a gathering of about 12 years. 12 wonderful years in which they have done a lot together.
New hobbies
In any case, the most important thing was that a great deal of mutual trust had grown. And mutual hobbies were discovered. For example, Rheno turned out to be an avid water lover. Swimming was his passion and his life. And so my partner decided to buy a boat, it had always been one of his dreams. And now he could share it nicely with Rheno. The boat was called "Rheno" and had to be made fun of course, because here they would spend many hours together.
A tree for the boat
During one of the many walks in the vicinity of the harbor, a tree was sought in the wild. A young cutting from a tree and that was put in a nice jar to give the boat a homely feeling and some greenery. Together they had a great time there and the hours quickly turned into whole weekends. All holidays and swimming together was and remained the biggest hobby of both, after which we rest on the deck of the boat in the sun.
Unfortunately, no dog has eternal life ... And at the age of 15 my partner had to say goodbye to Rheno on August 13, 2009.
A very beloved dog crossed the rainbow bridge, and he left behind a very sad owner.
Rheno's final resting place
My partner was going to arrange a final resting place for Rheno… and because they had always enjoyed being together on the boat, he wanted to give Rheno something of the boat. A sailboat of 9 meters long and 2.5 meters wide does not fit on a dog's grave, but the tree that they had selected together… that did fit in Rheno's food bowl. Rheno would never eat anything from that bowl again, and my partner never wanted to give that bowl to any new dog again. That bowl belonged to Rheno. And so the tree that had been alive on the boat for 4 years was planted in Rheno's food bowl and Rheno got that same tree on his grave.
A leap in time
Then we take a leap in time… because in 2018 after Lex's death, my partner decided to have Rheno cremated and to clean up the grave. Because we now live further away from where Rheno had his grave, and we no longer have a car, it was a lot more difficult to keep up maintenance from Rheno's grave. And because we have more than enough space here, and more dogs that deserve their own memorial place, we decided together that Rheno was definitely part of that. And so Rheno's tree came back here too.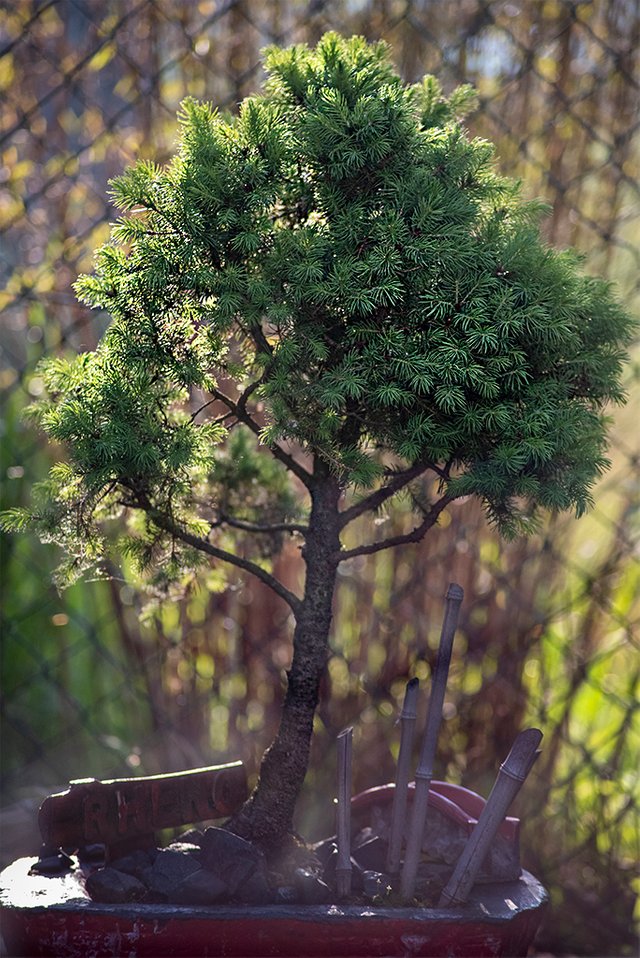 The first BONSAI
After all these years in a small dogs food bowl, this little tree has grown into a large size bonsai tree. And so we gave the tree a new bowl, a sign with Rheno his name was put there. Soon the tree will be cut again because now it has become a full big spherical shape. But that will soon be different again. My partner has learned how to cut this and so has also developed a new hobby through this tree. Growing and making Bonsai trees.
Making Bonsai from trees you can find close to home
Not that we buy expensive trees for this purpose. On the contrary. What my partner especially likes is making bonsais from what can be found close to home. We now have several Bonsais in development and a few more will be added soon. For which I will make the trays myself again. And so we both have a new hobby.
He is growing the Bonsai. I make the pots to plant them in.
Even though I never personally knew Rheno, we both have his legacy.
In the following blogs I will show the trees we have next to Rheno's tree.
|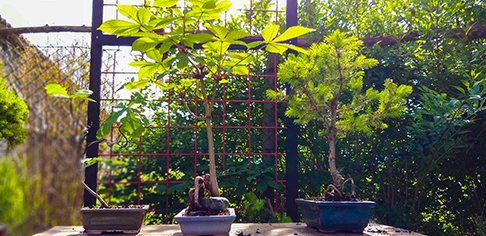 |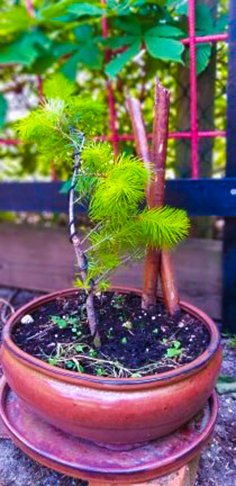 |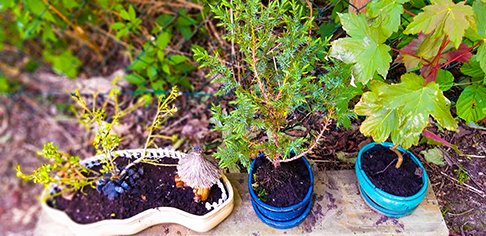 |