Staying true to my word of sharing colorgrading tips, or hosting a tutorial on colorgrading; here is episode 1 of "Colorgrade like Blacc"
I'm aware that there are loads of amazing photographers here, so it might be pointless starting a tutorial. But I'm aware that there are also some of you out there seeking to get better at colorgrading. You are the ones to find these tutorials more beneficial.
I don't claim to know too much, I'm just trying to share the little knowledge that I have. So without further ado, let's delve into the tutorial for today.
How I color graded my favorite female portrait of 2019-Dream Blu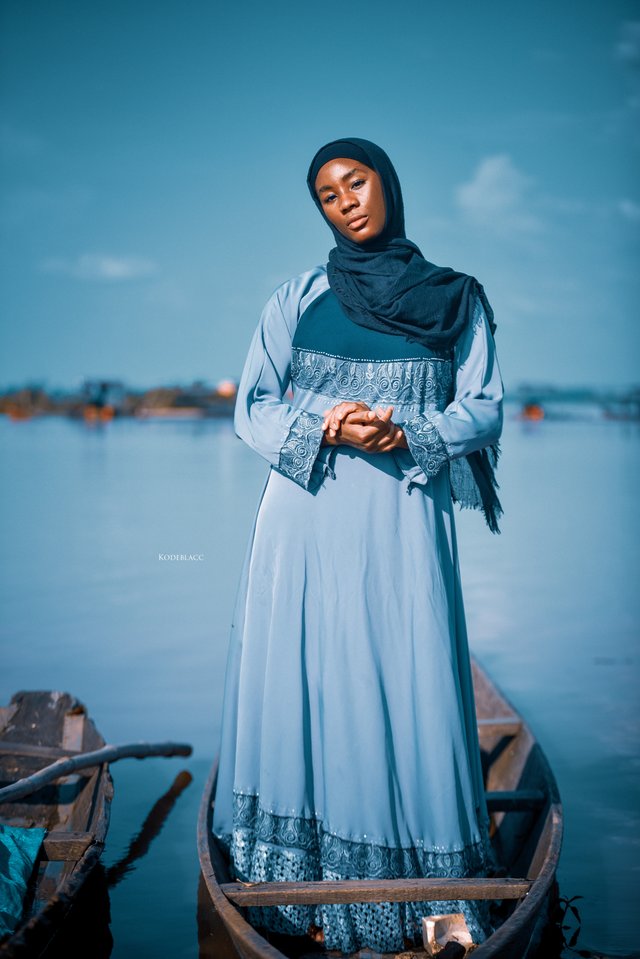 Our sample photo today is a photograph I created late last year. I didn't expect much from the photo session, but this particular photograph almost won me an international award. With or without the award though, it was my favorite female portrait last year. I titled the photo "Dream Blu", and you should guess why.
Before I delve into the tutorial in essence, here's a tip;
Before you colorgrade a photo, first of all have an edited sample in your head. It'll help you know what tweaks to make.
---
---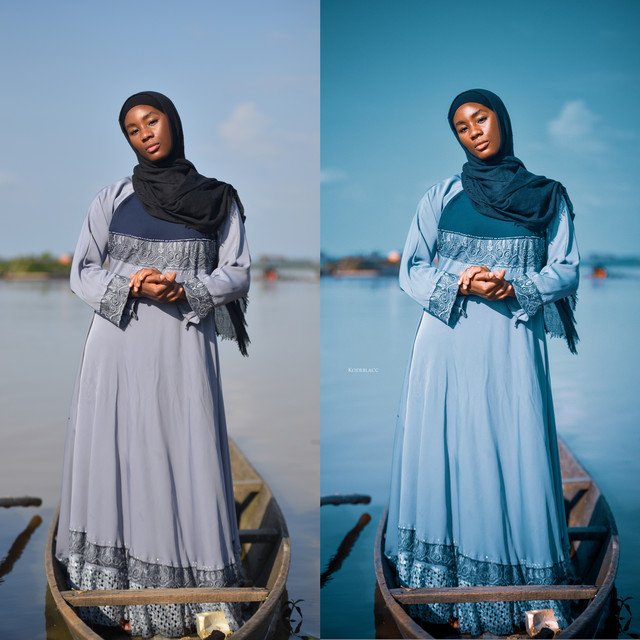 For my editing or colorgrading process, the first thing I do is even-out the light. The light could be natural or artificial though. So don't think when I say even out the lights it pertains only to when you strobe.
Here's how I evened out the light for this photograph;
In the case of this photo, I didn't use curves. And I don't neccesarily use curves, except I want to create an image with faded looks.
After I balanced the light, I moved to try out the pre-loaded profiles on Lightroom. These profiles come in handy often times than not. Due to consistent use, I've been able to know what each of them would do to the photos I apply them on. Oh! There's also a preview to show what the photo would look like if you applied the profile.
For this photo, I chose to apply "Artistic 04". I can't give an in-depth explanation of the effect, but I know that it gives photos a sort of gold-ish feeling. This effect is prominent on a model that's quite fair in complexion. Aside from the golden feel, the profile also affects blues, teals, and cyan. And that made it the ideal profile for this photo.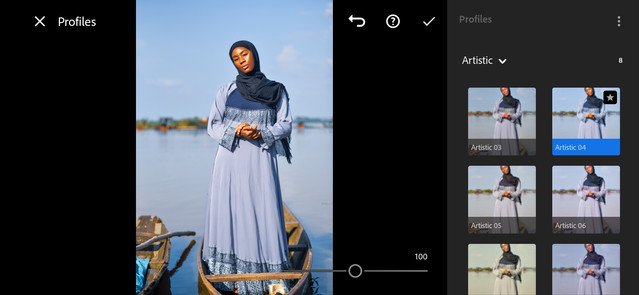 After I was done with that, I moved to the color[HSL] panel to begin colorgrading in earnest.
Before, I colorgrade a photo, the first thing I do is identify the colors that are present. It makes the process faster. For the sample photo today, I identified 7 colors; red, orange, yellow, green, cyan, and blue.
After I'm done with identification, the next thing I do is to work on the skin tones[if my subject is human]. Working on the skin-tones first, helps me to be moderate with my editing so it doesn't disrupt the overall look.
To edit skin-tones on Lightroom, the orange color is the one to use. It affects all types of complexion. From light to dark.
Here are screenshots of how the values on each color slider affects the photo.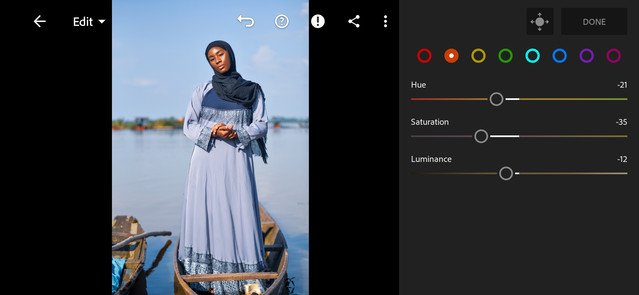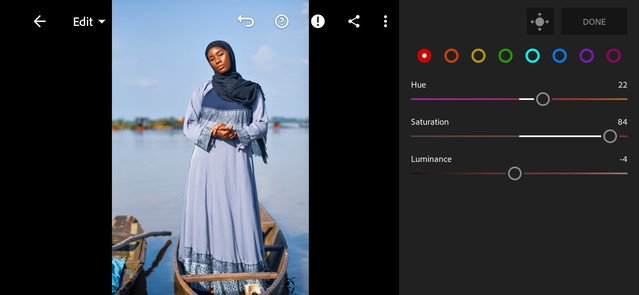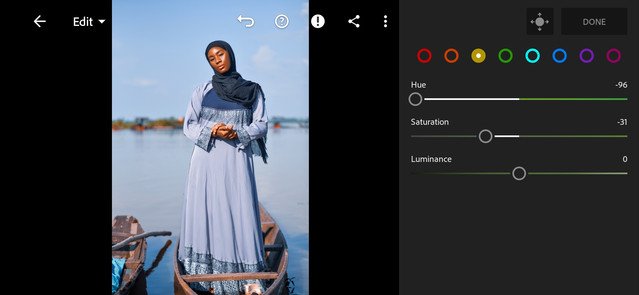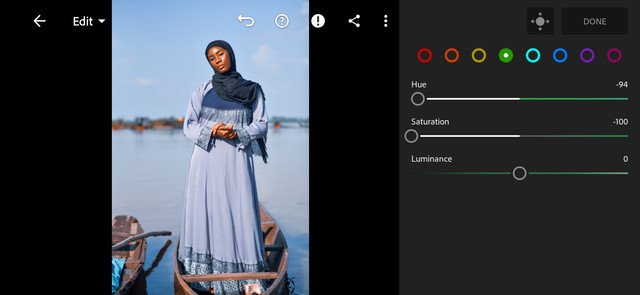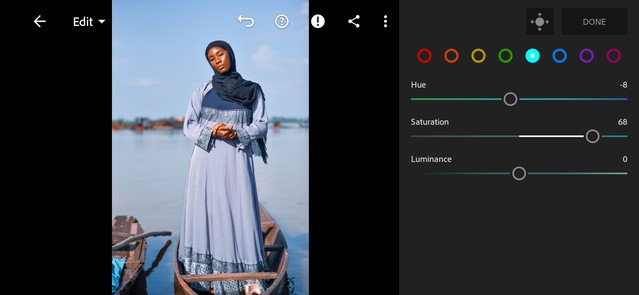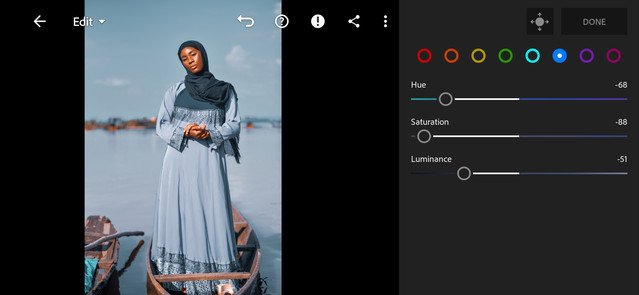 ---
---
Here is a table of the values, so it doesn't confuse you so much.
| Colors | Red | Orange | Yellow | Green | Cyan | Blue | Purple | Pink |
| --- | --- | --- | --- | --- | --- | --- | --- | --- |
| Hue | +22 | -21 | -96 | -94 | -8 | -68 | 0 | 0 |
| Saturation | +84 | -35 | -31 | -100 | +67 | -88 | 0 | 0 |
| Luminance | -4 | -11 | 0 | 0 | 0 | -51 | 0 | 0 |
---
After I was done with the colors, I moved to "Effects". This provides me with tools like; vignette, dehaze, clarity, grains.
The major tool I need for this photograph was the vignette. Since I had exposed certain areas with my editing, I wanted to fill it back, but also make the photograph look dramatic in the process. For the other tools, I made minor tweaks, but they too had their parts to play in making the photograph look good.
Here's a screenshot of the adjustments I made;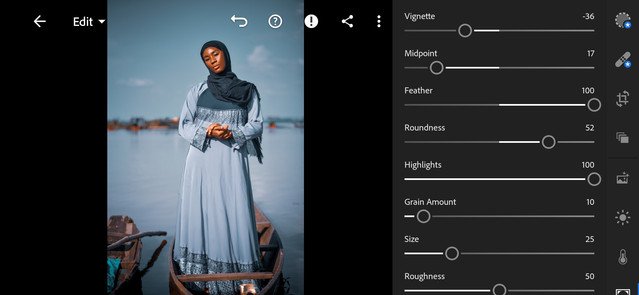 After I was doing with this process, I moved to the final process which is split-toning. Split-toning is such a powerful tool in colorgrading, but it mostly overlooked. I used to be like that too when I was starting out. But as I got more knowledge about colors, highlights, and shadows, it became one of my favorite tools.
For split-toning, I only worked on the shadows panel. I was very okay with colors of my highlights. But I wanted really blue shadows, and that's what I did. I moved the ball to the blue area, and adjusted it my desired level of saturation. And that's how we arrived at the final result that you saw earlier.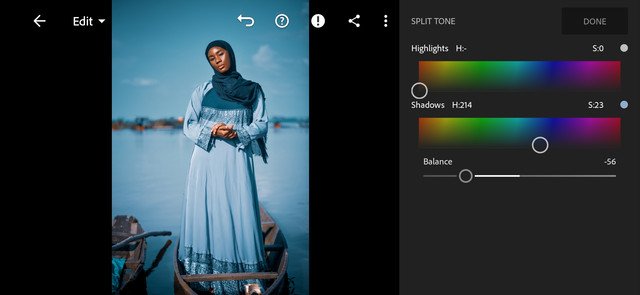 I've made a comprehensive video of the tutorial. And if you find this written part confusing, then you should check the video out.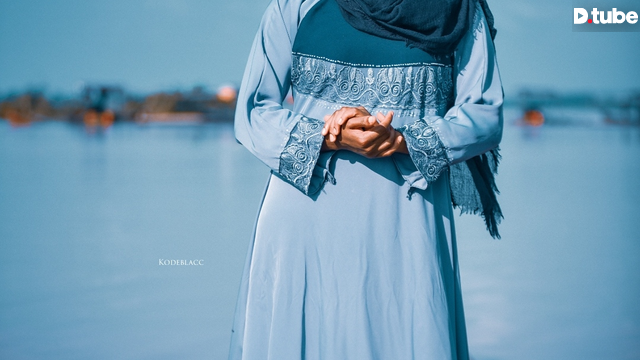 ---
Also I said I was going to leave a link to the raw file[unedited copy in jpeg format] for you to try it out. You can also try out your own editing process, I'll love to see the results.
Link to file. For the sake of intellectual property theft, I've my watermark placed on the photograph. The photograph cannot and should not be used for commercial purposes. Thank you!
Thanks for stopping by. I'll see you in the next episode.