---
---
A variety of food is similar to noodles.
Shape carrots like noodles serve with scrambled tempeh.
---
---
Imagine if you only had tempeh and carrots in your refrigerator. At first, I was very confused about what food menu I should make using only the simpe ingredients for the dinner. Carrots and tempeh sound inappropriate as a food partners.
However, in the end, a limited supply of ingredients will make someone more creative. That's what happened to me then. It's like magic that I'm thankful for. I came to have an idea that I think is a good idea. That's because the idea succeeded in creating a delicious meal. I do not regret having realized the idea, yeay! it works!
---
I'm going to make carrot noodles. The noodles I mean here are not noodles that use a mixture of flour anymore but pure ingredient from the carrot itself.
Meanwhile, for tempeh, I will make Tempeh similar to scrambled eggs. If you prefer crispy Tempeh, you can see in my previous post that makes Tempeh crispy baked Tempeh, served with avocado.
---
Carrot Noodles Without Added Flour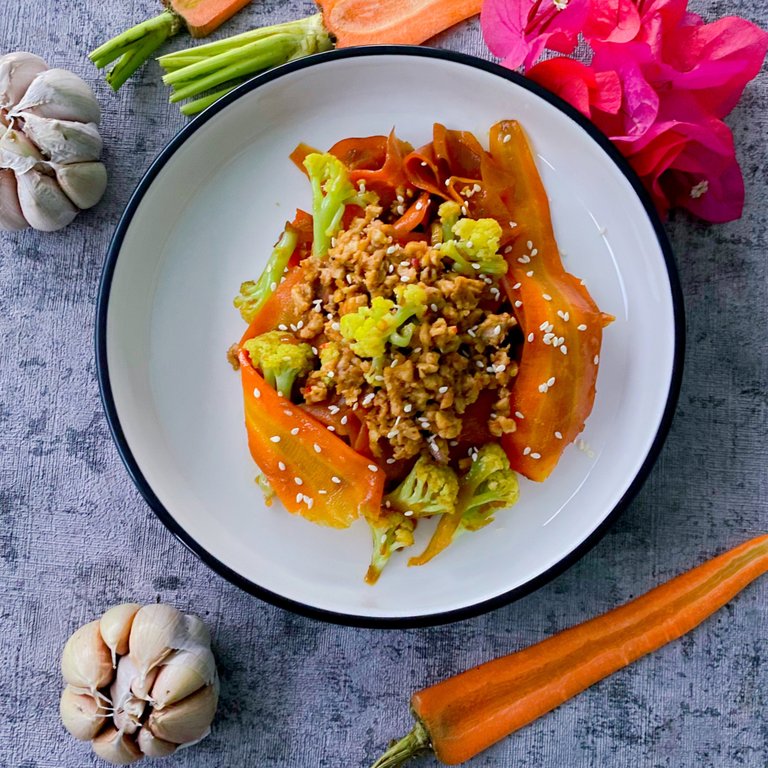 Carrot noodles without added flour are definitely healthier. Also, the ingredients are simpler without using more equipment and more energy.
Well, for the equipment here I only use a potato peeler. If you have spiral veggies that are usually used to make zucchini noodles, that's even better. However, if you don't have one, then it doesn't matter at all. Just use the method like I used.
Then, for the seasoning ingredients, I only use chopped garlic and onion. And a little soy sauce. If you don't like sweet soy sauce, you can skip this ingredient. But, I think you should try this sweet soy sauce if you find sweet soy sauce products in your area.
---
Then, as a complement I use cauliflower. I chose cauliflower because cauliflower has a contrasting color to carrots. You can also use broccoli as a complement to this carrot noodle. Or, use green peas are perfect too.
---
Carrot Noodles Ingredients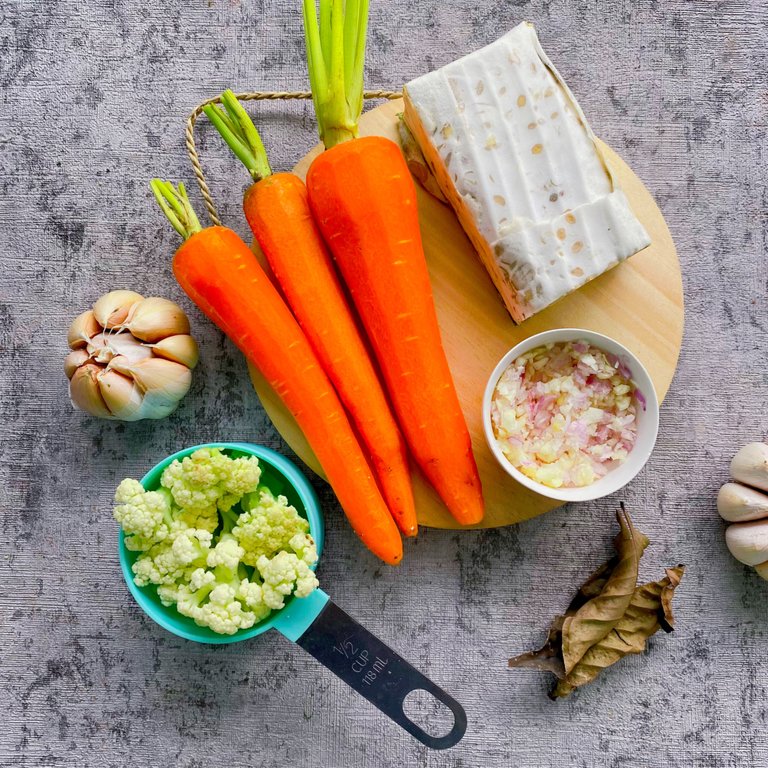 3 medium-sized carrots
2 cloves of garlic, finely chopped
3 small red onions, finely chopped
3 tablespoons of sweet soy sauce
2 bay leaves (optional)
1/2 cup of cauliflower
1 teaspoon of salt
1-3 tablespoons of water
---
How To Make Carrot Noodles
Shapes carrots like noodles.
Use a potato peeler. Remove the thin skin of the carrots first. Then, thinly slice the carrots carefully using a potato peeler.
The way I do is I put the carrots on the bottom of the tray, or you can also use a flat plate without a high rim. Hold the carrot at the base of the head, then slice the carrot for one way. Watch your hand so you don't get hit by a potato peeler.
By the way, don't forget to wash the carrot slices after you're done by slicing all the carrots.
Also, don't forget to stock up on the cauliflower. In this recipe, I only use half a cup of cauliflower.
---
---
---
Stir-frying onion and bay onion.
Heat a little cooking oil and stir-fry chopped garlic and onion, also bay leaves. Keep stirring until they smell good.
---
---
---
Adding cauliflower.
After the onions and garlic smell good, then add cauliflower. Stir-fry the cauliflower for about 5 minutes.
---
---
---
Adding seasoning.
Add soy sauce, water, and salt. Keep stirring them before adding carrot noodles.
---
---
---
Adding slices of carrots.
In the final step, add slices of carrots. Stir well until all the spices are evenly mixed. Cook until the doneness level is according to your taste.
---
---
---
Plant-based Scrambled Eggs
I like to call Scrambled Tempeh as plant-based Scrambled Eggs because of their almost similar texture. But if you prefer a crispy sensation, you can fry or bake the Tempeh first before mixing it with the seasoning.
I don't pre-fry or roast the Tempeh to save my time. It was almost time for dinner. I don't want to disappoint my husband. So I made this menu in a way that saves the most time but still tastes great.
---
How To Make Scrambled Tempeh
Making Tempeh Crumbs
Use a food processor or chopper to make Tempeh crumbs. However, make sure the texture is not smooth. We should still be able to feel the texture like coarse grains.
---
---
---
Adding seasoning.
After finishing making the tempeh crumbs, it's time to season the tempeh. Stir-fry chopped onion and garlic, then add Tempeh crumbs.
Add chili sauce and soy sweet sauce. These two types of sauces are of course optional. You can skip these ingredients.
You can only use garlic powder or Italian seasoning for Tempeh crumbs.
Don't forget to add a little salt. Then taste correction and lift. Serve Tempeh crumbs as a topping for carrot noodles.
---
---
---
THE RESULTS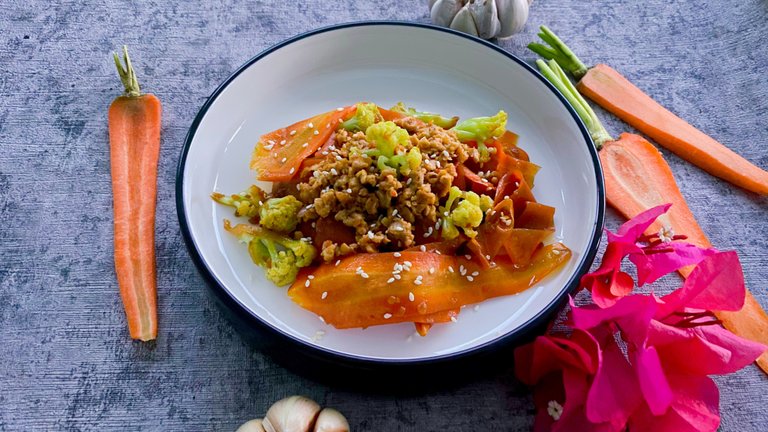 OMG! I love the results! I served carrot noodles topped with Tempeh scramble, then sesame seeds. For dinner, I serve this side dish with brown rice (but I don't take a photo here).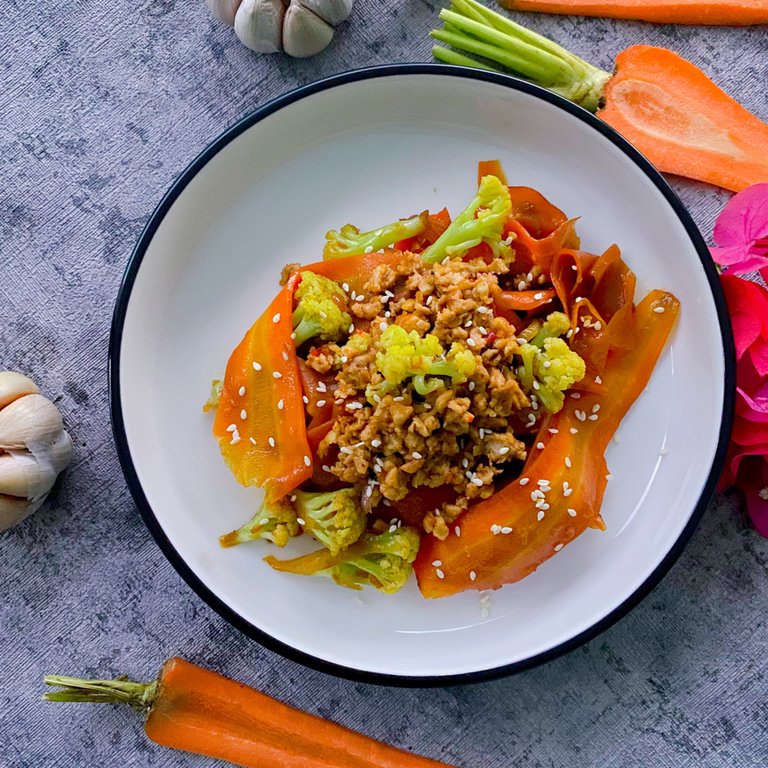 I'm grateful, really! My husband also likes this side dish, which is the first time we eat it. For my husband, he added more spicy sauce. He said he was never disappointed with the new menu I made. Save money, sometimes it feels like an impromptu menu that is made so fast, but overall, he loves all of the menus! ❤️
Even though the appearance of carrots doesn't look like noodles 100 percent, I still like how slices of carrots act as a substitute for flour noodles for my taste buds. Absolutely healthier!
I hope you guys like my side dish idea this time which may seem odd to you. But trust me, the taste won't be weird for those of you who aren't really veggie haters. 😛✌️
---
Thank you for reading my blog and reblog if you want my blog this time worthy of reading by others.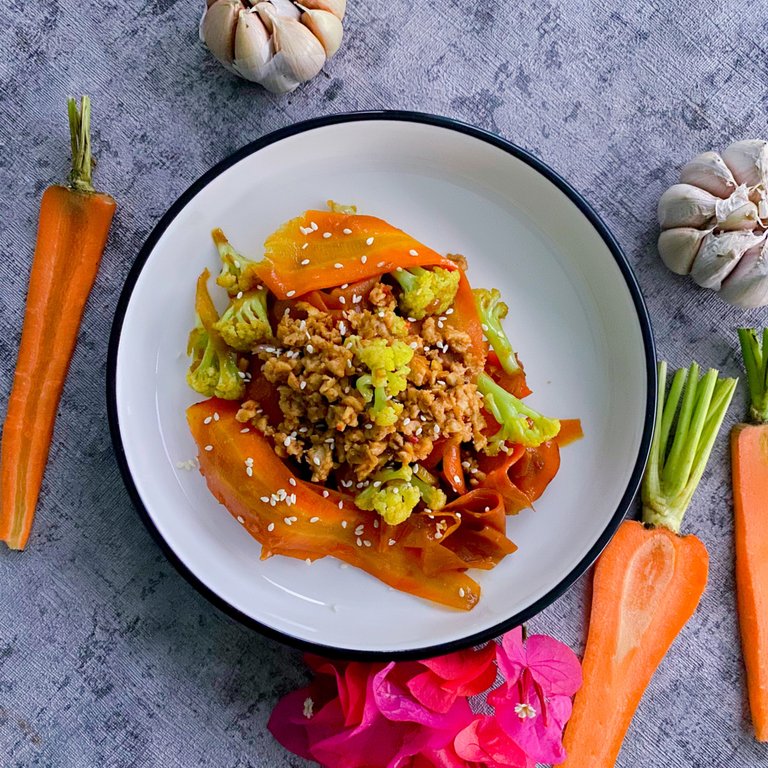 ---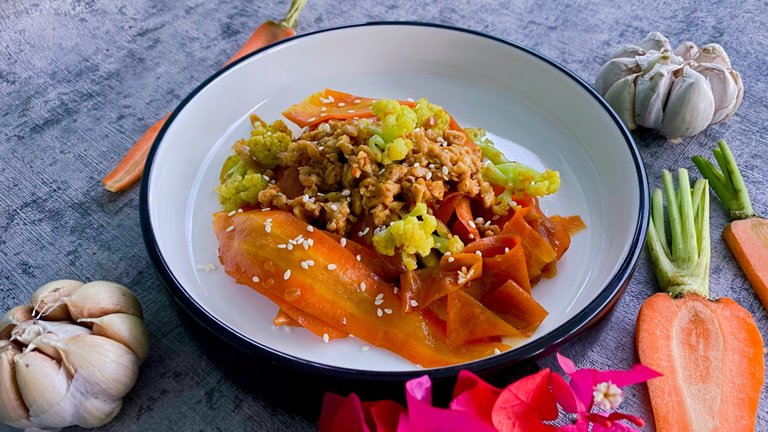 ---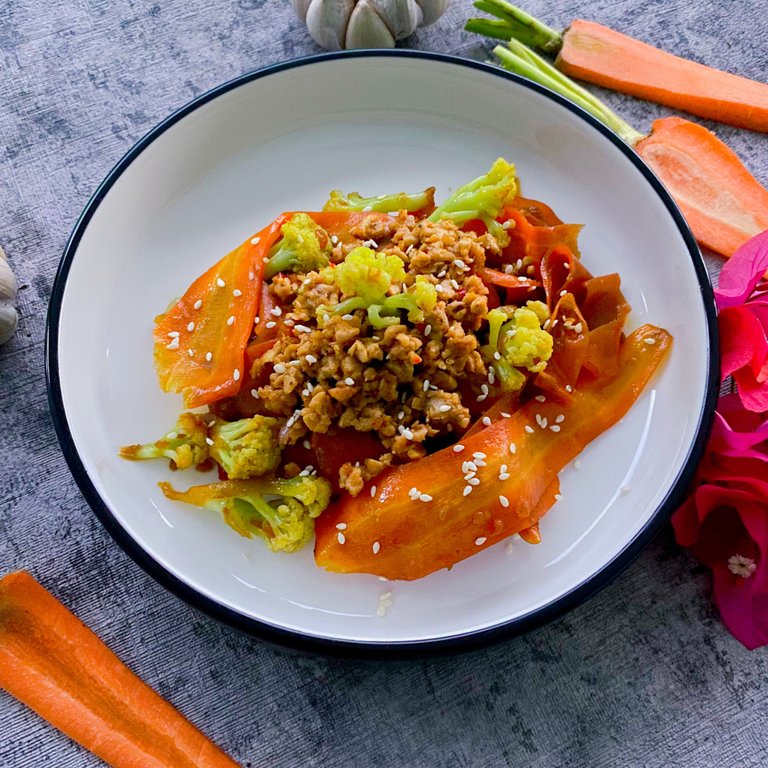 ---
---
---
Best Regards,
Anggrek Lestari
---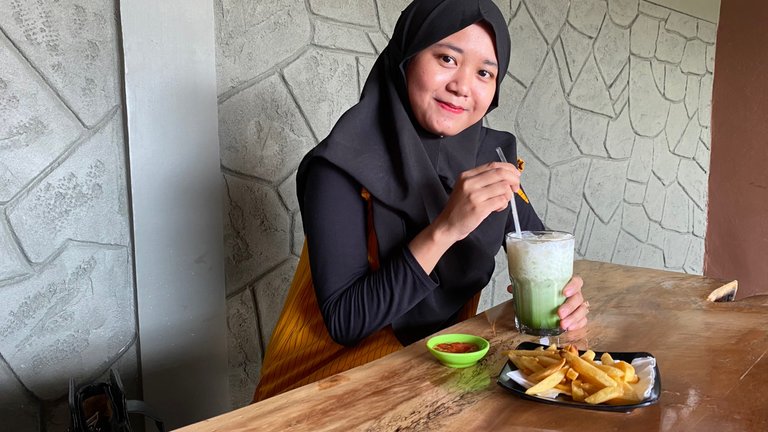 Who is Anggrek Lestari?
Anggrek Lestari is an Indonesian fiction writer who has published two major books. Now She is a full-time content creator. She has a goal to share life, poem, and food content that makes others happy and can get inspiration.
---
Contact Person: authoranggreklestari@gmail.com
Discord: anggreklestari#3009
---