---
---
Fried rice in general is mainstream.
The touch of dragon fruit gives a lot of uniqueness to fried rice.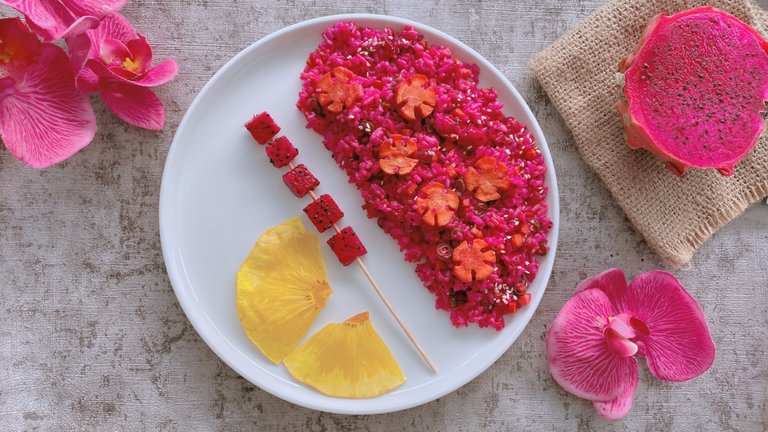 ---
---
Have you ever tried fried rice before? Well, fried rice is not really a way of cooking by frying. However, we only stir the rice with a little oil until they give off a nice fragrance and mix it well with the spices used.
Actually, fried rice aims to use leftover rice that has not been finished on the same day. But nowadays fried rice experienced significant development. Fried rice is no longer only made to reuse leftover rice, but is made with new rice.
In Indonesia, we can find many variations of fried rice available. Most fried rice available in Indonesia uses seafood, chicken or beef, and mutton toppings. Meanwhile, the simplest version of fried rice is mixing rice with a few vegetables that we usually consume and mixing them with scrambled eggs with fried rice seasoning.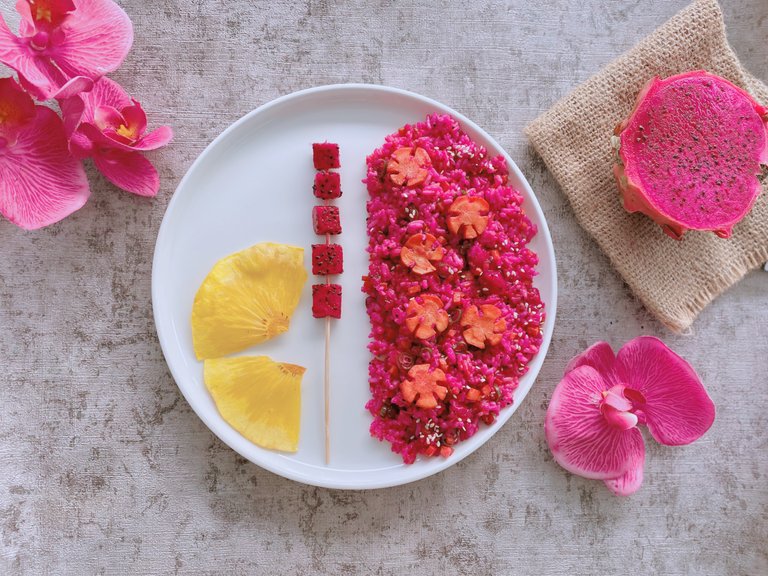 This time I'm not going to make the fried rice that I talked about before. Instead, I will make a version of fried rice that you may have never seen before. I'm going to make dragon fruit fried rice.
---
---
---
Dragon Fruit Fried Rice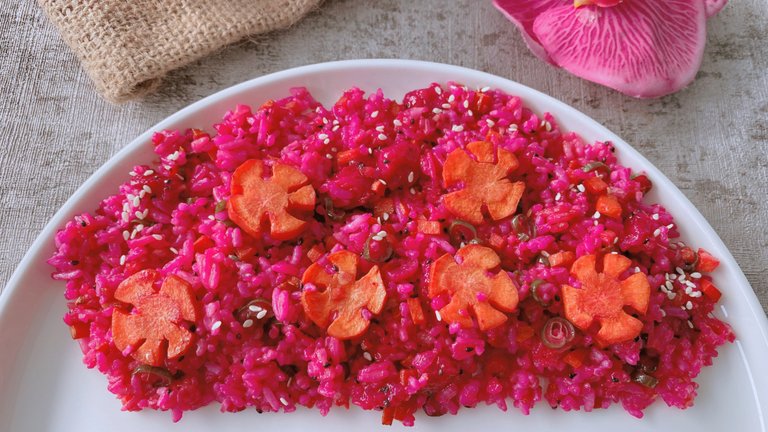 I rarely find dragon fruit fried rice menus available in restaurants or cafes in my area. I once had dragon fruit fried rice at a restaurant in my hometown in the past. I still remember very well the taste, including unique, but still delicious. So this time I will try my own version. Of course my version this time is the plant-based version.
---
Maybe you feel weird when you hear that fried rice is mixed with dragon fruit. Dragon fruit does taste sweet, but the result of dragon fruit fried rice is not entirely sweet. In fact, the final taste of the dragon fruit fried rice is dominated by the savory taste.
In the past, I was also fooled by the appearance of the dragon fruit fried rice. I thought at first the dragon fruit fried rice would taste sweet and weird. "Maybe it tastes like dessert", I thought at that time. However, I was wrong. Dragon fruit fried rice makes a delicious savory meal.
Well, I think dragon fruit fried rice is suitable for a dinner menu. This will definitely provide a unique experience for those of you who eat dragon fruit fried rice.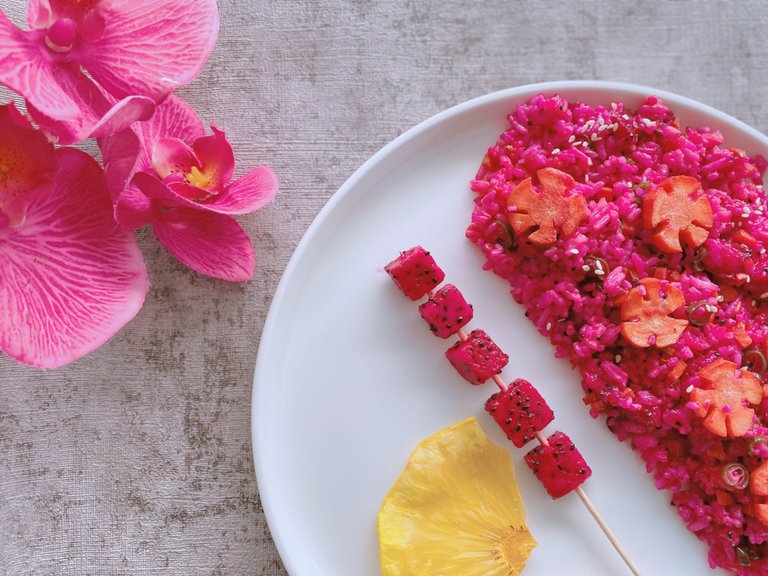 ---
Using a type of red dragon fruit
There are several types of dragon fruit, namely white dragon fruit, red dragon fruit, and dragon fruit with yellow outer skin but white inner flesh. In this recipe, of course, I will use red dragon fruit. This is to add a beautiful, aesthetic impression to the final result of fried rice which will be purplish pink in color.
If you use white dragon fruit, of course, it will be strange because of the texture of the dragon fruit seeds without adding a unique color to the final result of fried rice.
---
---
---
The Ingredients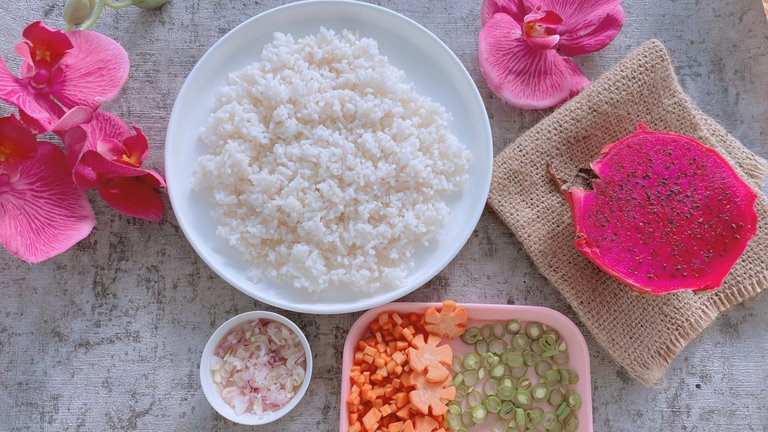 The ingredients we need to make dragon fruit fried rice are not difficult. We only need to add the basic ingredients that we usually use for our daily menu, especially for food menus in Asian countries.
Here are some of the ingredients I used to make dragon fruit fried rice. This recipe that I use can be served for 2 people with a moderate portion (not too much).
1/4 dragon fruit
A plate of rice
Your favorite vegetables, here I use carrot pieces and green bean pieces
3 small red onions, thinly sliced
2 small cloves of garlic, thinly sliced
1/2 teaspoon salt
1/2 teaspoon of coriander powder
(Optional) half a teaspoon of pepper powder
Enough sesame seeds for serving
---
---
---
Cooking Instructions
Thinly slice red onion and garlic.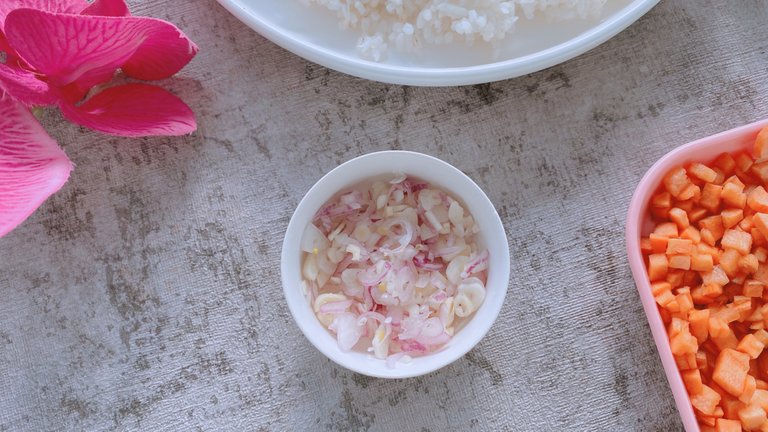 If you don't have red onions in stock, that's not a problem. Just use the onion stock that you usually use for daily cooking. Or, you can use about 1 teaspoon of garlic powder.
---
---
---
Cut vegetables.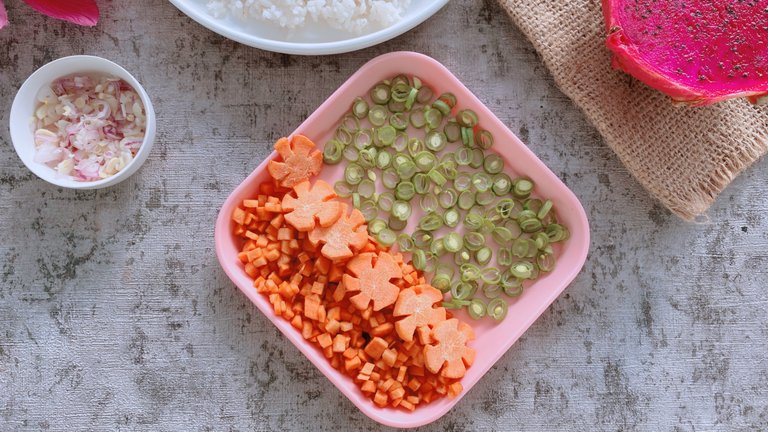 In this recipe, I use carrots and green beans. I cut them into small pieces. For the carrots, I also shaped them like flowers for a prettier presentation. If you can't shape the carrot into a flower shape, that's fine at all as it won't affect the taste.
It's just that you can make sure your vegetable pieces are small so they don't interfere with the taste of the fried rice. If you use rather large pieces of vegetables in the dragon fruit fried rice this time, the taste will be weird because of the texture of the vegetables will become dominant and will go against the taste of the dragon fruit used.
---
---
---
Cut dragon fruit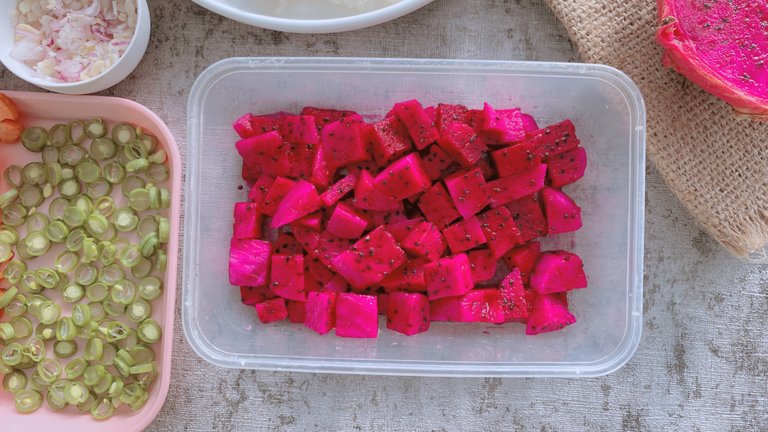 I cut the dragon fruit into cubes. Save some cubes of dragon fruits for the final serving process.
---
---
---
Sauté onions.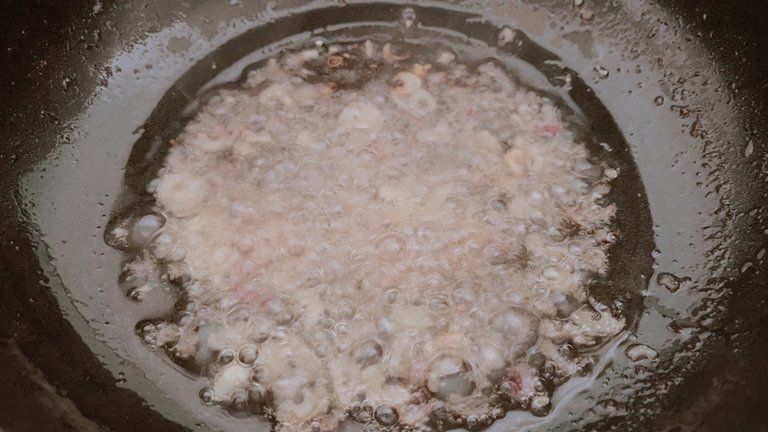 After all the ingredients are prepared, then heat the cooking oil. Then, add the garlic first and then add the red onions. Keep stirring until they become fragrant.
---
---
---
Saute vegetables.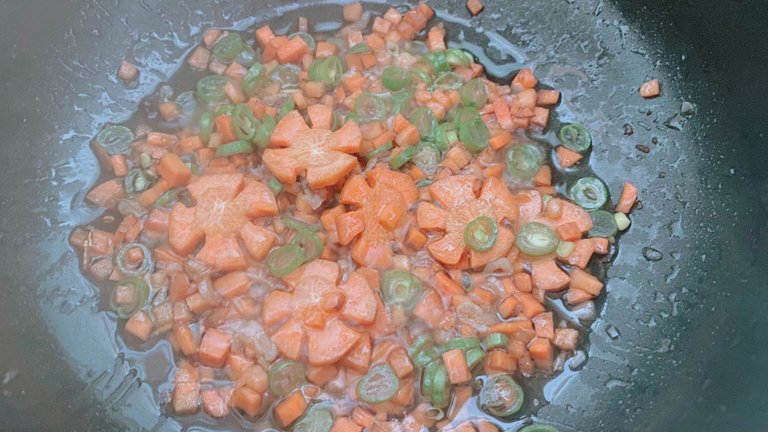 After the onions become fragrant, then add the pieces of vegetables. Here I use vegetables that are easy to cook in small pieces. That's why I immediately cook them like this.
If you use vegetables that take longer to cook, it's best if you boil them first to make the process of cooking fried rice easier later.
Don't forget to add salt, pepper, and coriander powder. Stir them well until cooked.
---
---
---
Adding rice.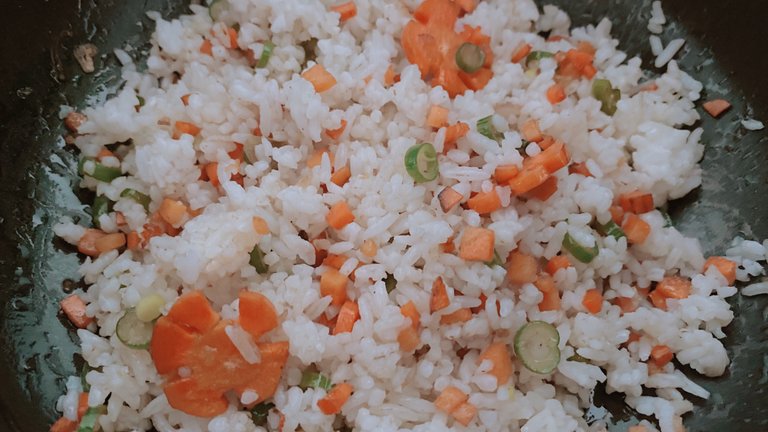 Add rice After the vegetables are cooked, then stir well for a moment.
---
---
---
Adding dragon fruits.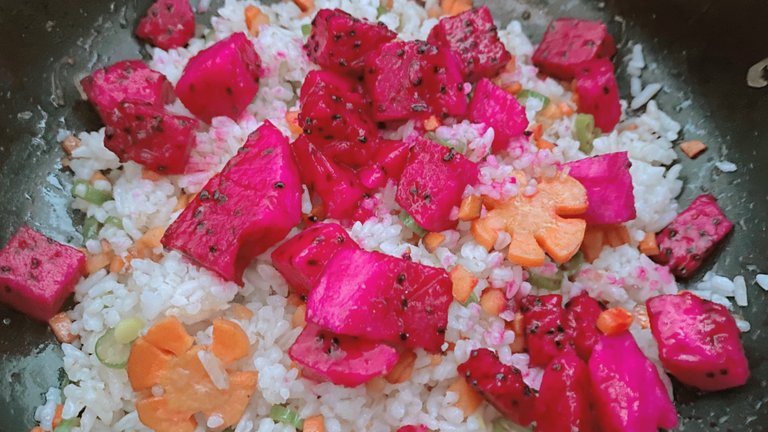 After the rice that was added earlier looks no longer lumpy, then add the dragon fruit pieces. Stir them thoroughly until there are no more grains of rice that look white.
Keep stirring the rice so that the bottom of the rice doesn't burn. Remove the fried rice when you see that the fried rice and dragon fruits are perfectly mixed.
---
---
---
Serving fried rice.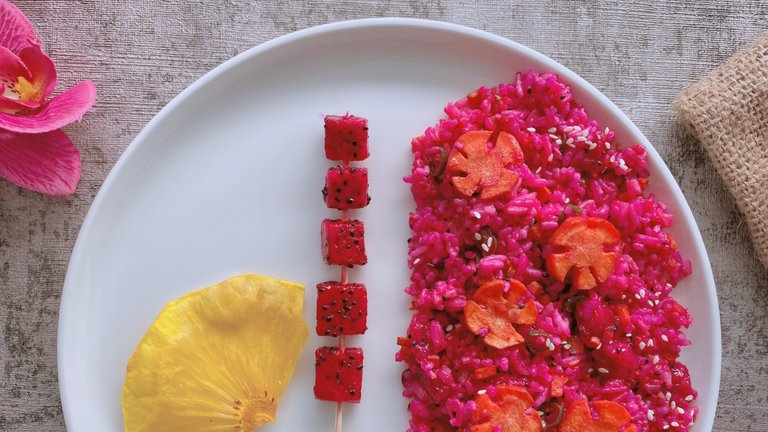 ---
---
---
Serve dragon fruit fried rice sprinkled with sesame seeds. Then to beautify the overall appearance of the food, I added chips and also pieces of dragon fruit that I skewered like satay.
Oh, what a beautiful outcome! I am very pleased with the results of the fried rice which was inspired by the menu of a restaurant I ate at in the past. Well, the dragon fruit fried rice menu that I made was again consumed by my nephew. Meanwhile, m,y partner who was away at work did not have time to taste this fried rice dish. Oops, my nephew always steals the start first.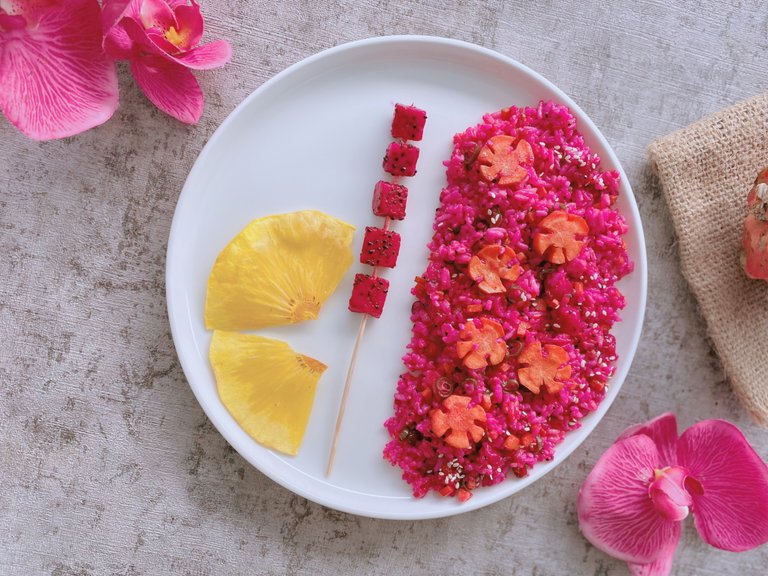 What do you think about the dragon fruit fried rice that I'm showing on my blog this time? I hope this can be a new insight for you. Maybe you want to try to make this recipe in your own kitchen. If you think it's weird, it doesn't matter at all because we have different tastes. Thank you to those of you who want to read my blog even though this food is not your kind of taste. Have a great day.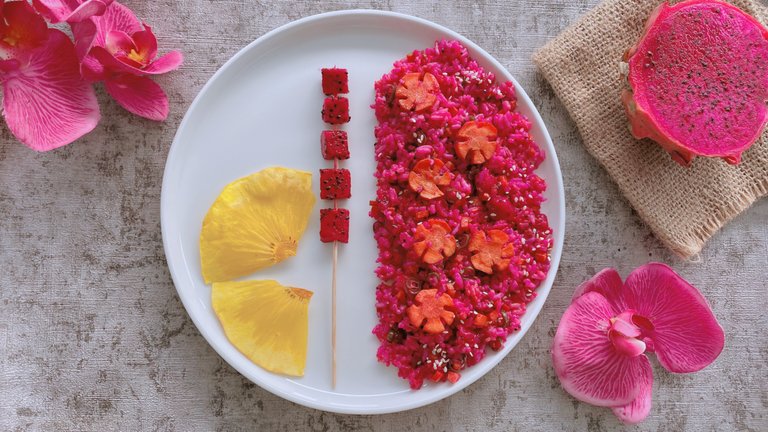 ---
Thank you for reading my blog and reblog if you want my blog this time worthy of reading by others.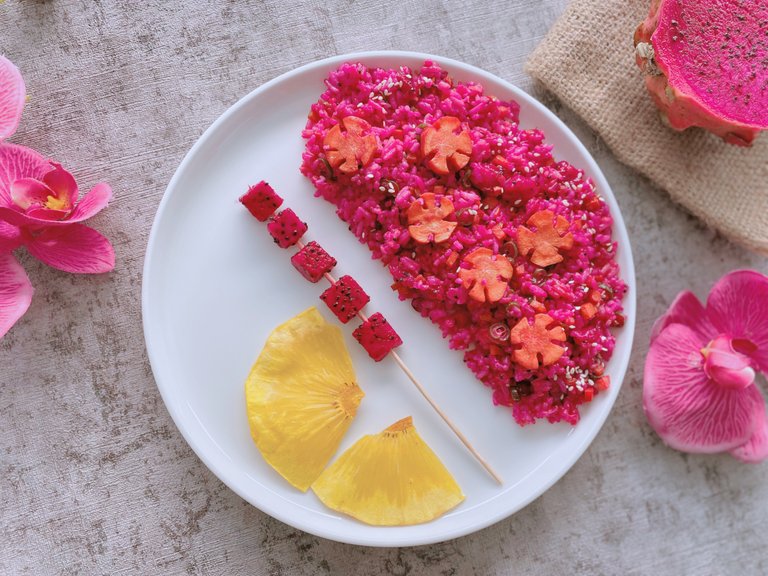 ---
---
---
Best Regards,
Anggrek Lestari
---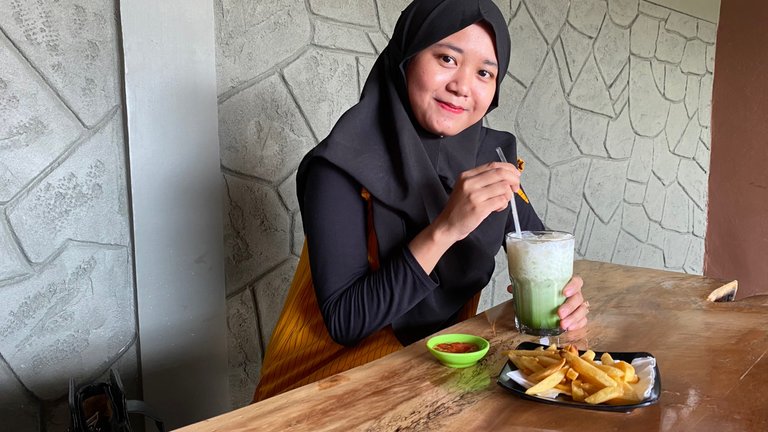 Who is Anggrek Lestari?
Anggrek Lestari is an Indonesian fiction writer who has published two major books. Now She is a full-time content creator. She has a goal to share life, poem, and food content that makes others happy and can get inspiration.
---
Contact Person: authoranggreklestari@gmail.com
Discord: anggreklestari#3009
---