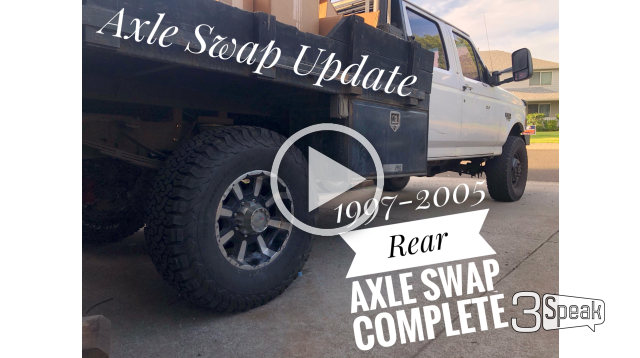 ---
Being that this is my first time performing an axle swap, I think it went pretty smooth. Well I still have all my fingers and toes and nothing seized up or blew up during the first test drive around the block.
It's been a while since it gave you guys an update on my progress. I have since the last update removed the front axle out of the 2005 parts truck, painted up my front axle swap kit I purchased from Skyy Manufacturing in Oregon. That was a dirty sweaty day!!! 90 F and working in the dirt on the side of the house... fun??? Not really but you gotta do what you gotta do.
I started this rear axle swap on Thursday after work and completed it Saturday around noon. Granted I didn't work on it the whole time but it did take a significant amount of hours to complete. Next time I will actually know what to do and will be a little more organized. I hadn't cleaned up my piles of tools from the week prior when I removed the front axle out of the parts truck. "Ain't nobody got time for that!"
Converting from dually rear wheels to single and from drum brakes to disc brakes, not only changes the look of the truck but also increase the stopping power. Also next time I have to purchase tires I don't have to buy 6 of them. I do need to purchase some spacers to widen the tires out a little bit in the rear due to my wide dually bed. This truck looks so different already. I can't wait to get the front done and load up the camping trailer and head out on a camping trip!
Stay tuned, the next update will be a good one...the front axle will be in!! Hopefully in the next week or two.
Cheers!!
---
▶️ 3Speak