Three things broke in my Thai world this week. The expensive and only 4 months old rice cooker with the stainless steel insert; the lamp part of my Himalayan salt lamp (urgh! again!); and my phone.
I always opt first for repair, and so off I went to Mr Fixit. Although he and I have known each other for YEARS (at least 10 years) he always calls me "Madame" and I always call him "Khun Lung" ขุนลุง (respected uncle). He is my Fixing Appliance Angel.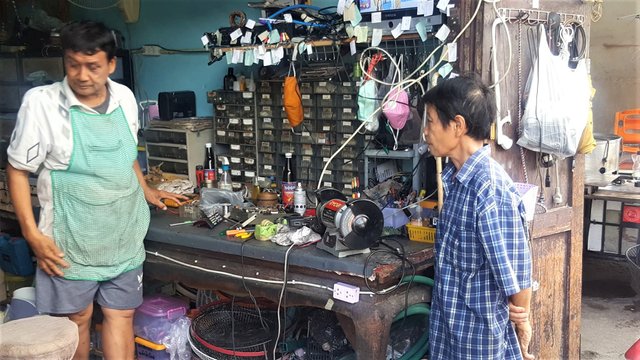 Yes, that's Mr Fixit on the left, in the apron.
He has a humble little store in Chiang Mai's old city in Propaklao Soi 4, not far behind Chiang Mai Gate Market. He's open from whenever he feels like it (usually a bit after 9) till about 3.30pm, Mon-Sat.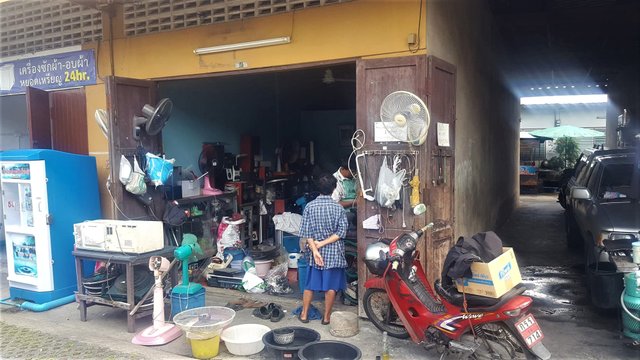 Cordial greetings and no need for all the Covid rigmarole. We respectfully wai'd each other, like we always do. He looked at my rice cooker and electrical lamp insert intently, the triage no less thorough than an Emergency Room doctor. And then he apologized that he couldn't do it immediately while I waited. I laughed and said I'd be back on Friday after lunch. No mention of price - he is one of those honourable Thai men who will fix it for rock bottom with good salvaged parts if he can, and then still apologize if it costs more that 100 baht (about $3). I was not worried about price.
I headed off to Samsung and after much to-ing and fro-ing, hand sanitizing, temperature testing and logging in with the paper method (since the dead spot in the screen wouldn't talk to their scanner) I was allocated ticket B35 and asked to sit. Respectfully socially distanced, of course. 😆 45 mins later it was my turn.

Despite holding it under my tshirt during the deluge of monsoonal rain last week, it appears ONE RAIN DROP must have weaseled its way in beneath the cover, and one whole side of the LCD screen simply stopped talking to me. A serious entrepreneurial disaster. Packing it in uncooked rice for 24 hours immediately had not worked; the problem persisted and, indeed, worsened. The screen rotation app wasn't cutting it anymore. Urgh.
"Ooooh nice phone!" the Samsung repair guy said. "Not see often like this. You not buy in Thailand."
"No", I replied. "My friend buy in Seoul Korea and give to me after he buy a newer one. I just need you to open it and dry it out."
After which there was a good 20 min wait while he checked online, made a phone call and spoke to his manager. And came back shaking his head.
"Mai dai (Cannot). Can fix only in Gowlii. (Korea). Better you buy new one."
20 mins more of argument, asking, smiling and even (yup, I confess) helpless blonde, did not help. My phone is not on the Samsung Thailand "possible to repair" list. Needless to say, a new one right now in our personal-business Covid Recovery Phase is not an option. The exact same model (Samsung Galaxy Note 5) currently ON SALE for 29,900 THB (USD $967).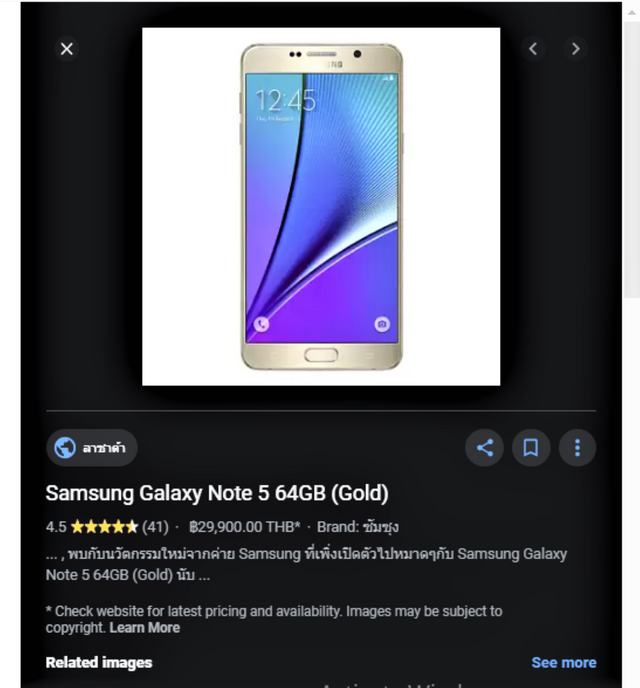 So, off I went, dejected, in search of a Thai fixit phone shop.
To cut a long story short, it actually COULD be repaired. It just needed a new screen unit. Total cost for the screen? 4500 THB PLUS at least 3 weeks wait and a labor charge of 500 baht. Sigh. It was still more than I could afford. Almost no income for 3 months has been tough. 3 weeks with a non-functioning phone?
And this is when I fell in love with Thailand all over again.
The phone repair man from SR mobile who REALLY knows his stuff, gestured to the phone seller in the booth next door to his: T-Mobile. "Him. He have." And they did.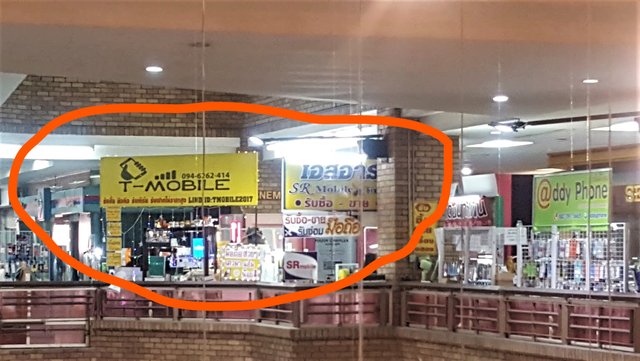 They had THE SAME PHONE EXACTLY AS MINE, 2nd hand, complete with new charger, new case & screen film etc in excellent condition, for 2,900 THB. Much better deal, he said. Shrugged. Smiled. "Normally sell this model in one hour. Very good phone. Everyone want. Now? After Co-wid? No customer, no money. You very lucky."
There is so much HEART in this country. Soul.
He could see my predicament and KNEW what 3 weeks with no phone means in a world where being accessible as an entrepreneur MATTERS. Not to mention banking, scanning everywhere just to enter stores and the requirement to be able to track courier items etc via the phone apps.
Today I picked up my perfectly repaired rice cooker and lamp for the grand total of 150 THB (about USD $4.80). And picked up the phone too, having been able to juggle our uber-tight cashflow to weasel out the $100 I needed.
What did Mr Fixit say when I picked up my rice cooker and lamp?
"Designed to break! You lucky you use for already 4 months!"
And that, my friends, is the problem. The Designed to Break mentality. The phone that can't be opened to be dried, but also isn't sealed fully. The screen part that is prohibitively expensive. And the mindset of Samsung which only wants to sell me a new phone.
Driving home this afternoon I gave thanks. For Khun Lung in his funny old apron who can fix almost anything. For real Thai "jai dii" (good heart) values which are still there, every day, in most Thai people I know and meet. For the sweet Thai man at SR Mobile - Kad Suan Kaew Level 3 - who gave up his repair job and recommended his friend. And for the lovely people at T-Mobile who held the phone for me with a deposit, and who threw in a new charger, clear protective case and a new screen film.
BlissednBlessed in a Thai world which still repairs.
[//]:# (!pinmapple 18.783144 lat 98.988170 long Mr Fixit It - The Appliance Whisperer - Open Mon-Sat 9.30ish to 3.30pmish (closes for lunch) d3scr)
---
All images used in my posts are created and owned by myself, unless specifically sourced. If you wish to use my images or my content, please contact me.
---
---
Come check out my natural Thai herbal business… yes, we ship world-wide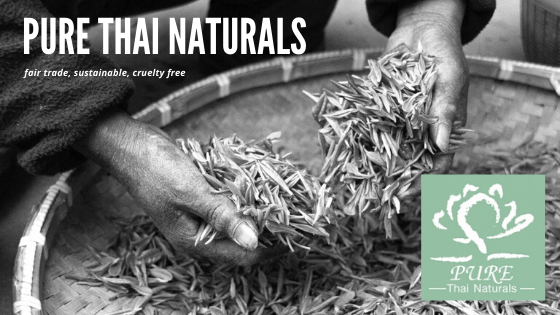 Visit our online store here

Join The Best Natural Health Community on Hive