Hello from Suriname, I have a Khmer dessert recipe. It's Noum Banh Januk, for #DashoutSunday in the ReggaeJAHM Community.
I make this for my family and they love it so much. It is easy to make, but so delicious with fresh coconut milk.
Some people call this dessert kill husband. This dessert has a very old Khmer story.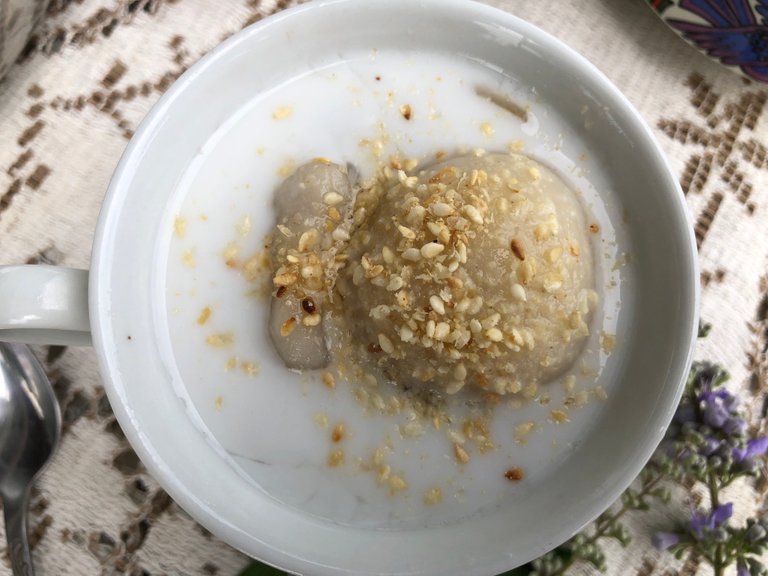 👩‍🍳 Noum Banh Januk (Ital) Recipe 🔪
វិធីធ្វើនំបាញ់ចានឿក

Ingredients
450g glutinous rice flour
200g beans
1 cup brown sugar
1 cup coconut milk
1 tsp salt
one small ginger
1/2 cup crush roasted sesame seeds
5 cups water
Step 1

Boil 3 and 1/2 cups of water.

Cut ginger 12 small pieces and put in boiling water and put 1/2 tsp salt and sugar, simmer it a few minutes and it's ready.

Step 2

Put beans in the water 2 hours, after clean them and boil or steam it until soft.

Step 3

After put salt 1/4 tsp mixed together and mash it a little.

Make it like balls.

Step 4

Then take glutinous rice flour put salt 1/4 tsp mixed together put 1 1/2 cup water knead it very well.

Step 5

Make it like ball.

Step 6

Then close it like ball, do like that to all, if still have glutinous rice flour not have ball beans I made very small balls.

Step 7

Then boil it.

Step 8

Then take it put in cool water.

Step 9

After take them and put them in the sweet ginger syrup.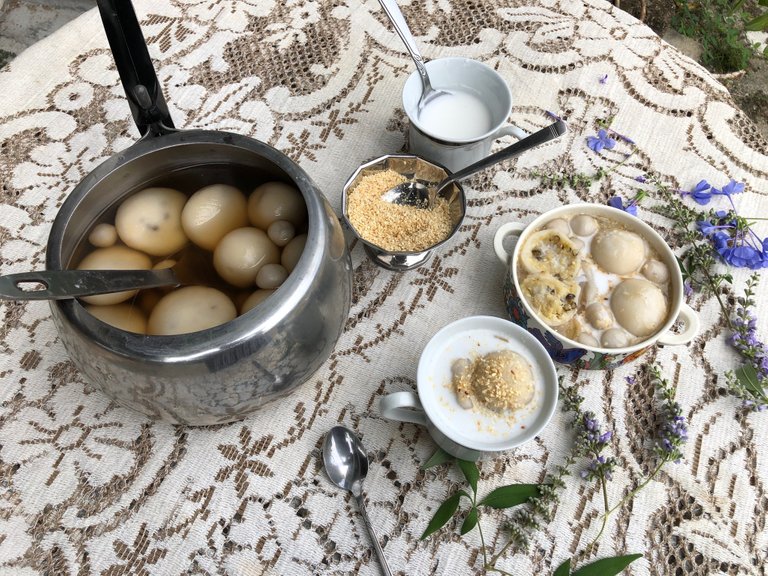 When we eat we need to put coconut milk and crush roasted sesames seeds, we can to put as we like to eat. Have a nice weekend to everyone 😊❤️.

🙏 THANKS FOR READING 🙏
If you enjoyed this post, please upvote and reblog.