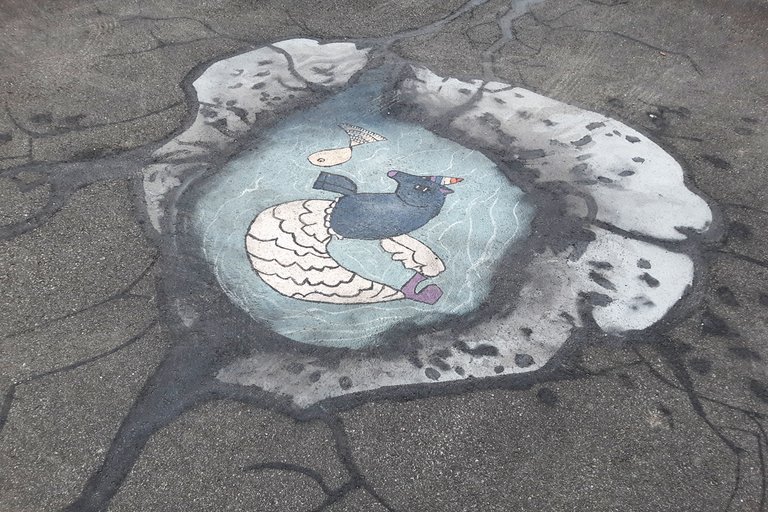 In the city center I found this painted on the asphalt. It's a parking lot that belongs to an apartment complex near by. This is the first time I see anything that is painted this way in our city. One of the things that I find fascinating about street art is the many different techniques, but just as much where the motifs are painted. It's not just on walls. Artists have also used power boxes, fences, silos, benches, stairs ... Most surfaces can be used. Only the imagination sets the limits. Unfortunately I do not know who the artist is in this case, but I assume it is one of our locals.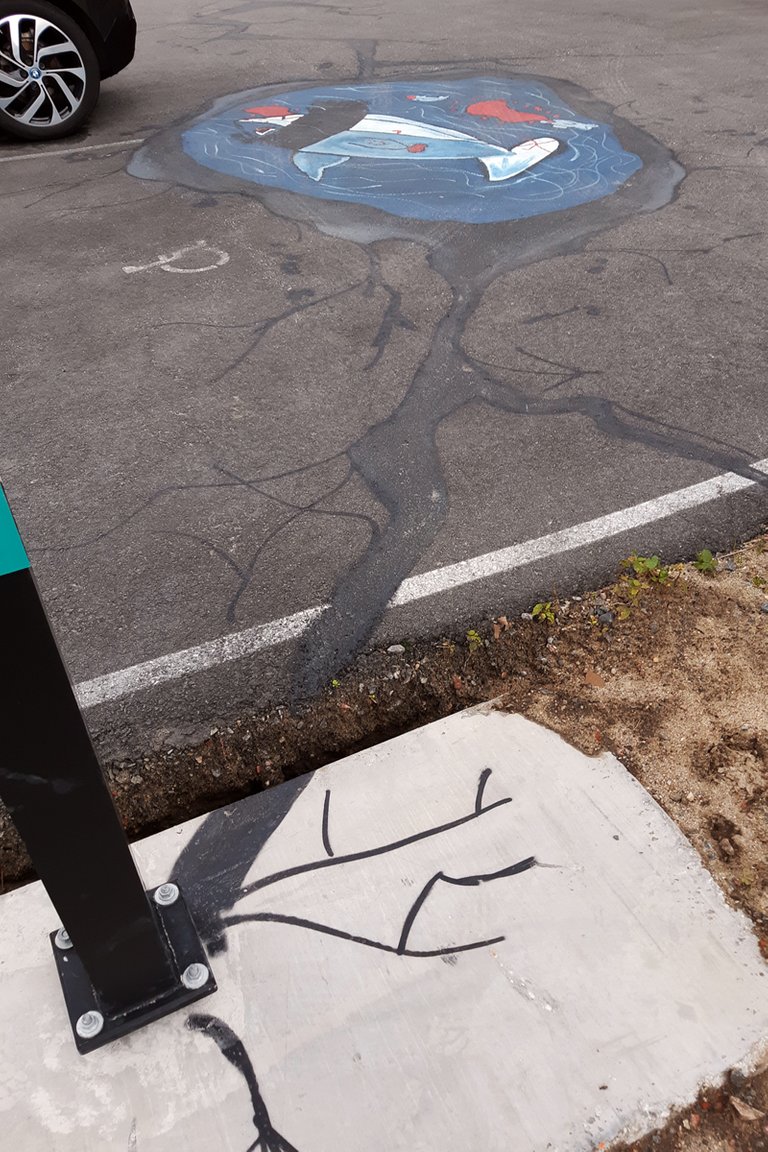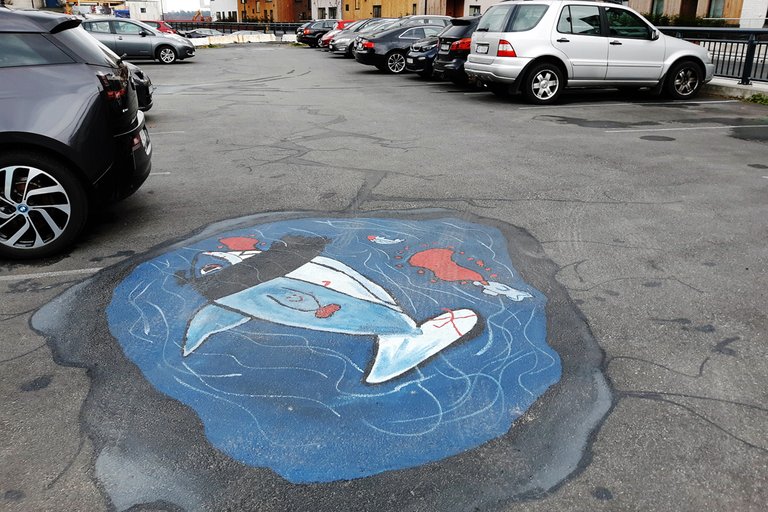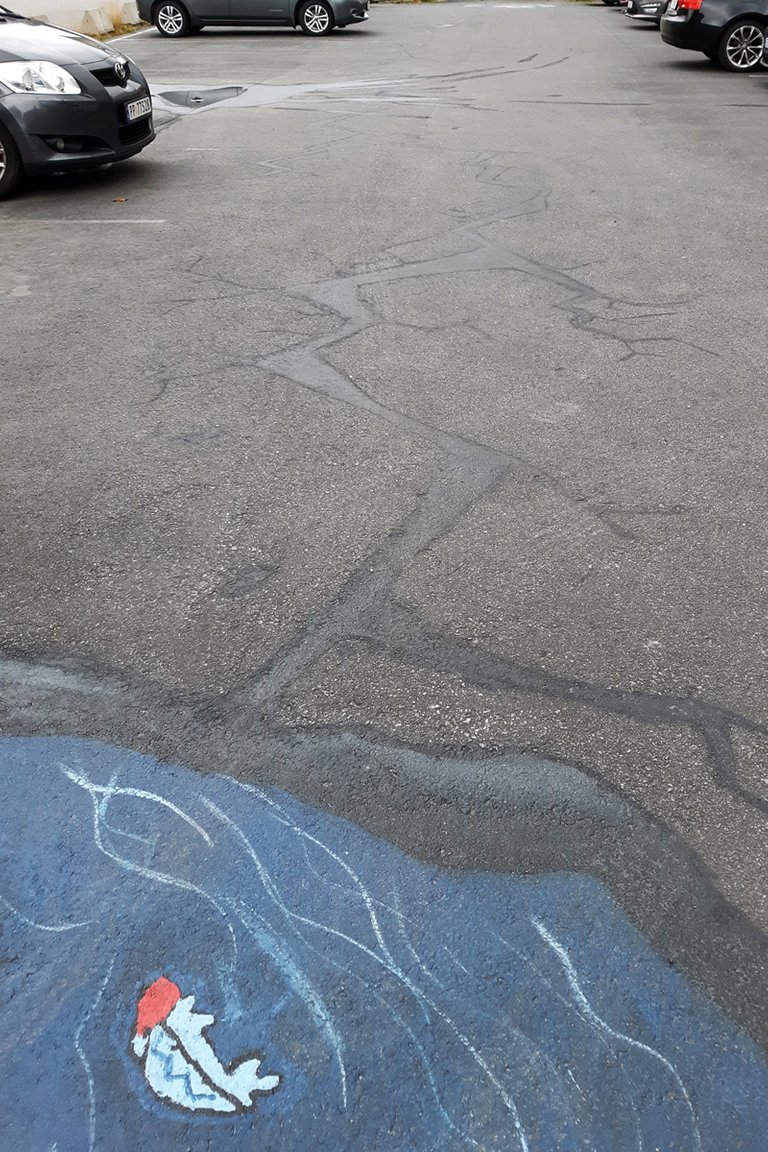 I started where it all begins with something that looks like a river that runs across the whole parking lot, connecting small lakes with each other. Then I follow this «river» to the lakes. Some of them contains life, some not. They also vary in size. The large ones are full of water and fish.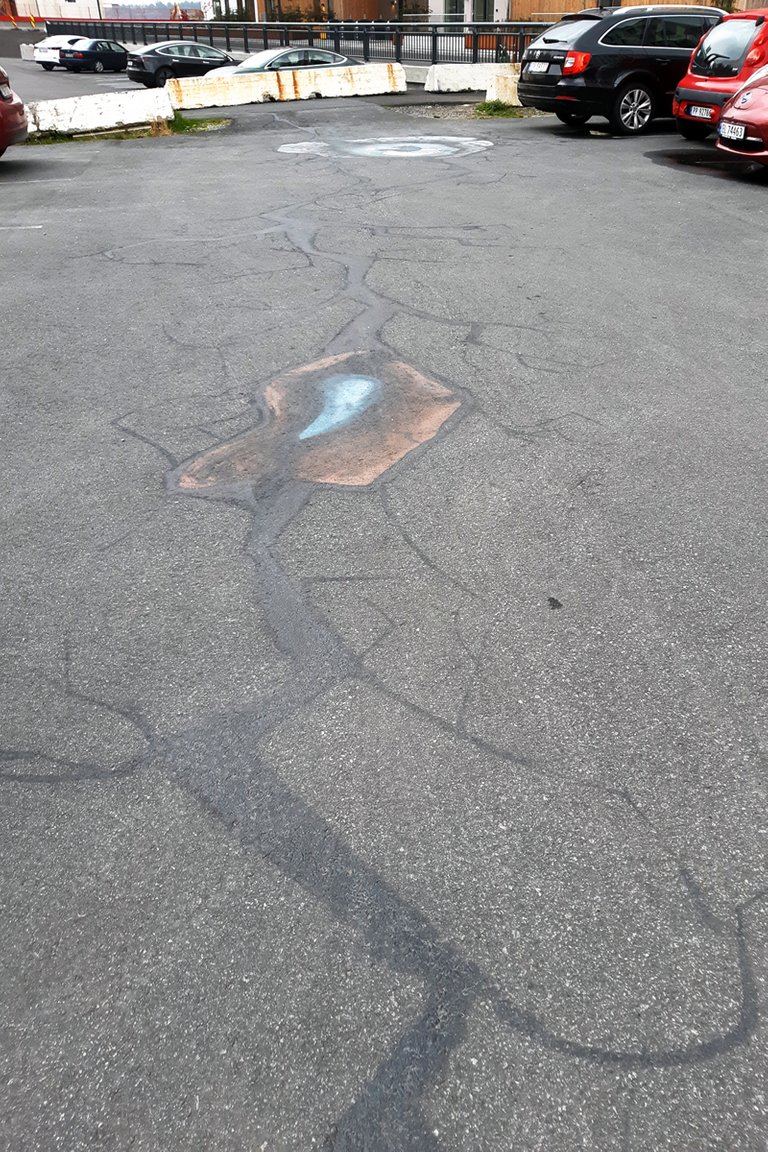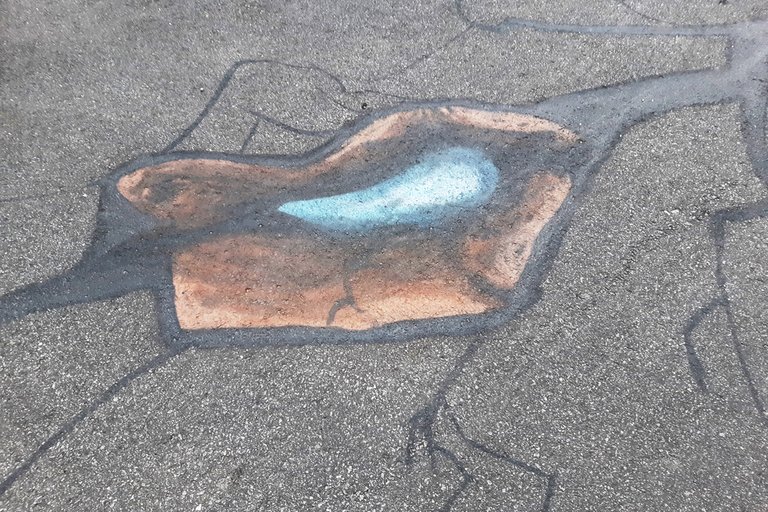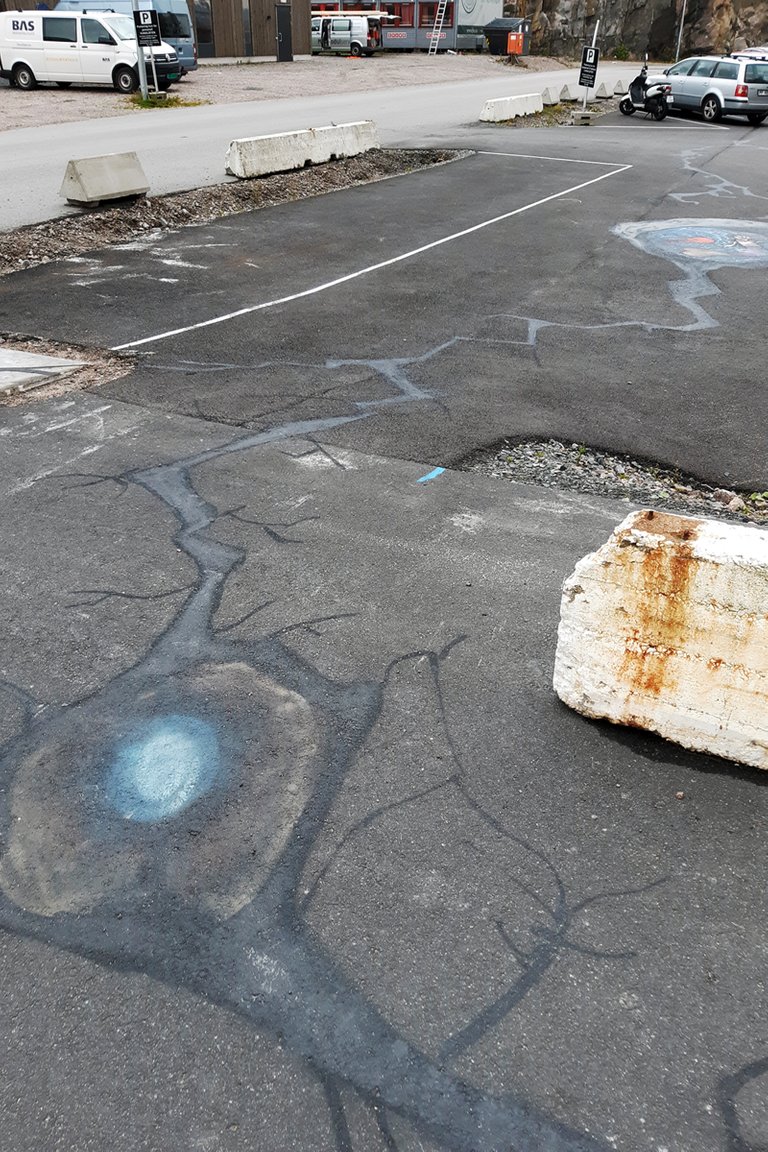 Others are small and dried out with only a little water in the middle and no life. I guess it means drought due to high temperatures and no rain ...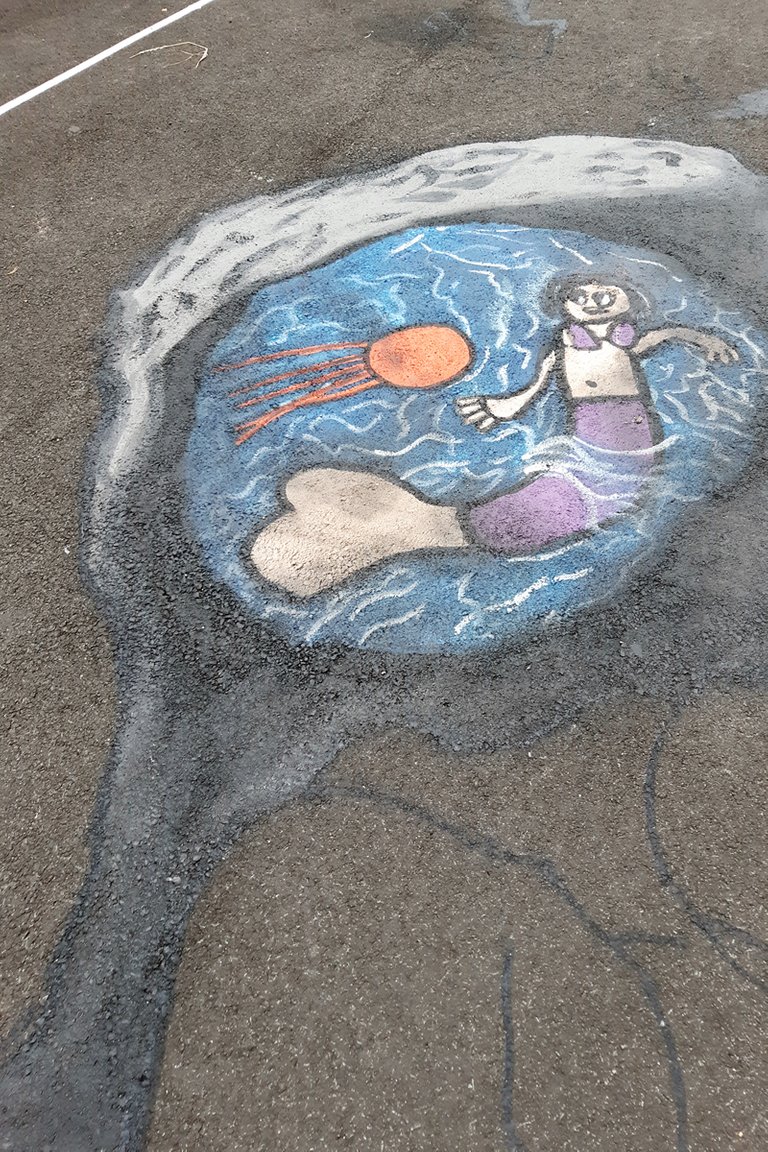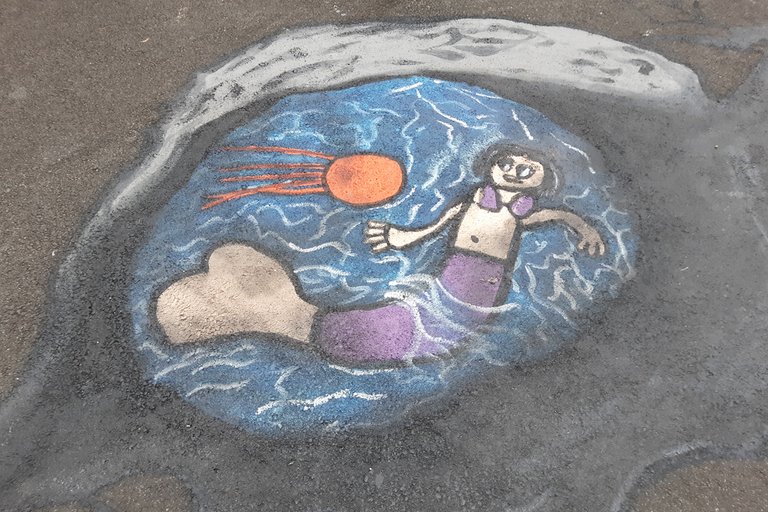 One of the lakes has a mermaid. This woman with a fishtail appeals more to the imagination than anything related to reality. So what is the meaning here?
This whole coherent painting covers the entire middle part of the car park, so that it's visible even when the cars are parked there. A slightly different piece of "street art", but I think it's a great way to decorate a parking lot.
You like street art? Join our street art contest ->
CCC's Street Art Contest #49 | 100% Liquid Payout as Prize Pool & Winners of #48
Please do follow if you want to keep up with my next street art. Any upvotes or reblogs are hugely appreciated!
Latest street art post, check out :
STREET ART #93 – Colorful figures in underpasses in Kristiansand (Norway)
U.J
Kristiansand, Norway
All the photoes are mine, Ulla Jensen (flickr, Instagram and facebook)
[//]:# (!pinmapple 58.147855 lat 7.995268 long STREET ART #94 – Instead of using walls, the artist made use of the asphalt on a parking lot. (Kristiansand, Norway) d3scr)
Read about us? // Main page!
Latest content: Travel, Art, Food, Article, Poetry