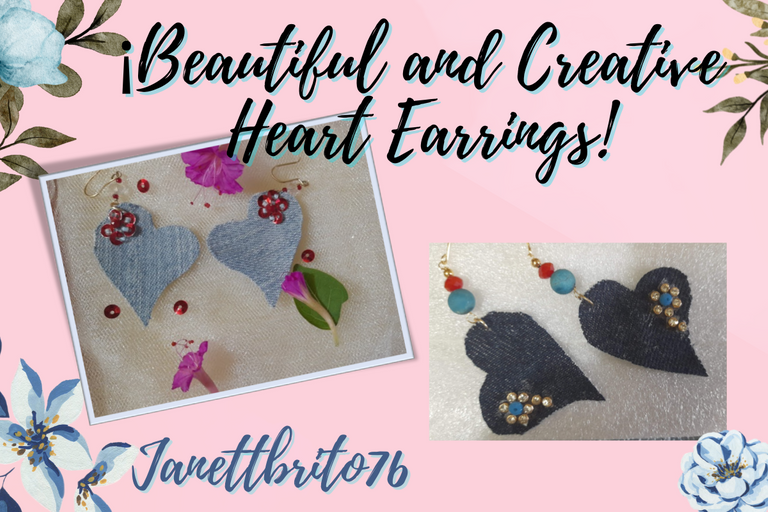 💖 Greetings to all my #HIVE Friends 💖
Have a happy evening everyone, special to all who make life in this creative and lovely #Jewelry community. Welcome back to my blog, today I want to show you the step by step of how to make these beautiful and creative earrings made with denim scraps and some crystals. Friends I tell you that this idea comes because I started attending college and the most comfortable to attend classes are jeans and I have always loved them, and what else to combine my outfits with earrings made in jeans.
These beautiful and creative earrings in the shape of hearts are ideal for gifts, to sell or simply to wear them at work, to go for a walk ... and best of all is that you can customize them to your liking, either by making a detail in the figure or in the pendant. Well, my dear friends, don't miss the step by step, so let's get to work!

💖 Saludos para todos mis Amigos del #HIVE 💖
Tengan todos una feliz noche, especial a todos los que hacen vida en esta creativas y adorable comunidad de
#Jewelry
. Bienvenidos nuevamente a mi blog, hoy les quiero mostrar el paso a paso de como realice estos hermosos y creativos aretes elaborados con retazo de jeans y algunos cristales. Amigas les cuento que esta idea viene porque ya que comencé asistir a la universidad y lo mas cómodo para asistir a dar las clases son los jeans y siempre me han encantado, y que mas que combinar mis atuendos con unos aretes elaborados en jeans.
Estos hermosos y creativos aretes en forma de corazones son ideales para obsequiar, vender o simplemente para lucirlos en el trabajo, para ir de paseo...y lo mejor de todo es que los puedes personalizar a tu gusto, bien sea realizandole algún detalle en la figura o en el colgante. Bueno mis queridas amigas no se pierdan el paso a paso. ¡¡Entonces manos a la obra!!



Czech red crystals
Blue Czech crystals
#28 gauge wire
Nylon
Blue beads
Red and blue beads
Red sequins
Crystals
Jeans fabric (remnant)
Hooks
Heart shape
Round-tipped tweezers
Wire cutting pliers


Cristales checos rojos
Cristales checos azules
Alambre calibre #28
Nailon
Cuentas azules
Mostacillas rojas y azules
Lentejuelas rojas
Cristales
Tela de Jeans (retazo)
Anzuelos
Figura de corazón
Pinza punta redonda
Pinza de corte de alambre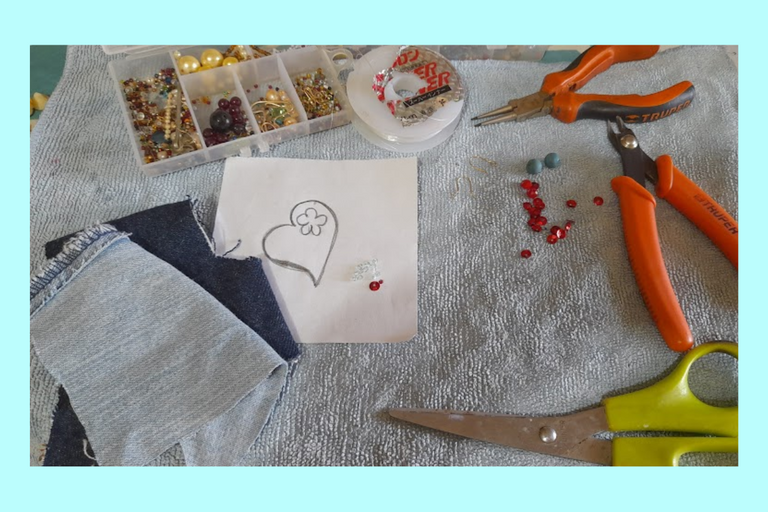 1: To make our first earring, we proceed to fix with a needle the figure of the heart to the lighter denim fabric, then we cut it. Then we do the same procedure with the darker jeans fabric.

1: Para la elaboración de nuestro primer arete, procedemos a fijar con una aguja la figura del corazón a la tela de jeans mas claro, luego cortamos. Después realizamos el mismo procedimiento con la tela de jeans mas oscuro.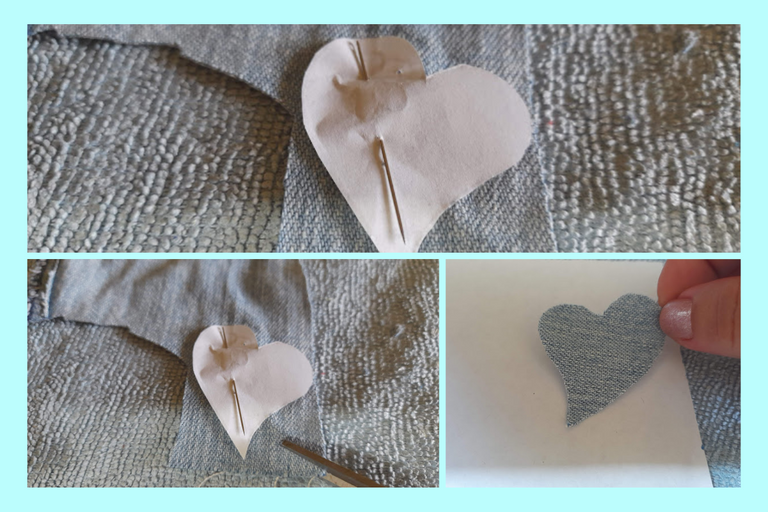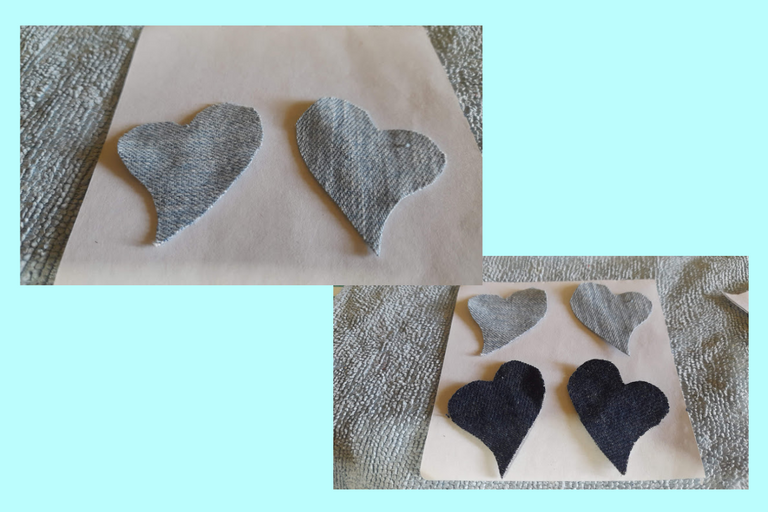 2:Now we thread our needle with the nylon, then we insert the needle in one end of the heart at the back and introduce a sequin and a blue bead, then we introduce the needle next to the sequin and repeat the procedure until we form a flower and in the center we introduce a small red crystal.

2: Ahora enhebramos nuestra aguja con el nailon, luego insertamos la aguja en uno de los extremo del corazón por la parte de atrás e introducimos una lentejuela y una mostacilla azul, seguidamente introducimos la aguja al lado de la lentejuela y volvemos a repetir el procedimiento hasta formar una flor y en el centro le introducimos un pequeño cristal rojo.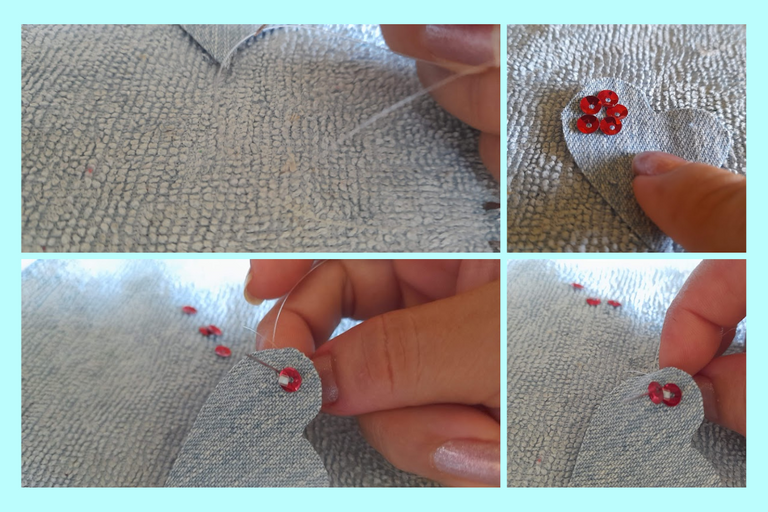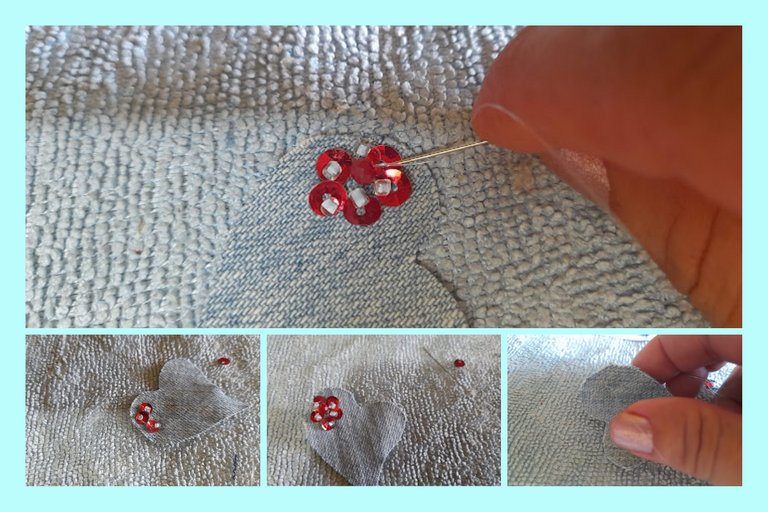 3: Then we take the wire and we make a small ring with the round tip tweezers, then we introduce a red bead, a crystal and another red bead, we close it with another ring, then we introduce it in a ring which we insert it in the corner of the heart where we form our flower and finally we place the hook.

3: Seguidamente tomamos el alambre y le realizamos una pequeña argolla con la pinza punta redonda, luego introducimos una mostacilla roja, un cristal y otra mostacilla roja cerramos con otra argolla, después la introducimos en una argolla la cual la insertamos en la esquina del corazón donde formamos nuestra flor y para finalizar le colocamos el anzuelo.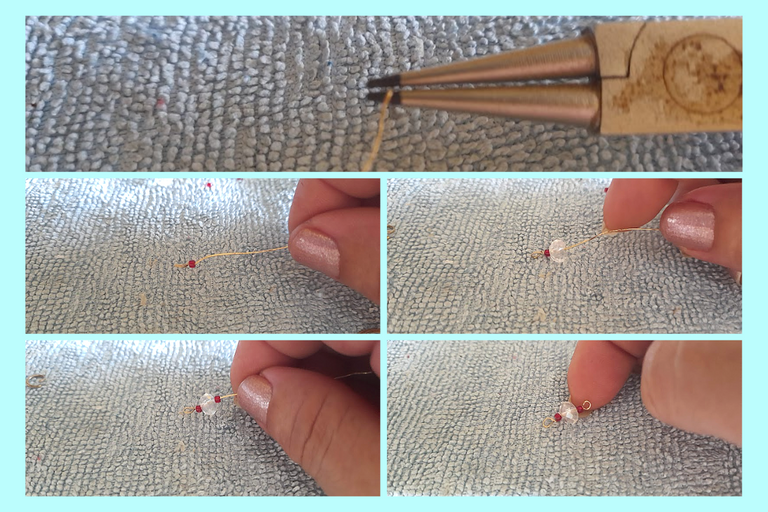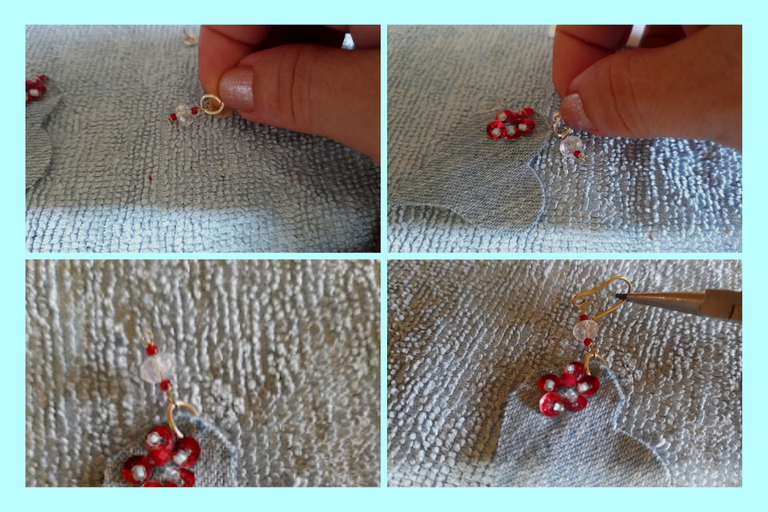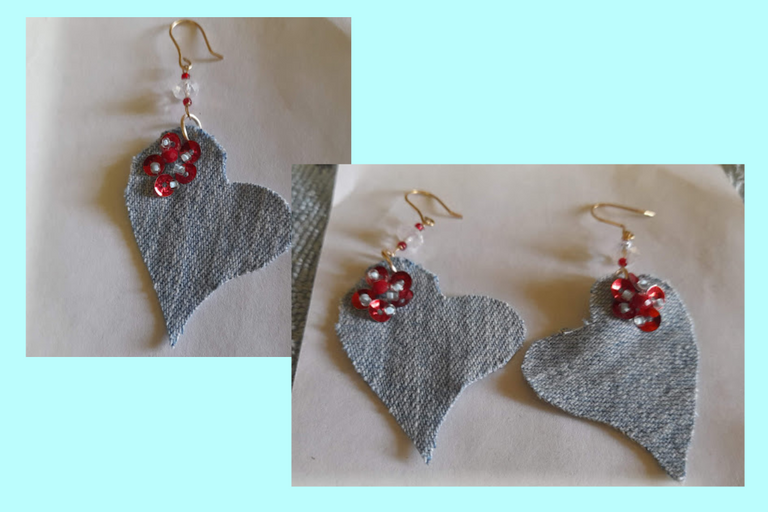 4:Now for the realization of our second earring, we proceed by gluing on one end of the dark blue jeans heart a blue crystal and around it we glue several crystals to form a flower, as you can see in the pictures.

4: Ahora para la realización de nuestro segundo arete, procedemos pegando en un extremo del corazón de jeans azul oscuro un cristal azul y alrededor pegamos varios cristales hasta formar una flor, como pueden observar en las imágenes.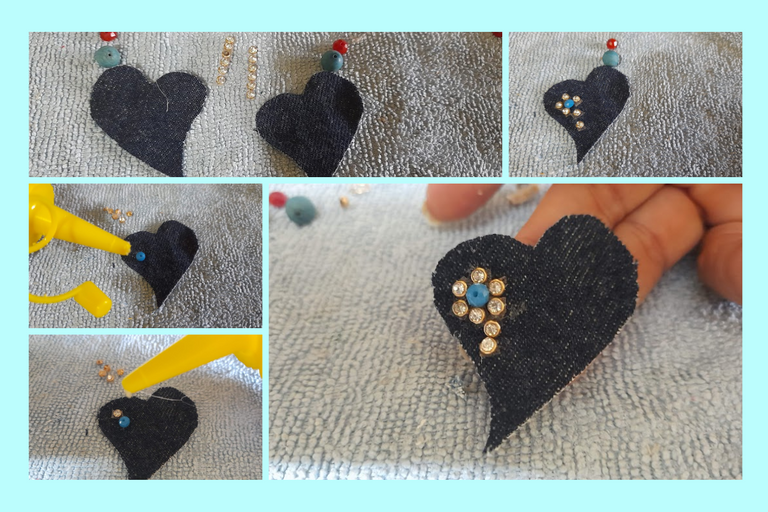 5:Then we take the wire and we make a small ring, then we introduce the blue bead, a red crystal and a golden ball and we close it with another ring. Then we proceed to introduce a ring in the other end of the heart, as you can see and finally we place the hook.

5: Seguidamente tomamos el alambre y realizamos una pequeña argolla, luego introducimos la cuenta azul, un cristal rojo y un balin dorado y cerramos con otra argolla. luego procedemos a introducir una argolla en el otro extremo del corazón, como pueden observar y para finalizar le colocamos el anzuelo.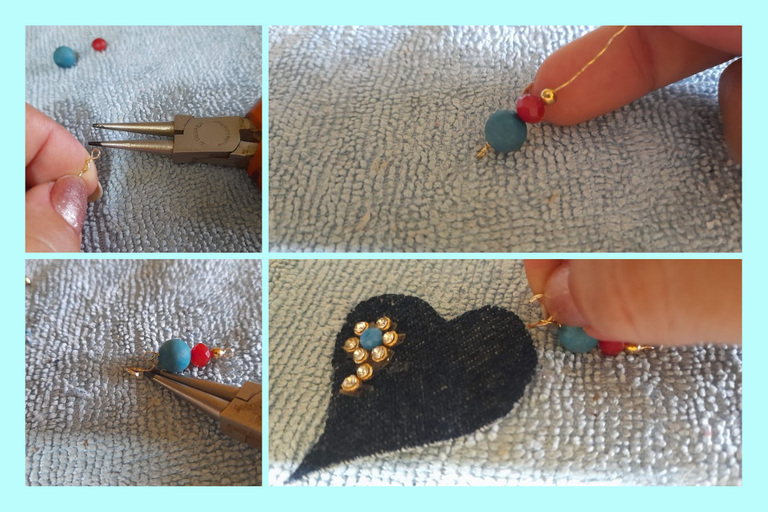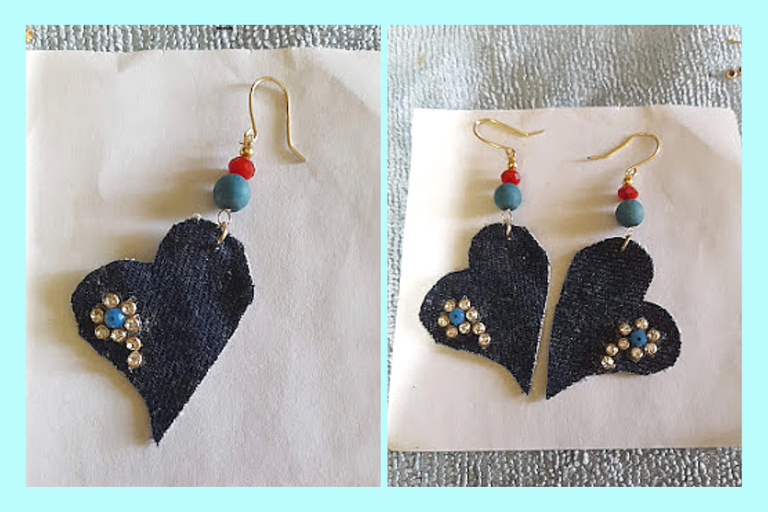 My beautiful artisans, this is the spectacular result of my beautiful earrings in the shape of hearts made in jeans fabric. I hope you liked it! and I hope you are encouraged to make your own earrings.
Until next time, crafting friends!

Mis lindas artesanas este es el resultado espectacular de mis hermosos aretes en forma de corazones elaborados en tela de jeans ¡Espero les haya sido de su agrado! y espero que se animen a realizar sus propios aretes.
¡Hasta una próxima publicación, Amigas artesanas!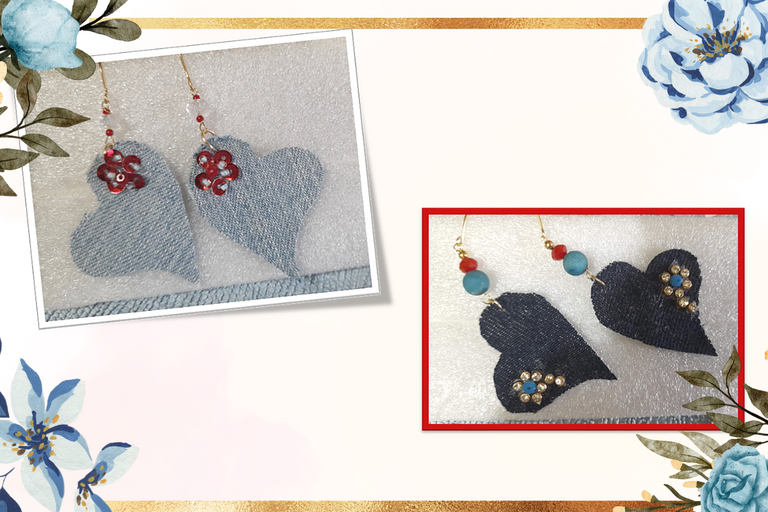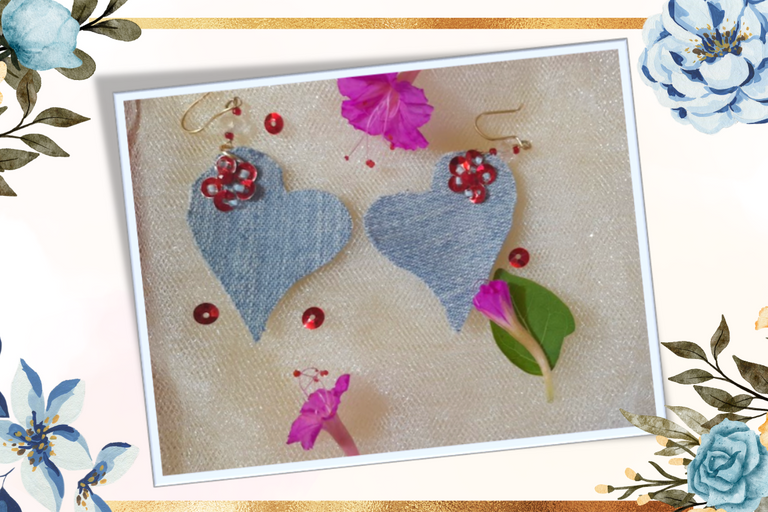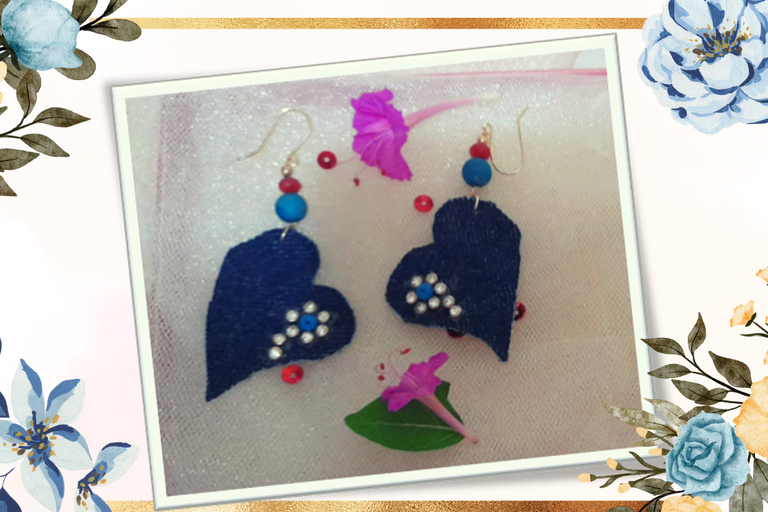 Portada y plantillas elaboradas en canva
Fuente Separador
---
---


---

---

The photographs were taken with a Samsung A12 smartphone, the text was translated into English with the Deepl translator.link
The banner was designed on canvas link



Las fotografías fueron tomadas con un teléfono inteligente Samsung A12, el texto fue traducido al ingles con el traductor Deepl.link
El banner fue diseñado en canvas link
---
---