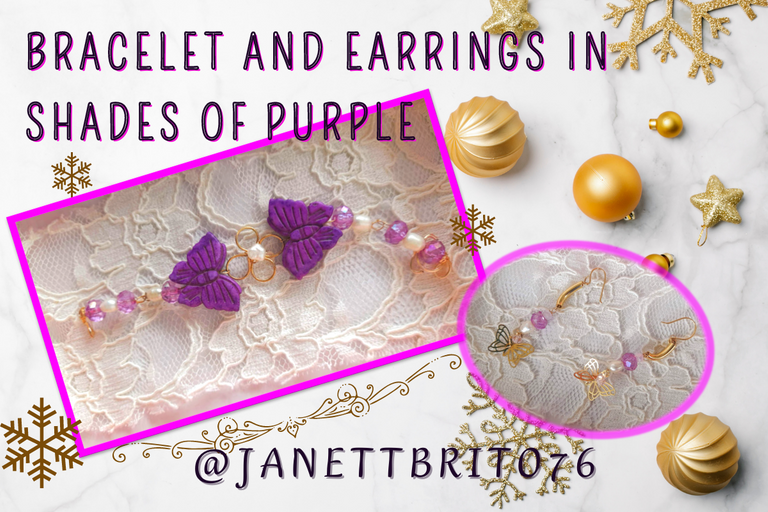 ✨ Merry Christmas #Hive friends ✨
Greetings and Merry Christmas to all my artisan friends of this wonderful #Jewelry community, I hope you have received a wonderful nativity of baby Jesus next to your loved ones.
🎄 Again welcome to my blog ✨, tonight I want to show you the step by step of how to make this beautiful bracelet and earrings set, for which I used some purple and pink crystals, some pearls and some spectacular golden and purple butterflies. This beautiful set is ideal to give as a gift to a young girl because the colors are very tender.
Amiga I tell you that using this butterfly motif has a very special meaning because they show us the symbol of immortality, rebirth and resurrection, due to the whole process behind its development, besides butterflies also represents lightness, joy and beauty for its ability to transform, which I relate to my personality because I always try to look for beauty in what I do and always try to seek a transformation in my day to day .... Friends I could also read that many people use butterflies in their homes for the attraction of good energies and goodness....
My dear friends this nice set of bracelet and arts I will be wearing it to say goodbye to this year 2022 and receive a happy new year 2023 with many positive vibes. Well friends you can follow me and I will show you step by step to make this beautiful set. Let's get to work with love and affection, let's start!
Have a HAPPY NEW YEAR HAPPY NEW YEAR to all of you.

✨ Feliz Navidad amigos del #Hive ✨
Saludos y feliz navidad para todas mis amigas artesanas de esta maravillosa comunidad de #Jewelry, espero que hayan recibido un estupenda natividad del niños Jesús al lado de sus seres queridos.
🎄 Nuevamente bienvenidos a mi blog ✨, en esta noche le quiero mostrar el paso a paso de como realice este hermoso conjuto de pulsera y aretes, para los cuales emplee algunos cristales morados y rosado, algunas perlas y unas espectaculares mariposas doradas y moradas. Este hermoso conjunto es ideal para regalar a una jovencita ya que los colores son bien tiernos.
Amiga les cuento que utilizar este motivo de mariposa tiene un significado muy especial ya que ellas nos muestra el símbolo de la inmortalidad, el renacimiento y la resurrección, debido a todo el proceso que hay tras su desarrollo, ademas las mariposas también representa la ligereza, la alegría y la belleza por su capacidad de transformación, la cual yo la relaciono con mi personalidad ya que siempre trato de buscar la belleza en lo que realizo y trato de siempre buscar una transformación en mi día a día... Amigas también pude leer que muchas personas utilizan las mariposas en su casas para la atracción de las buenas energías y las bondades...
Mis apreciadas amigas este lindo juego de pulsera y artes lo estaré luciendo para despedir este año 2022 y recibir un venturoso año nuevo 2023 con muchas vibras positivas. Bueno amigas pueden seguirme y les enseñare el paso a paso para elaborar este hermoso juego. Amigas a trabajar con mucho cariño y amor. ¡¡Comenzamos!!.
Que tengan todos un FELIZ AÑO NUEVO



🎄 Wire gauge #20
🎄 Purple crystals
🎄 Pearls
🎄 Pink swarovski
🎄 Purple Butterflies
🎄 Golden butterflies
🎄 Hooks
🎄 Separators
🎄 Round tip tweezers
🎄 Cutting pliers


🎄 Alambre calibre #20
🎄 Cristales morados
🎄 Perlas
🎄 Swarovski rosados
🎄 Mariposas Moradas
🎄 Mariposas doradas
🎄 Anzuelos
🎄 Separadores
🎄 Pinza punta redonda
🎄 Pinza de corte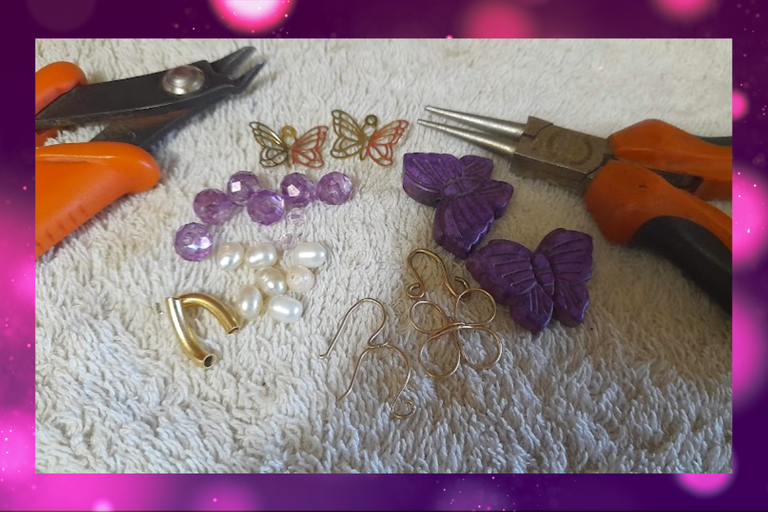 1: For the elaboration of our earrings we are going to use two purple crystals, two pearls and two pink Swarovski, we start by twisting the golden butterfly, then we introduce the pearl and then the purple crystal and the pink Swarovski, we close with a small ring.

1: Para la elaboración de nuestros aretes vamos a utilizar dos cristeles morados, dos perlas y dos Swarovski rosados, comenzamos entorchando la mariposa dorada, luego introducimos la perla y seguidamente el cristal morado y el Swarovski rosados cerramos con una pequeña argolla.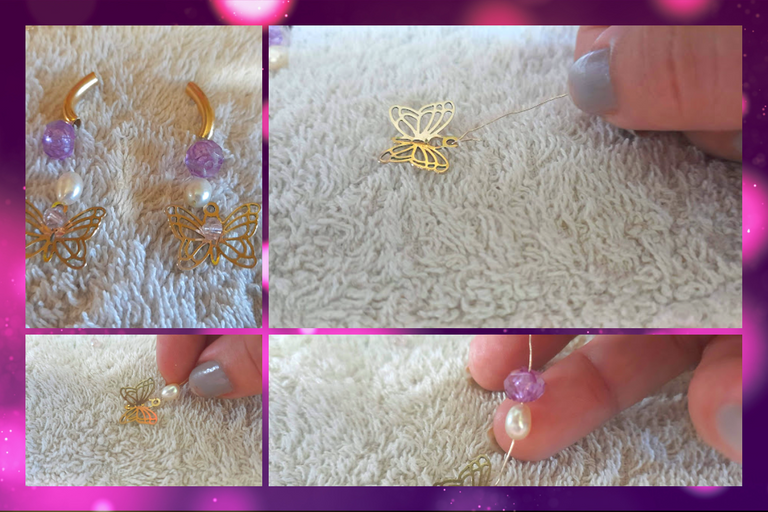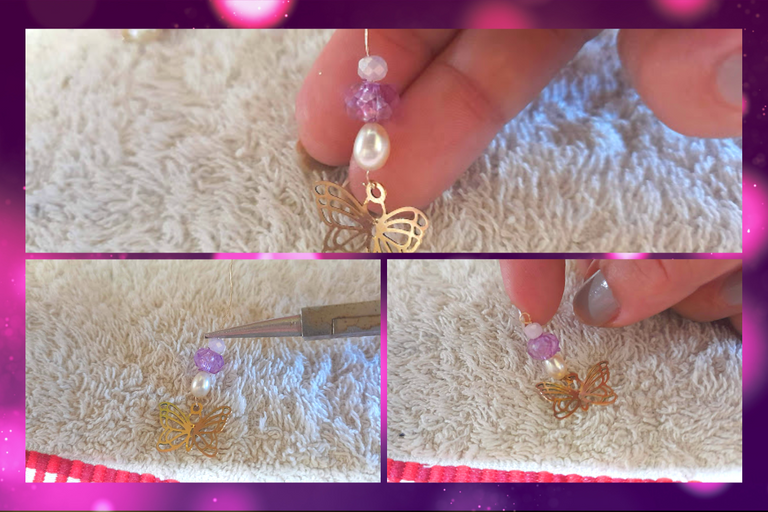 2: Then we take the separator and we screw it to our base made in the previous step and we close it with a ring. Then we take a pink Swarovski and we screw it to the top of the butterfly, as you can see, and finally we just have to insert our hook and that's it!

2: Seguidamente tomamos el separador y lo entorchamos a nuestra base realizada en el paso anterior y cerramos con una argolla. luego tomamos un Swarovski rosado y lo entorchamos en la parte superior de la mariposa, como pueden observar y para finalizar solo nos queda insertar nuestro anzuelo y listo!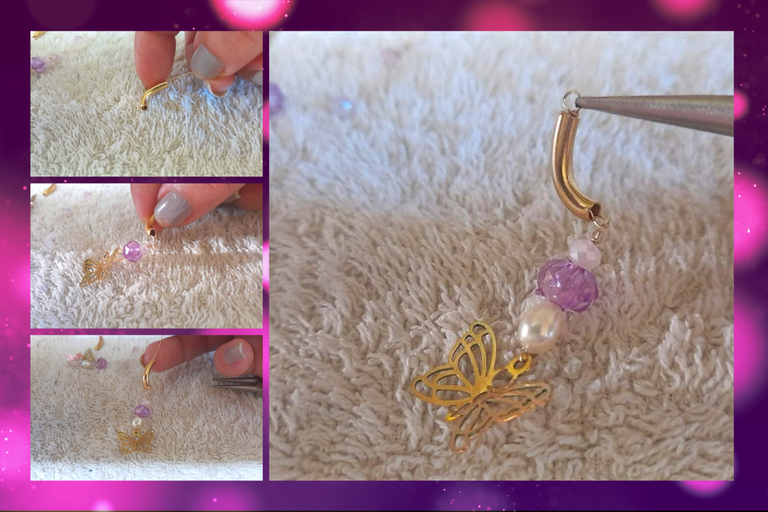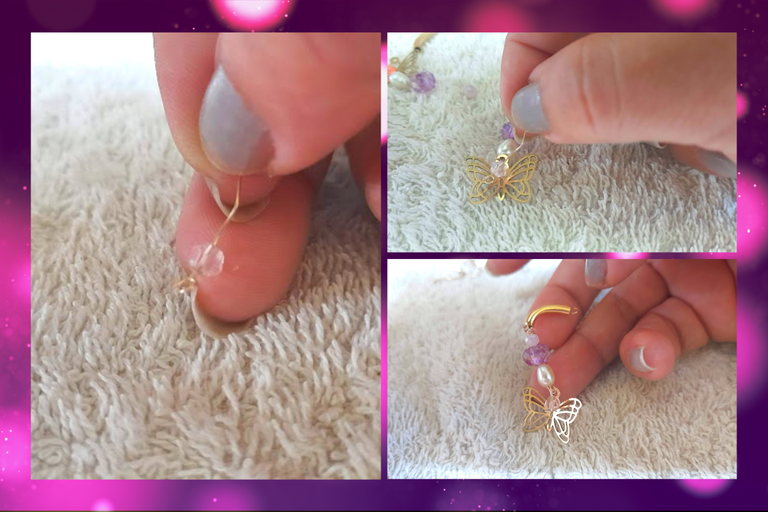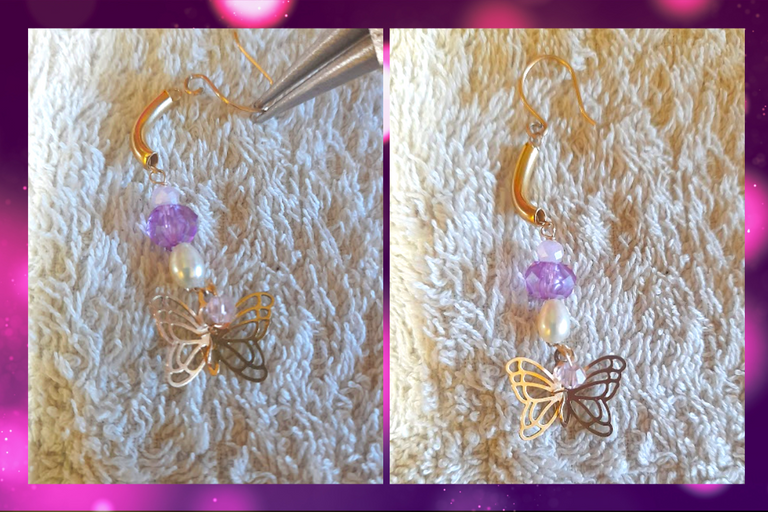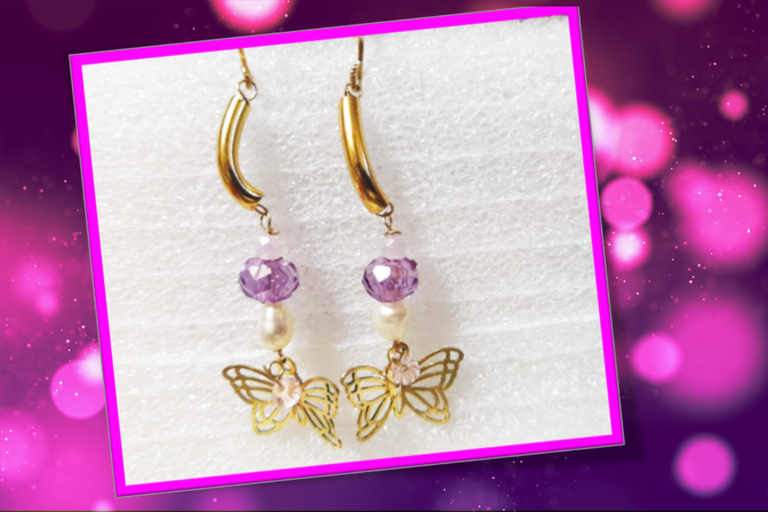 3: Now for the elaboration of our bracelet we will need two purple butterflies, some purple crystals and some pearls. We start by twisting our wire to the base in the shape of a flower, then we introduce the butterfly, a purple crystal, a pearl and close it with a ring, then we twist our wire again and introduce a purple crystal, a pearl and another purple crystal and close it with a small ring, then we repeat the same procedure on the other side of the flower base and we twist a small pearl in the center of it.



3: Ahora para la elaboración de nuestra pulsera vamos a necesitar dos mariposas moradas algunos cristales morados y unas perlas. Comenzamos entorchando nuestro alambre a la base en forma de flor, luego introducimos la mariposa,un cristal morado, una perlita y cerramos con una argolla, seguidamente entorchamos nuevamente nuestro alambre y le introducimos un cristal morado una perlita y otro cristal morado y cerramos con una pequeña argolla, luego repetimos el mismo procedimiento del otro lado de la base de flor y le entorchamos una pequeña perla en el centro de ella.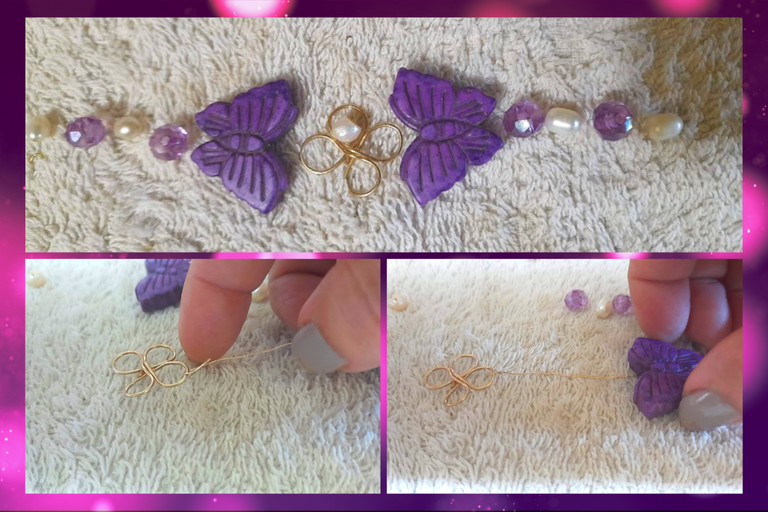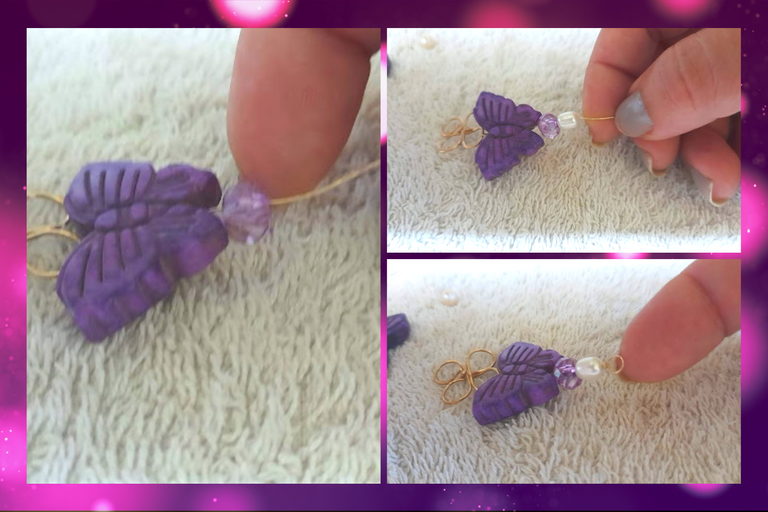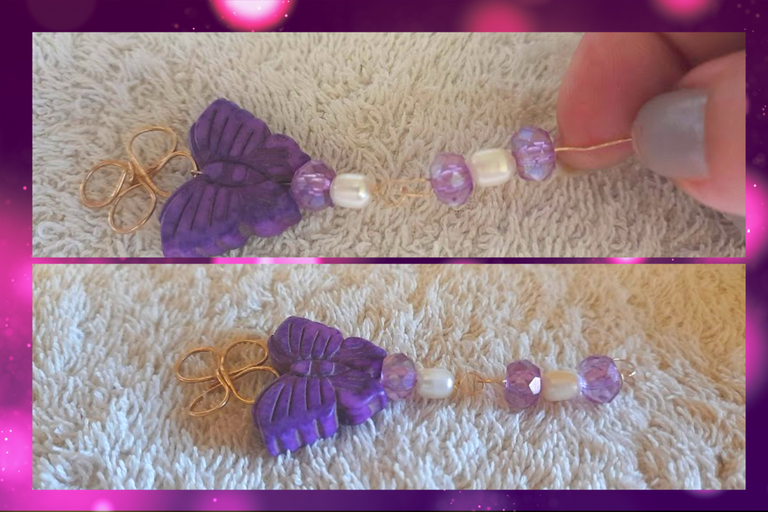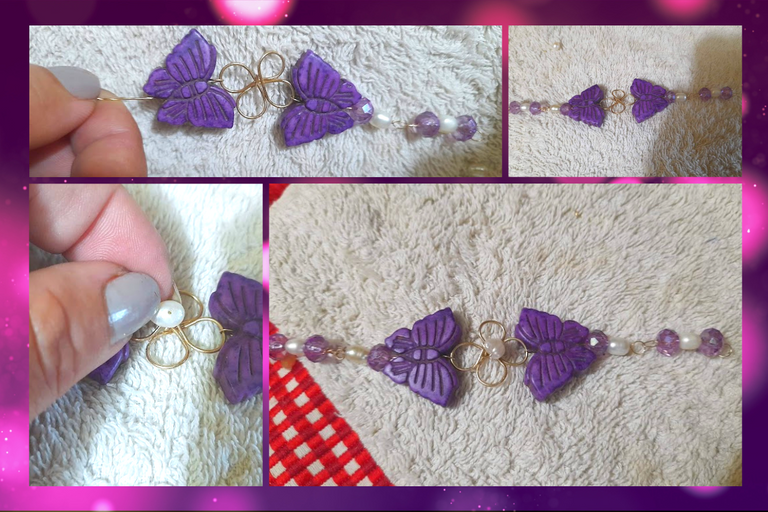 4: Then we only have to place a hook at one end and a ring at the other end to hold our bracelet.

4: Luego solo nos queda colocarle en un extremo un gancho y del otro extremo una argolla para sujetar nuestra pulsera.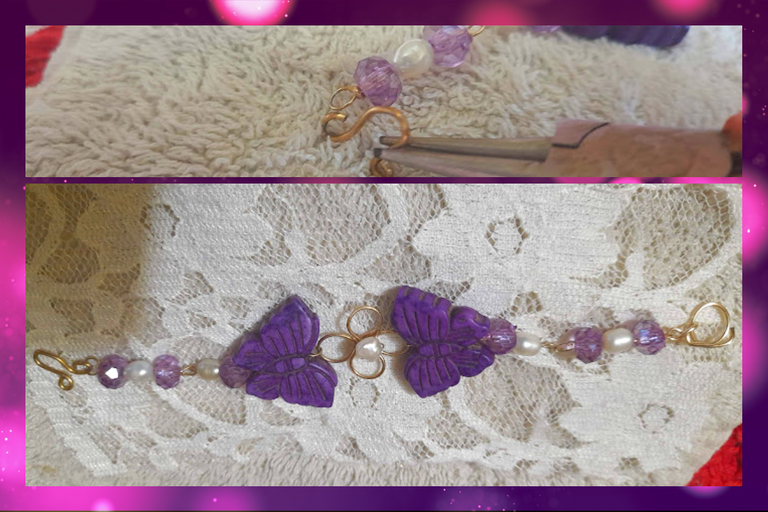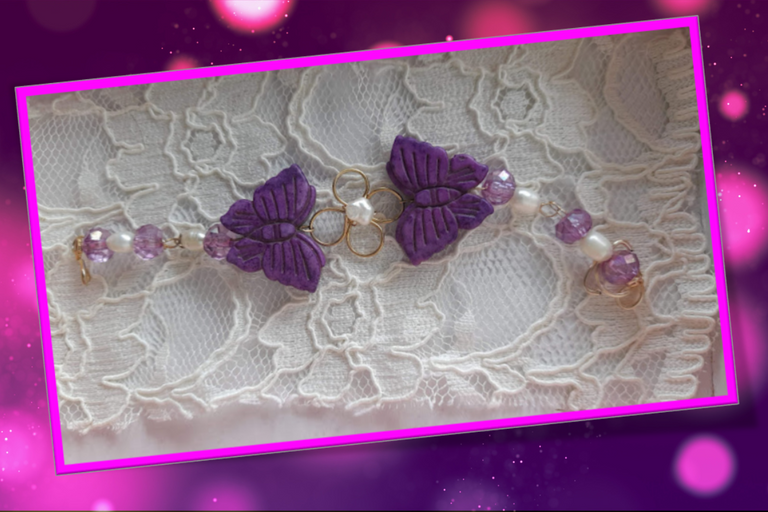 My dear creative and artisan friends, this is the final result of my beautiful set of bracelet and earrings in purple tones decorated with wonderful butterflies, I hope this idea has been of use to you and I hope you are encouraged to create your own gifts for Christmas and I am sure you all will like it very much.
Until next time, my creative friends!

Mis apreciadas creativas y artesanas este es el resultado final de mi hermoso juego de pulsera y aretes en tonos morados decorados con unas maravillosas mariposas.¡Amigas Espero que esta idea les haya sido de provecho ! y espero que se animen a crear sus propios obsequios para navidad y estoy segura que a todas les va a gustar mucho.
¡Hasta una próxima publicación amigas creativas!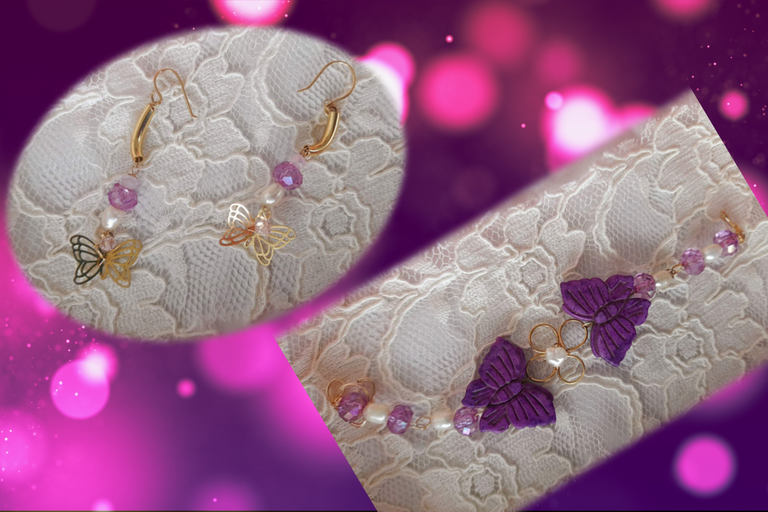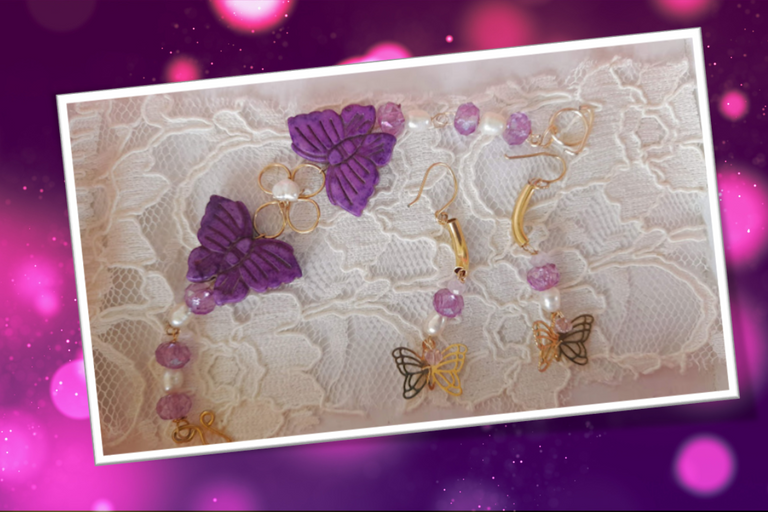 Portada y plantillas elaboradas en canva
Fuente Separador
---
---


---

---

The photographs were taken with a Samsung A12 smartphone, the text was translated into English with the Deepl translator.link
The banner was designed on canvas link



Las fotografías fueron tomadas con un teléfono inteligente Samsung A12, el texto fue traducido al ingles con el traductor Deepl.link
El banner fue diseñado en canvas link