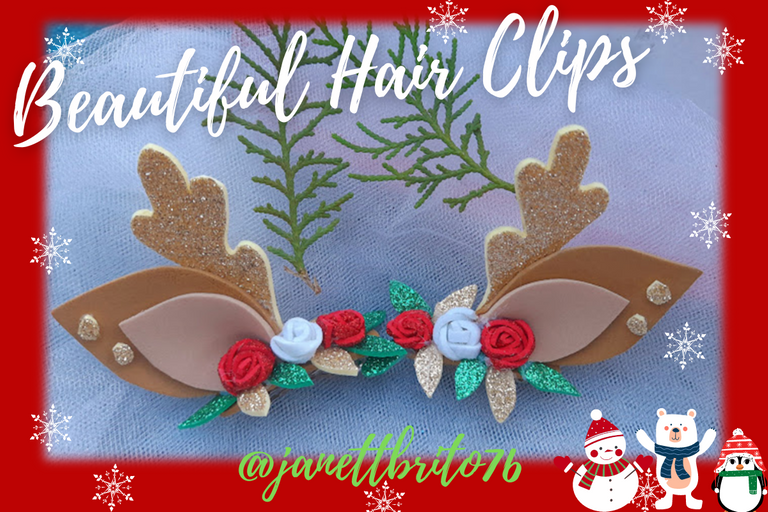 🎄 Greetings #Hive friends 🎄
Happy evening to all my creative friends who make life in this great #Jewelry community, I hope you had a nice and productive day.
🎄 Welcome back to my blog 🎄, as we all know we are already very close to the month of December, a month where the family shares and celebrate many holidays, also many expect gifts especially "the smallest of the family" that's why from today I will start to make some little details to give Christmas gifts to my children, nieces and sisters, friends. But today I started with my youngest niece "Maria" for her I made these little hair clips inspired by reindeer ears and antlers decorated with beautiful roses in red and white. These beautiful and tender hair clips are made of eva rubber, which is one of the most used materials at Christmas, as it lends itself to make endless creations such as jewelry, crafts... These cute little hooks can be made with the colors that you like and you can also use different textures of eva rubber that nowadays you can find in the market.
Well my dear creative friends I hope you like these beautiful and cute hair clips. Don't miss the step by step, let's get started!!!

🎄 Saludos amigos del #Hive 🎄
Feliz noche para todas mis creativas amigas que hacen vida en esta grandiosa comunidad de #Jewelry, espero hayan tenido un lindo y productivo día.
🎄 Bienvenidos nuevamente a mi blog 🎄, como todos sabemos ya estamos muy cerca del mes de diciembre, un mes donde la familia comparte y celebran muchas fiestas, ademas muchos esperan obsequios sobre todo "los mas pequeños de la familia" es por eso que desde hoy comenzare a realizar algunos detallitos para obsequiarle en navidad a mis hijos,sobrinas y hermanas, amigas.., pues pero hoy comencé con mi sobrinita mas pequeña "Maria" para ella les realice estos pequeños ganchos para el cabello inspirados en unas orijitas y cuernos de Reno decorados con unas hermosas rositas en color rojo y blanco. Estos hermosos y tiernos ganchos para el cabello están elaborados en goma eva, el cual es uno de los materiales mas usados en la navidad, ya que se presta para realizar infinidades de creaciones como bisuterías, manualidades... Estos lindos ganchitos los puedes realizar con los colores que mas te gusten y también puedes utilizar distintas texturas de goma eva que hoy en día en el mercado se encuentran.
Bueno mis apreciadas amigas creativas espero les guste estos hermosos y tiernos ganchos para el cabello. No te pierdas el paso a paso. ¡¡Empecemos pues!!



🎄 EVA rubber (dark brown, light brown, frosted red, white, frosted green, gold)
🎄 Hair clips
🎄 Hot / cold silicon
🎄 Leaf and horn molds
🎄 Scissors
🎄 Ruler


🎄 Goma eva (Marrón oscuro, marrón claro, rojo escarchado, blanco, verde escarchado, dorado)
🎄 Ganchos para el cabello
🎄 silicon frío / Caliente
🎄 Molde de hojas y cuernos
🎄 Tijera
🎄 Regla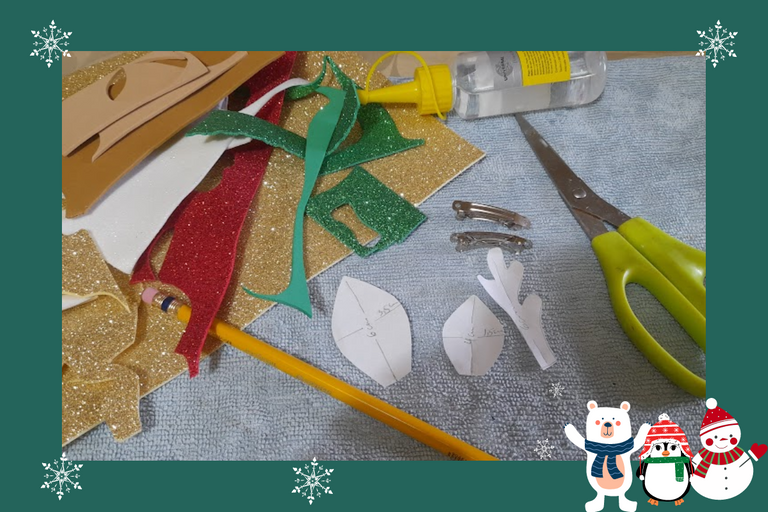 1: To make the ears of our little hooks, we start by marking on the dark brown eva rubber the mold of the leaf 6 centimeters long by 3.5 centimeters wide, then we cut it out.

1: Para la elaboración de las orejitas de nuestros ganchitos, iniciamos marcando en la goma eva marrón oscuro el molde de la hoja de 6 centímetros de largo por 3,5 centímetros de ancho, luego recortamos.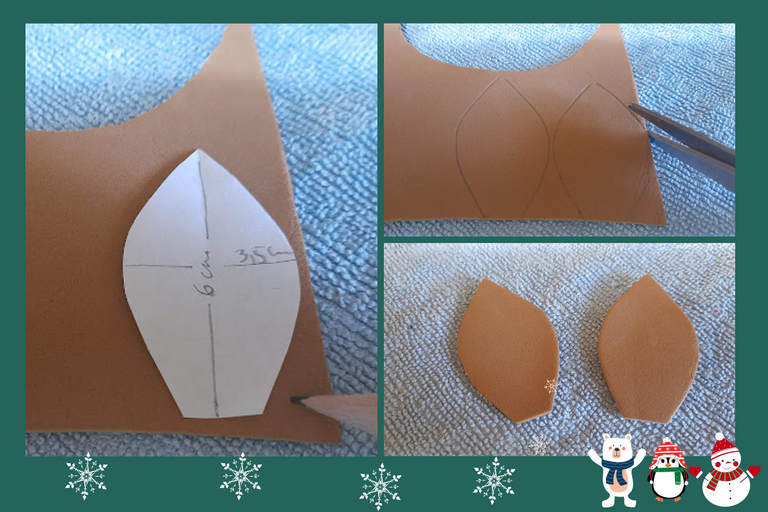 2: Then we proceed to mark the other leaf mold 4 centimeters long by 1.5 centimeters wide on the light brown eva rubber, then we cut them out and proceed to glue them on top of the other leaves already cut out to form the ears for our hooks, as you can see in the images.

2: Seguidamente procedemos a marcar el otro molde de hoja de 4 centímetros de largo por 1,5 centímetros de ancho en la goma eva marrón claro, luego recortamos y procedemos a pegarlas encima de las otras hojitas ya recortadas y así formar las orejitas para nuestros ganchos, como pueden observar en las imágenes.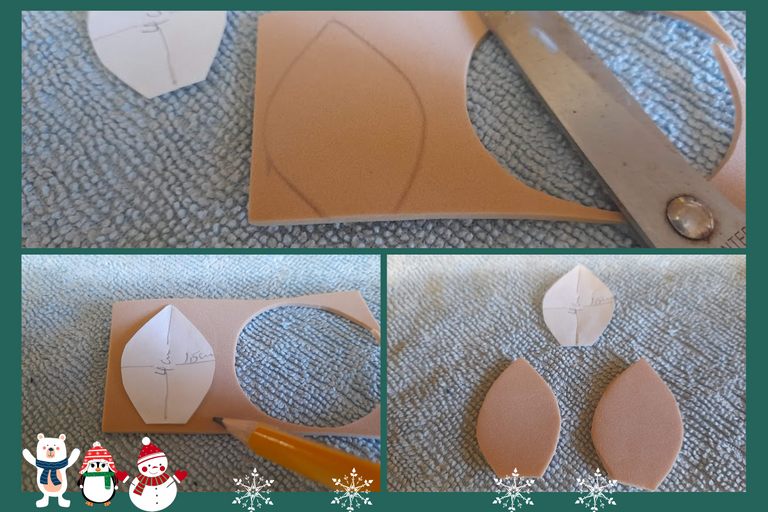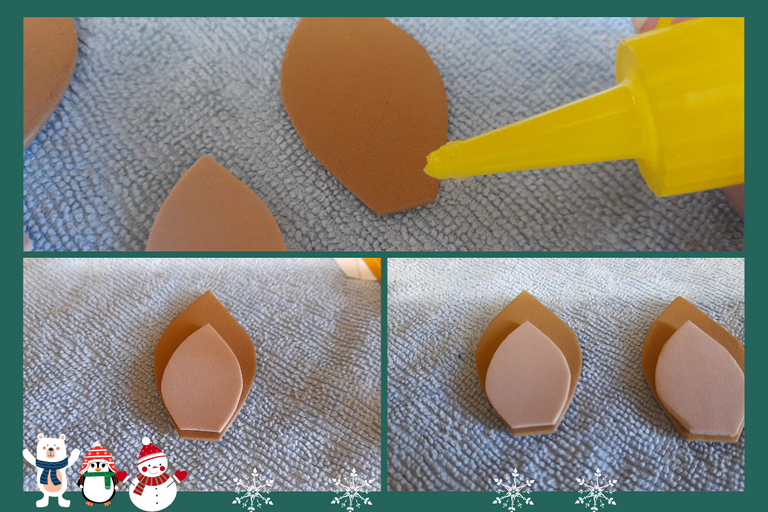 3: We take the golden eva rubber and mark the horns, then we cut them out and proceed to glue them with the cold silicone on one side of each of the ears, then to decorate a little bit the ears we glue some small circles of golden eva rubber on one end of them.

3: Tomamos la goma eva dorada y marcamos los cuernos, luego recortamos y procedemos a pegarlos con el silicon frío por un costado de cada una de las orejitas, después para decorar un poco las orejitas les pegamos unos pequeños círculos de goma eva dorado en un extremo de ellas.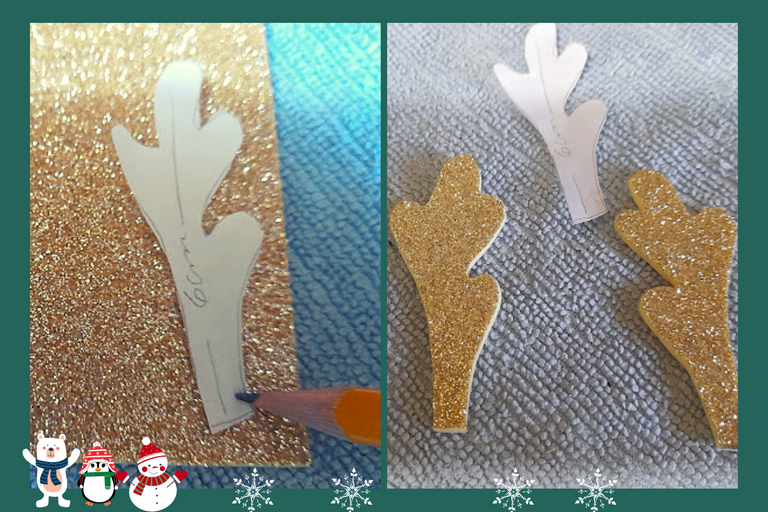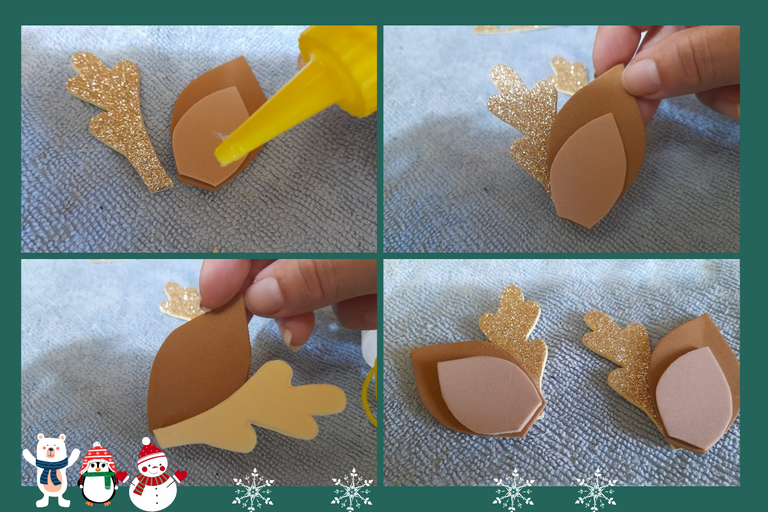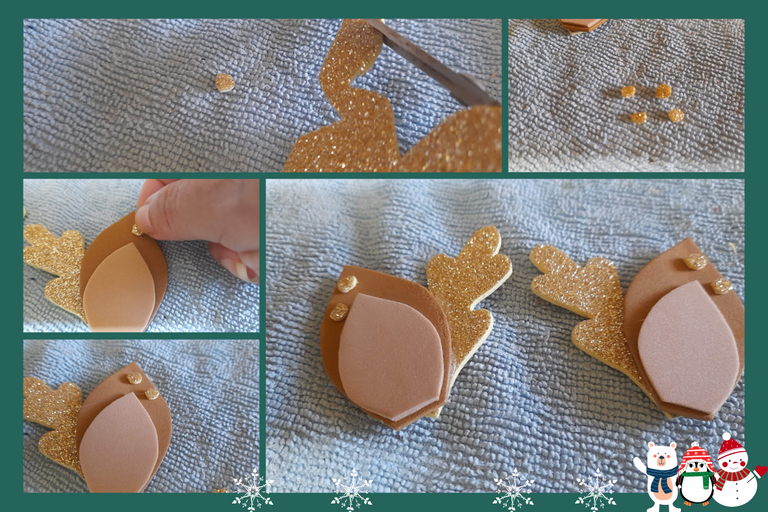 4: Now to make a small roses, the first thing we do is to cut a strip of 10 centimeters long by 0.5 wide, then cut it in half leaving about 2 centimeters at one end, then proceed to cross each strip and then we roll them up to form the roses, as you can see in the pictures, repeat the same procedure for the white roses. Then we cut out some small leaves in frosted green and golden eva rubber to decorate our little hooks.

4: Ahora para realizar unas pequeñas rositas, lo primero que hacemos es cortar una tira de 10 centímetros de largo por 0,5 de ancho, luego la cortamos a la mitad dejando unos 2 centímetros en uno de los extremos, después procedemos a entre cruzar cada tira y luego las vamos enrollando hasta formar la rosita, como pueden observar en las imágenes, repetimos el mismo procedimiento para las rositas blancas. Seguidamente recortamos unas pequeñas hojitas en goma eva verde escarchado y dorado para la decoración de nuestro ganchitos.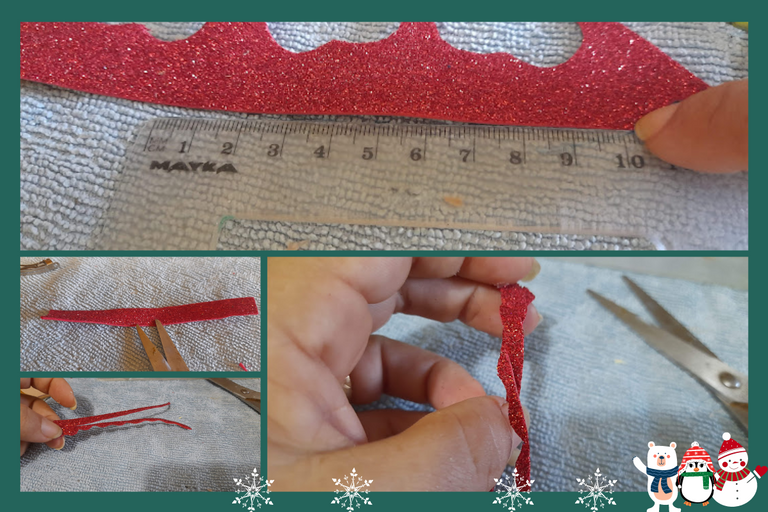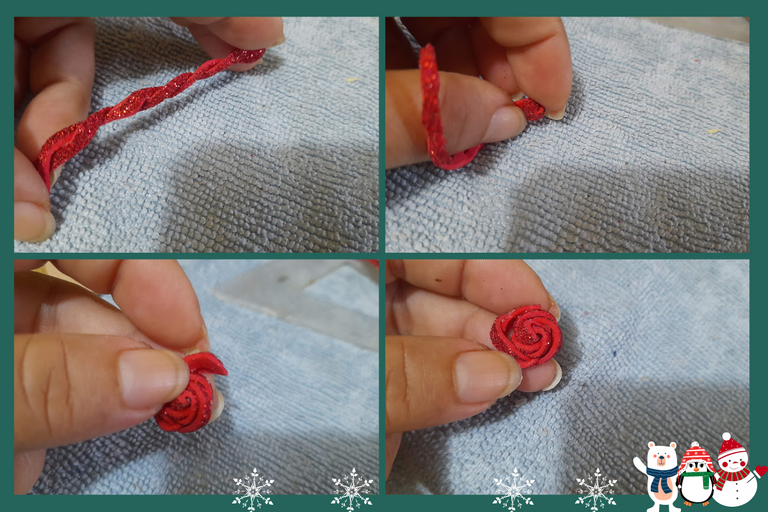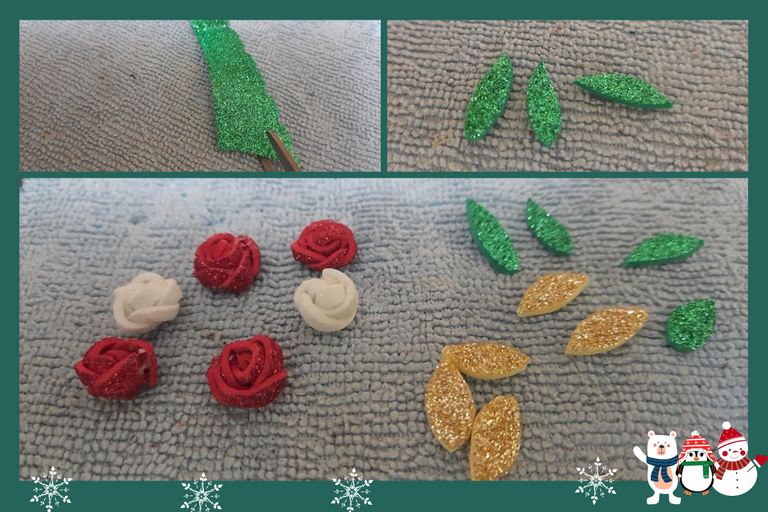 5: Then we take the hooks and glue a strip of brown eva rubber, then we mold the corners, then we take the ears and join them a little at the bottom, then with the hot silicone we glue them to the hooks, then we proceed to glue the roses and leaves and that's it.

5: A continuación tomamos los ganchos y le pegamos una tira de goma eva marrón luego moldeamos las esquinas, seguidamente tomamos las orejitas y las unimos un poco en la parte inferior, después con el silicon caliente las pegamos a los ganchos, luego procedemos a pegarle las rositas y las hojitas y listo.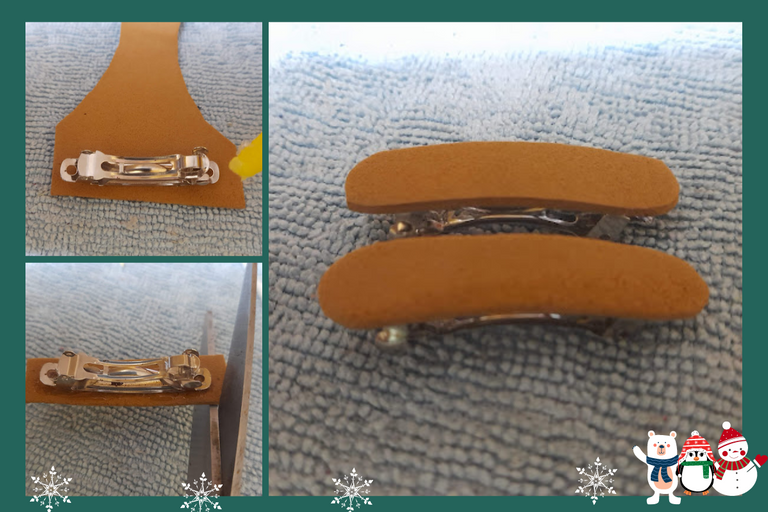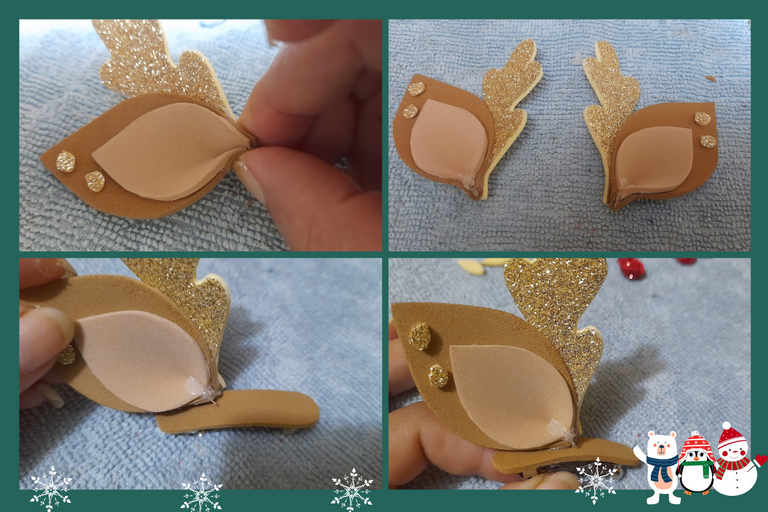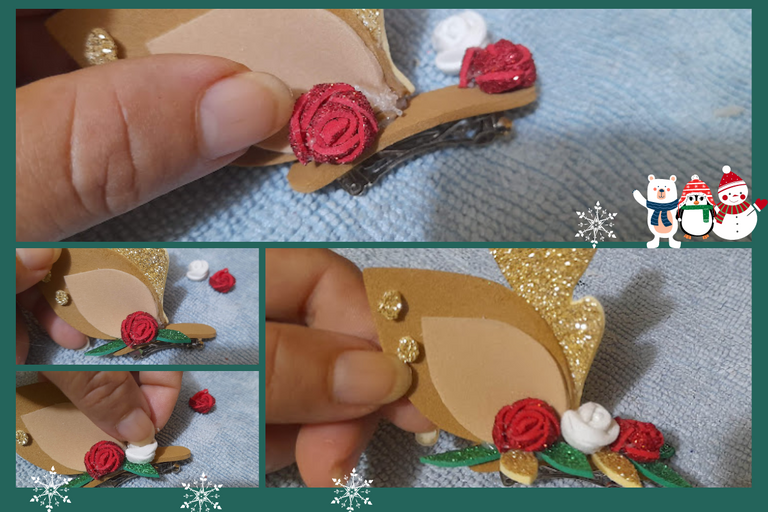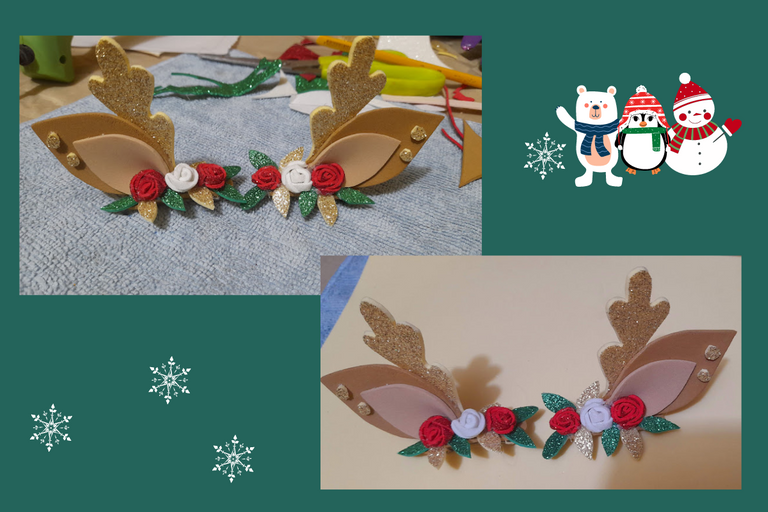 My dear craftswomen, here I show you the final result of these beautiful and cute hair clips inspired by Christmas. I am sure that my beautiful niece "MARIA" will love them and I hope you liked them and I hope you are encouraged to create these cute hair clips.
Until next time, creative friends !

Mis Apreciadas artesanas, aquí les muestro el resultado final de estos hermoso y tiernos ganchos para el cabello inspirados en la navidad. Estoy segura que mi bella sobrinita "MARÍA" les va a encantar y les van a quedar bien lindo en su cabello.¡Espero les hayan gustado ! y espero que se animen a crear estos tiernos ganchitos.
¡Hasta una próxima publicación amigas creativas!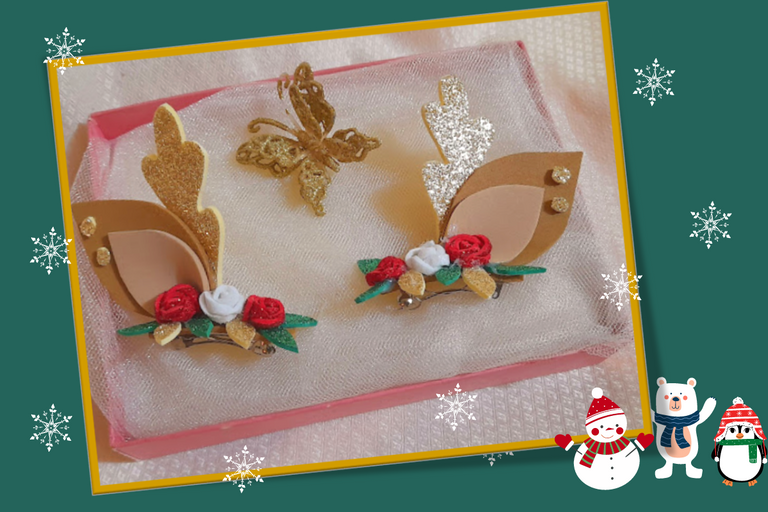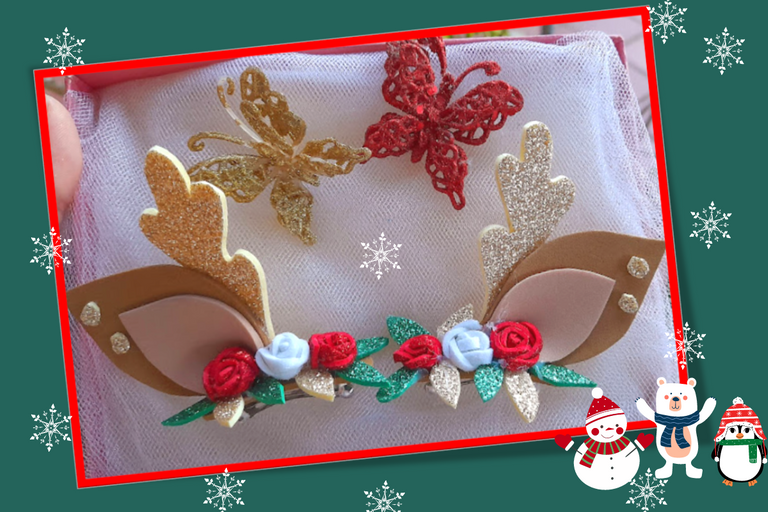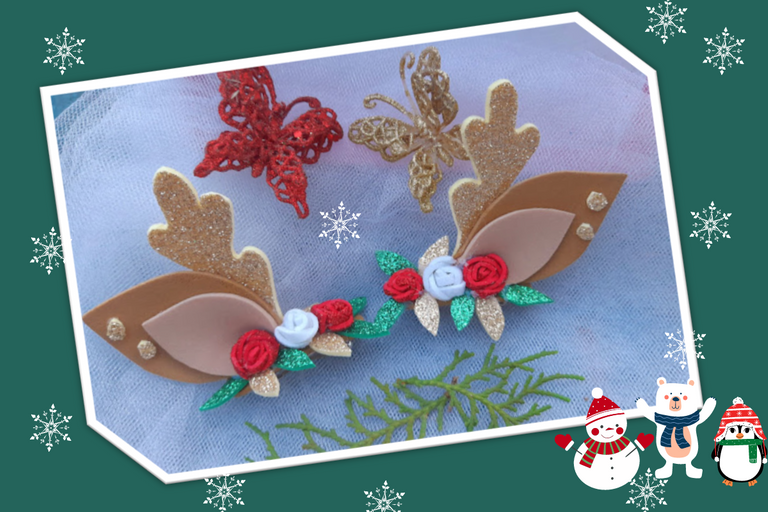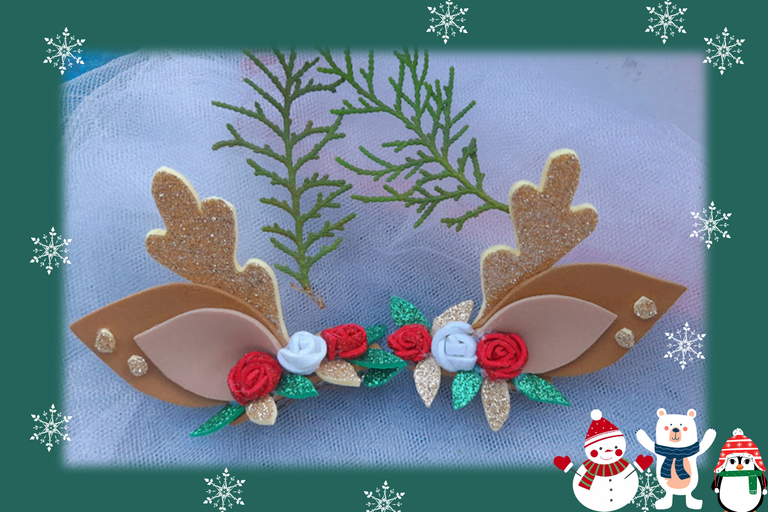 Portada y plantillas elaboradas en canva
Fuente Separador
Imagen referencial


---
---


---

---

The photographs were taken with a Samsung A12 smartphone, the text was translated into English with the Deepl translator.link
The banner was designed on canvas link



Las fotografías fueron tomadas con un teléfono inteligente Samsung A12, el texto fue traducido al ingles con el traductor Deepl.link
El banner fue diseñado en canvas link