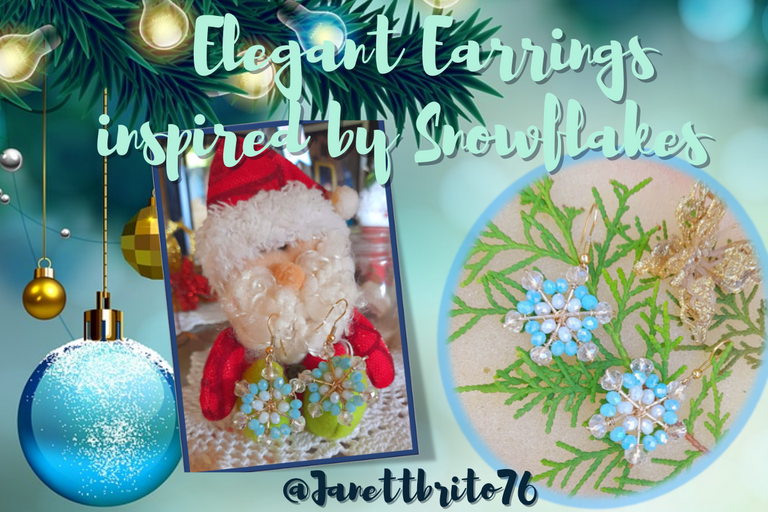 🎄✨ 🎁 Happy Holidays #Hive friends 🎁✨🎄
Greetings and hugs to all my creative crafters of this awesome #Jewelry community, I hope you are chevere and having a great time next to your loved ones.
🎁 Again welcome to my blog ✨, today I want to show you the step by step so you can make these cute and elegant earrings inspired by beautiful snowflakes, which are made in clear, blue and white Czech crystals, I consider that these beautiful snowflake earrings are ideal for this holiday season, which I made them to highlight the cold that accompanies us every day here in my beautiful "Isla de Margarita" because being an island throughout the year is very hot, I confess that this is one of the months that I like the cold. ..
This cute and elegant snowflake crafts are easy and inexpensive to make, since you only need a little creativity and patience to create a beauty like these cute snowflakes which are 100% original.
My dear creative and artisan friends, this type of jewelry is ideal to give this Christmas to that special person in your life. Then follow me and I will show you step by step how to make them. Friends to work with love and care, let's start!!!.

🎄✨ 🎁 Felices fiestas amigos del #Hive 🎁✨🎄
Saludos y abrazos para todas mis creativas artesanas de esta estupenda comunidad de #Jewelry, espero estén chevere y la esten pasando muy muy bien al lado de sus seres queridos.
🎁 Nuevamente bienvenidos a mi blog ✨, en el día de hoy les quiero mostrar el paso a paso para que puedan realizar estos lindos y elegantes aretes inspirados en unos hermosos copitos de nieve, los cuales están elaborados en cristales checos transparentes, azules y blancos, considero que estos hermosos aretes de copos de nieve son ideales para estas fiestas decembrinas, los cuales los elabore para resaltar el frío que nos acompaña cada día aquí en mi bella "Isla de Margarita" ya que por ser isla durante todo el año hace mucha calor, les confieso que esta es una de los meses que mas me gusta por el frío...
Este lindos y elegantes artes de copitos de nieve son fáciles y económicos de elaborar, ya que solo necesitas un poco de creatividad y paciencia para crear una bellezas como estos lindo copos de nieves los cuales son 100% originales.
Mis queridas amigas creativas y artesanas, este tipo de bisutería es ideal para obsequiar en estas navidades a esa personita especial en tu vida. Entonces sígueme y te enseñare paso a paso como los elabore. Amigas a trabajar con mucho cariño y amor. ¡¡Comenzamos!!.



🎁 #18 gauge wire
🎁 #22 gauge wire
🎁 Clear crystals
🎁 Light blue crystals
🎁 White crystals
🎁 Hooks
🎁 Round tip tweezers
🎁 Cutting tweezers


🎁 Alambre calibre #18
🎁 Alambre calibre #22
🎁 Cristales transparentes
🎁 Cristales Azul claro
🎁 Cristales blancos
🎁 Anzuelos
🎁 Pinza punta redonda
🎁 Pinza de corte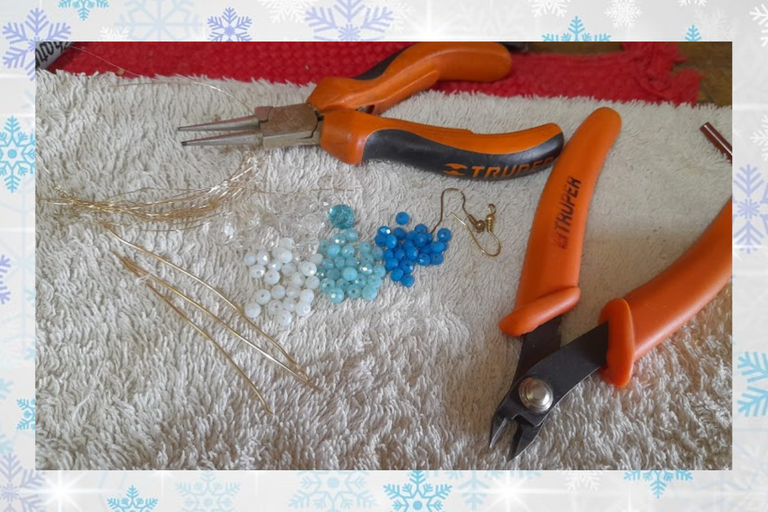 1: We start by cutting three #18 wire sticks of 6 centimeters each, then we take each one of them and cut them in half (3 centimeters) getting 6 #18 wire sticks.

1: Comenzamos cortando tres palitos de alambre #18 de 6 centímetros cada uno, seguidamente tomamos cada uno de ellos y los cortamos a la mitad (3 centímetros) consiguiendo 6 palitos de alambre #18.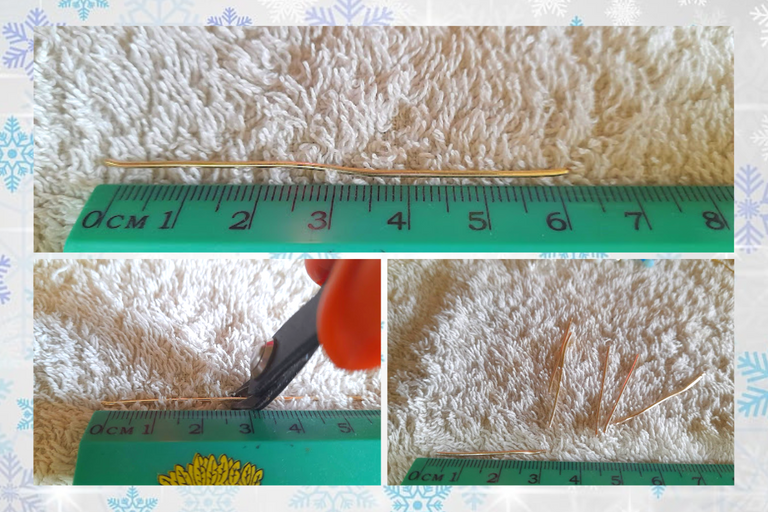 2: Now we form our snowflake in the following way, we twist two of the sticks in the center forming an "X" and then we twist the other stick on top of the "X" forming our snowflake shape.

2: Ahora pasamos a formar nuestro copo de nieve de la siguiente manera, entorchamos dos de los palitos en el centro formando una "X" y luego entorchamos el otro palito encima de la "X" formando así nuestra forma de copo.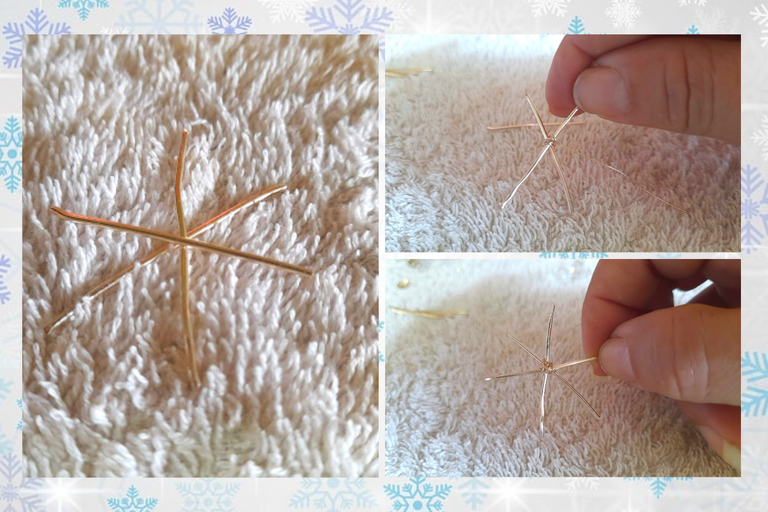 3: Then we twist the wire #22 on one of the sticks, then we proceed to introduce two white crystals, we twist the wire on the next stick and proceed again to introduce two white crystals, until we complete the whole center. Then we proceed to perform the same procedure with the blue crystals and then in each of the tips of the sticks we introduce a transparent crystal and with the help of the round tip tweezers we make a small grimace so that the crystals do not come out, as you can see in the images.

3: Seguidamente entorchamos el alambre #22 en uno de los palitos, luego procedemos a introducir dos cristales blancos, entorchamos el alambre en el palito siguiente y procedemos nuevamente a introducir dos cristales blancos, hasta completar todo en centro. Después procedemos a realizar el mismo procedimiento con los cristales azules y luego en cada una de las puntas de los palitos le introducimos un cristal transparente y con la ayuda de la pinza punta redonda le realizamos unas pequeñas muecas para que no se nos salgan los cristales, como pueden ver en las imágenes.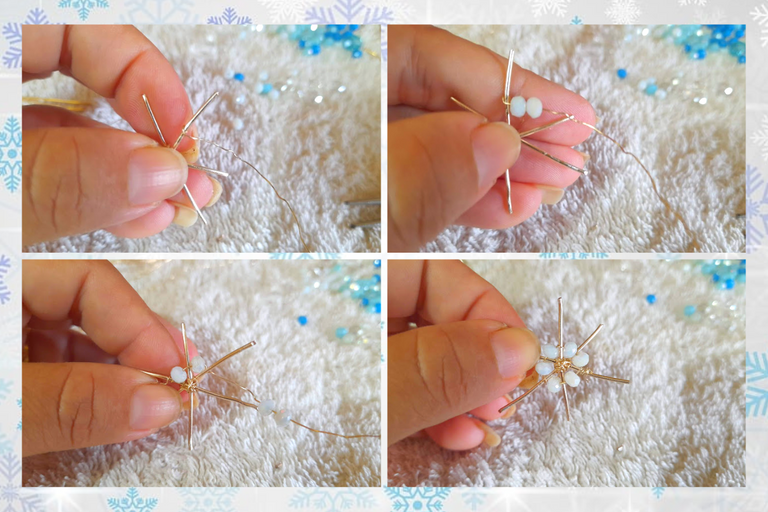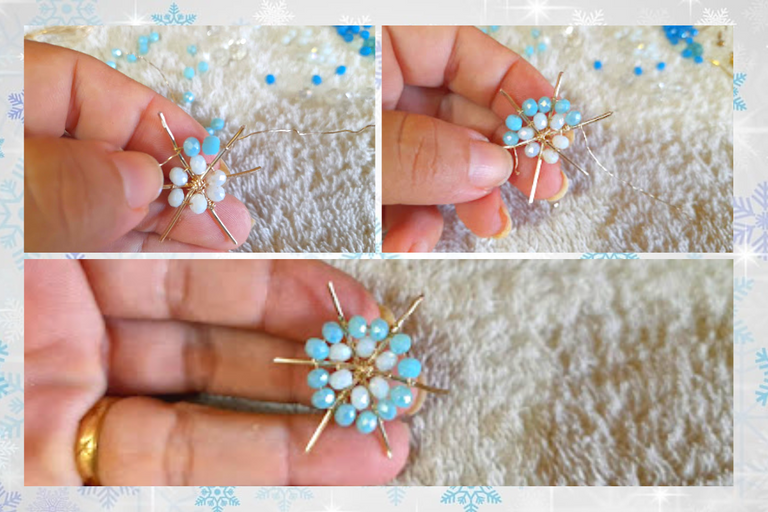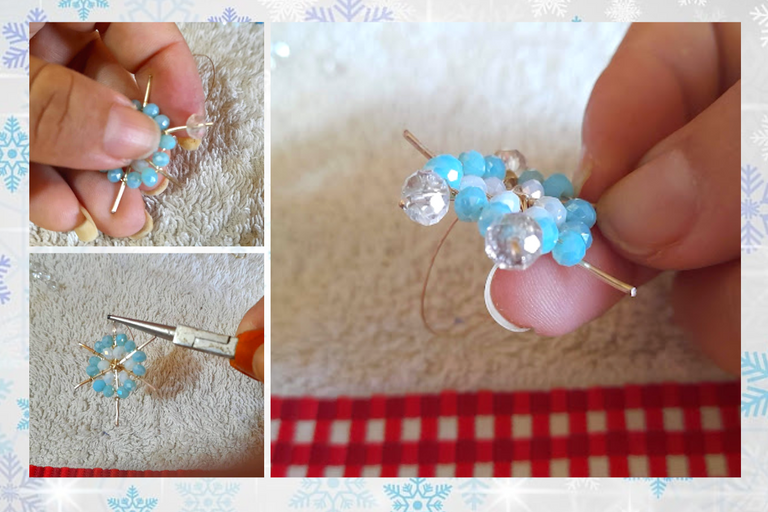 4: To finish our earrings we just have to insert our hooks in one of the tips of our snowflakes and that's it!

4: Para finalizar nuestros aretes solo nos queda introducir nuestros anzuelos en una de las puntas de nuestros copos de nieve y !Listo!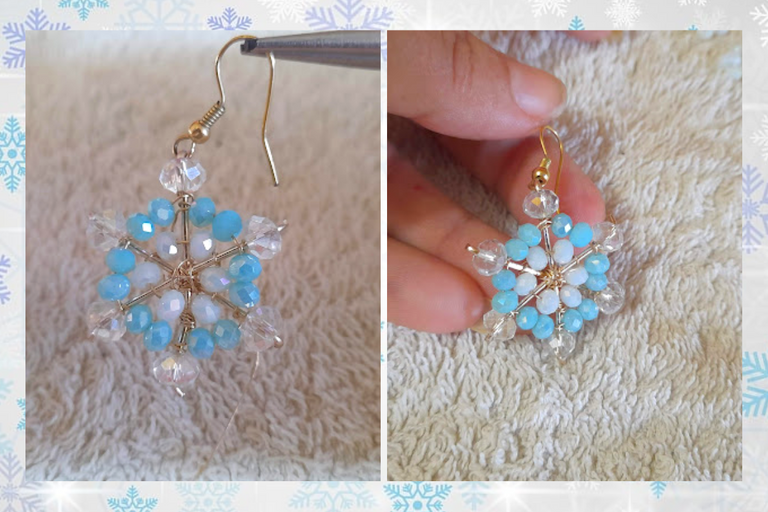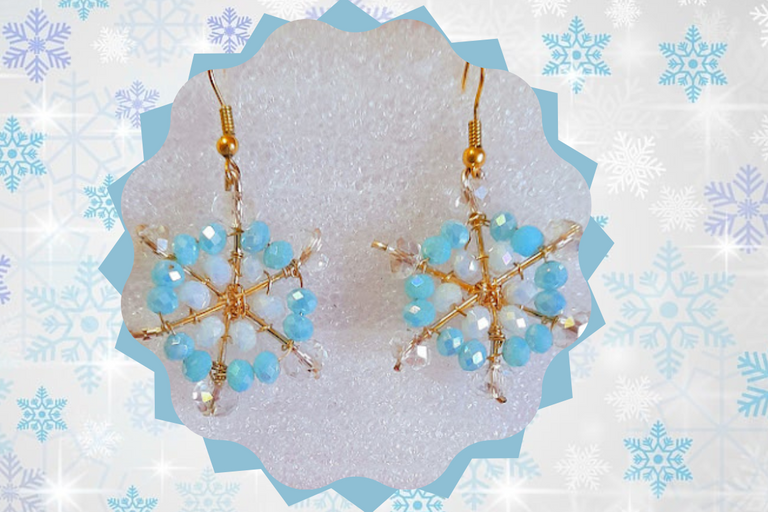 Well, my dear artisans and creatives, here is the spectacular final result of these beautiful and elegant earrings inspired by beautiful snowflakes. I am almost sure that my dear friend will love them. I hope this great idea has been of benefit to you ! and I hope you are encouraged to develop some snowflakes to give this Christmas, which will be a 100% original detail.
🎄See you next time, creative friends!🎄

Bueno mis apreciadas artesanas y creativas aquí les dejo el espectacular resultado final de estos Lindos y elegantes aretes inspirados en unos hermosos copos de nieve. Estoy casi segura que a mi querida amiga que les van a encantar ¡Amigas Espero que esta estupenda idea les haya sido de provecho ! y espero que se animen a elaborar unos copos de nieve para regalar en esta navidad, el cual sera un detalle 100% original.
🎄¡Hasta una próxima publicación amigas creativas!🎄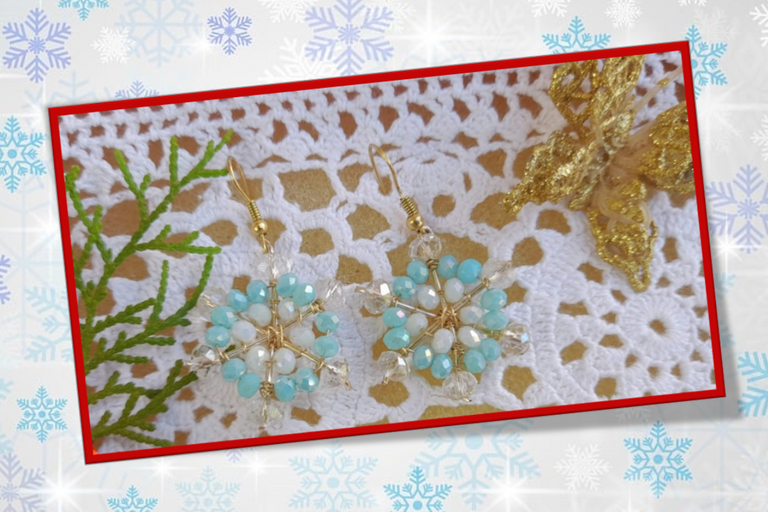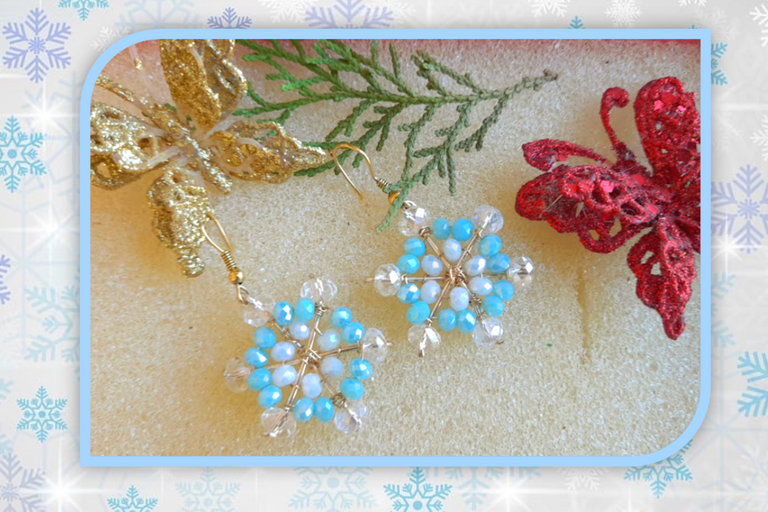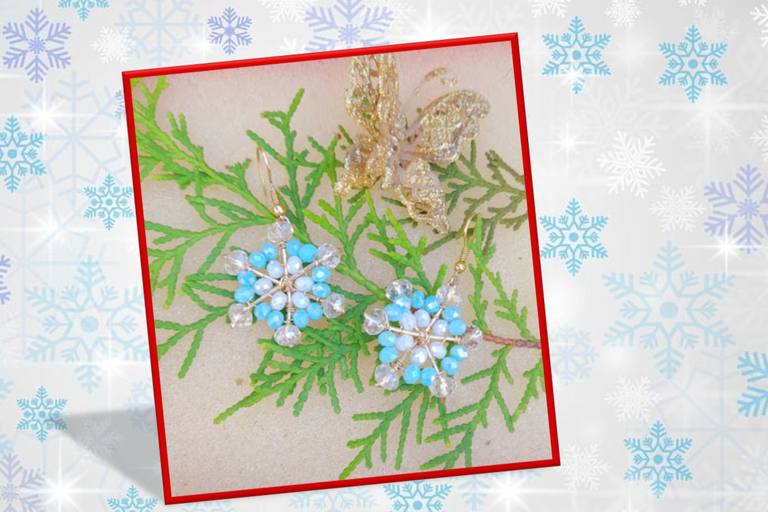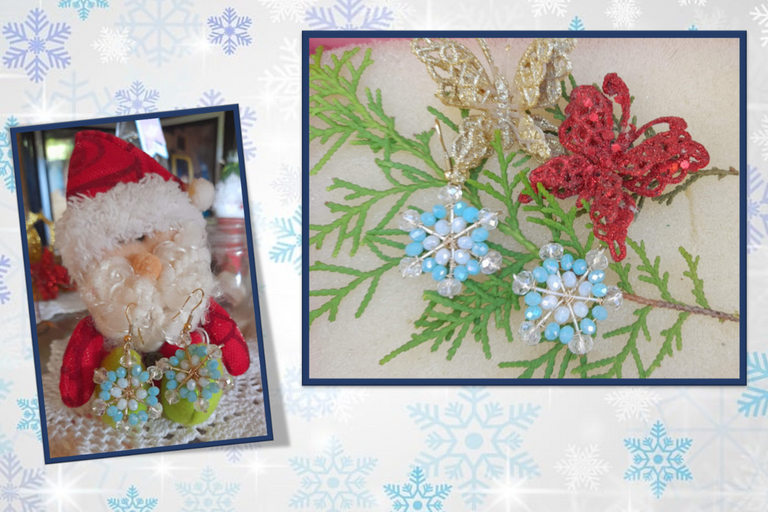 Portada y plantillas elaboradas en canva
Fuente Separador
---
---


---

---

The photographs were taken with a Samsung A12 smartphone, the text was translated into English with the Deepl translator.link
The banner was designed on canvas link



Las fotografías fueron tomadas con un teléfono inteligente Samsung A12, el texto fue traducido al ingles con el traductor Deepl.link
El banner fue diseñado en canvas link