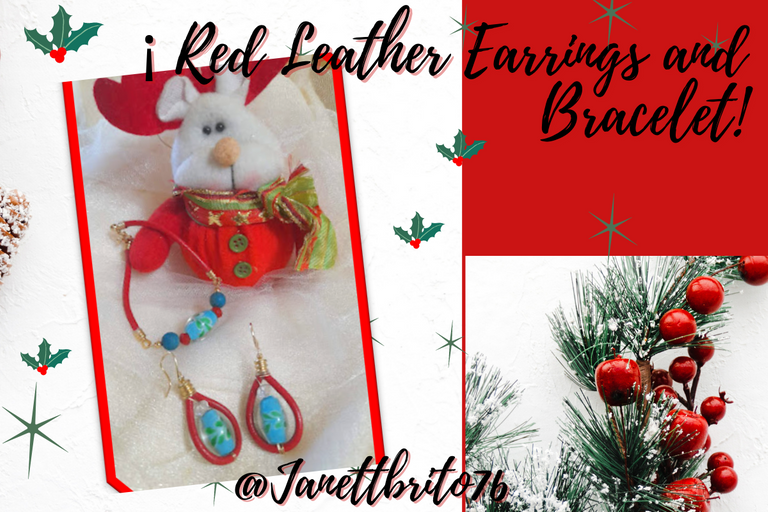 🎄✨ Greetings #Hive friends ✨🎄
Hello, hello and happy Friday to all my creative friends of this wonderful #Jewelry community, hope you are chevere.
✨ Welcome to my blog to all my artisan and creative friends ✨, tonight I want to share with you the step by step to make these cute crafts and bracelet made with leather cord, some stones and crystals, I chose this color because the red color is special to highlight these Christmas dates that as we all know are ideal to give and share with our loved ones, and what more to give them something made with our own hands, since each gift becomes unique and exclusive for them. This nice set of arts and bracelet I made it to give it to one of my work friends that we will soon say goodbye until the new year and I am sure she will appreciate it very much, as I have always given her some earrings and she always wears them at work. ....
My dear creative and artisan friends, this type of jewelry is quick and inexpensive to make, follow me and I will teach you step by step how to make it. Friends to work with love and care, let's start!!!.

🎄✨ Saludos amigos del #Hive ✨🎄
Hola, hola y feliz viernes para todas mis creativas amigas de esta maravillosa comunidad de #Jewelry, espero estén chevere.
✨ Bienvenidos a mi blog a todos mis amigas artesanas y creativas ✨, en esta noche quiero compartir con ustedes el paso a paso para realizar estos lindos artes y pulsera elaboradas con cordón de cuero, algunas piedras y cristales, escoji este color ya que el color rojo es especial para resaltar estas fechas decembrinas que como todos sabemos son ideales para regalar y compartir con nuestros eres querido, y que mas que obsequiarles algo elaborado con nuestras propias manos, ya que cada obsequio se vuelve único y exclusivo para ellos. Este lindo juego de artes y pulsera lo elabore para obsequiárselo a una de mis amigas de trabajo que ya pronto nos despedimos hasta el nuevo año y estoy segura que lo va apreciar mucho, ya que siempre le he obsequiado algunos aretes y siempre los luce en el trabajo....
Mis apreciadas amigas creativas y artesanas, este tipo de bisutería es rápida y económica de realizar, Sígueme y te enseñare paso a paso como la elabore. Amigas a trabajar con mucho cariño y amor. ¡¡Comenzamos!!.



🎄 Red leather cord
🎄 #20 gauge wire
🎄 Red and clear crystals
🎄 Golden pellets
🎄 Blue stones
🎄 Hooks
🎄 Brooches
🎄 Round nose pliers
🎄 Cutting pliers
🎄 Contact adhesive


🎄 Cordón cuero rojo
🎄 Alambre calibre #20
🎄 Cristales rojos y transparentes
🎄 Balines dorados
🎄 Piedras azules
🎄 Anzuelos
🎄 Broches
🎄 Pinza punta redonda
🎄 Pinza de corte
🎄 Pegamento de contacto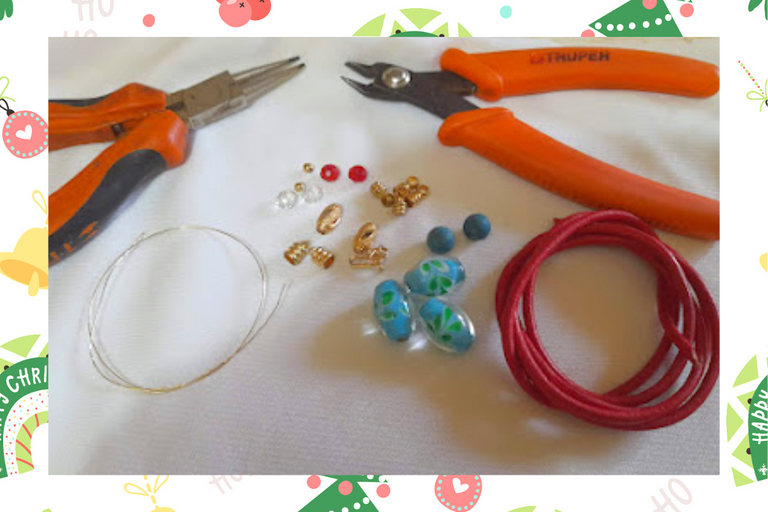 1: We start by measuring the diameter of our wrist with the leather cord, cut and then proceed to fold in half our cord and cut it.

1: Comenzamos midiendo el diámetro de nuestra muñeca con el cordón de cuero, cortamos y luego procedemos a doblar a la mitad nuestro cordón y lo cortamos.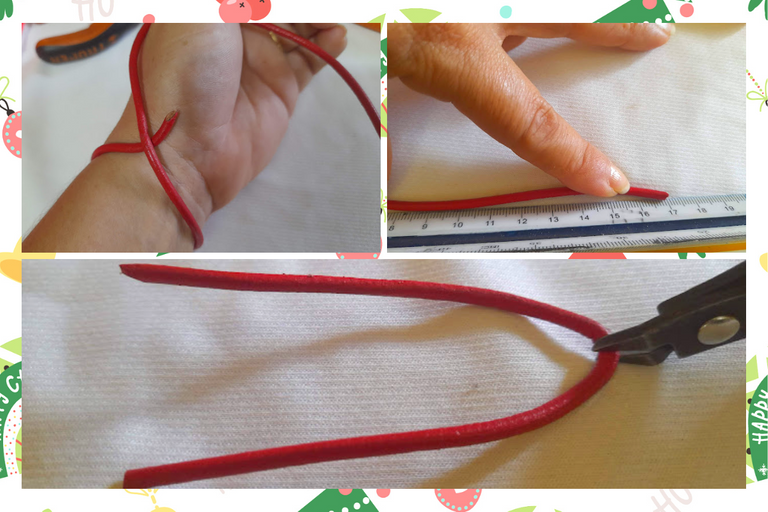 2:Now we proceed to twist our wire to one of the base of the brooch, then we introduce a ball, then we continue with a blue stone, the red crystal and then the big blue stone, then we repeat the same order of the stones and we close it by twisting it to another brooch.

2: Ahora procedemos a entorchar nuestro alambre a una de las base del broche, seguidamente introducimos un balín, luego continuamos con una piedra azul, el cristal rojo y seguidamente la piedra azul grande, luego repetimos el mismo orden de las piedras y cerramos entorchandolo a otro broche.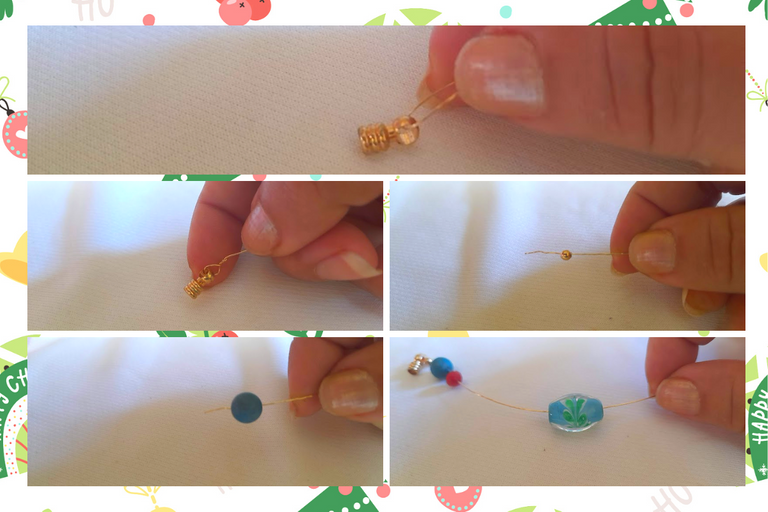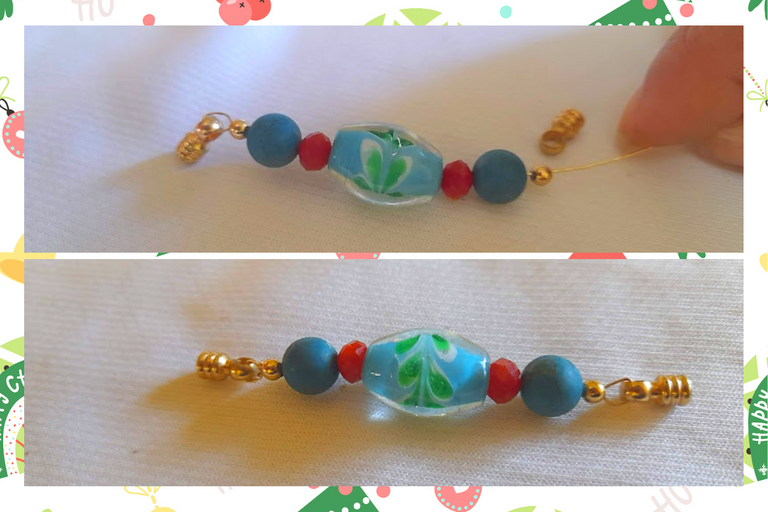 3: Now we proceed to join the previous piece with the leather cord by placing a drop of contact glue at the base of the clasp, reminding you to do it quickly because the glue dries very fast, then proceed to insert the hook at the base of the clasp and ready finished our bracelet.

3: Ahora procedemos a unir la pieza anterior con el cordón de cuero colocándole una gota de pegamento de contacto en la base del boche, recordandole que deben de realizarlo rápido porque el pegamento seca muy rápido, luego procedemos a insertar el gancho en la base del broche y listo terminada nuestra pulsera.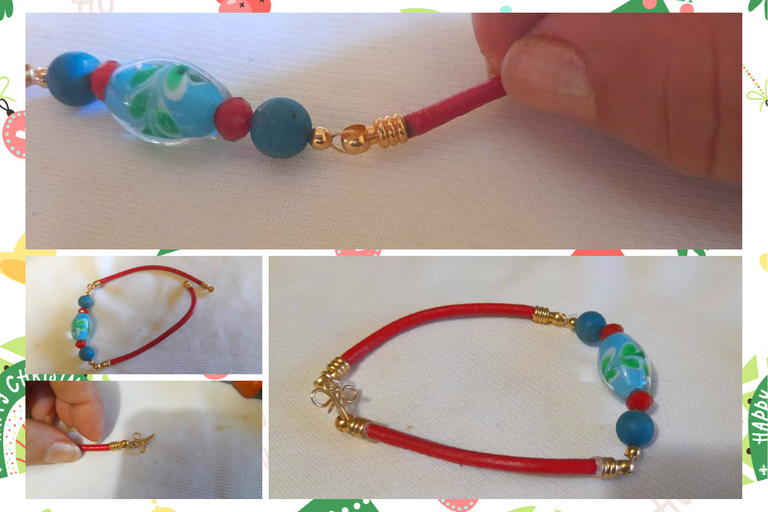 4: To make our earrings, we cut two strips of leather cord of 8 centimeters, then we make small diagonal cuts on each end and then proceed to glue each end forming a drop, then we put a little contact glue on one of the base of brooches and glue it on the top of our earrings, as you can see in the pictures.

4: Para la elaboración de nuestros aretes, cortamos dos tiras del cordón de cuero de 8 centímetros, luego le realizamos en cada punta unos pequeños cortes diagonales y luego procedemos a pegar cada punta formando así una gota, después le colocamos un poco de pegamento de contacto en una de la base de broches y la pegamos en la parte superior de nuestro aretes, como pueden observar en las imágenes.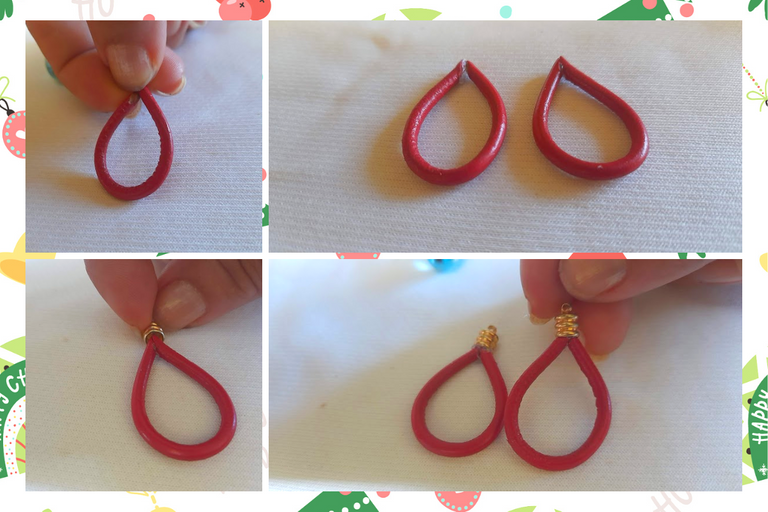 5: To decorate a little our leather drops, we proceed to twist in the center of each one of them a blue stone with a transparent crystal and finally we insert the corresponding hook.

5: Para decorar un poco nuestras gotas de cuero, procedemos a entorchar en el centro de cada una de ellas una piedra azul con un cristal transparente y por ultimo le insertamos el correspondiente anzuelo.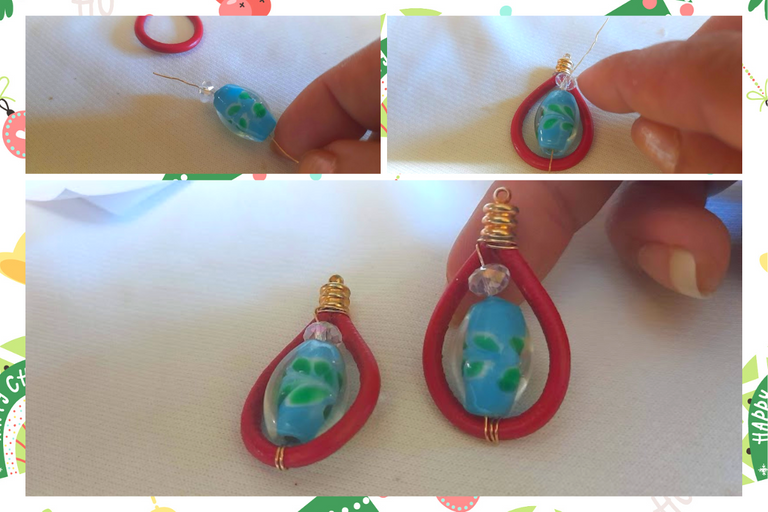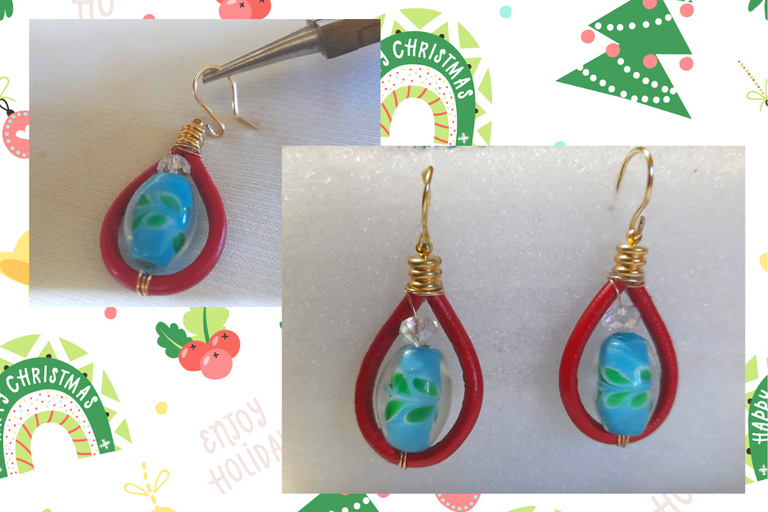 Here I show you the final result of these beautiful earrings and bracelet made in red leather. I am sure that my dear friend will like it very much, I hope this idea has been useful for you and I hope you are encouraged to create your own gifts for Christmas.
Until next time, creative friends!

Aquí les muestro el resultado final de estos Lindos aretes y pulsera elaborada en cuero rojo. Estoy segura que a mi querida amiga le va a gustar mucho.¡Amigas Espero que esta idea les haya sido de provecho ! y espero que se animen a crear sus propios obsequios para navidad.
¡Hasta una próxima publicación amigas creativas!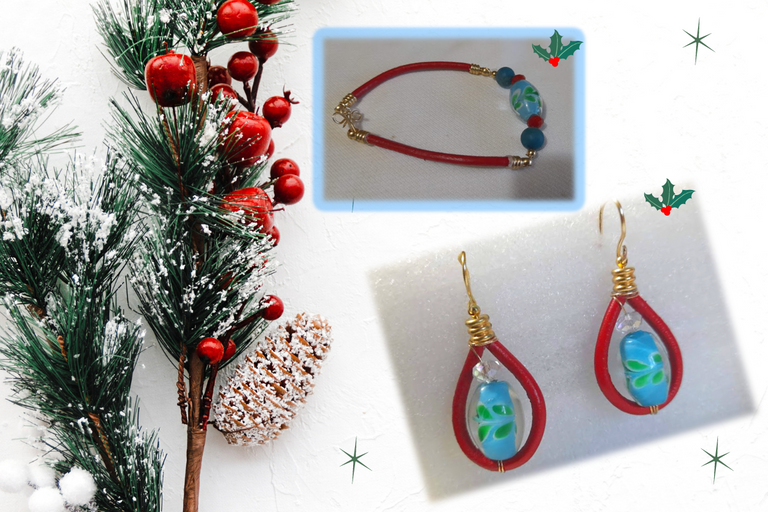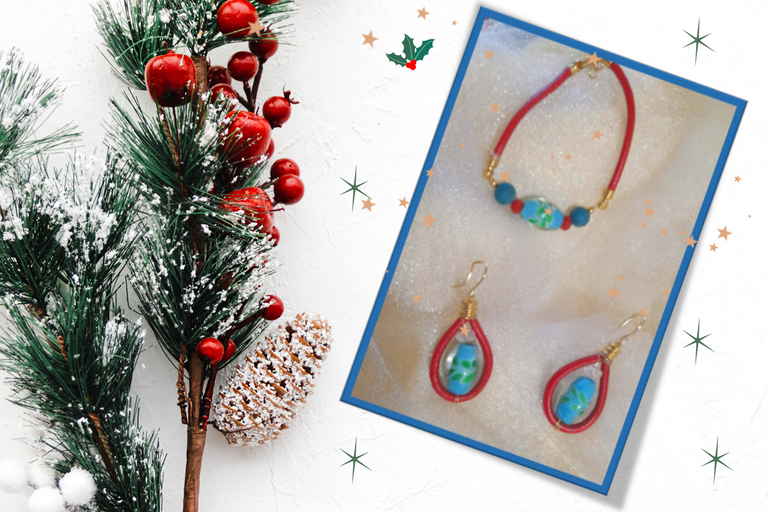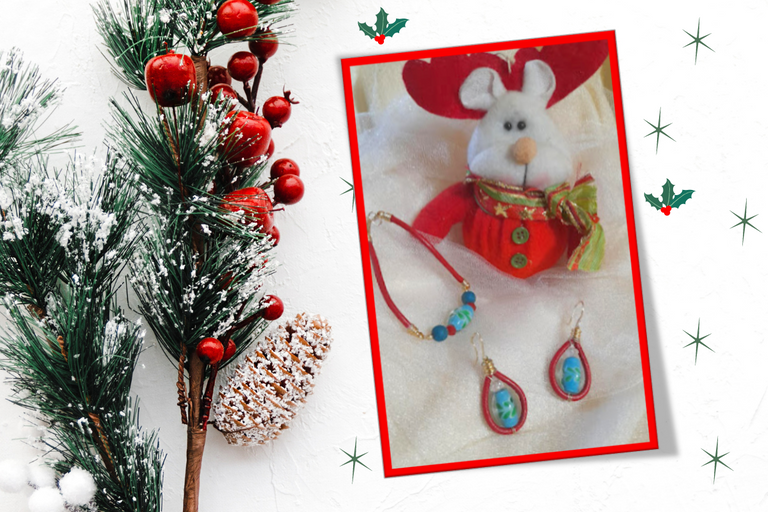 Portada y plantillas elaboradas en canva
Fuente Separador
---
---


---

---

The photographs were taken with a Samsung A12 smartphone, the text was translated into English with the Deepl translator.link
The banner was designed on canvas link



Las fotografías fueron tomadas con un teléfono inteligente Samsung A12, el texto fue traducido al ingles con el traductor Deepl.link
El banner fue diseñado en canvas link