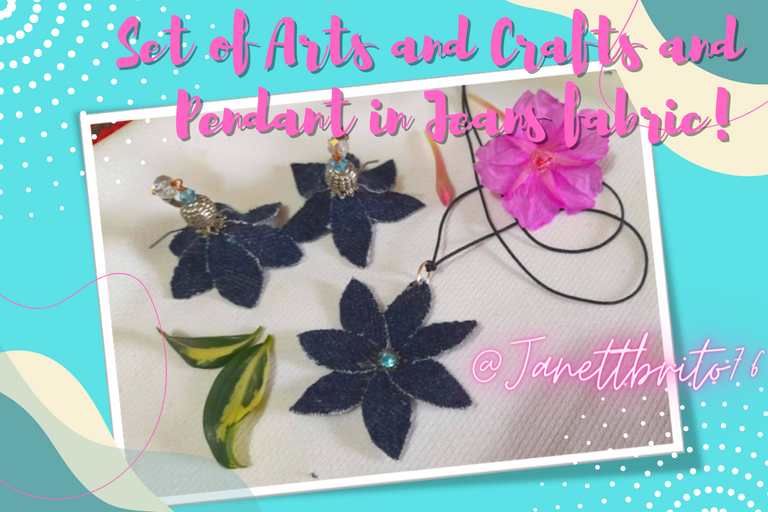 ✨ Greetings #Hive friends
Hello, hello dear artisan friends of this fabulous #Jewelry community, I hope you had a great day and that you are full of lots of health.
Welcome to my blog ✨, this time I want to show you the step by step of some beautiful earrings and pendant made with little material and one of them we always have at home which is a piece of jean fabric, with this material you can make many costume jewelry and they are beautiful, these earrings are accompanied by beautiful blue and transparent crystals which give them a super special touch. This beautiful set in jean fabric can be used to go for a walk or simply to combine your work attire, it is also ideal as a gift.
My beautiful friends this beautiful set of arts and crafts and I said is quite inexpensive and easy to make and best of all is that you can combine them with the colors of the crystals that you like. Well my friends you can follow me and I will show you the step by step to make this beautiful set. Let's get to work with love and affection, let's get to work!

✨ Saludos amigos del #Hive
Hola, hola apreciadas amigas artesanas de esta fabulosa comunidad de #Jewelry, espero que hayan tenido un estupendo día y que estén llenos de mucha salud.
Bienvenidos a mi blog ✨, en esta ocasión le quiero mostrar el paso a paso de unos hermoso aretes y dije elaborados con poco material y uno de ellos siempre lo tenemos en casa que es un retazo de tela de jean, con este material se puede realizar muchísimas bisuterías y quedan hermosas, estos aretes están acompañados de unos preciosos cristales azules y transparentes los cuales les dan un toque super especial. Este hermoso conjunto en tela de jean lo puedes utilizar para ir de paseo o simplemente para combinar tu atuendo de trabajo, también es ideal para regalar.
Mis hermosas amigas este lindo juego de artes y dije es bastante económico y sencillo de elaborar y lo mejor de todo es que los puedes combinar con los colores de los cristales que mas te gusten. Bueno mis amigas pueden seguirme y les enseñare el paso a paso para elaborar este hermoso juego. A trabajar con mucho amor y cariño. ¡¡Manos a las obras!!.



20 gauge wire
Clear Crystals
Blue Swarovski
Pink beads (or any color)
Silver beads
Piece of denim fabric
Hooks
Silver-plated separators
Round nose pliers
Cutting tweezers
Cold silicon


Alambre calibre #20
Cristales Transparentes
Swarovski azules
Cuentas rosadas(o cualquier color)
Cuentas plateadas
Retazo de tela de jeans
Anzuelos
Separadores plateados
Pinza punta redonda
Pinza de corte
Silicon frío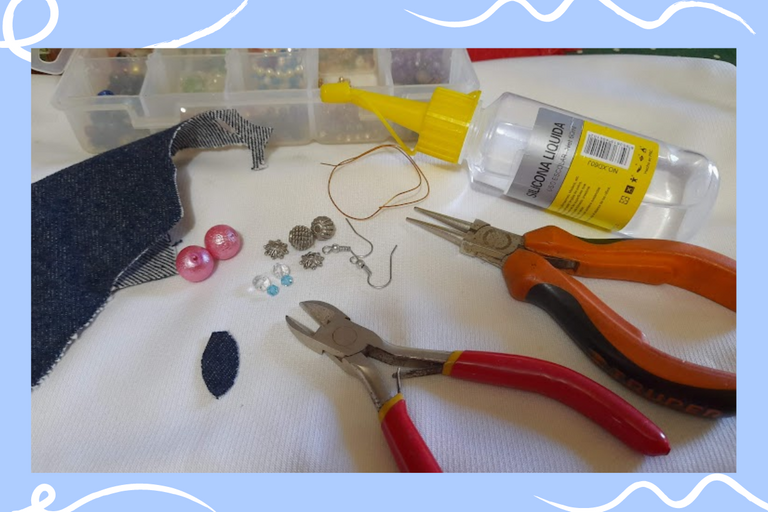 1: To start making our earrings, we mark six petals on the jeans fabric and then cut them out.

1: Para iniciar la elaboración de nuestros aretes procedemos a marcar seis pétalos en la tela de jeans y luego recortamos.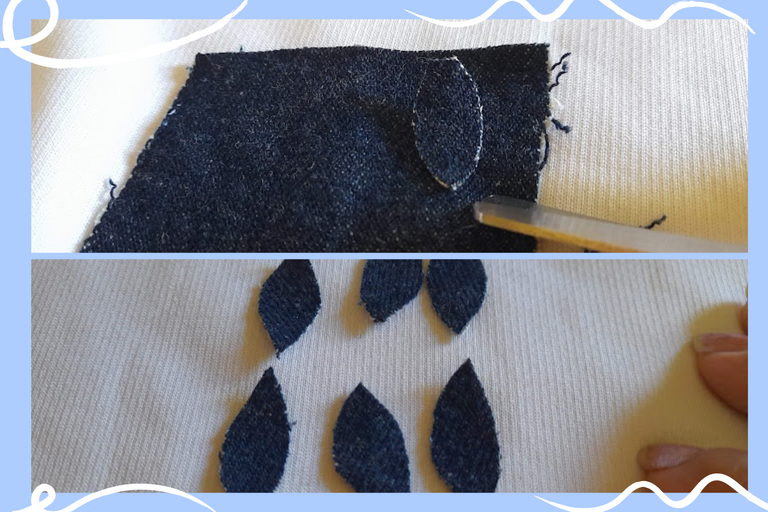 2:Then we proceed to take our pink bead, we place a little silicone on the top, then we proceed to attach a petal, then we place a little silicone on that petal on one side and we attach another petal on that end of the previous petal and so on until we attach the six petals and form a flower, as you can see in the images.

2: Seguidamente procedemos a tomar nuestra cuenta rosada, le colocamos un poco de silicon en la parte superior, luego procedemos apegar un pétalo, después le colocamos un poco de silicon a ese pétalo por un lado y pegamos otro pétalo por ese extremo del pétalo anterior y así sucesivamente hasta pegar los seis pétalos y formar una flor, como pueden observar en las imágenes.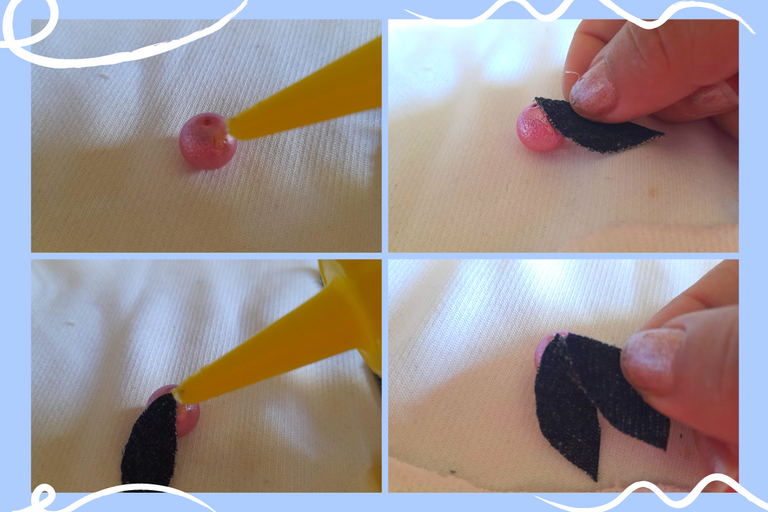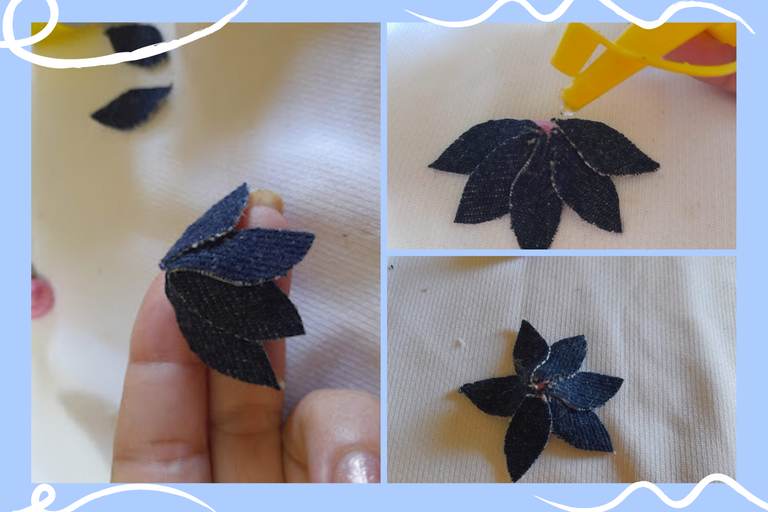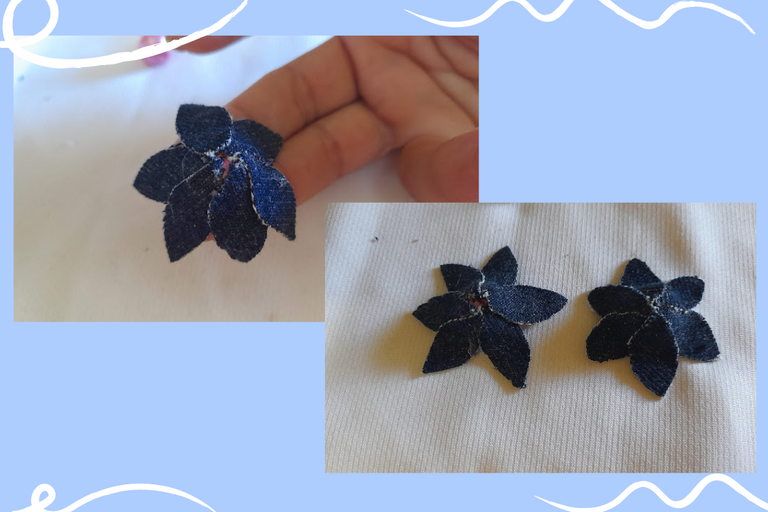 3: Now we proceed to take our wire and with the round tip pliers we make a small ring, then we insert it through the bottom of the bead as you can see, then we insert the separator, then the silver bead and the blue Swarovski and we saw with a ring. Then we screw a clear crystal and finally we insert the hook. Repeat the same procedure for the other earring.

3: Ahora procedemos a tomar nuestro alambre y con la pinza punta redonda le realizamos una pequeña argolla, luego lo insertamos por la parte inferior de la cuenta como pueden observar, después insertamos el separador seguidamente la cuenta plateada y el Swarovski azul y serramos con una argolla. Luego entorchamos un cristal transparente y por ultimo insertamos el anzuelo. Repetimos el mismo procedimiento para el otro arete.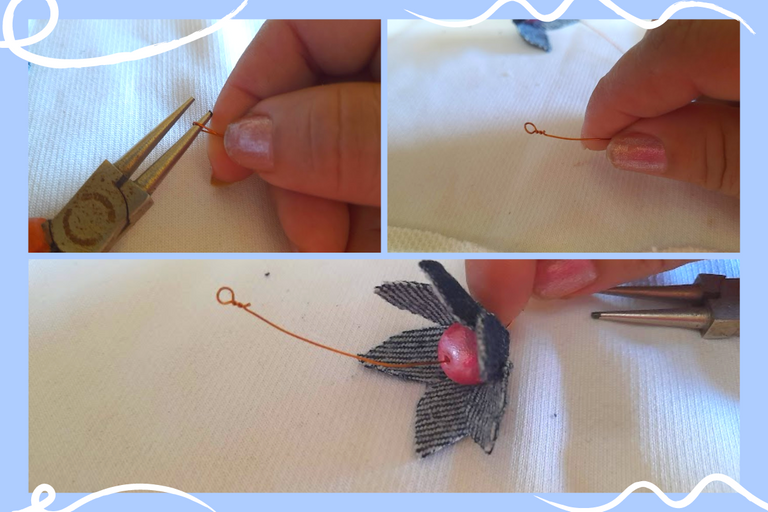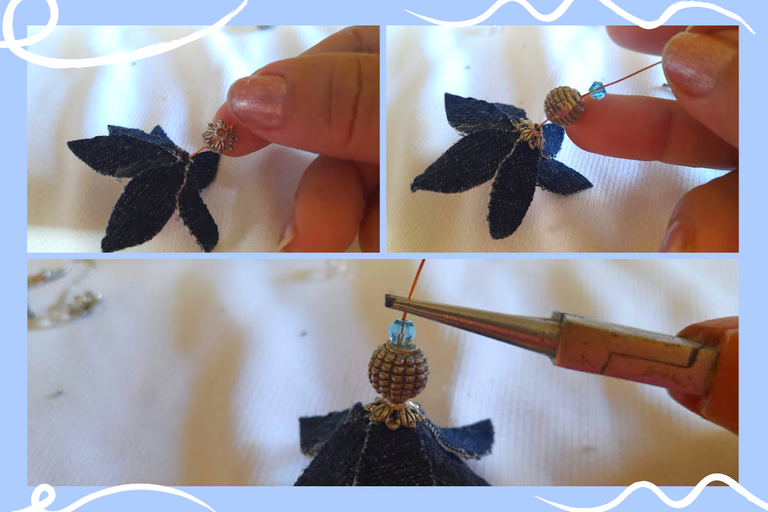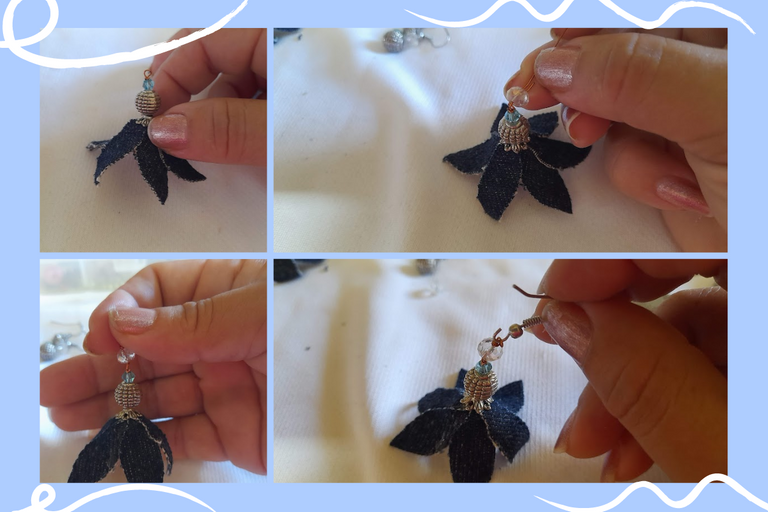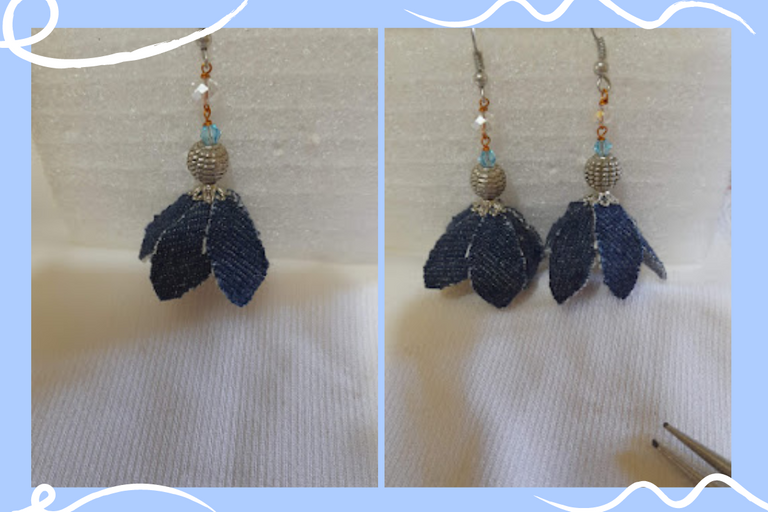 4: To make our pendant, we take a piece of jeans fabric and mark seven petals, then we cut them. Then we take a petal and put some silicone on one of its ends and glue a petal to it, we repeat the procedure until we form a beautiful flower of seven petals, then we glue a small detail in the center, then we take a small ring and insert it into one of its petals and then place a cord. That's it!

4: Para elaborar nuestro dije, tomamos un trozo de tela de jeans y marcamos siete pétalos, luego cortamos. Después tomamos un pétalo y le colocamos un poco de silicon en uno de sus extremo y pegamos un pétalo a el, repetimos el procedimiento hasta formar una hermosa flor de siete pétalos, luego le pegamos un pequeño detalle en el centro, seguidamente tomamos una pequeña argolla y la insertamos en uno de sus pétalos para luego colocarle un cordón. !Listo!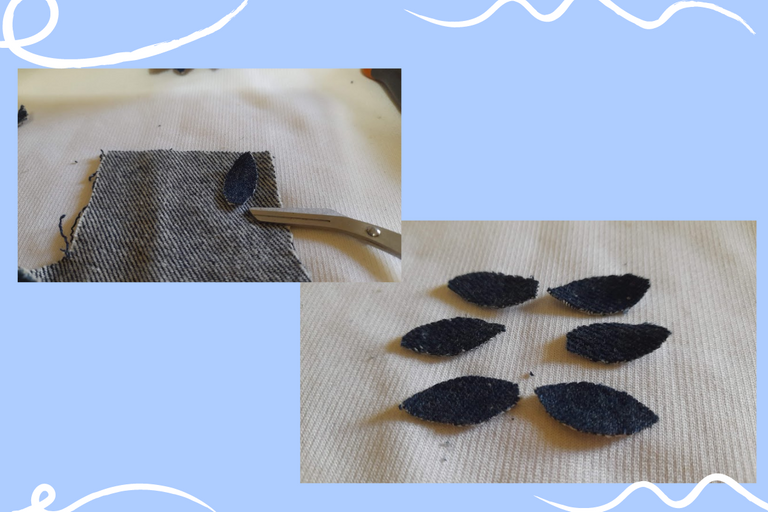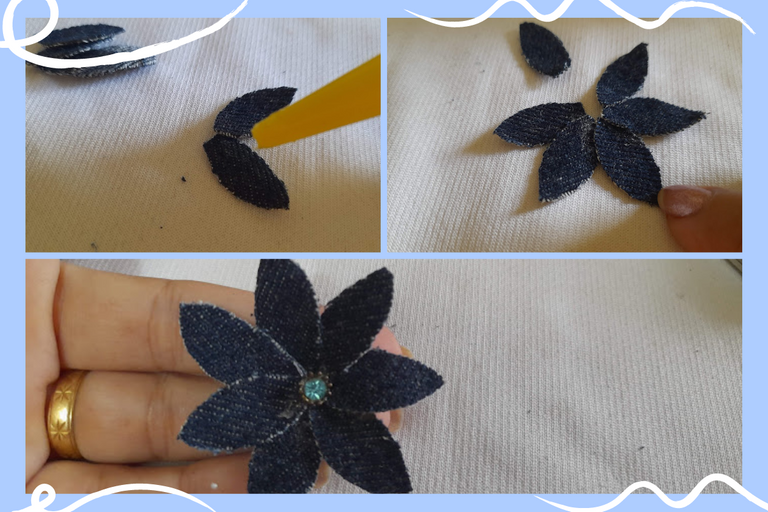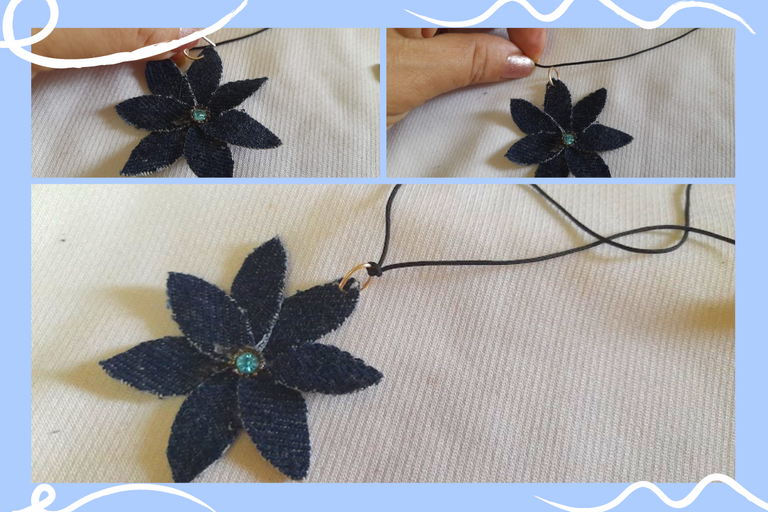 Well my beautiful and creative craftswomen, this is the fabulous final result of my set of earrings and pendant using a piece of jeans, my friends I hope this idea has been very useful for you! I assure you that they are easy and inexpensive to make.
Creative friends, see you in a future post!

Bueno mis hermosas y creativas artesanas este es el fabuloso resultado final de mi juego de aretes y dije empleando retazo de jeans.¡Amigas Espero que esta idea les haya sido de mucho provecho ! Les aseguro que son fáciles y económicas de realizar.
¡Amigas creativas hasta una próxima publicación !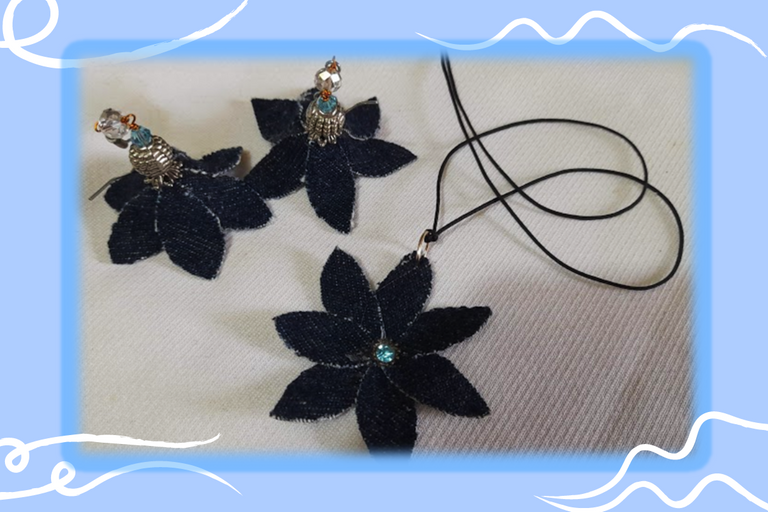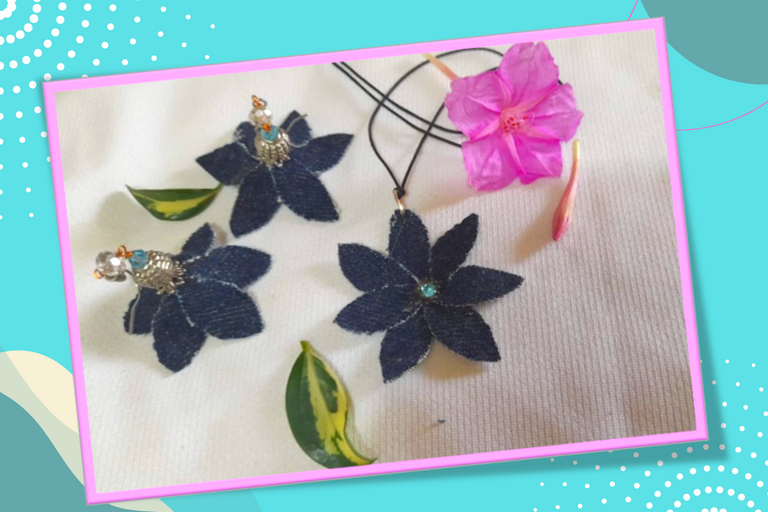 Portada y plantillas elaboradas en canva
Fuente Separador
---
---


---

---

The photographs were taken with a Samsung A12 smartphone, the text was translated into English with the Deepl translator.link
The banner was designed on canvas link



Las fotografías fueron tomadas con un teléfono inteligente Samsung A12, el texto fue traducido al ingles con el traductor Deepl.link
El banner fue diseñado en canvas link