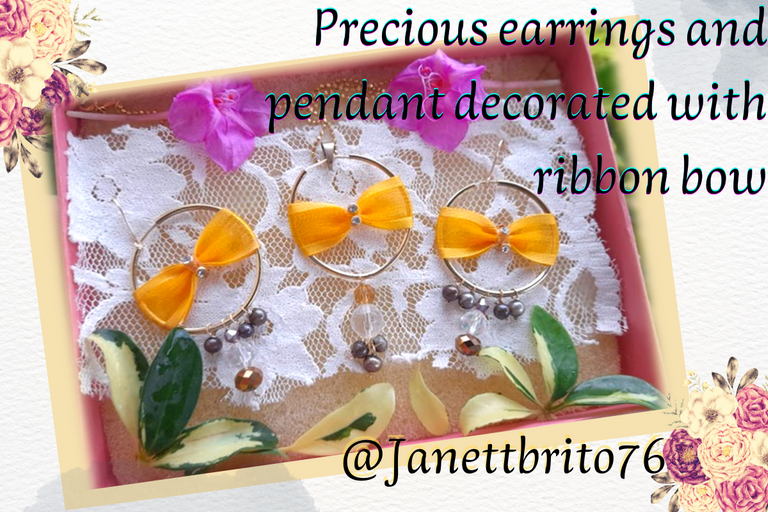 Happy and blessed Friday to all my #HIVE Friends
Hello, hello everyone, Welcome once again to my blog, I hope my dear friends of this creative #Jewelry community had a great day and are in great health.
Tonight I want to show you the step by step of how to make these beautiful Earrings and Hoop Pendant decorated with ribbon made with Ribbon. I found this idea of using ribbon to decorate these earrings spectacular, because with this base we can combine it with many colors of ribbon because today there are a variety of ribbons in both textures and colors and thickness. It is a very simple and quick idea to elaborate and they are excellent to give as a gift or to sell. I hope you find my project today very useful.
Well my dear friends, don't miss this step by step to make these beautiful and radiant earrings and charms decorated with ribbon bows, let's get to work!

Feliz y bendecido viernes para todos mis Amigos del #HIVE
Hola, hola a todos, Bienvenidos una vez mas a mi blog, Espero que mis apreciados amigos de esta creativa comunidad de #Jewelry hayan tenido un grandioso día y que se encuentren muy bien de salud.
En esta noche les quiero mostrar el paso a paso de como realizar estos preciosos Aretes y Dije de Aro decorado con lazo elaborados en Cinta. Amigas esta idea de usar cinta para decorar estos aros me pareció espectacular, porque con esta base podemos combinarla con muchos colores de cinta ya que hoy en día existen una variedad de cintas tanto en texturas como en colores y grosor. Es una idea bastante sencilla y rápida de elaborar y son excelentes para regalar o vender. Espero les sea de mucho provecho mi proyecto de hoy.
Bueno mis apreciadas amigas no se pierdan este paso a paso para realizar estos preciosos y radiantes Aros y dijes decorados con lazos de cinta. ¡¡Manos a la obra!!



~ Golden earrings
~ Crystals (clear, gold)
~ Yellow ribbon 1,5cm
~ Wire #20
~ Brown beads
~ Hooks
~ Needle / thread
~ Round nose pliers
~ Cutting tweezers
~ Crystal tape
~ Silicon
~ Scissors

~ Aros dorados
~ Cristales (transparente, dorados)
~ Cinta amarilla 1,5cm
~ Alambre #20
~ Perlas marrones
~ Anzuelos
~ Aguja / hilo
~ Pinza punta redonda
~ Pinza de corte
~ Cinta de cristales
~ Silicon
~ Tijera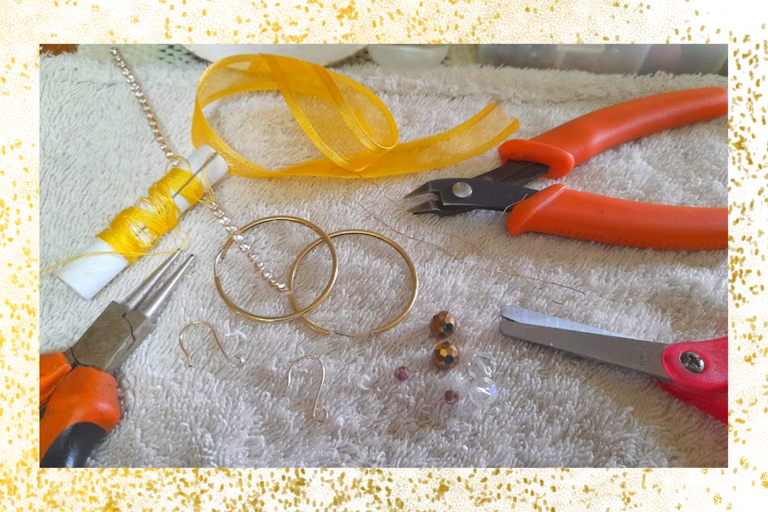 1:To make the ribbon for each hoop. First we take the yellow ribbon and we measure it to our hoop as you can see, then we cut the double of its measure in my case I took 8 centimeters. Then with a lighter we seal the ends of the ribbon.

1: Para realizar el lazo para cada aro. Primero tomamos la cinta amarilla y la medimos a nuestro aro como pueden observar, luego cortamos el doble de su medida en mi caso tome 8 centímetros. Seguidamente con un encendedor sellamos las puntas de la cinta.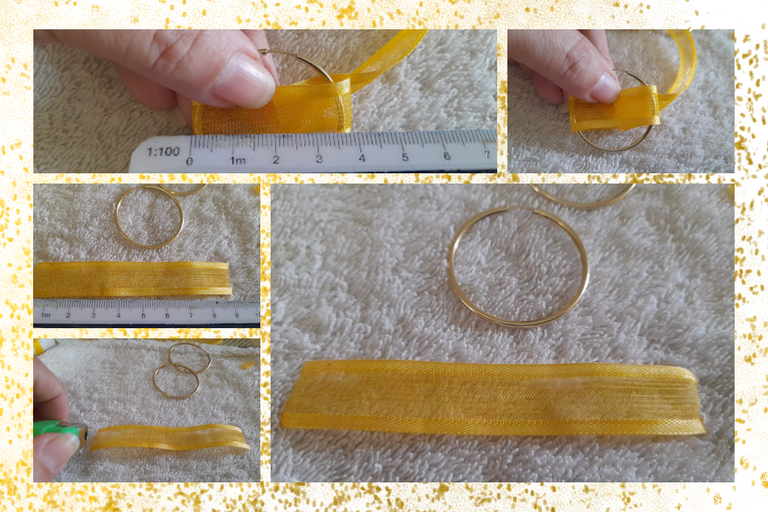 2: Now we take the needle with the thread, preferably of the same color of the ribbon, then we begin to sew the union of the ribbons, introducing the needle and taking out approximately 2mm between each stitch, then we press the thread to gather the ribbon and form our loop.

2: Ahora tomamos la aguja con el hilo, preferiblemente del mismo color de la cinta, luego comenzamos a coser la unión de las cinta, introduciendo la aguja y sacando aproximadamente a 2mm entre cada puntada, luego prensamos el hilo para arruchar la cinta y formar nuestro lazo.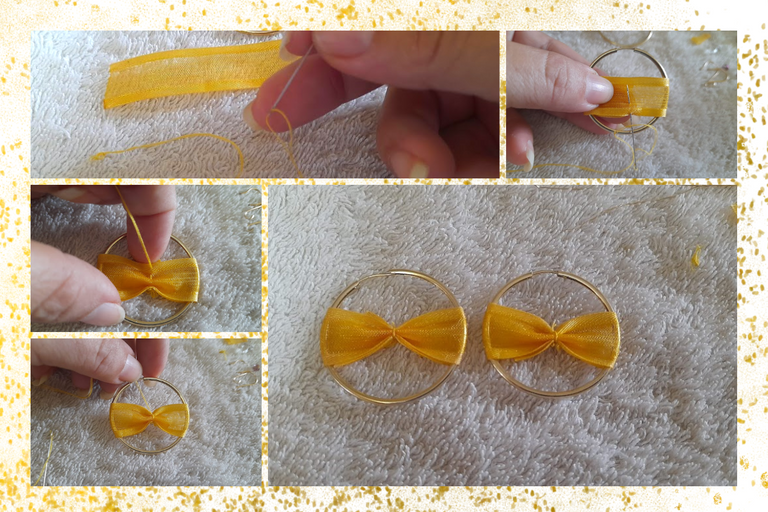 3: Then we take the wire and we twist four pearls one by one, then we take the wire again and we twist the golden and transparent crystal and a brown swarovski, remembering that the closing of each ring of the pieces must be a little bit bigger to be able to introduce it to our earrings.

3: Seguidamente tomamos el alambre y entorchamos cuatro perlitas una a una, luego tomamos nuevamente alambre y entorchamos el cristal dorado y el transparente y un swarovski marrón, recordando que el cierra de cada argolla de las piezas debe de ser un poco mas grande para poder introducirla a nuestros aros.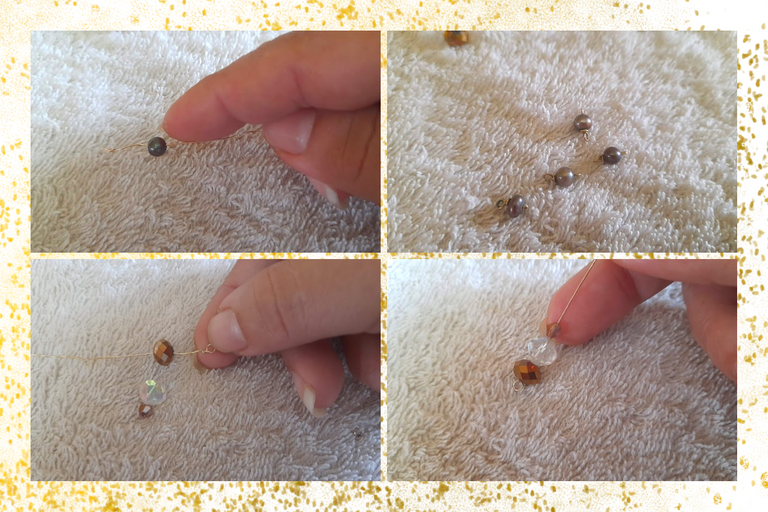 4: Once our pieces are finished we proceed to assemble our earrings. We start by introducing our crystals first, then we introduce two pearls at one end and the other two at the other end of the ring, then we introduce our bow and decorate it in the center with a few small crystals of costume jewelry and finally we just have to insert the hooks to each ring. ready!

4: Una vez terminada nuestras piezas procedemos armar nuestros aros. Iniciamos introduciendo primero nuestros cristales, luego introducimos dos perlas por un extremo y las otras dos del otro extremo del aro, seguidamente introducimos nuestro lazo y lo decoramos en el centro con unos pequeños cristales de bisutería y para finalizar solo nos queda insertar los anzuelos a cada aro. listo!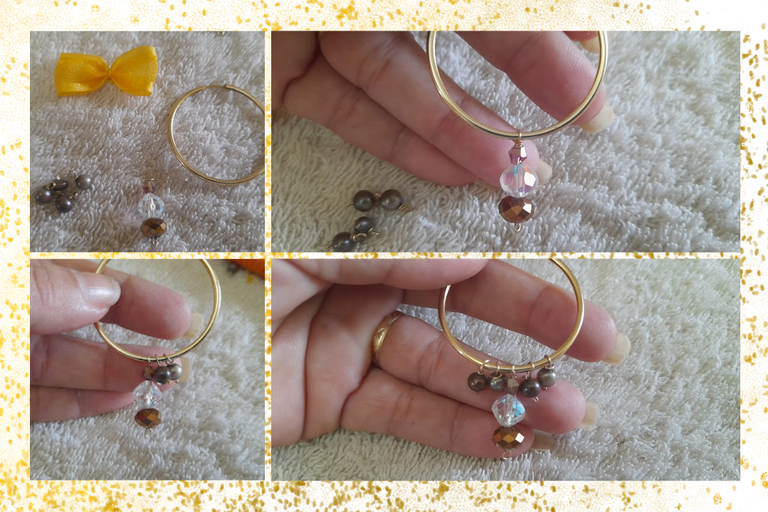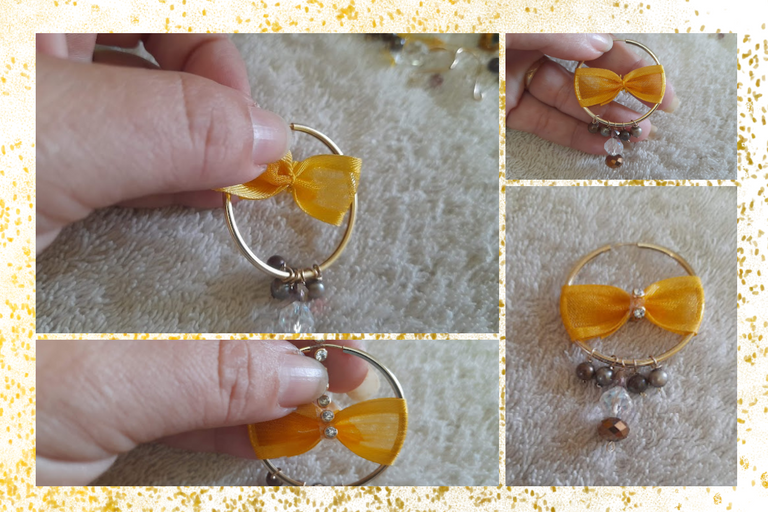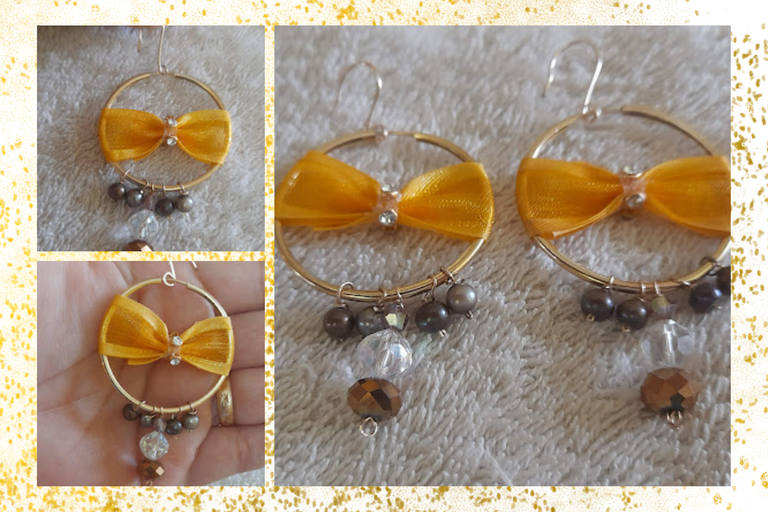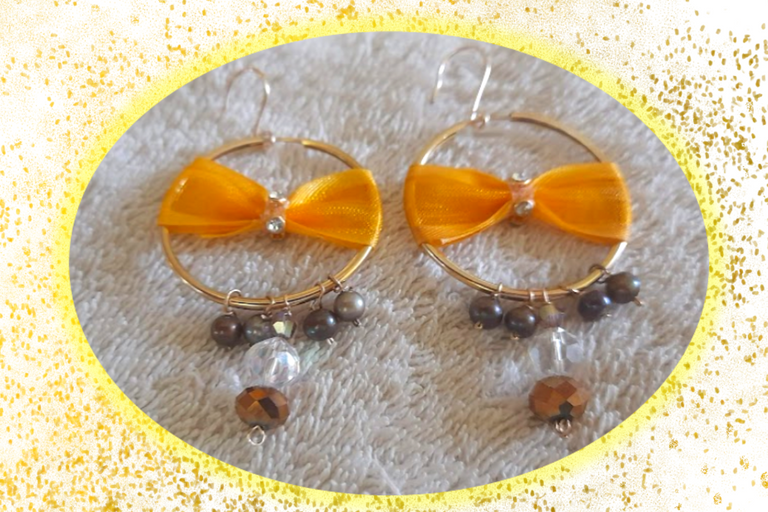 5: To make the pendant we repeat the initial procedure of making the loop, then we take the wire and we twist a clear crystal and a brown crystal and close with a ring, then we twist in the bottom of our crystals three brown pearls. Then we introduce our piece to our hoop and the bow decorating it in the center with some crystals. That's it!

5: Para realizar el dije repetimos el procedimiento inicial de realizar el lazo, luego tomamos el alambre y entorchamos un cristal transparente y un cristal marrón y cerramos con una argolla, seguidamente entorchamos en la parte inferior de nuestros cristales tres perlas marrones. Después introducimos nuestra pieza a nuestro aro y el lazo decorándolo en el centro con unos cristales. Listo!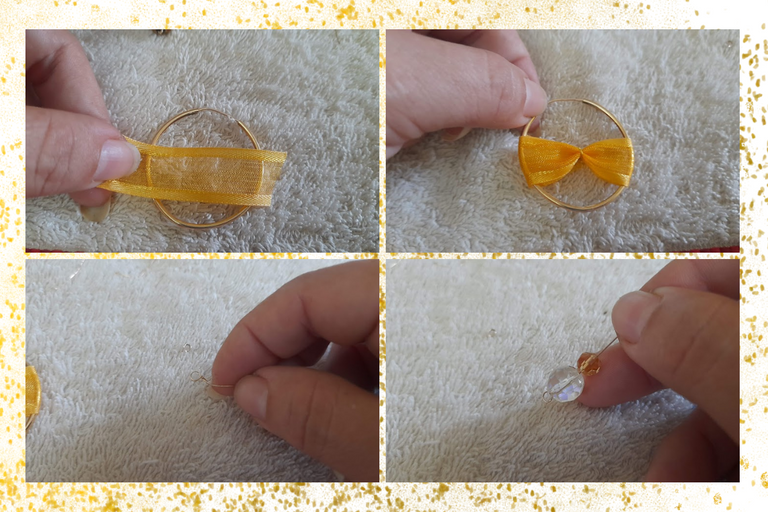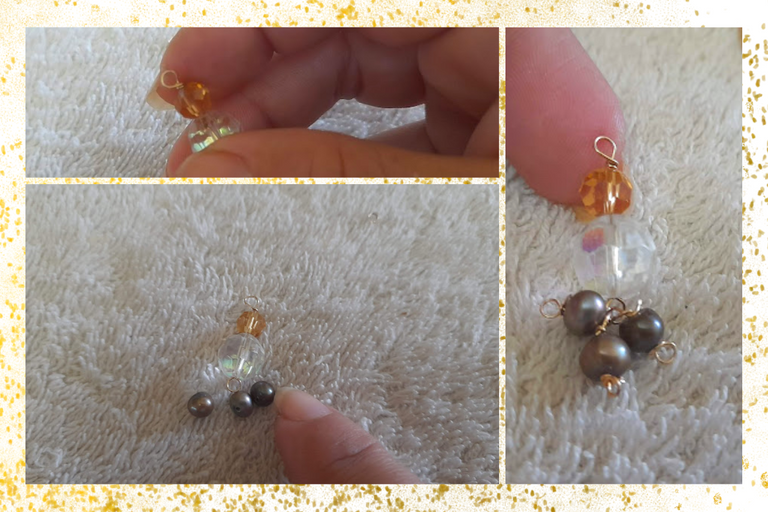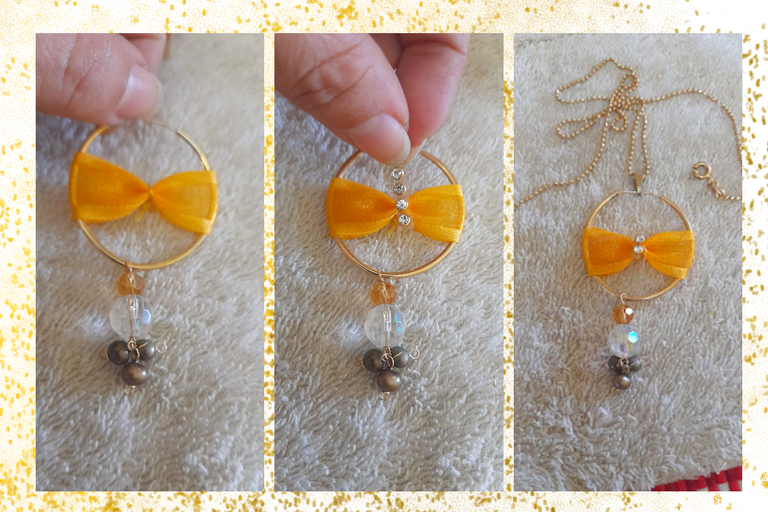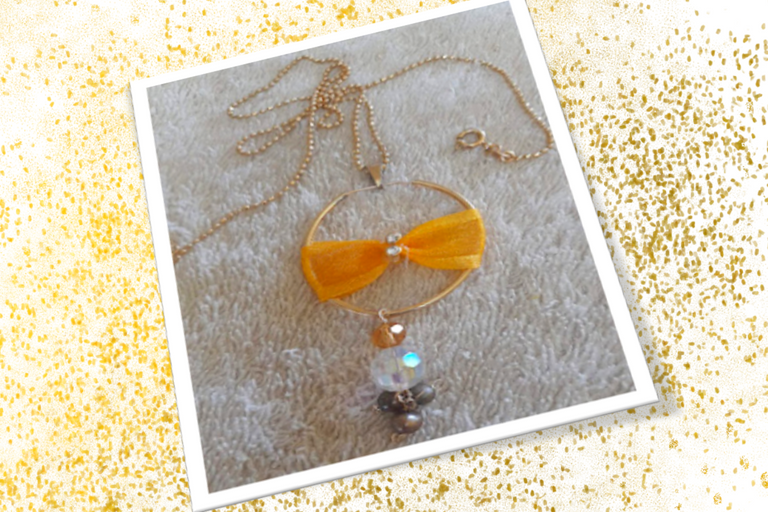 Ready my creative friends, this is the spectacular final result of my beautiful earrings and bow decorated hoop earrings made with ribbon, I hope you like it and love my project today!
Dear friends, I'll see you in the next post!

Listo mis creativas amigas este es el espectacular resultado final de mis Preciosos Aretes y Dije de Aro decorado con lazo elaborados con de Cinta. ¡Espero les sea de su agrado y les encante mi proyecto de hoy!
¡Apreciadas amigas hasta una próxima publicación!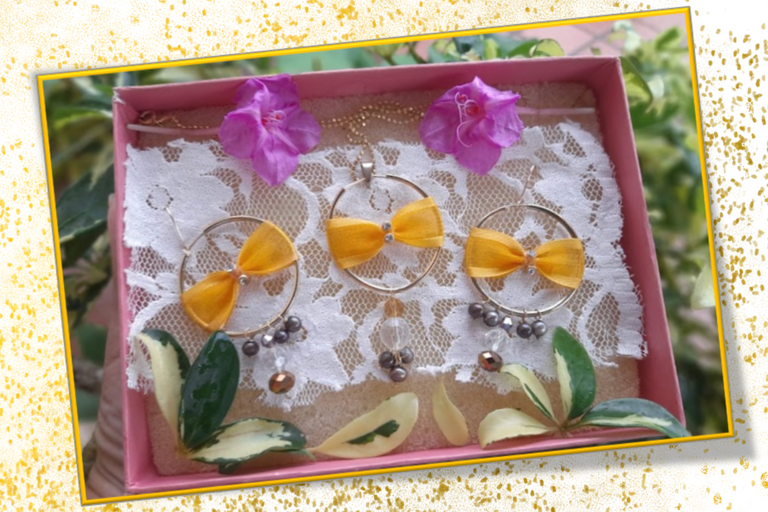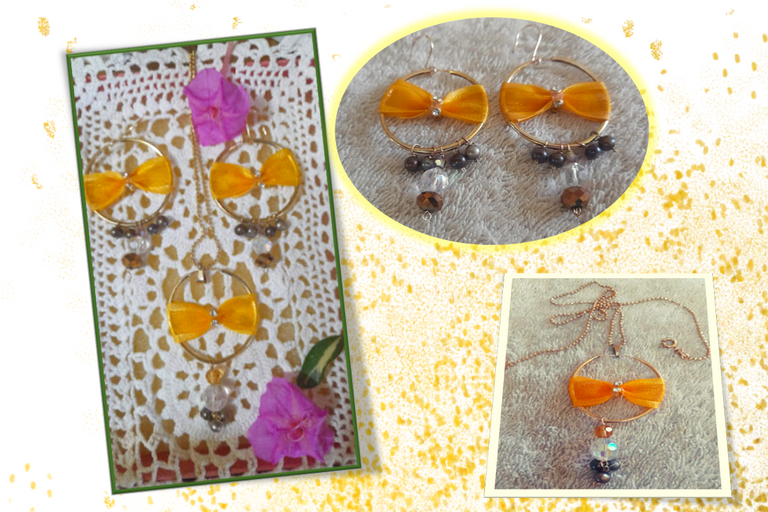 Portada y plantillas elaboradas en canva
Fuente Separador
---
---


---

---

The photographs were taken with a Samsung A12 smartphone, the text was translated into English with the Deepl translator.link
The banner was designed on canvas link



Las fotografías fueron tomadas con un teléfono inteligente Samsung A12, el texto fue traducido al ingles con el traductor Deepl.link
El banner fue diseñado en canvas link
---
---