Community Curation Compilation of the past 3 days
Hey there! This post highlights all the amazing content published into our
DIYHUB Community
and we have curated over the past 3 days. Community content is our main focus and you will earn a 100% upvote if your post follows
our requirements and target niches
when you post it into the DIYHUB community!
To receive our full support (100% upvote) and to get included in our next compilation make sure to post your next creations into the DIYHUB Community (no cross-posts included).

Another compilation - Another Reminder about our Current Contest:

We have some interesting entries already but we also know that there are a DIYHUB members who still work on their creations for
march in the theme of teapot
. You still have 7 days until we close this month - so hurry up and get your teapots out! We are excited for your participations and you can win up to 30 HIVE!
Highlight of the Day
tea mug painting tutorial
by
@charjaim
that is actually a tutorial ;)
As you might know we have
changed our curation
a few months ago to only support tutorials - especially when it comes to drawing and painting. It is hard to explain what distinguishes a tutorial from a simple documentation but the small tips and tricks inside of a post can transform it into a valuable tutorial where people can learn something. Make sure to also check our
FAQ: What makes a GOOD tutorial?
to get inspired about creating better tutorials.
Thank you
@charjaim
for sharing your knowhow with us! We are looking forward to see more tips and tricks from you about painting in future!

Jewelry
[ESP-ENG] Tutorial: Lindo anillo de mostacillas /Tutorial: Cute beaded ring
created by:
@emmaris
curated by:
@desro
Saludos queridos Amigos Greetings dear friendsFeliz y bendecida Noche tengan todos, sean bienvenido...
---
Coding
DIY:Programming Tutorials EP07 - Creating a Quiz game in Python.
created by:
@jimah1k
curated by:
@ashikstd
Greetings to all; to you, if you've found yourslef on my blog you are in to gain lots of cool and fu...
---
Fabric / Leather
New fabrics, new dresses are my newest addiction. Diy of a smoked dress
created by:
@monica-ene
curated by:
@desro
Hello HiveThere is a way new outfits makes me happy, maybe Istill feel like that little teen of year...
---
Pottery
Beautiful Butterfly Applique / Hermoso Aplique de Mariposa
created by:
@ysamarynordaz
curated by:
@semarekha
Hello dear
#DIYHub
community. TI continue working with the flexible clay and this time I will show ...
---
Upcycling
School pencil holder. [Esp -Eng]
created by:
@creacioneslelys
curated by:
@ashikstd
Portalápices escolar.Hola amigos, deseo de todo corazón que el día de hoy se encuentren muy bien y c...
---
Painting
Oil painting of mugs, tutorial /Pintura de tazas al óleo, tutorial
created by:
@charjaim
curated by:
@semarekha
Greetings, DIYHub community, this is the first time I share with you and I want to show you a tutori...
---
Mixed Materials
DIYHUB MONTHLY CONTEST - TEAPOT : Teapots with magnet to decorate my fridge 🫖
created by:
@marlynmont
curated by:
@tibfox
*Feliz lunes amigos de Diy Hub, esta es la primera publicación que realizo en esta comunidad y quise...
---
Home Decor
Paint On My Bag: Colorful Bag
created by:
@sweetest
curated by:
@desro
Hello guys.... I have a cute bag that I've had for a long time, this is a bag my friend gave me as m...
---
Fabric / Leather
DIY:Making a beautiful dress
created by:
@glorydee
curated by:
@ashikstd
Hello guys, I'm so glad to be here again, hope you are all doing great wherever you are. I'm sure y...
---
Esp/Eng Recycling an old pair of pants into a cute denim skirt!
created by:
@yessi08
curated by:
@desro
ESPAÑOLSaludos amigos creativos en todo el mundo, bienvenidos a mi blog!Espero hayan tenido un exce...
---

We discover posts daily in various categories:
CREATIVE: coding, self made cosmetic and beauty products, fabric work, yarn work, pottery paper work and art tutorials
CRAFTING: 3d printing, electronics, jewelry making, metal and woodwork, upcycling
HOME&GARDENING: building, decoration, gardening, homesteading, repairing
Share your Do-It-Yourself projects in the DIYHub community on HIVE with members with the same passion, interests and who will appreciate your work. Let's connect in the community and build strong and long lasting relationships on the HIVE blockchain!

This service is 100% non-profit!
all of our curation rewards are going directly back to the delegators via daily payouts in liquid HIVE! Please support us and the creators we are supporting with your delegation and earn passive income: 100 HP | 200 HP | 500 HP | 1000 HP | 2500 HP | 5000 HP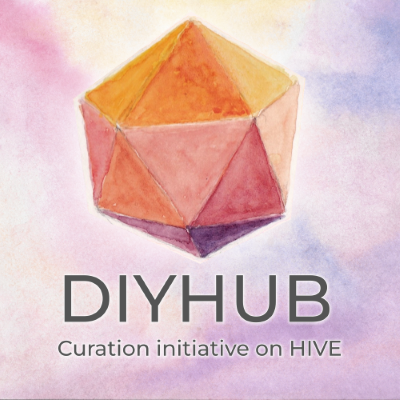 Next to the usual curation we are also running a witness server on hive.
If you want to support our journey then feel free to vote for our witness!
You can contact at any time via our discord server: https://discord.io/diyhub
Oh! you don't have an HIVE account yet? Sign up and start sharing!