<center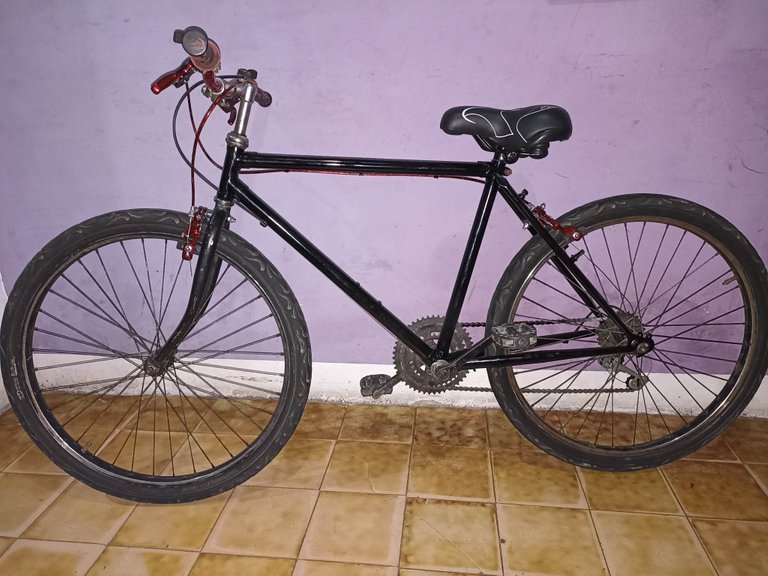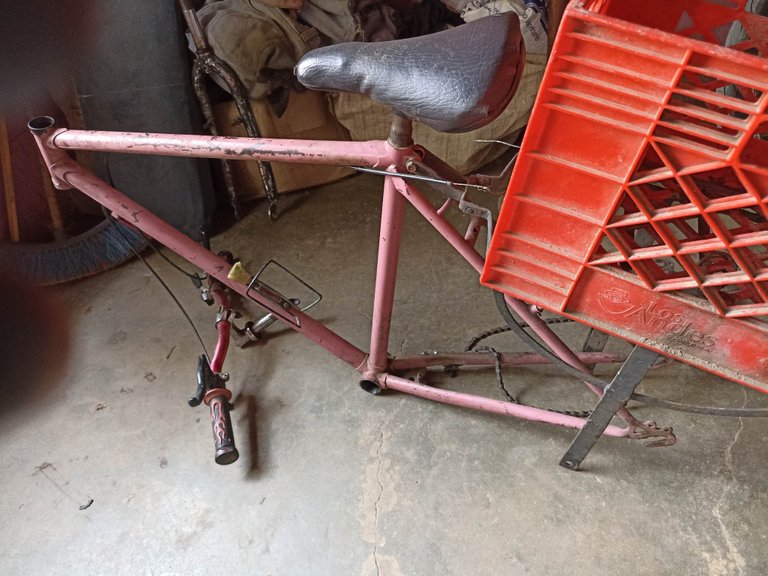 that's how it was before
Así estaba antes
Hello dear friends, I hope you are very well, this time I want to show you how I repaired a bicycle almost from scratch, since the frame was very deteriorated and the wheels were twisted. This bicycle is not my property, it belongs to a friend who told me to fix it for him, he was in charge of looking for all the spare parts and I was going to install them since he did not know how to do it, I went to his house to see the bike and I realized that it was very damaged so I worked a lot on it, as you can see in the second photo, that was the state in which I found it. I will briefly show step by step how I restored it, let's start!
Hola queridos amigos, espero que se encuentren muy bien, en esta oportunidad quiero mostrarles como reparé una bicicleta casi desde cero, ya que el marco estaba muy deteriorado además que las ruedas estaban torcida. Esta bicicleta no es de mi propiedad, es de un amigo que me dijo que se la arreglara, el se encargaba de buscar todos las refacciones y yo las iba a instalar ya que él no sabía como hacerlo, me traslade hasta su casa para ver la bicicleta y me di cuenta que estaba muy deteriorada así que trabajé bastante en ella, como pueden ver en la segunda foto, ese era el estado en el que la encontré. Mostraré brevemente paso a paso como la restauré, comencemos!

PROCESS
Remove at first all the debris that the bicycle had since the order was to remove all the accessories and then put new ones. I disassembled the frame and removed the paint using sandpaper, I didn't paint the bike since for now I don't have a mde air compressor to paint and the owner of the bike didn't want me to use spray paint, so I took it to a place where they paint cars and there they did the whole process, after 3 days I looked for the frame of the bicycle and the result was great, the paint was excellent, I brought it home and there I began the process of assembling it little by little.
Quite al principio todos los escombros que tenía la bicicleta ya que la orden era quitar todos los accesorios para luego poner unos nuevos. Desarmé el cuadro y le quité la pintura utilizando una lija, yo no pinté la bicicleta ya que por ahora no poseo un compresor de airé para pintar y el dueño de la bicicleta no quería que usara pintura en aerosol, así que la lleve a un lugar donde pintan carros y ahí me hicieron todo ese proceso, después de pasados 3 días busque el marco de la bicicleta y el resultado fue genial, la pintura quedó excelente, lo traje a mi casa y ahí comencé el proceso de armarla poco a poco.

The first step to assemble is to place the headset, this is attached to the rest of the frame with a system of bearings that are placed at each end. I use lubricating grease so that the interior parts can do their job and that way the steering can turn easily. Then I am putting each one of the pieces, one in the fork and that will go in the lower part and the other in the upper part and it will be where they are fixed using a last piece that is screwed.
El primer paso para armar es colocar la dirección, esta se une al resto del marco con un sistema de rodamientos que se colocan en cada extremo. Utilizo grasa lubricante para que las piezas interiores puedan hacer su función y de esa manera la dirección pueda girar con facilidad. Entonces voy poniendo cada una de las piezas, una en la horquilla y que irá en la parte inferior y la otra en la parte superior y será donde queden fijadas utilizando una última pieza que va enroscada.

Since I already had the whole frame ready, I began to put some accessories in place and also other important pieces. For example, I put part of the brake system in place, but not installed a few complete ones since other things were missing. I also put the axle system that makes the bicycle roll, in the same way that I put the previous bearings, I also add lubricating grease to these, but not before cleaning all the old grease, you can use a thinner such as liquid soap and cloth . After putting all the pieces with grease I am introducing them in their place in a circular way since they also have threads. This part is where the pedals go.
Como ya tenía todo el marco listo comencé a poner algunos accesorios en su lugar y también otras piezas importantes. Por ejemplo, puse parte del sistema de frenos en su lugar, pero no instalados poc completos ya que faltaban otras cosas. También puse el sistema de ejes que hace que la bicicleta pueda rodar, de la misma forma que puse los rodamientos anteriores, a estos también les agrego grasa lubricante no sin antes limpiar toda la vieja grasa, se puede usar algun diluyente como jabón líquido y tela. Despues de poner todas las piezas con grasa voy introduciéndolas en su sitio de forma circular ya que también poseen roscas. En esta parte es donde van los pedales.

The next step was to install the handlebars in the steering, here we removed the old brake levers and put the new ones with their cable to operate the brakes. I have also placed a new seat because the other one was broken, this one is bigger and comes with more padding, it is very good for long routes. Then it was the turn of the pedals, I put the left and the right, which is where the main gear is. Everything must be very clean, put lubricating grease where it should go and adjust everything very well using the correct tools, you cannot leave a loose screw because then an accident could occur.
El paso siguiente fue instalar el manubrio en la dirección, aquí retiramos las manillas viejas de los frenos y colocamos unas nuevas con su cable para hacer funcionar los frenos. También he colocado un asiento nuevo porque el otro estaba roto, este es más grande y viene más acolchado, es muy bueno para hacer rutas largas. Después fue el turno de los pedales, puse el izquierdo y el derecho que es donde trae la marcha principal. Todo debe ir bien limpio, colocar grasa lubricante donde deba ir y ajustar todo muy bien utilizando las herramientas correctas, no se puede dejar algon tornillo flojo porque luego podría ocurrir un accidente.

The last step was to put the wheels on and adjust them, before putting them on I straightened them, this process was somewhat complicated, that's why I don't explain it in detail, I would like to do it in another post, but it's something we can do by ourselves when it happens to us. The axles and bearings of the wheels were also lubricated very well with grease so that the bicycle can move very well, I was able to adjust the brakes by placing the cable that makes them work, we must not place the brake pads too far from the rim and neither put them very close, they should be at an approximate distance. The last detail was to graduate the speeds of the rear derailleur of the chain, this is what makes the bicycle chain move through all the speeds. Once this step was finished, I considered the assembly of the bicycle finished.
El último paso fue poner las ruedas y ajustarlas, antes de ponerlas las enderecé, este proceso fue algo complicado por eso no lo explico al detalle, me gustaría hacerlo en otra publicación, pero es algo que podemos hacer por nosotros mismos cuando nos ocurra. Los ejes y rodamientos de las ruedas tambien fueron lubricados muy bien con grasa para que la bicicleta pueda desplazar muy bien, los frenos pude graduarlos al colocarles el cable que hace que funcionen, no debemos colocar las pastillas de los frenos demasiado alejadas del rin y tampoco ponerlas muy cerca, deben estar a una distancia aproximada. El último detalle fue graduar las velocidades del desviador trasero de la cadena, este es el que hace que la cadena de la bicicleta desplace por todas las velocidades. Una vez terminado este paso di por terminado el armado de la bicicleta.

FINAL WORK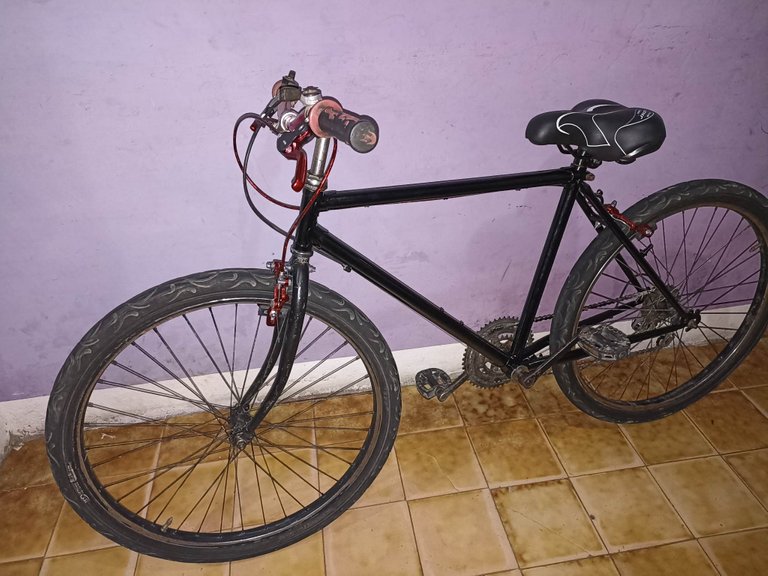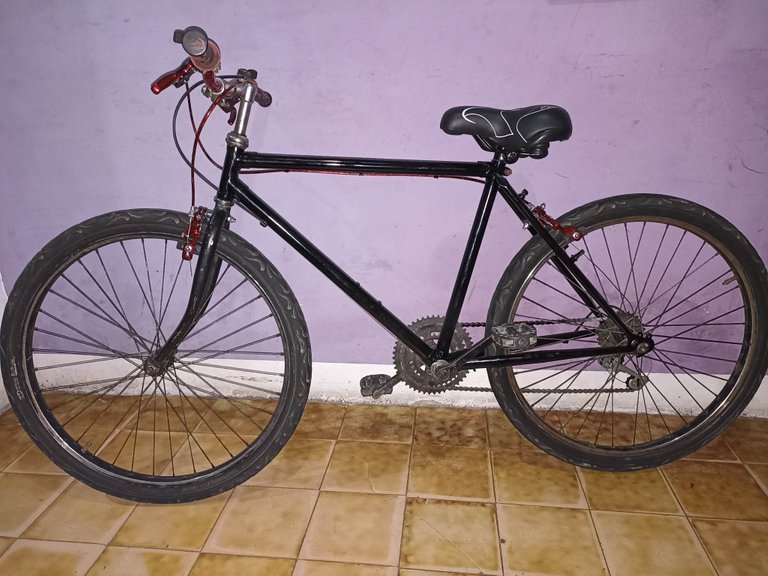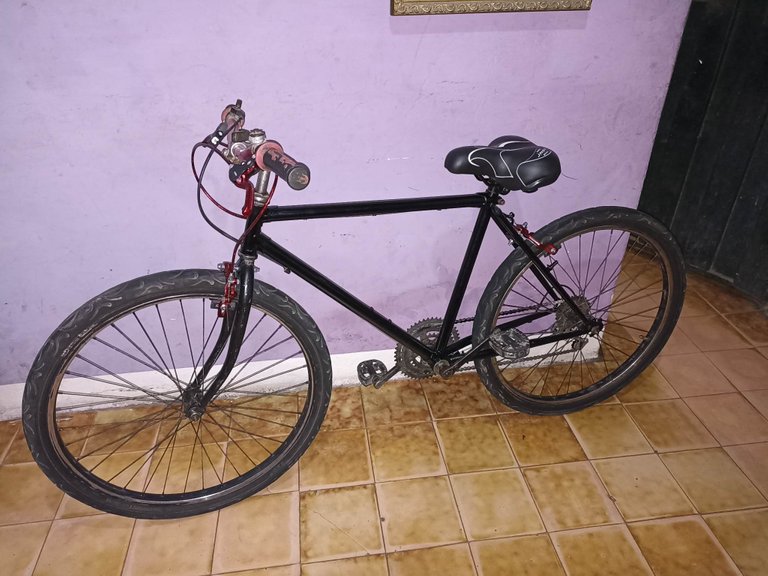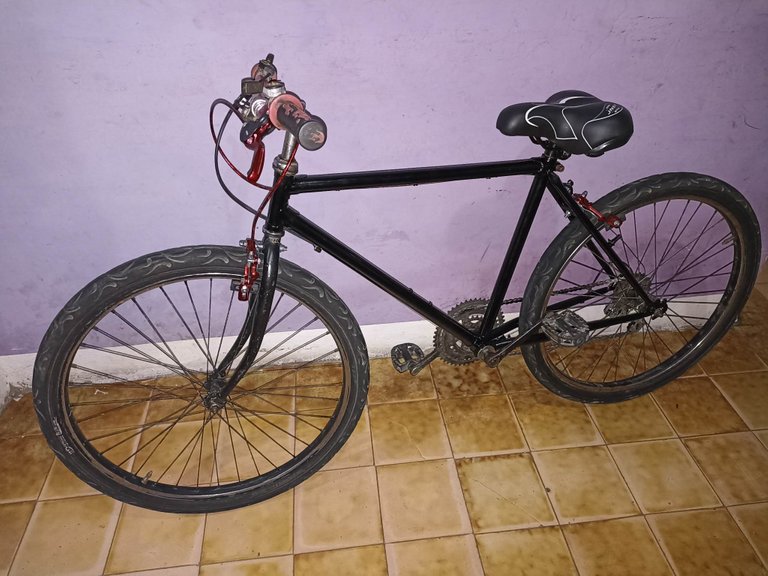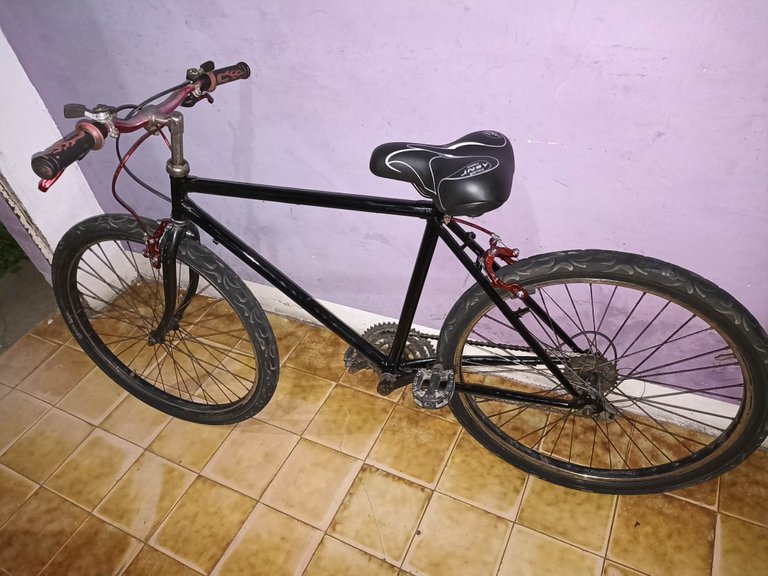 After finishing assembling the bike I wanted to test it but the owner came and took it away, it was sad hehe but I quickly received a message that the bike had turned out better than I expected. The truth is, this job helped me a lot, since I needed it because I was in need of money for some things, so it was like a godsend, little by little my fame as a bicycle mechanic has grown and it is one of the activities that I enjoy the most do in my free time, either with my own bicycle or with those of my friends, in the near future I would like to have a small workshop more suitable to carry out these works more frequently. This has been my contribution to the world of bicycles and this sport, I hope you liked it and that something is useful to you, and if you don't have a bicycle, try to get one, it will be something you will never forget or stop doing. I say goodbye until a new opportunity.
Luego de terminar de armar la bicicleta quise probarla pero el dueño llegó y se la llevó, fue algo triste jeje pero rápido recicbí un mensaje de que la bicicleta había quedado mejor de lo que esperaba. La verdad este trabajo me ayudó mucho, ya que lo necesitaba porque estaba urgido de dinero para algunas cosas, así que fue como caído del cielo, poco a poco ha ido creciendo mi fama como mecánico de bicicletas y es una de las actividades que más disfruto hacer en mis tiempos libres, ya sea con mi propia bicicleta con las de mis amigos, en el futuro cercano me gustaría tener un pequeño taller más acordes para realizar estos trabajos más seguidos. Este ha sido mi aporte en el mundo de las bicicletas y este deporte, espero que les haya gustado y que alguna cosa les sea de utilidad, y sino poseen bicicleta, traten de conseguir una, será algo que nunca olvidarán ni dejarán de hacer. Me despido hasta una nueva oportunidad.