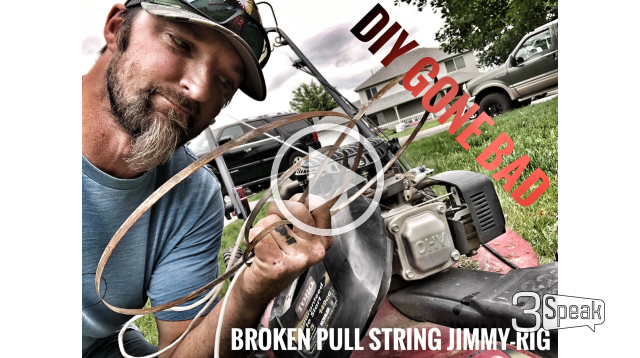 ---
I have had this lawn mower for around 7 years. It has never let me down and I really don't take good care of it. It sits out in the weather all winter long, I never drain the fuel before storing it and it starts every time. Then it happened... the pull chord finally broke. "MOWER DOWN!! MOWER DOWN!!"
A pull string ha to be an easy fix, so I didn't get on it right away. Plus we have been having a bunch of rain, so the grass needs to dry out before my Boy gets his mow on. That amount of time also gave the lawn an opportunity to grow pretty long!! So no quick mulching job, gotta bag it! So I went and picked up some new pull string and installed it. Gave it a few pulls and it sounded funny. Took it apart and $#!+ hit the fan!! The spring shot out and as a result there is no more auto rewind of the pull chord. Initially it was an easy fix but now I have to Jimmy-Rig this so my Boy can get this lawn mowed!!
Everyone always shows their DIY projects going good and everything went smooth. So why not show a DIY fix gone bad and how to adapt and overcome... make it happen to get the job done. I did manage to get it setup where my Boy could wind it and start it all by himself. He was cruising right along as I was using the weed eater to get the edging done. Then he got my attention and said, "What's that noise?" Then a little metal piece shot out and the pull string mechanism wouldn't grab anymore. Welp... that is just the way it goes sometimes. So I had to bring out the Big Dog and finish it up. Now one to order a whole new pull sting mechanism and hopefully it will get here before it is time to mow again.
Hey you win some and you lose some. Just find a way to get it done safely.
Cheers
---
▶️ 3Speak