Greetings appreciated @diyhub community. Today I want to share with you how to decorate a bottle with butterfly stickers, ideal for serving drinks at our parties. It is really easy and quick to do. We can decorate them with the motifs that we like the most.
Saludos apreciada comunidad de @diyhub. Hoy quiero compartir con ustedes Cómo decorar un frasco con stickers de mariposas, ideal para servir las bebidas en nuestras fiestas. Es realmente fácil y rápido de hacer. Podemos decorarlos con los motivos que más nos gusten.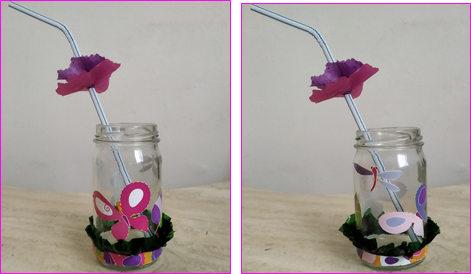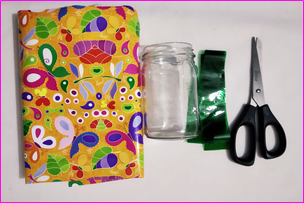 Step by Step:
We select the images on the contact paper with which we are going to decorate the jar and a ribbon the size of the circumference of the jar.
Paso a paso:
Seleccionamos las imágenes en el papel contac con los que vamos a decorar el frasco y un listón del tamaño de la circunferencia del frasco.


In the strip that we cut, little by little, we separate the contact paper, and we are gluing the green cellophane paper on the adhesive side, making pleats.
En el listón que recortamos, poco a poco, separamos el papel contac, y vamos pegando por el lado adhesivo el papel celofan verde haciéndole plises.


Once we have the pleated cellophane on the ribbon, we glue it around the jar at the bottom.
Una vez que tenemos el papel celofan plisado en el listón, lo pegamos alrededor del frasco en la parte inferior.


Then, we begin to decorate the jar with the selected butterflies, leaves and dragonflies.
Luego, empezamos a decorar el frasco con las mariposas, hojas y libélulas seleccionadas.


We already have our jar ready and to complete the decoration we put a nice straw on it. Using this type of material to decorate these jars is ideal, since they are not damaged when serving the drinks.
Ya tenemos listo nuestro frasco y para completar la decoración le colocamos un lindo sorbete. Usar este tipo de material para decorar estos frascos es ideal, ya que no sufren daños al momento de servir las bebidas.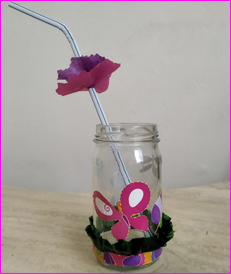 I invite you to visit my publication || Los invito a visitar mi publicación:
How to decorate a glass candy box || Cómo decorar una bombonera de vidrio
How to decorate a glass container ||Cómo decorar un envase de vidrio