Happy Friday dear creative friends!!! I hope everyone is very well. Today I bring you my participation in the contest of the month #teapotcontest. A teapot made by recycling a jar and it looks beautiful to decorate a corner of the house, we can also add some kind of light.
Feliz viernes queridos amigos creativos!!! Espero se encuentren todos muy bien. Hoy les traigo mi participación del concurso del mes #teapotcontest . Una tetera hecha reciclando un frasco y queda hermosa para decorar algún rincón de la casa, además podemos agregarle algún tipo de luz.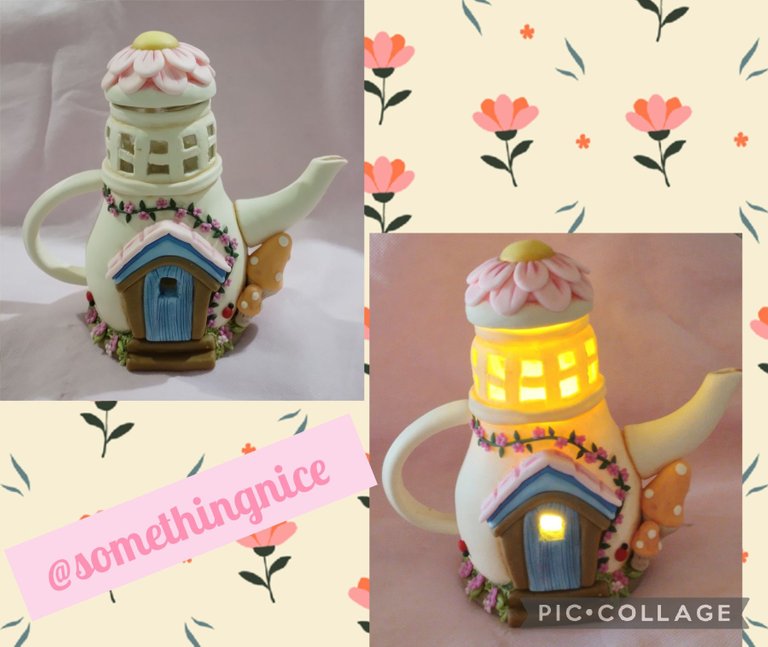 I made this project using images from Pinterest.
Este proyecto lo hice utilizando imágenes de Pinterest.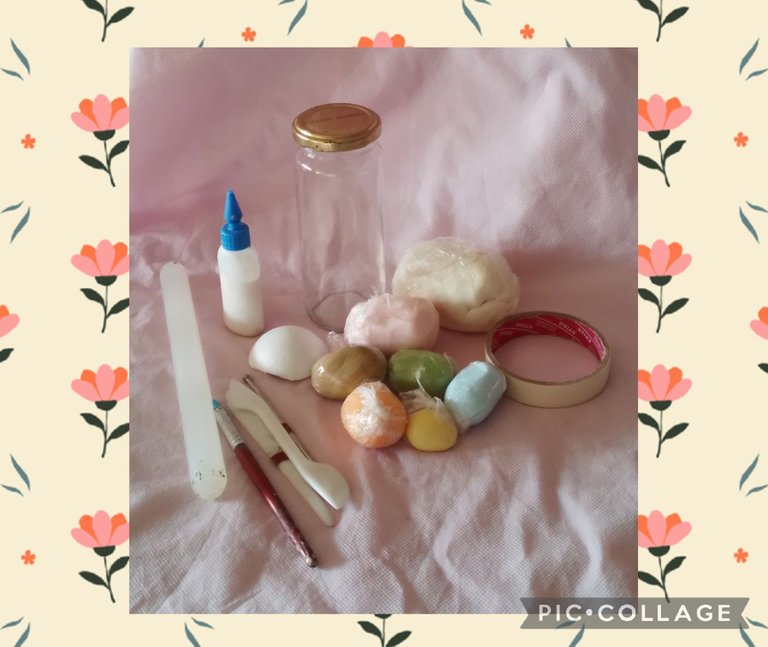 Materials
🫖 cold porcelain
🫖 vinyl glue
🫖 stecas
🫖 rolling pin
🫖 jar
🫖 paper tape
🫖 1/4 of a Styrofoam sphere
Materiales
🫖 porcelana fria
🫖 cola vinilica
🫖 estecas
🫖 palo de amasar
🫖 frasco
🫖 cinta de papel
🫖 1/4 de esfera de telgopor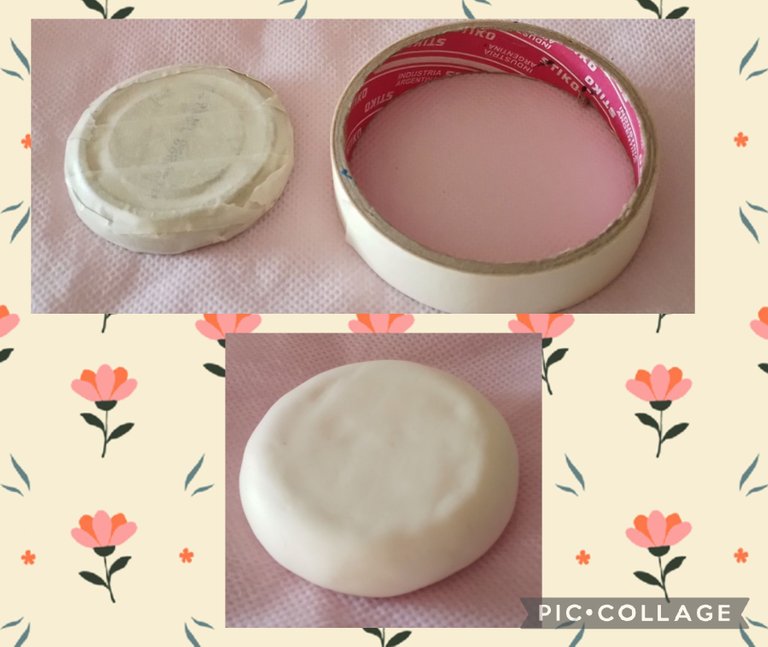 Cover the lid of the jar with paper tape, this is to prevent it from oxidizing with the humidity of the dough.
Roll out the dough, cover and remove the excess.
Cubrir la tapa del frasco con cinta de papel, esto es para evitar que se oxide con la humedad de la masa.
Estirar masa, forrar y quitar el sobrante.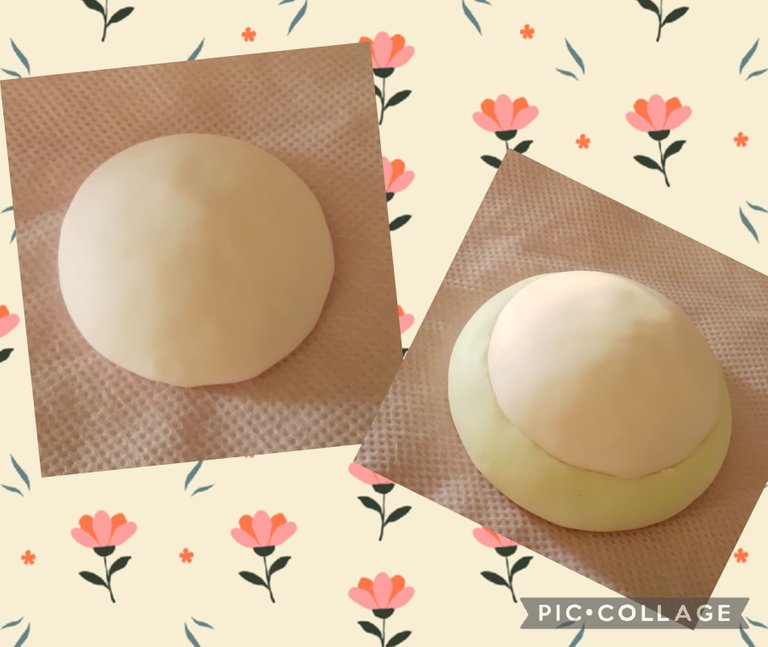 Roll out the dough, cover the quarter sphere and paste it on the lid.
Estirar masa, cubrir el cuarto de esfera y pegar sobre la tapa.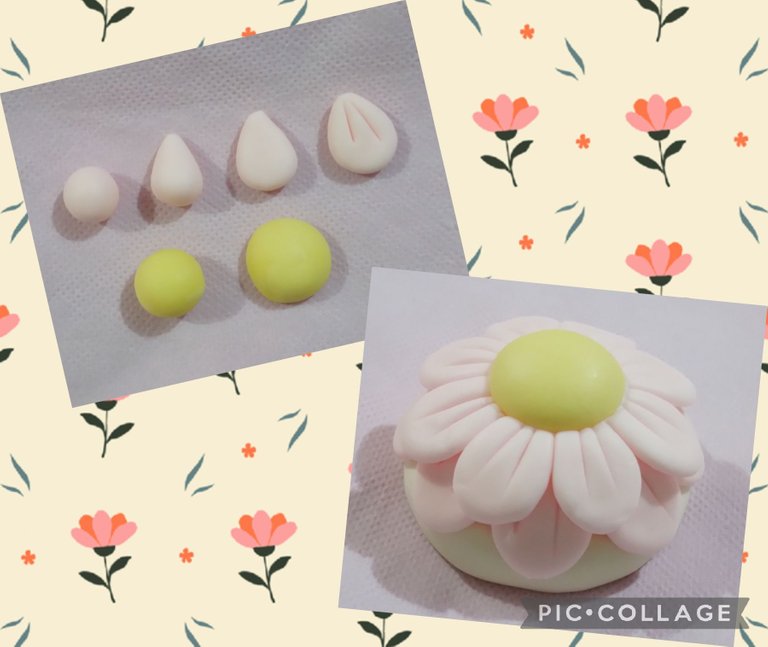 For the petals, make several balls of more or less the same size, shape them into a teardrop shape, flatten them and mark lines.
For the center make a ball and flatten.
Paste the petals on the quarter sphere, turning twice and inserting, add the center.
Para los pétalos hacer varias bolitas más o menos del mismo tamaño, dar forma de lágrima, aplanar y marcar líneas.
Para el centro hacer una bolita y aplanar.
Pegar los pétalos sobre el cuarto de esfera dando dos vueltas e intercalando, agregar el centro.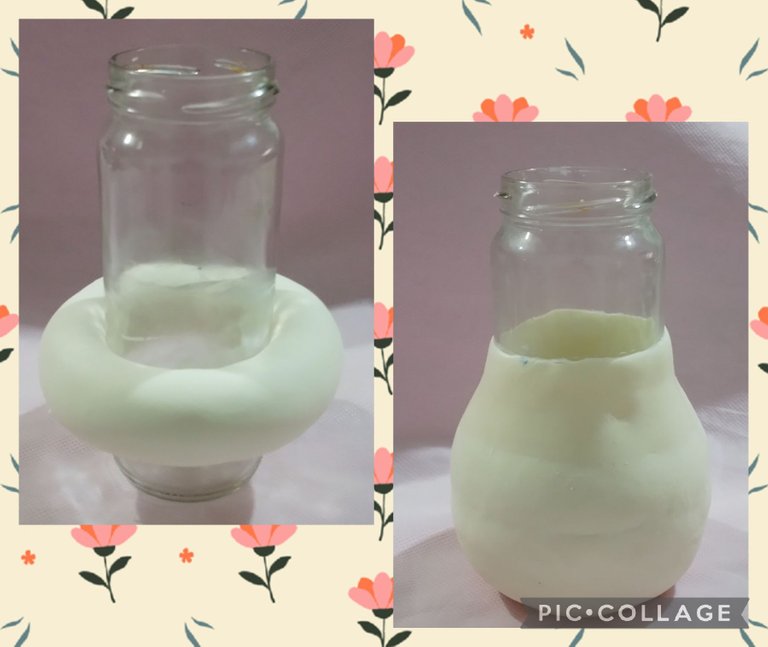 Make a ball with enough volume, make a roll and cover the diameter of the jar. Go taking the dough up (do not cover everything) and down (covering the base) leaving more than half down. With the palm of your hand, erase any marks that may remain.
Hacer una bolita con bastante volumen, hacer un rollo y cubrir el diámetro del frasco. Ir llevando la masa hacia arriba (no cubrir todo) y hacia abajo (cubriendo la base) dejando más cantidad de la mitad hacia abajo. Con la palma de la mano borrar cualquier marca que pueda quedar.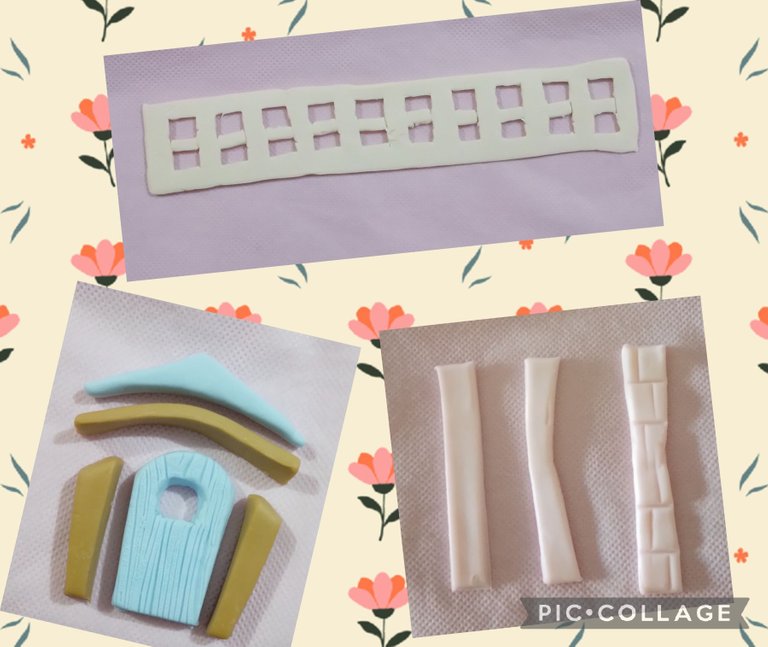 For the small windows, roll out the dough, cut a rectangle and with a sharp tool, cut out small squares.
For the door cut a rectangle and putting it vertically round the top, make lines to simulate the wood. Drill a small window.
Cut fairly thick strips for the door frame.
For the roof that goes above the door, cut a fairly thin triangle at the ends. Make a strip of another color, make diagonal cuts on one side (so that it fits when we glue it to the jar) and mark lines to simulate the tiles.
Para las pequeñas ventanas estirar masa, cortar un rectángulo y con alguna herramienta filosa calar pequeños cuadrados.
Para la puerta cortar un rectángulo y poniéndolo en forma vertical redondear la parte superior, hacer líneas para simular la madera. Calar una pequeña ventana.
Cortar tiras bastante gruesas para el marco de la puerta.
Para el techo que va arriba de la puerta cortar un triángulo bastante fino en lo extremos. Hacer una tira de otro color, de un lado hacer cortes diagonales (para que encastre cuando lo pegamos al frasco) y marcar líneas para simular las tejas.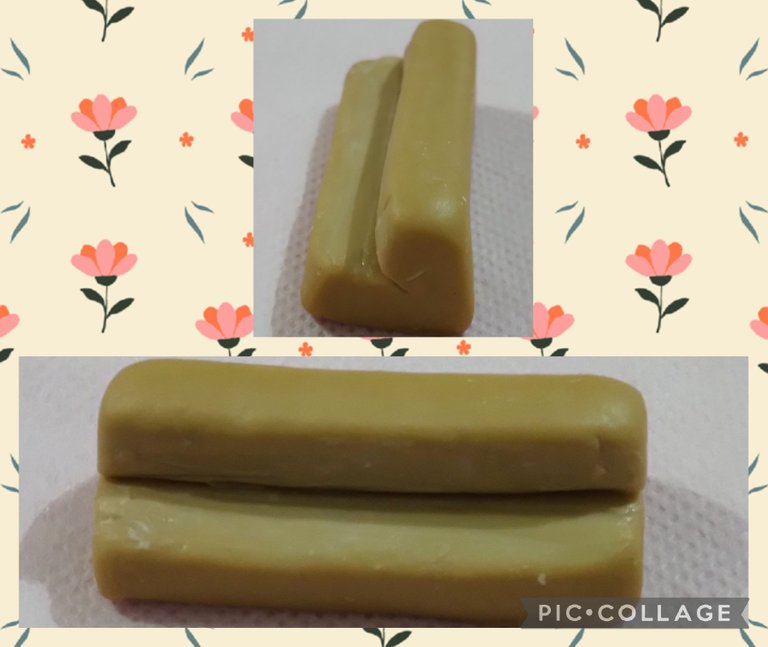 For the ladder to make a roll, straight away remove a portion from each side. Cut in an "L" shape to form the step.
Para la escalera hacer un rollo, quitar de forma recta una porción de cada lado. Cortar en forma de "L" para formar el escalón.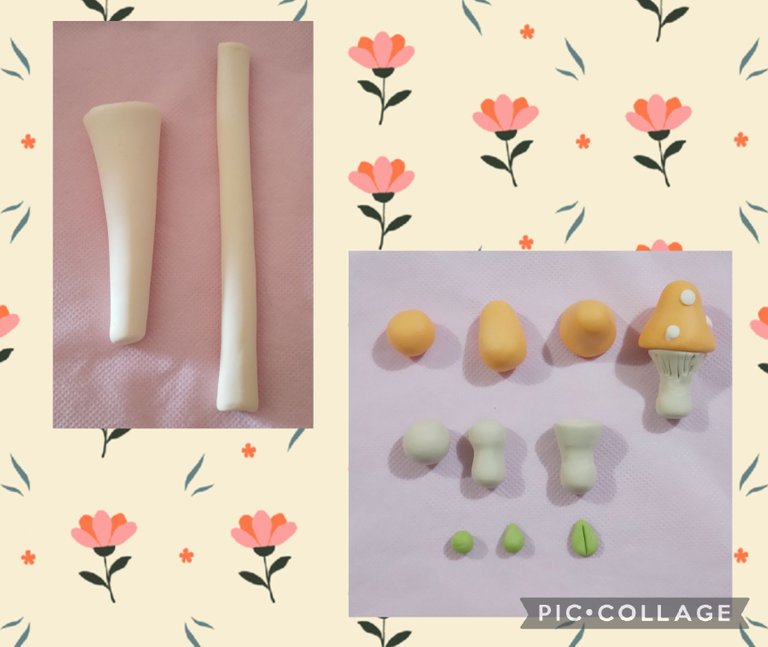 For the spout of the teapot, make a small ball, stretch it, leaving it thinner at one end and hollow it out, giving a flat base on the wider side.
For the handle, cut a strip and when gluing, give it a curved shape.
For the mushrooms, make a ball, give it a pear shape, flatten at the bottom.
Make a ball of another color, stretch, refine to a quarter of the length and shape it flat on top.
Join the parts and add small flattened balls.
For the leaves, make balls of different sizes, shape them into a drop, flatten them and mark the veins.
Para el pico de la tetera hacer una bolita, estirar dejando más fino en un extremo y ahuecar, del lado más ancho dar base plana.
Para el asa cortar una tira y al pegar dar forma curva.
Para los hongos hacer una bolita, dar forma de pera, aplanar en la parte inferior.
Hacer una bolita de otro color, estirar, afinar en un cuarto del largo y dar forma plana en la parte superior.
Unir las partes y agregar pequeñas bolitas aplanadas.
Para las hojas hacer bolitas de diferentes tamaños, dar forma de gota, aplanar y marcar la nervadura.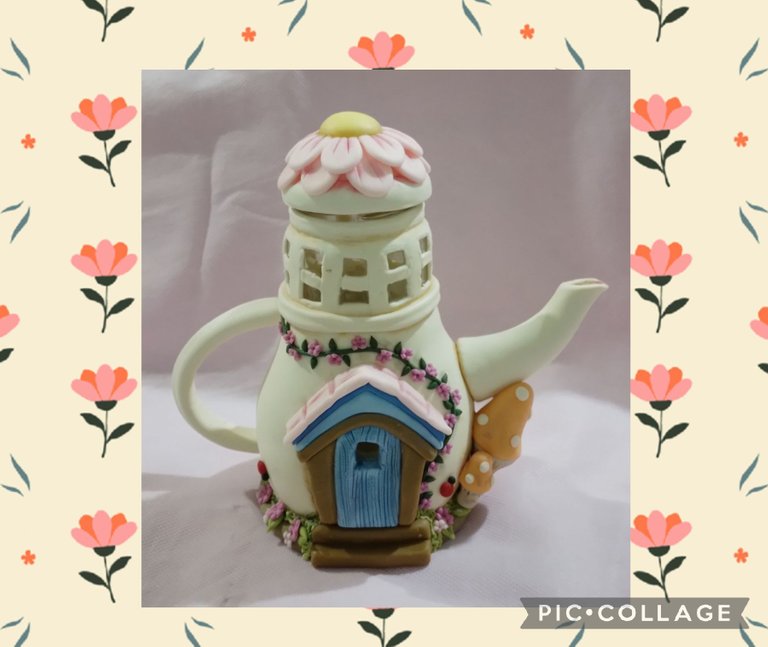 Join all the pieces with vinyl glue. Add a green strip covering the entire diameter to simulate the grass (we can texture with a brush), decorate with leaves and flowers. Make up.
As a plus I added an artificial candle inside.
For this post I took photos with my Samsung Galaxy A03 cell phone and used the PicCollage app and Google translate.
I hope you liked and enjoyed. Good luck for all of you. Greetings. Andrea 💜💜💜
Unir todas las piezas con cola vinilica. Agregar una tira color verde cubriendo todo el diámetro para simular el pasto (podemos texturar con cepillo), decorar con hojas y flores. Maquillar.
Como un plus agregué una vela artificial en el interior.
Para este post tomé fotos con mi teléfono celular Samsung Galaxy A03 y utilicé la aplicación PicCollage y el traductor de Google.
Espero les haya gustado y disfrutado. Suerte para todos. Saludos. Andrea 💜💜💜