With international travel most likely off the agenda for the foreseeable future, the rest of 2021 at least judging by what the government are mumbling about here, Faith and I have shifted focus to more local travel; For us that means camping usually as we like to get away from populated areas.


My pick up parked in the Flinders Rangers, South Australia. You can just see the massive mountain range in the background. This is one of our favourite places to be; It's some 600 kilometres north of Adelaide and one is unlikely to see anyone else out there.
With this local travel in mind I pulled the cover off my off-road camper trailer to give it a once-over a couple days ago. I was more interested in the batteries that power the on-board electrical items: Fridge/freezer, LED lighting, water pumps and my accessories when plugged in. We purchased the camper in 2015 and since then the batteries have not been changed so before we tow it anywhere they need checking.
When the camper is stored I have it plugged into power which feeds the smart charger to keep the batteries topped up. Once they reach capacity the charger floats them, meaning the power-input ceases until the batteries deplete a little then throws in some more charge on a repeating cycle. It keeps the batteries conditioned and the camper ready for use.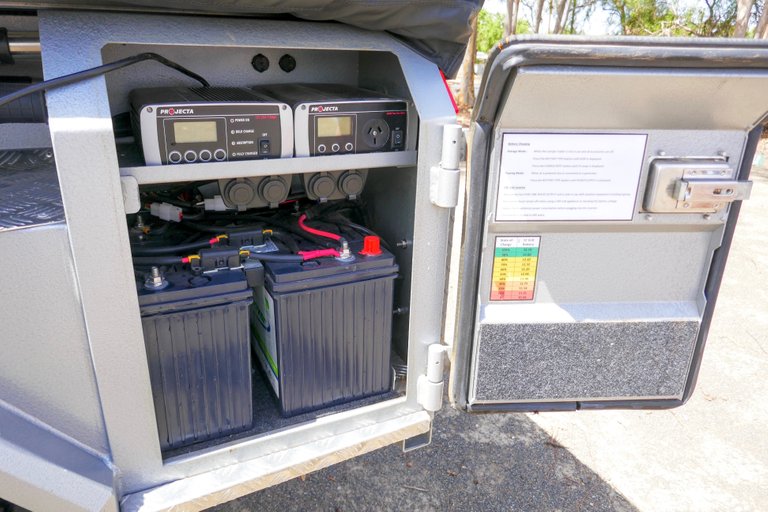 The battery compartment which is at the rear passenger (left) side of the camper trailer. You can see hot tightly packed it is which make it a little challenging to work on.
Considering the six years the batteries have been installed, two 65 amp hour batteries to total 130 amp hours of supply, I suspected that they might be less than perfect in condition, and so I had to find out.
What I wanted to test was their ability to hold charge and the lifespan in days that the batteries would last when loaded; Being used. It's a fairly simple task really and here's what I did.
---
First I turned on the fridge and set it for 2°C which is the temperature I operate it on when we're travelling with the camper. I had it plugged into power to bring the temperature down initially and once at the desired temperature I unplugged the mains power to let the fully-charged batteries take the load.
Of course, I needed to track the temperature to make sure the batteries were supplying the power to keep it constant and the time it took for the batteries to deplete so I needed to employ a weather meter called a Kestrel Drop 3, or simply D3, which is something I use as part of my long range shooting process. It would work perfectly to track the fridge.
It's a small device that registers all sorts of environmental factors and reports them back to the App on my phone via Bluetooth. It creates a log which is what I would use to track temperature and time. It's quite simple really; Just drop the Drop 3 into the fridge and close the lid.
---
I was hoping for about five days of power and constant temperature. The time tends to change along with ambient temperatures and how often the fridge is opened plus how much product it holds; It will be longer if loaded as the cold products actually make the cooling process more efficient.
When camping I plug in a solar panel to the trailer which feeds the batteries keeping them topped up but they need to be able to supply enough power for five to six days in the advent of bad weather which means less solar collection. When new I was getting a solid six days, so I would have been happy with five.
But that wasn't to be on this occasion as you can see from the images below.
Left is 0800 (8am) 18 January at 0.3°C.
Middle is 2330 (11:30pm) 18 January at 2.5°C (Where the batteries depleted).
Right is where the temperature is at 1600 (4pm) 19 January at the time of writing this post. 20.4C°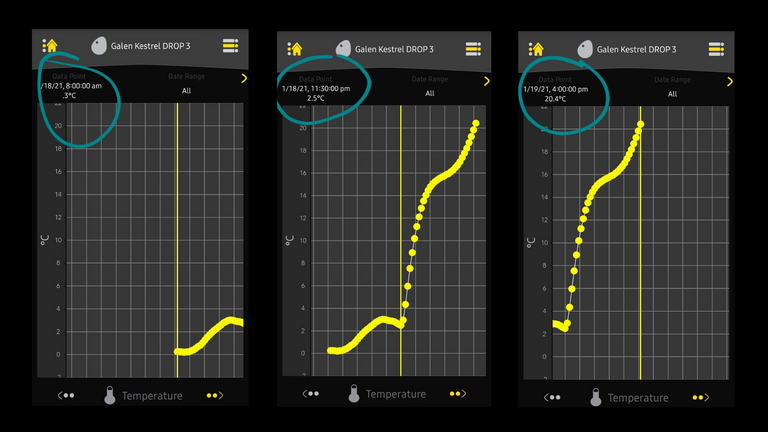 The batteries held the temperature, which sort of fluctuates just over and under the set temperature, from 0800 to 2330 and then failed altogether; Clearly they are buggered and need to be replaced.
I'm going to do the job myself when I get some spare time. The plan is to remove them, determine exactly what type I need, they need to fit into a tight space, buy replacements and re-fit them. I'm not expecting any difficulties although they are in a fairly tight compartment and getting access will be a pain in the ass! I'll make it work though. From there we'll be good to go!
Below are some images of the fridge and camper for a little perspective as I assume some of you may have asked. If you want to see a full post about it just scroll back down my feed about 15 months or so.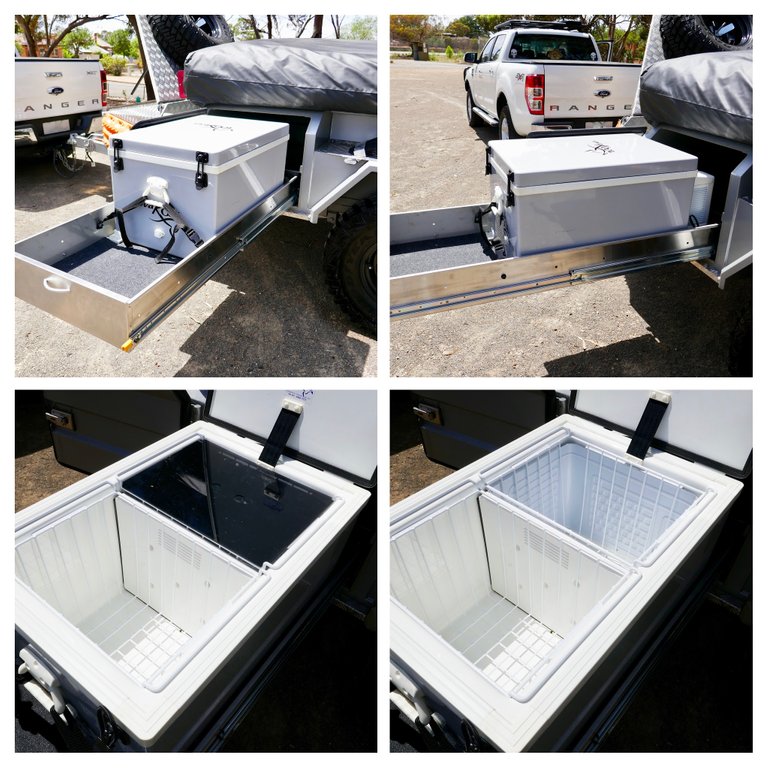 The fridge on board - 85L capacity and the ability to be fridge, freezer or both. The image bottom left shows the freezer compartment with the black lid. The centre panel removes completely for all fridge or all freezer configuration. This slides out inside the tent when set up and is accessible from outside when packed up to allow access whilst on the road.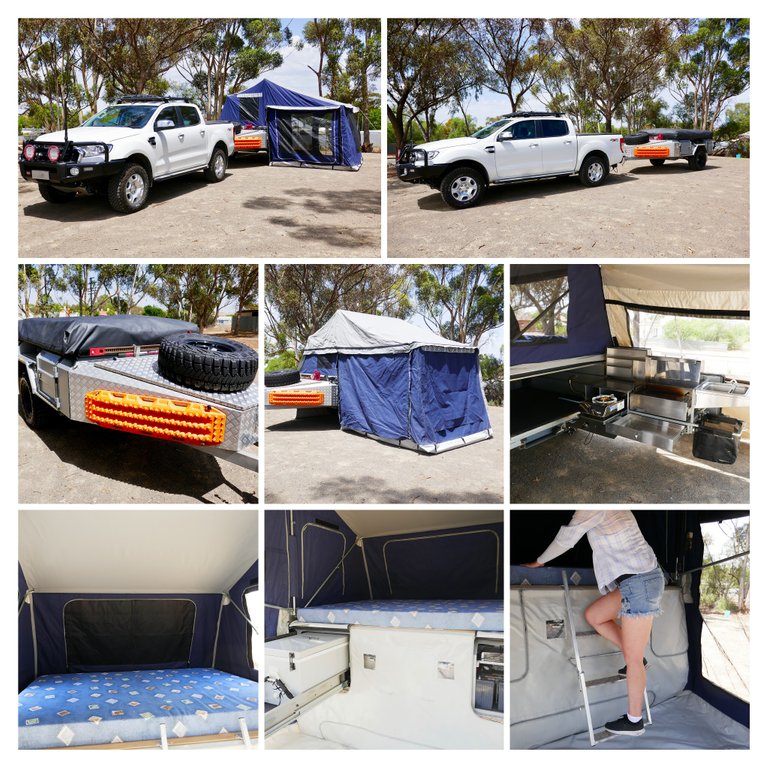 Above are a few images of the camper set up. It has a big annexe off the back which isn't show in the images and that can be totally enclosed with walls if required. We rarely do that. It has a gas cooktop and BBQ grill in-built into the kitchen.
We are planning to head to the west coast of our State of South Australia. It's a massive State and our destination is probably going to be Port Lincoln some 650 kilometres away, seven hours when driving at 110kp/h. It means we don't have to cross any State borders which could be covid-closed at any point and our trip will be safe, more likely to happen I mean. We're looking forward to it...But I have this job to do before we can think about packing up and leaving.
So, that's about it y'all...The old G-dog has some electrical work to do and whilst it's not really my expertise I reckon I'll be able to get it done. What self-maintenance involving electricity have you done lately, if any, or what DIY have you been working on? Drop your comments below and let me know!
---
Design and create your ideal life, don't live it by default - Tomorrow isn't promised.
Be well
Discord: galenkp#9209