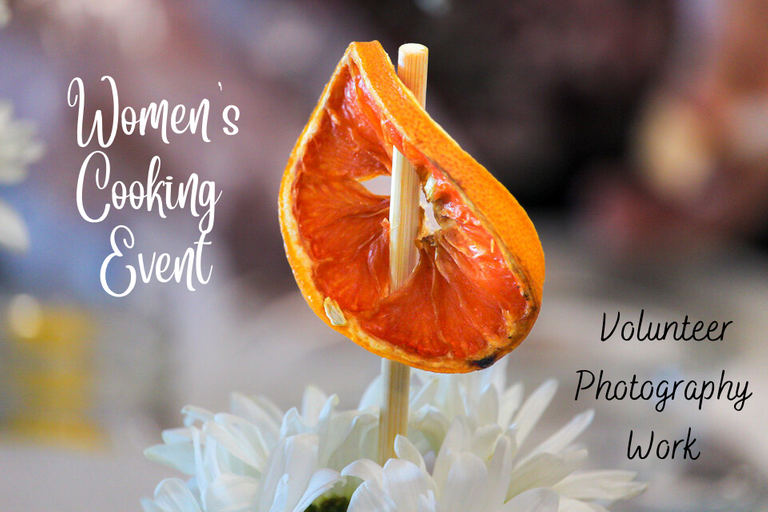 You know you love photography when you're invited to an event and all you can think about is
That would make for some nice photos! 😍


My SIL invited me to go to her church's women's event which would be a night of learning, cooking and eating.
It was such an interesting event where we were taught different ways to cook for large groups of people that have food sensitivities and restrictions. This was something I needed to attend as we just found out my 3 year old has to have a gluten and dairy free diet. 😩
I know not having gluten is good for anyone but this is a big change for my family and will be a process. Almost everything has gluten in it and it's so expensive when changing one's diet. Dairy free is not so much of a change for us as we do almond milk anyway and I have experimented with different plant butters and alternative cheese products.
Anyway, when my sister told me there will be decorated tables and presentations I knew I wanted to take some shots of this event. I haven't taken photos of an event setup in awhile and I missed doing that. I wanted to see how I would do with that along with capturing photos of the ladies and the gathering.
For respect of privacy I will not show pics of anyone's face but only their hands.
I asked her to see if the group wanted me to gift them with photos of their event. I suggested that it would be good to use in their advertisements when trying to reach other women to come out to their services. The coordinator was very excited and gladly accepted my offer. 😊
During the entire event I was in what I call Photography Candy Land! I was so excited and literally couldn't wait to start taking photos of the beautiful tables they were setting up.
The way the event went was the leaders demonstrated how to prepare and cook each dish we were eating that night. They talked about alternative seasonings, dressings etc. and how to shop and look for gluten free products. They shared the importance of being careful not to cross contaminate foods or utensils in order to keep things separate. Some people are highly allergic to certain foods and getting even a little in their plates could cause a serious reaction.
This was my yummy plate and I enjoyed every bite. We had garlic and basil chicken, quinoa, salad with an amazing dairy free dressing, and some tasty vegetables.
For dessert we had some no bake peanut butter cookies and a gluten free chocolate chip cookie.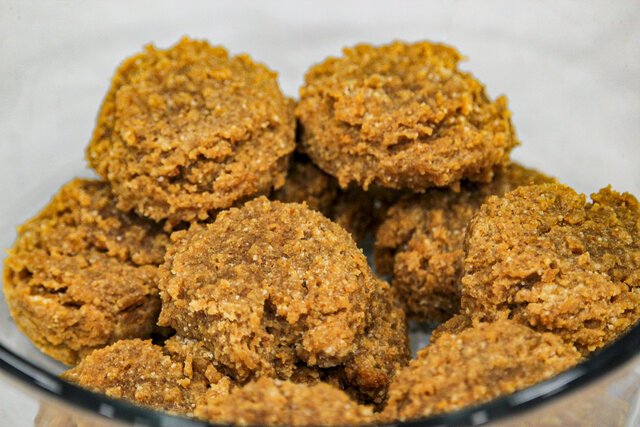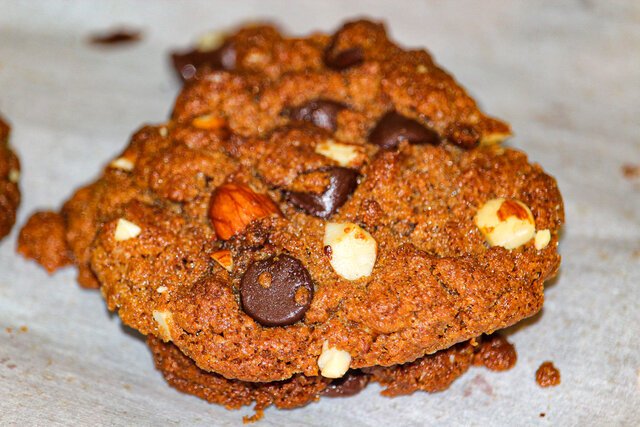 ---
Let me show you these table settings. My goal was to get the full setting and then a few closeups with different angles depending on the decor…
тαвℓє 1
This was amongst my favorite tables. I really loved the pop of blue and the lighting in the jar. I also loved the colorful embroidered tablecloth.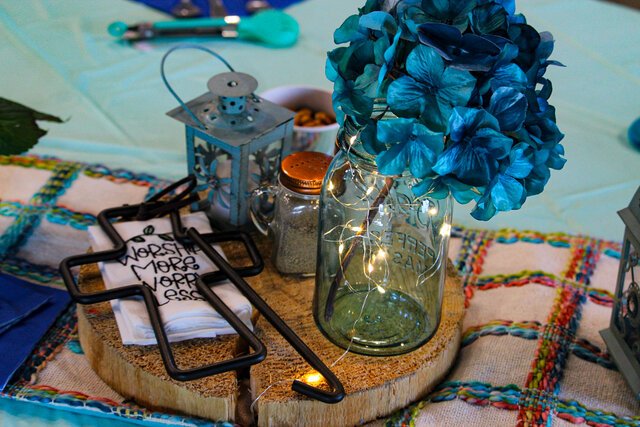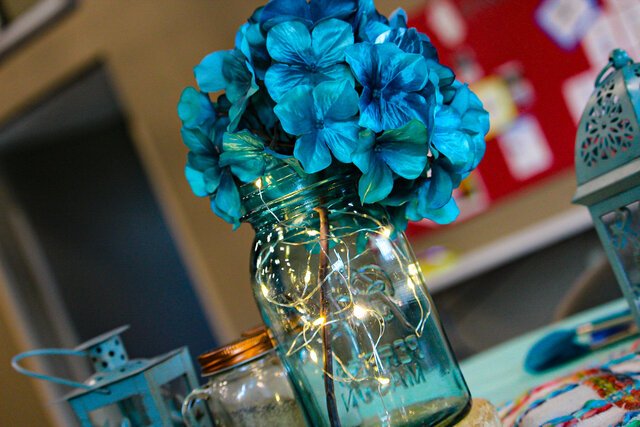 тαвℓє 2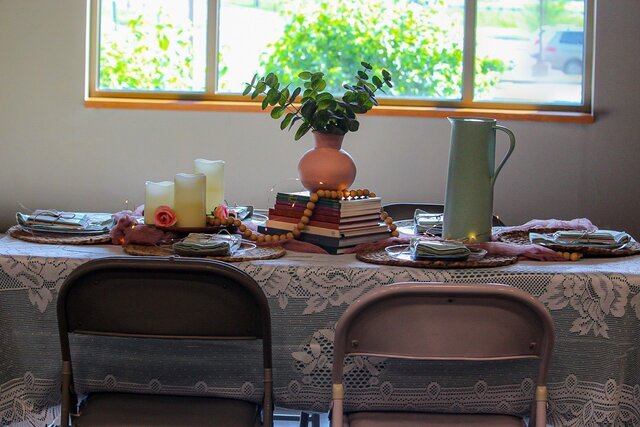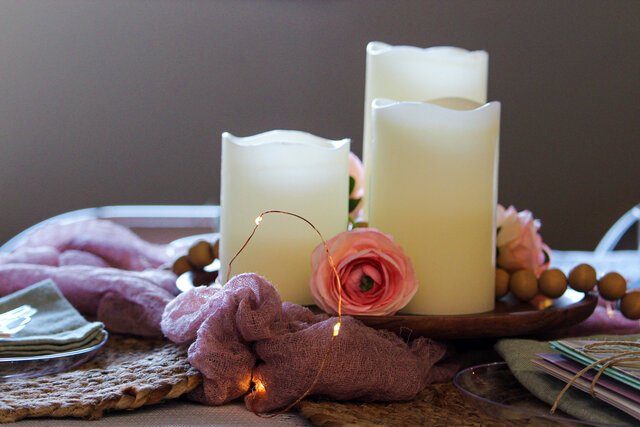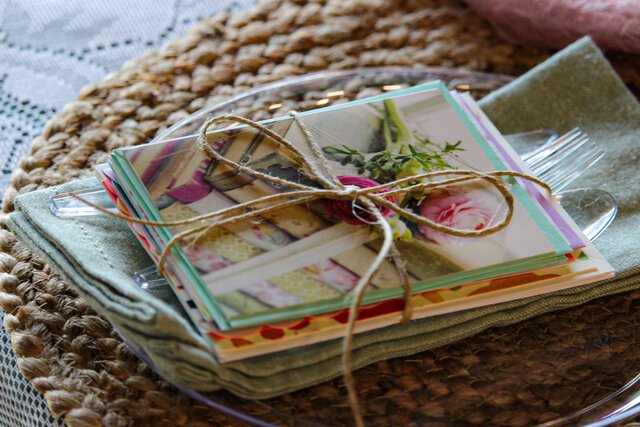 тαвℓє 3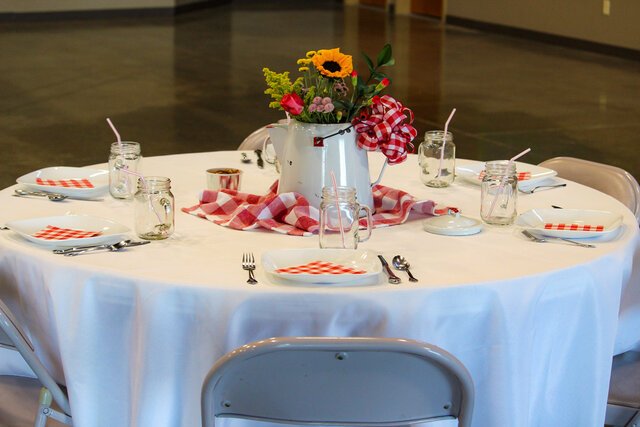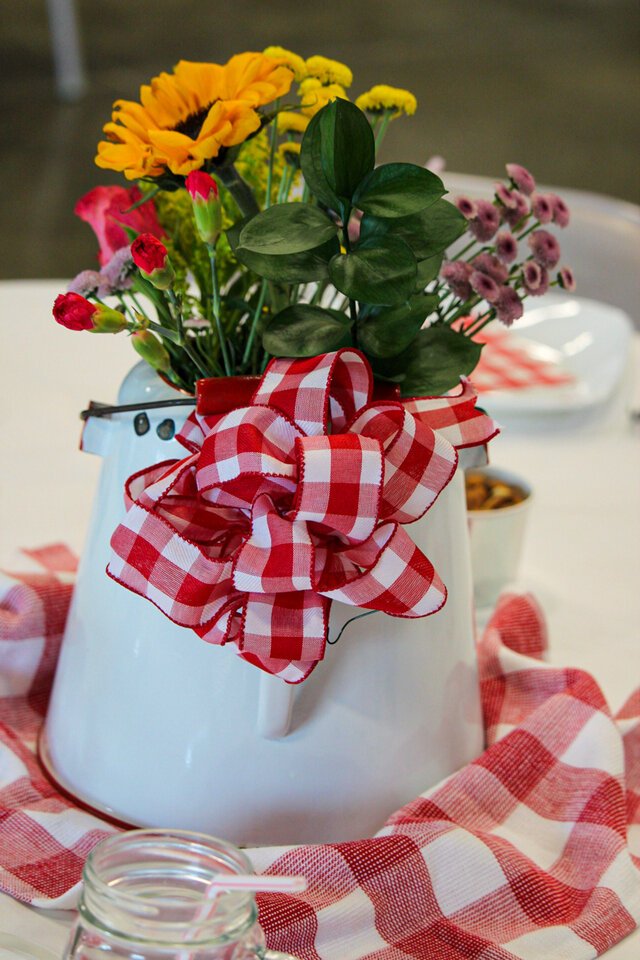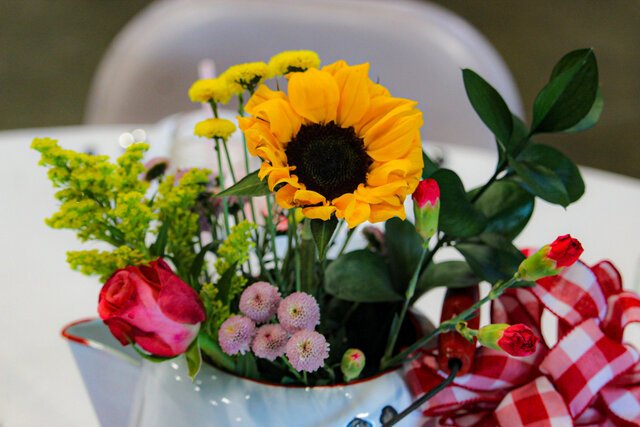 тαвℓє 4
The centerpiece and napkin holders really stood out at this table. The color scheme used was very pretty.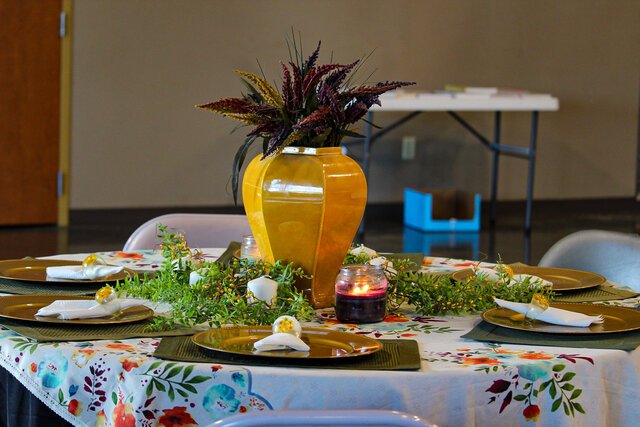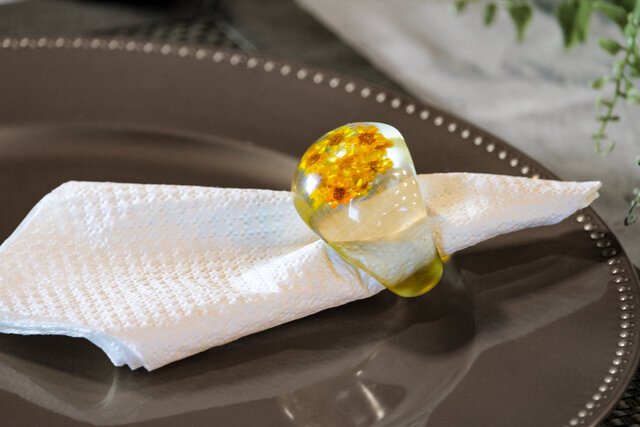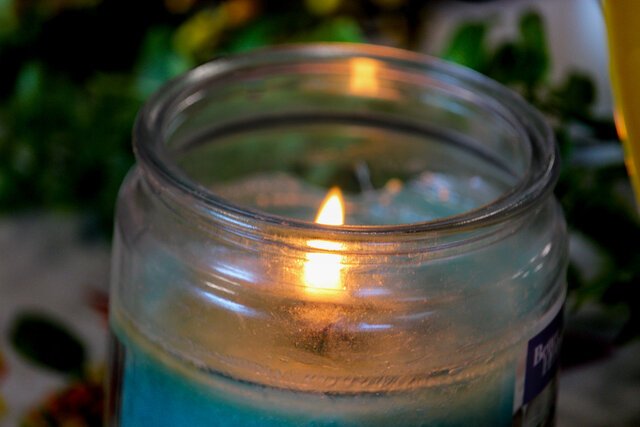 тαвℓє 5
This setup was the most unique to me and seemed to be quite popular that night. It was neat learning how the decorator of this table shaped and dried the oranges to get them to look like this. I loved all of the orange displayed here.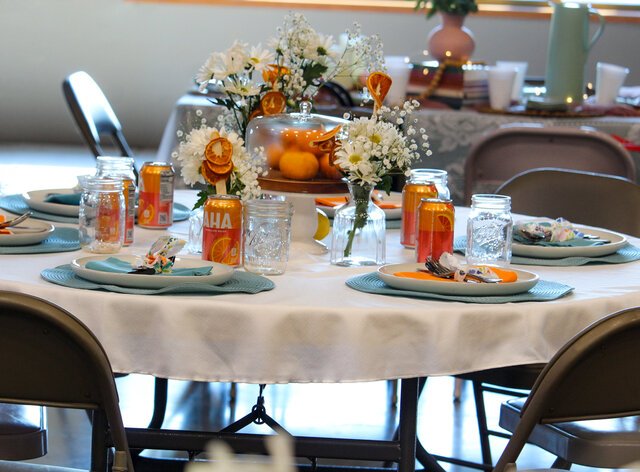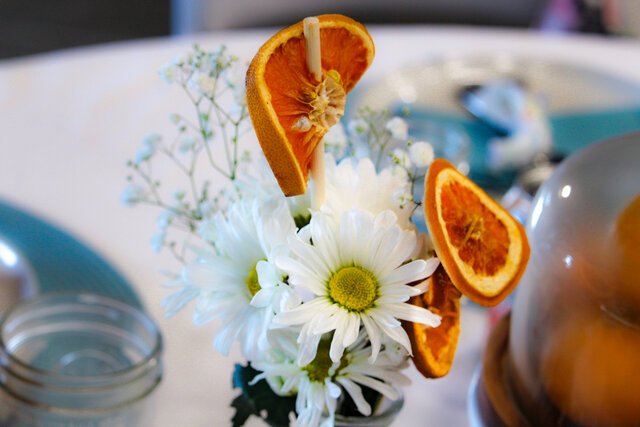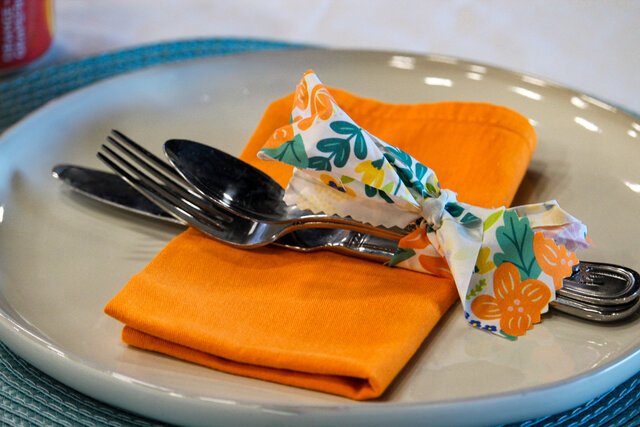 тαвℓє 6
This was my mother and sister's western themed table. My mom wore her cowgirl hat to finish off the look.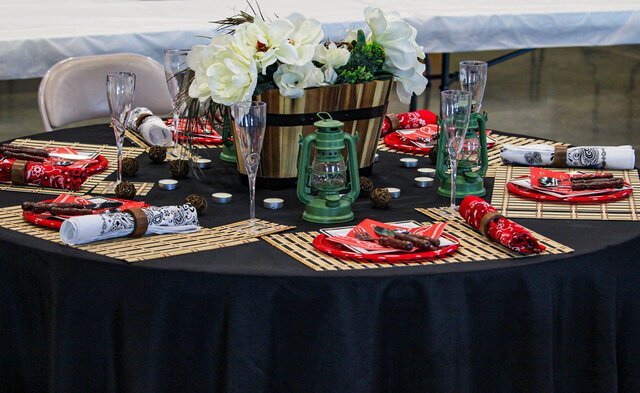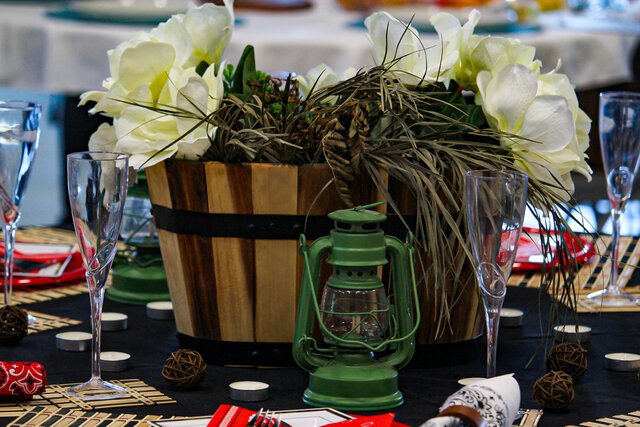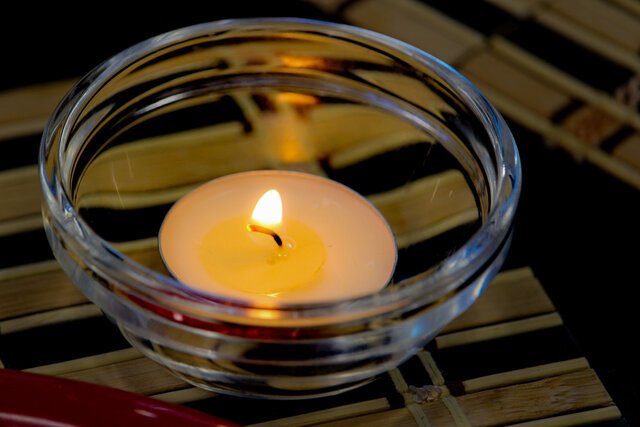 There was a table set up with helpful and informative literature for those needing a further guide into clean eating…
All throughout the event people were thanking me for taking the photos but I felt I should be saying thank you to them for allowing me to do so. I was having a lot of fun getting all these shots. This was not work to me. I was out enjoying what I love to do.
This giving of my time and service also served as a purpose of getting our business more out there. Now more people know what we do and if they want to reach out to book a session they can.
---
After dinner and dessert the ladies gathered around the tables for one more session of learning. This time it was a healthy breakfast meal and we got to pack it up to take with us to cook the next morning. My sister prepared my pan while I was taking photos.
It reminded me of a breakfast quiche. There was spinach, quinoa, eggs, milk, seasonings and sausage. You added the ingredients you wanted and could substitute for some of them with what you had at home.
There were a lot of eggs everywhere and mixing fun taking place.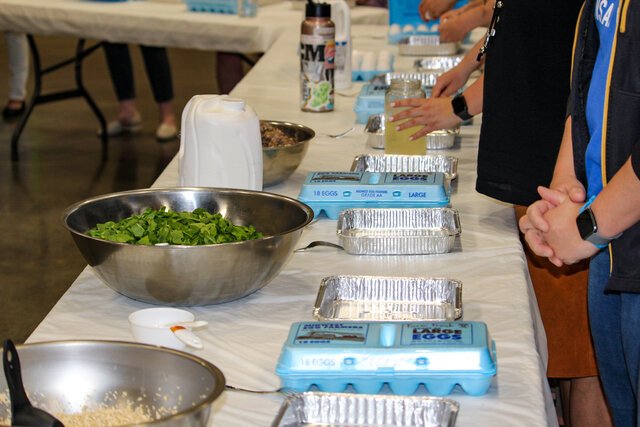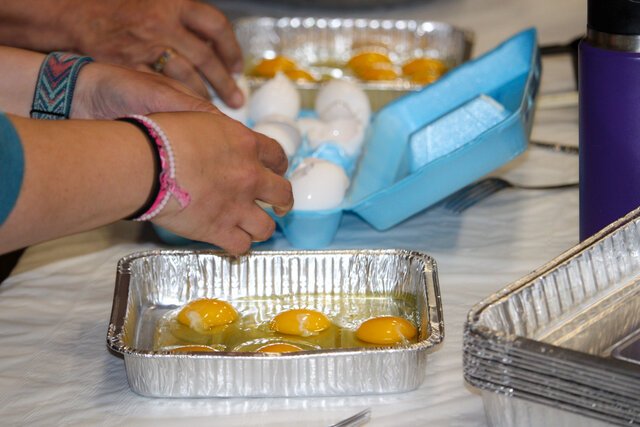 Here's what it looked like with more ingredients added…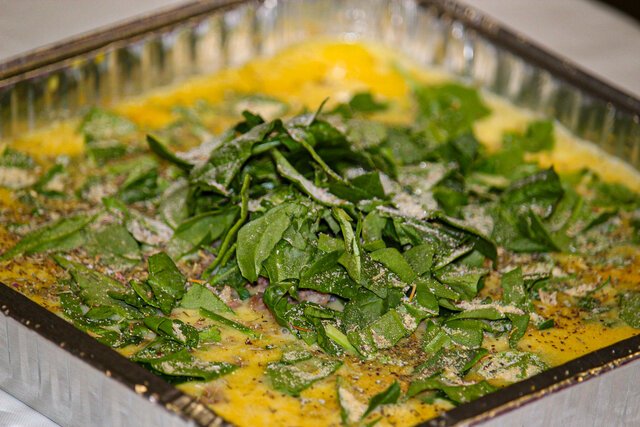 and finally with all the ingredients. The only thing left to do was stir.
That's a wrap of the night. I had a good time meeting folks, learning more about cooking for people with food allergies and special diets, watching the action and getting it all on camera. I was in my zone where I'm most comfortable.
The breakfast dish was really good. We added cheese to ours before cooking and it was a hit in my house.


Event Links:
Event 2 - Elegant Evening Birthday Celebration
Event 3 - Classy Vowel Renewal Ceremony
Event 4 - A Young Gentleman Party
Event 5 - A Pastor's Anniversary Celebration
Event 6 - L.O.L. Surprise! Birthday Party
Event 9 - Boss Lady Photoshoot
Event 10 - Our First Senior Photoshoot
Event 11 - Another Successful Senior Shoot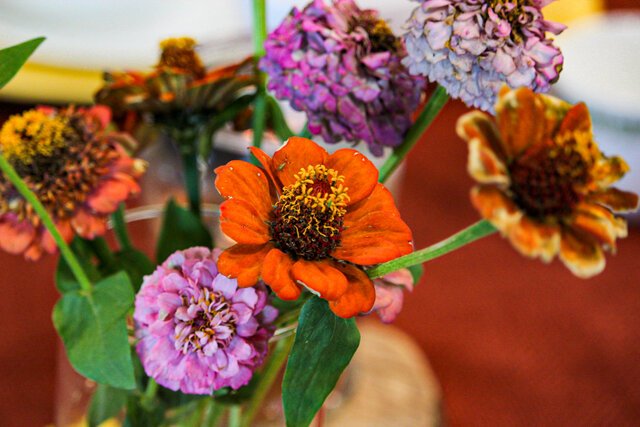 Thank You!