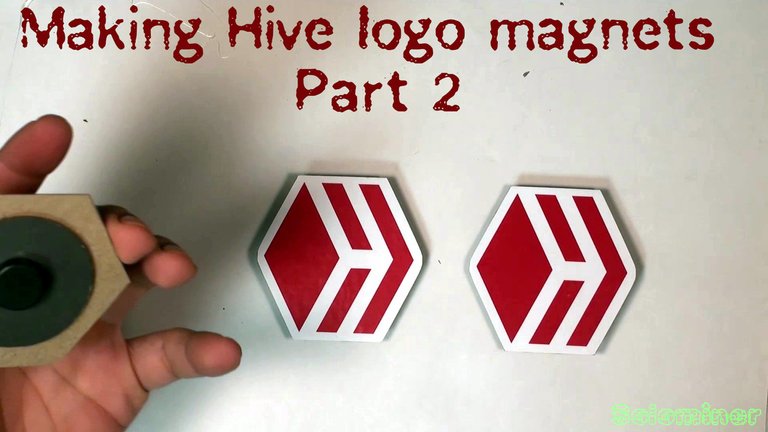 Once the cardboard excess was cut away they are ready for the glue. I will be attaching these stickers attached to cardboard to some old magnets I had laying around.
I add the hot snot to the center of cardboard and then work beads around the edge of the cardboard where the magnet attaches to it.
Three of these were made and I am happy with how they came out. Its something I have wanted for awhile but no one sells them. So just got to make my own until more sellers have them online.
Using a fridge magnet to attach the logo made it easy. It already had a big surface to attach to and I think it should make it last longer.
Getting some of that hot glue on my hands sucked, its pretty hot.. go figure. Maybe I should have weared gloves but I may stick them to the magnet with the glue or made it hard to handle them while gluing. Sometimes I have to surface a little skin for some good art sometimes. Just like when working on cars, a little spilled blood is normal for any repair.. hehe
Anyone can make these, buying the sticker from redbubble and then finding some scrap cardboard. Using an old magnet that you do not want anymore works great. These stickers and cardboard have not weight to them so its easy to attach and not worry about the magnet dropping.
You can scale this project to any size you want, I went with the small stickers but they have big ones as well. Something I may do more work with soon is some bigger stickers. But I will need some bigger magnets and cardboard. Another project for another day.
---
Addresses below to help me buy better camera equipment and support me to travel to locations to do photo and video and overall great blogs in new places.
| Coin | Address |
| --- | --- |
| BTC: | bc1qhfmvd2gywg4fvrgy2kkkkyqta0g86whkt7j8r7 |
| LTC: | ltc1qdyzm5cwgt8e2373prx67yye6y9ewk0l8jf3ys9 |
| DASH: | XkSqR5DxQL3wy4kNbjqDbgbMYNih3a7ZcM |
| ETH: | 0x045f409dAe14338669730078201888636B047DC3 |
| DOGE: | DSoekC21AKSZHAcV9vqR8yYefrh8XcX92Z |
| ZEN: | znW9mh62WDSCeBXxnVLCETMx59Ho446HJgq |