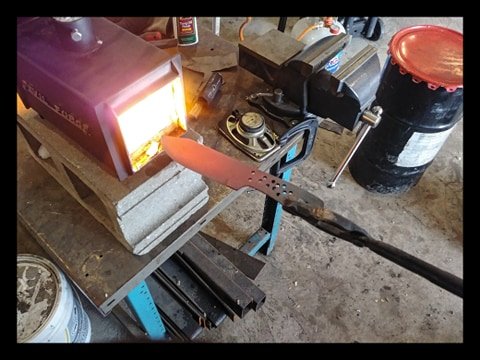 There is one thing that I think I truly love in this world, besides Stacie D (@freedomtowrite), working with metal. I didn't think that I would miss it so much, until I started back at it here recently. There is a certain feel and a smell to it all. I love the idea of taking a blank piece of metal and turning it into something that is completely different.
Since we have landed here on the farm in Northern Michigan I have had the opportunity to start working with metal. My craft is taking an old piece of metal and turning it into a knife. A blade of sorts. I call it art, or I call it tools. I think that people might have some opinions about knives from what they see on the news. That is not at all where we come from haha. We come from nature. We come from the trees. We come from hard work. We come from a place of understanding that anyone that wants to do anything for themselves needs an amazing tool.
Yesterday I started a new project. It is a full sized blade about 9 inches. It is a clip point blade and will have a green micarta handle with black liners. I think that will be a sweet look. A super clean steel blade with a clean black line running down each side, and then the dark OD green handle. Classy.
I love making blades that have a purpose. When someone comes to me and asked me to make them a blade it is because they want one. They usually have a reason. Maybe it is because they want something that is custom made just for them, or maybe it is a way to build a legacy for out of their families things. Either way, I love when the art meets the person.
I am building this knife for a small lady, so I have to keep that in mind when I think about the weight and the size of the handle. There is no sense in making a super heave clunky knife for someone that won't be able to work with it for very long. I aimed to make something light and agile.
The art of the knife is up for me to decide, and I think I have an idea. One thing that I have really been enjoying is leaving the bevels with the same color and scratches that they had when they were tempered. I will make the body of the blade shiny, but then I will leave the bevel looking rough. There is something about it, I love it.
I am currently writing this while the knife is cooling. It just did two cycles in the oven at 375 degrees. Each cycle was an hour. This is the tempering process that adds a little softness to the steel and makes sure that it doesn't break. The heat treating is absolutely the most important part of any build.
I hope to venture off into the idea of what all I can do with heat and metal, but I am just now finding my groove with the knives. I do love to create art and have fun, and I know I will have plenty of time for it all. Each day that I wake up, I have an opportunity to make something happen.
I hope you all are enjoying our adventure as much as we are!
Be well
~The Yeti
Join me on Discord https://discord.gg/zyqFjJ3
https://steemit.com/@freedompoint