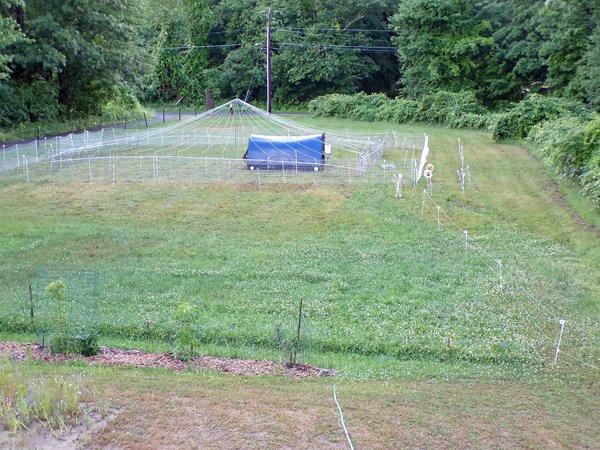 It was cool but very humid on Monday morning. I got out there early to start moving the pasture pen before it got hot. My husband did the chores and soon joined me.
From this angle you can see the last place the pasture coop was, center left, and how it has already started to green up. It's been 1 week. Above it you can see where the pasture pen was for that 1 week.
We finished about 8:30AM and a few minutes later it started to rain. Monday was not a good day for either of us. We rested for a while, got cleaned up and decided to go in search of the cabinet for the dehydrators and a dryer.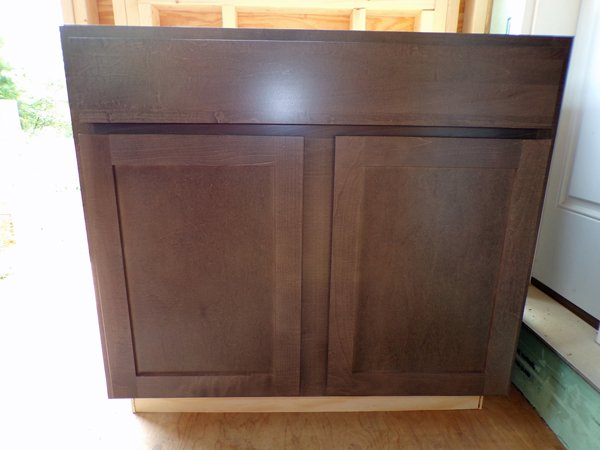 We went back to the discount place that had been closed on Sunday and found this cabinet. Simple in style, a neutrally dark color, and something we could afford. It had a huge top drawer for holding tray liners. And it would just fit in the Subaru. The color didn't come through well; it's actually a sort of dusty slate color.
My husband has some wide pine boards he will make a top from. I have an old shower curtain I will cover them with, sort of like contact paper. It will be fine for a back porch to hold dehydrators.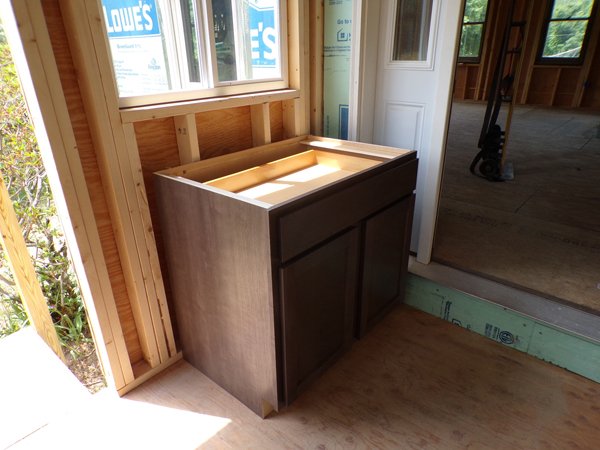 We went from there to Lowes where we'd found a dryer. We planned to buy it. Turns out they have not received deliveries of appliances for months and had no stock, and no real idea of when things would come in.
So we went home, unloaded the cabinet and had lunch. He called the scratch and dent place to see if the dryer was still there, but got no satisfaction. So he got in the truck and went down there. It was still there, but there literally was no one there who could sell it to him.
The store was open, but the single person there had no access to the computer for sales! So my husband got the no-sales person to put a label on the dryer – Don't Sell! He was told there would be someone who could sell it after 5PM. So he'd have to make a second trip down in the truck.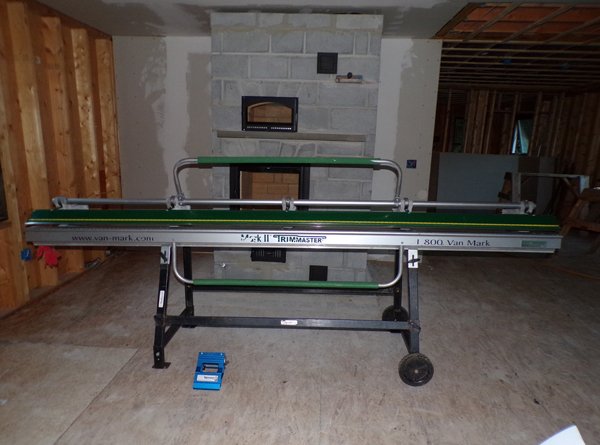 He'd planned to pick up the siding brake along with the dryer. So he headed farther south and got the brake. He got a deal on renting it, as he got the frame and the cutter for free. We got that unloaded when he got home.
Around 4PM he got antsy and called to see if anyone had come in that could sell the dryer. They had, so he headed out. He'd been dodging rainstorms on each of these trips. After a drought for so long, it seems like Mother Nature is trying to make up for it in a few days with rain sweeping through ever so often.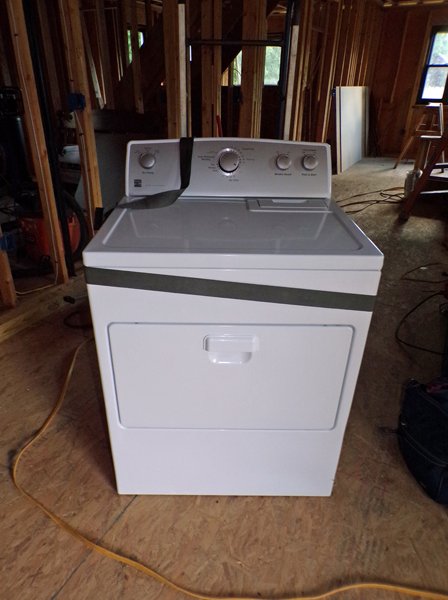 We've had Kenmore appliances for 35 years with excellent luck. So I was looking for another one. Sears has left this area, so they are hard to find. I also prefer the drop down door over a side opening one. These are even harder to find. But this dryer was both a Kenmore and had the door, and was inexpensive. Well, as inexpensive as a new appliance can be…
As it was a scratch and dent sale, there's only a 1 year warrantee. I hope this dryer is as reliable as all the past ones.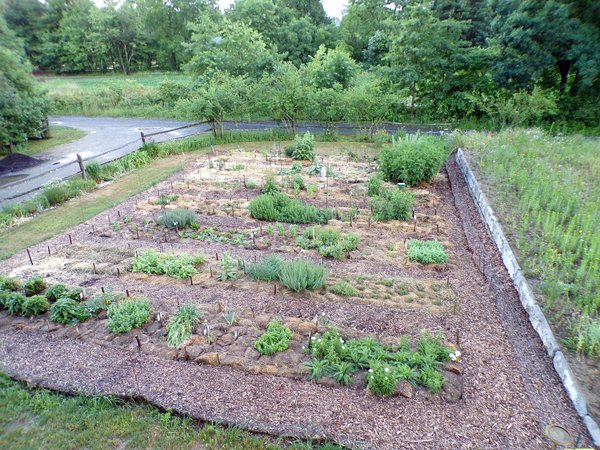 Another storm was to come through right after supper so he went out and got the birds put to bed. This is the New Herb garden after the storm, puddles in the driveway.
Tuesday it's to rain off and on all day, and be cool again. I will be doing laundry and as soon as my husband and son get the old dryer out and the new dryer on the second floor and hooked up, I will be running it the rest of the day. I have more than plenty of paperwork needing finished and will work on that for a while too.
Once the dryer is set up my husband plans to start bending siding on the brake. We set it up inside so he could do it while it rains. I also hope he makes the top for the dehydrators. I could get them running today.