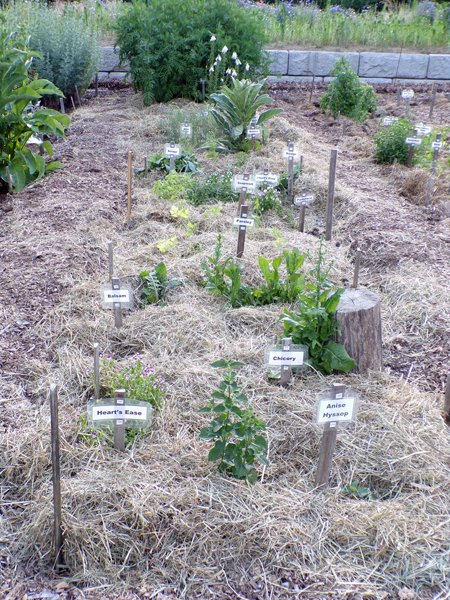 On Thursday, after the first full night's sleep in a few weeks (we had upper 50's that night), I got a bit later start than I wanted. My helper friend was here and we started the planting and mulching of Row 2 in the New Herb garden.
Row 2 has now: bottom to top: anise hyssop, chicory, parsley, hearts ease, portulaca, soapwort, mignonette, feverfew, mullein, Tulsi basil, blue flax, borage, white foxglove, Tulsi basil, and tansy.
In the mulching of Row 2, we needed some solid hunks of hay to hold the walkway in place, as this garden is on a slight slope. I had hay bales in the Big garden, but had put them there to use for some things needing their form.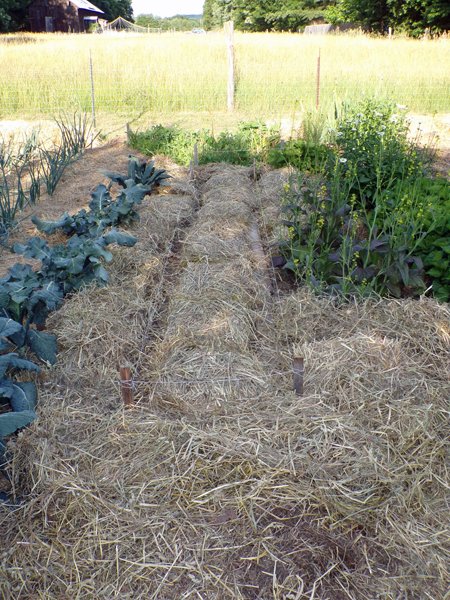 One thing was the carrots. I'd had no mulch when they were planted. They had come up well and I'd taken the boards off. We went over to put the hay down on them, and discovered most had died. Tons of weeds had thrived though.
So we set about weeding the bed, and found about 10 carrots that had made it, mostly in the north (left) row. We reseeded and mulched. I put boards down on the south (right) row as only 1 carrot had made it there. Now I have to remember, again, to take the boards off…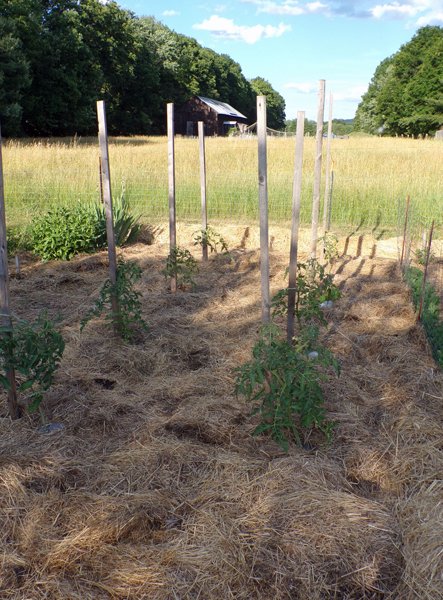 While we were there, my helper friend pointed out the tomatoes needed suckered and tied up, so we did that. The stake on the top left has a sauce tomato and it had several small fruits on it.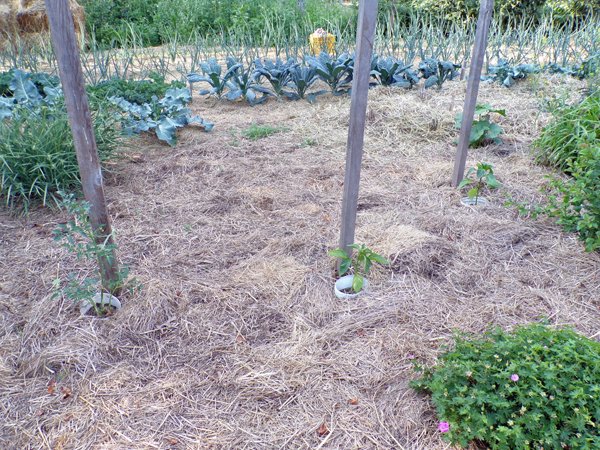 I had fit a Sungold type cherry tomato, left, and 2 peppers into this area. In the back right is a hollyhock volunteer.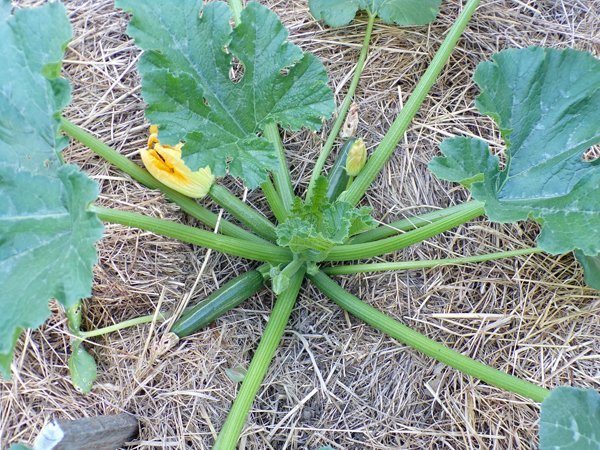 The zucchini had 3 fruit well stared, and a 4th just started.
We did get back to the New Herb garden, or my helper friend did. I'd gotten too hot. He finished taking the mulch off Row 1 and had gotten most of the mulching done on Row 2.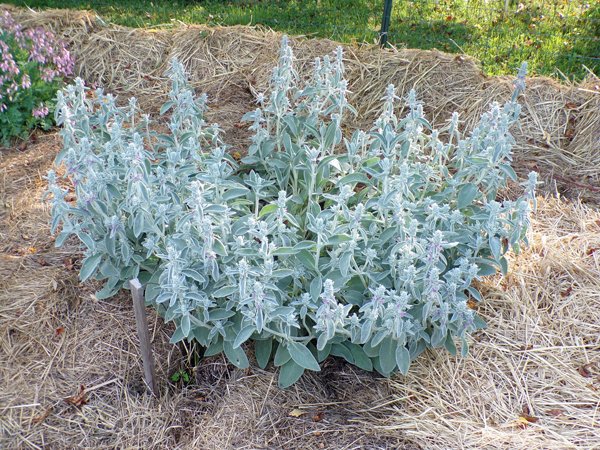 One of the lamb's ears in the Big garden is huge and in full flower.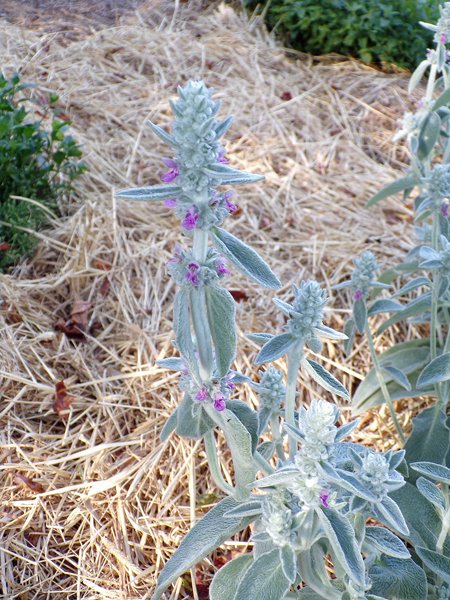 Lamb's ear flowers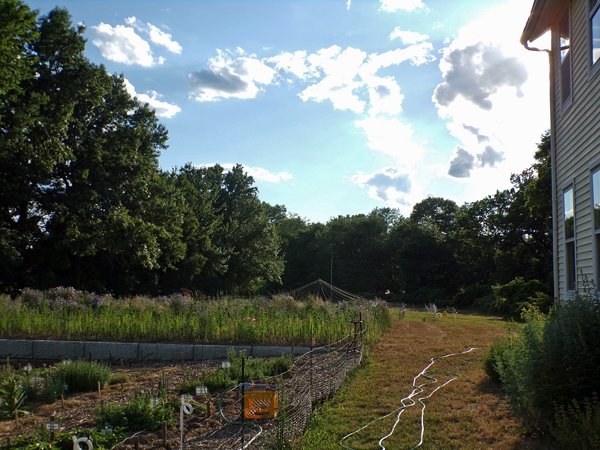 Evening in June on the farm
On Friday my helper friend will be here and I hope to finish the planting and mulching of Row 1 in the New Herb garden.
This garden will still need some of the extra wood chips moved out of the walkways. I plan to use it to mulch the little maple tree as it was never done. The outside perimeter of this garden needs to be weeded. And the space between the fence and the wall has a huge drift of dead leaves. These need to be removed before they start growing things.
Once these are done, we will move back into the Big garden, mulch the areas needed it after reweeding them, and then start again on that 10' wide area on the north side. We will get it weeded and mulched and hopefully move the quince out of that area. Then it will be ready for next year.
The perimeter of the Big garden will need weeded also. Then I hope the contractors will be done and I can start resurrecting or creating new flowerbeds.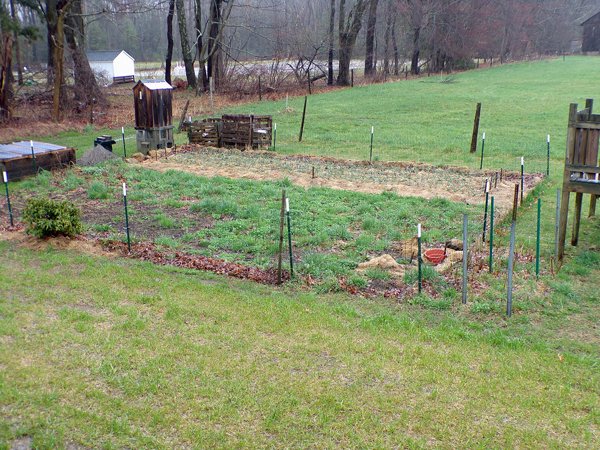 Much later this summer, my helper friend and I have a plan to cover the weedy area of the Small garden with heavy black plastic to try to kill as much of the stuff as possible. Then we'll take it off, see if anything comes up and remove that. Then we will mulch it and let the biology recover over the winter and it should be ready to plant next year.
That's the long range plan into the autumn. Best laid plans…