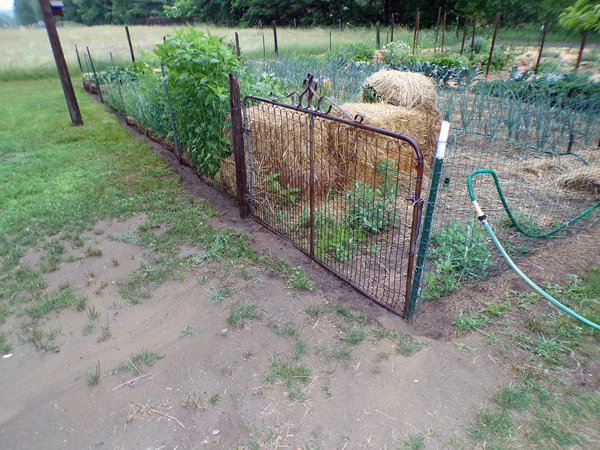 Sunday morning was another real early start. I was bound and determined to finish the perimeter of the Big garden before the storms moved in.
This north side of the fence was harder than I realized due to the other side not being cleaned out yet. But I got the 42' done and rounded the corner to do the very easy west side.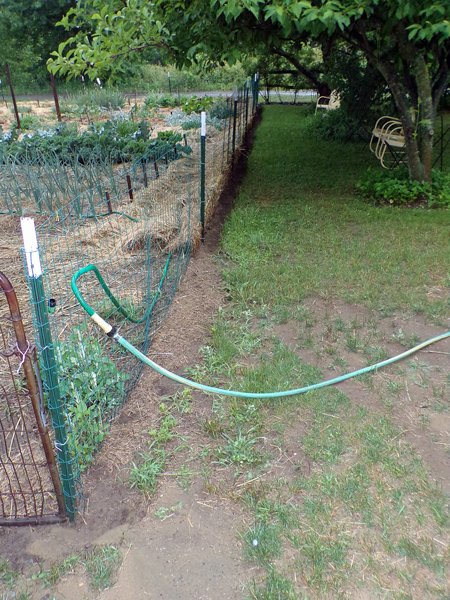 This 60' side had been done in May when I put the fence in, so it was a breeze.
We are in a drought and I've been watering each morning from 4 AM – 10AM, if the sun doesn't come out too soon. I held off perhaps too long with the watering, hoping it would rain. Plants had started to do poorly.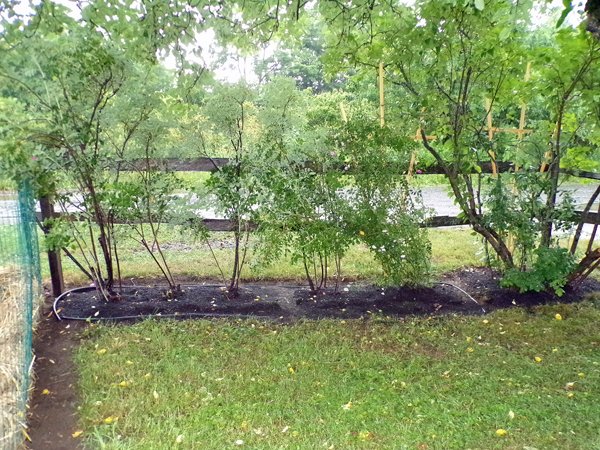 This garden was my reward for finishing the Big garden. It had been partially weeded and completely pruned back when I was digging to put the fence in.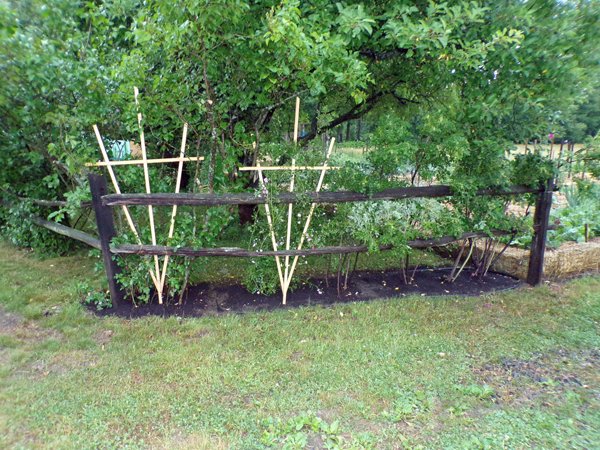 This time I also pruned the apple tree and the lilacs to allow more sun for the Damascus rose that grows in the lilac, behind the trellis on the left.
I had to dig out a lot of grass roots this year, as this garden got no attention at all last year. Once I'd cleaned it out, got the roses up on their new trellises, I put down FlowerTone and some greensand. Then I put down lots of the compost with biochar.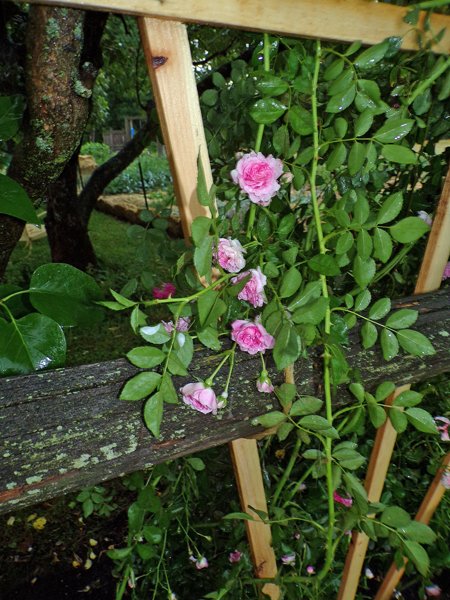 The climbing rose has just started to flower. They are little light pink fairy roses. The drought had taken all my Damascus rose flowers.
I stayed out too long in the heat to finish this garden and didn't get photos until evening. Typically, when storms come through, the clouds separate, go around our town and rejoin in the east. That's why we are prone to drought here.
But when I finished working outside at noon, 20 minutes later it started to rain, but it stopped shortly, with not much effect.
I still don't have the dehydrators in the porch yet. We spent Sunday afternoon looking for a new dryer (the 20+ year old one is officially dead) and for a small cabinet to hold the dehydrators. Found a washer, not found the cabinet.
When out driving around shopping, we drove in and out of heavy rain, both of us thinking each time, "Won't be raining at home, I bet!"
After we'd returned from shopping, we saw what looked like a big storm coming, so my husband went out early and got the chickens done. It was a heavy storm and we did finally get rain. But I doubt it was enough to rescind the drought status.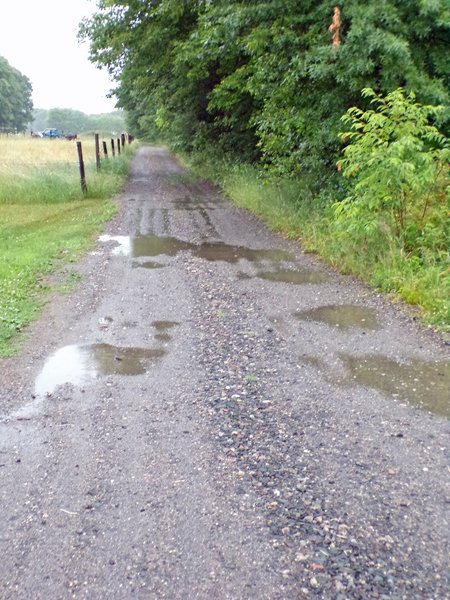 I went out before it got dark, while still sprinkling, to get all these photos. There were good puddles in the driveway, but they will all be gone by morning, it's so dry.
Monday morning we move the pasture pen. I will start very early on that, trying to get it done before it gets too hot. My husband will get the new dryer and our son will help with moving the old one out and the new one in. They are on the second floor.
Hopefully we will find a cabinet of the right dimensions, with a wide drawer for the tray liners. I need to start dehydrating!