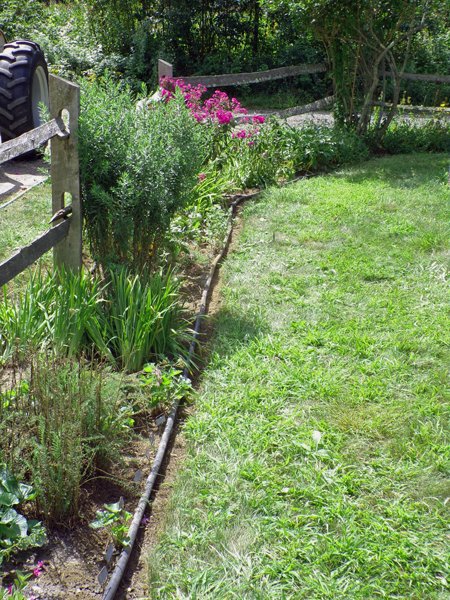 I was a little later getting outside on Tuesday, as it wasn't a planned garden day. I got 2 more gardens, 3rd Fence and 4th Fence, cleaned out.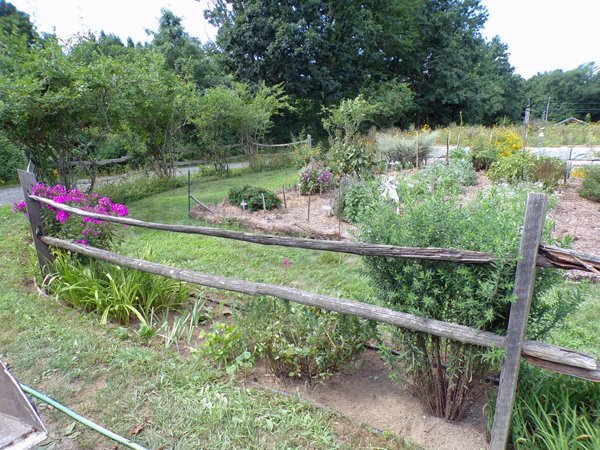 3rd Fence: l-r: phlox, yellow iris, double daylily, white iris, sedum, NE aster
I am still saving a lot of violets in the beds. The sedum is doing very well this year, and the poor white iris very poorly. There's volunteer catnip on the other side of the white iris. Now that the weeds are out, I will be able to get an early start next year and get them fertilized on time. Nothing got fed this year in these gardens.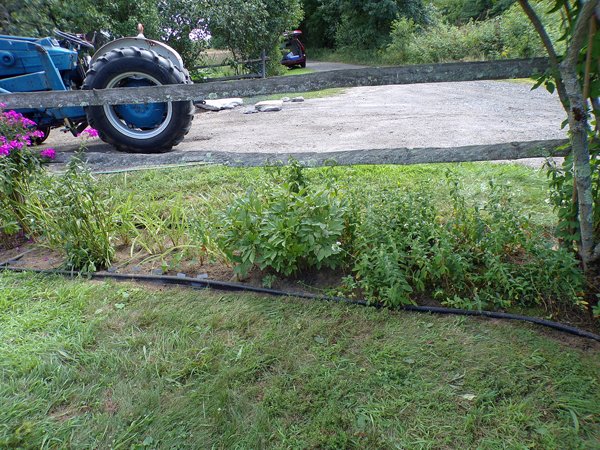 4th Fence: l-r: daylilies, daisy, white phlox, peony, white phlox, creeping thyme, forsythia
Next year this bed is getting re-done. The daylilies did very poorly this year. The peony needs more sun and will probably move to the south garden by the new living room. The white phlox will be removed, as I have plenty in the 5th fence garden, from whence they migrated. I found 2 surviving ajuga in the white phlox mess. The thyme is hanging on by a thread.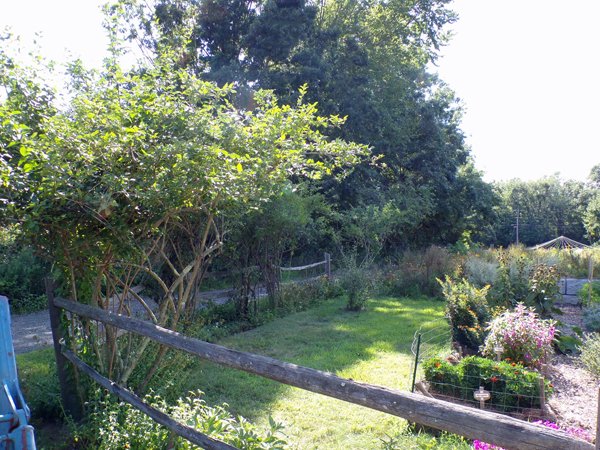 My helper friend was here and after he'd harvested to too big squash and cukes and given them to the hens, he pruned back all the forsythias along the fence gardens.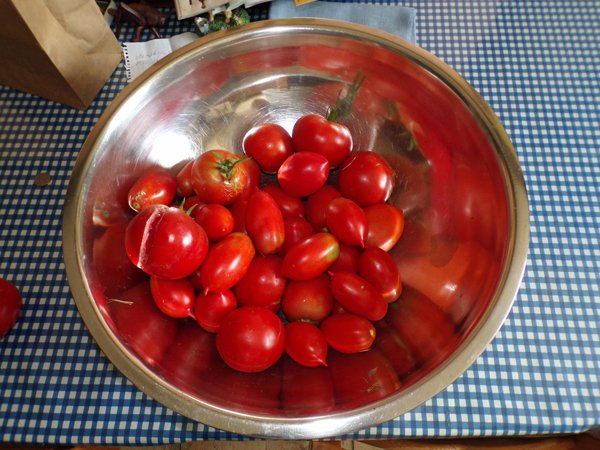 He also harvested this bowl of tomatoes for ketchup and soup making on Wednesday.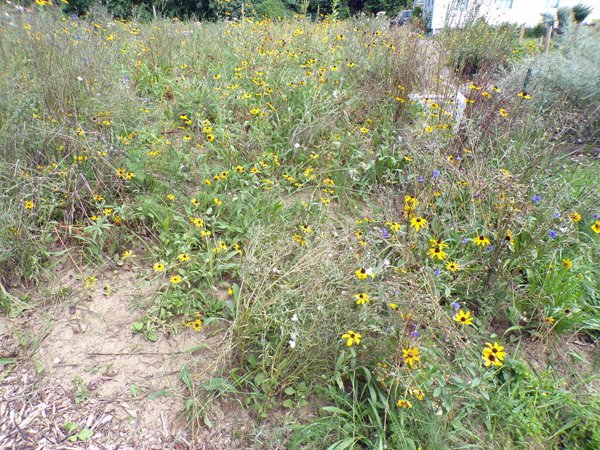 The wildflowers still have bachelor's buttons flowering (bits of blue) but are mostly Black-eyed Susans now. I'm hoping with the weeds gone, more things will come along.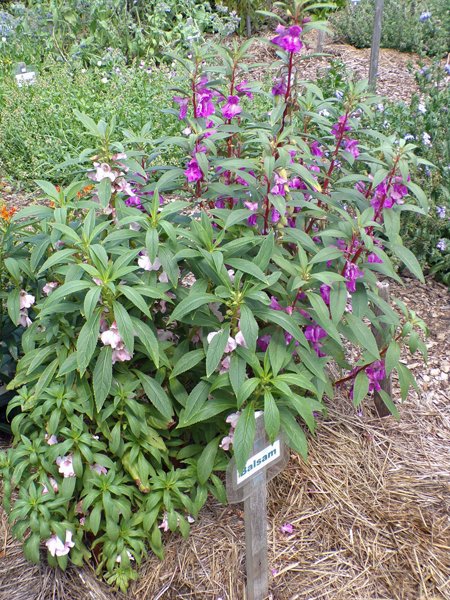 New Herb garden, Row 1, balsam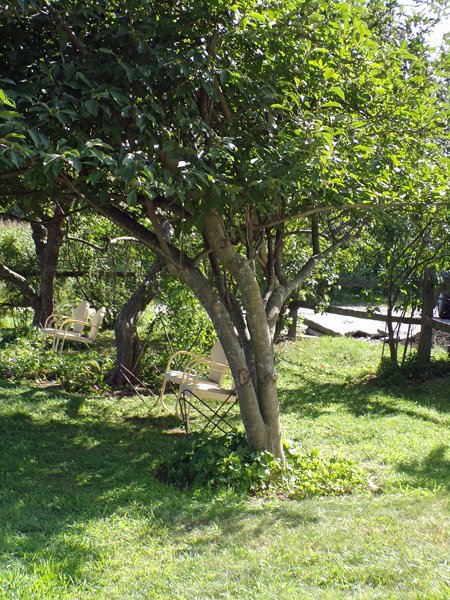 After lunch it wasn't too hot, and I wasn't too tired, so I decided to work in the shade under these trees, cleaning out gardens. I did the magnolia first. I touched up pruning it and then cleaned out the violet bed that encircles the trunk.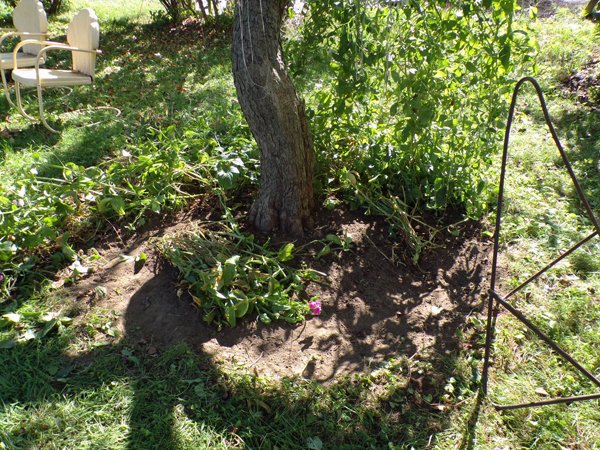 Then I moved to the crabapple. It had a LOT of dead branches that I cut off. The sweet pea strings for support had not been put back last autumn and the peas were a mass on the ground.
So I started cleaning it up, cutting away the remaining strings, cleaning out the weeds, and taking away the dead vines. I got it about half done and started to get too tired, so I quit.
Wednesday will start very early and be another very long day as I process 40 – 50 lbs of tomatoes into a year's worth of ketchup and tomato soup base.