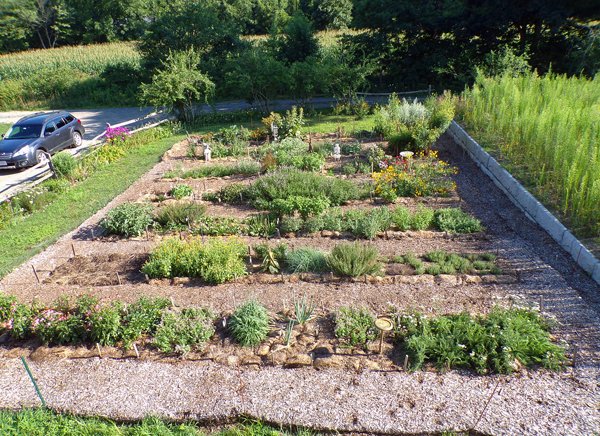 The New Herb garden, Row 7 at bottom of photo, Row 1 at top
I took a bunch of photos of the New Herb garden on Wednesday. My mom had been asking about it, and I hadn't gotten any new ones since it started flowering and filling out.
With 7 rows, there are a lot of plants, so I will do the post in 2 parts, and each part will still be really long!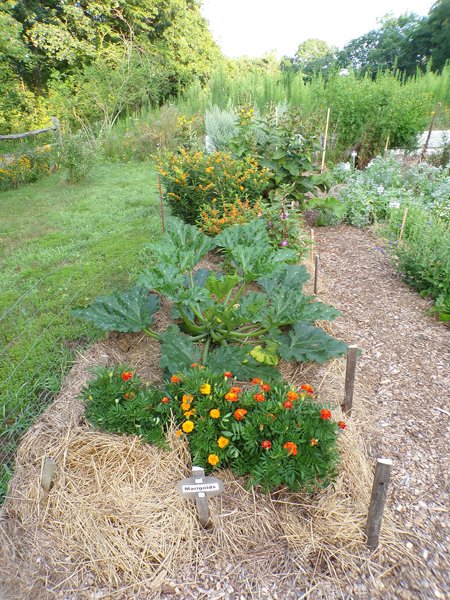 Row 1, bottom – top: marigolds, zucchini, balsam, butterflyweed, elecampane, astragulus, woad, love in a mist, snapdragons, wormwood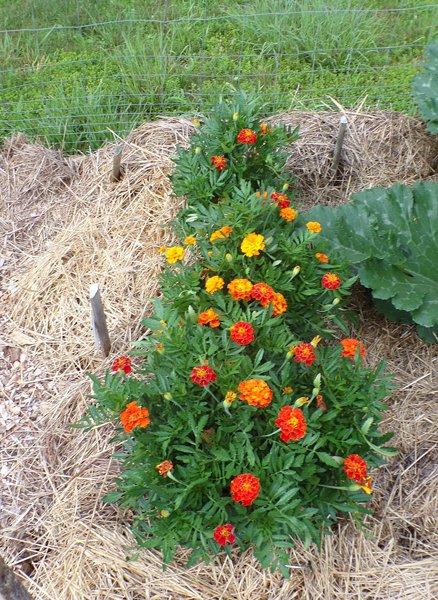 Marigolds are used for pest control and for the chickens in the winter, dehydrated. It's an attractant in the feed mix. I LOVE the smell of marigolds.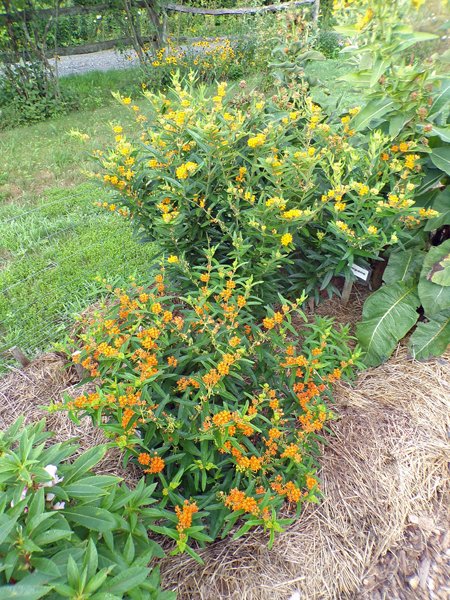 Balsam in the lower left corner, butterflyweed center, elecampane behind it.
Wormwood after I gave it a massive haircut. The cuttings were dehydrated for the chickens in winter. It helps prevent internal parasite loads. In front of it are snapdragons.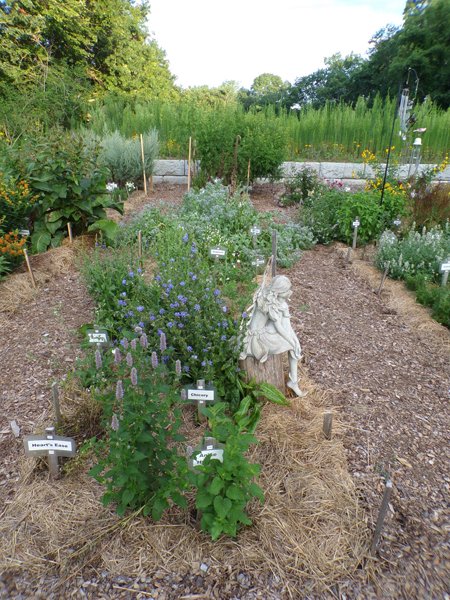 Row 2, bottom – top: anise hyssop, chicory, parsley, soapwort/portulaca/heliotrope/mignonette, feverfew, Tulsi basil/mullein/blue flax/heartsease, borage, white foxglove/Tulsi basil, tansy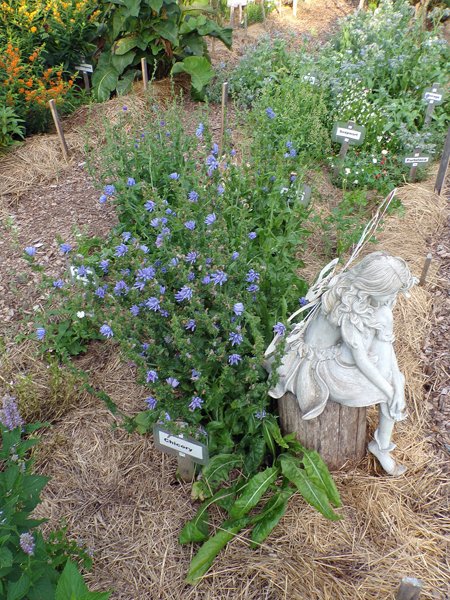 I grow the chicory because I love the color, and as a backup for coffee if it's ever needed. This is my garden fairy my husband gave me many years ago. During freezing months, she usually lives in our living room.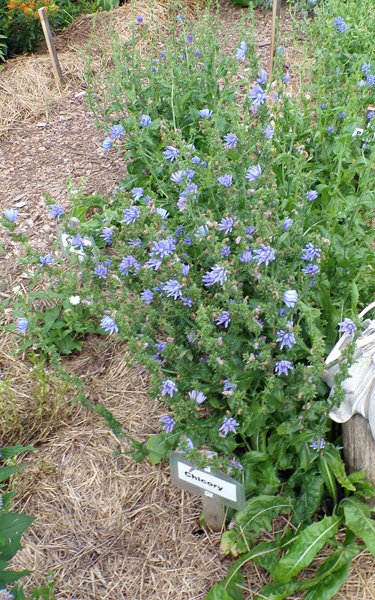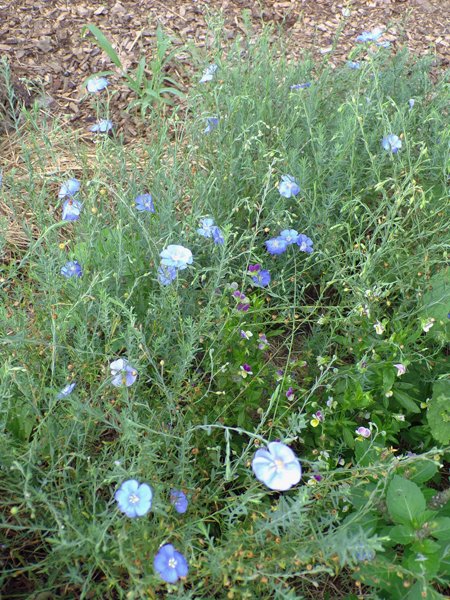 It's very hard to capture the stunning blue of this blue flax. In the mornings it's very beautiful. There is heartsease, aka Johnny Jump-ups, mixed in.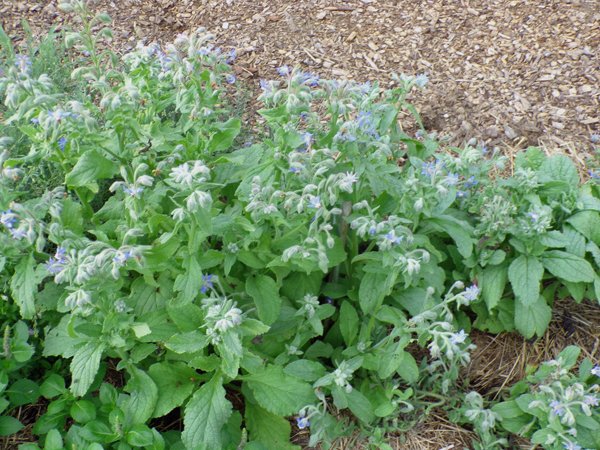 I just realized that Row 2 is full of blue flowers! This is borage and they start out blue and turn a pleasing shade of pink as they get older. This is also dehydrated for the chickens, as a food supplement.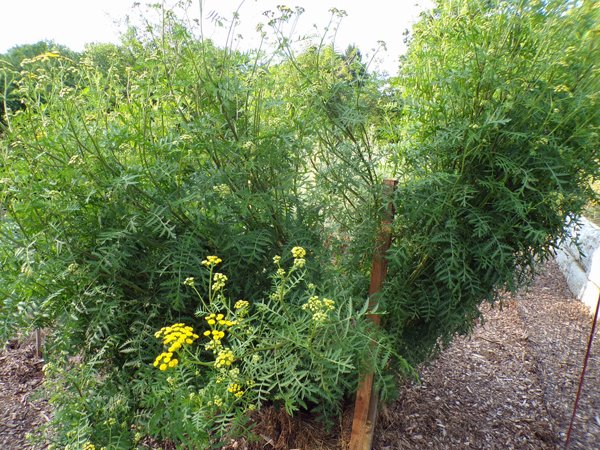 It's hard to believe that less than a month ago, I hacked this tansy back really hard. I used some of it to dehydrate for the chickens. It also serves as a repellent for internal parasites. It stands well over 6' high now and is just starting to flower.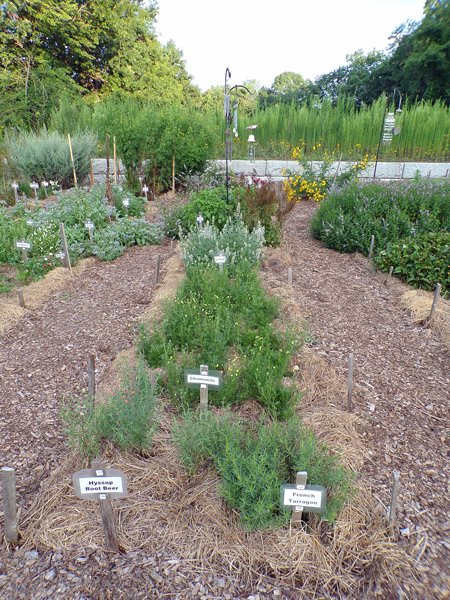 Row 3, bottom – top: L - Root Beer/Sunset hyssop, R – French tarragon, chamomile, catnip, sorrel/love in a mist, basil/spearmint, Canterbury Bells, Thai basil, snapdragons, red and lavender bee balm, rosemary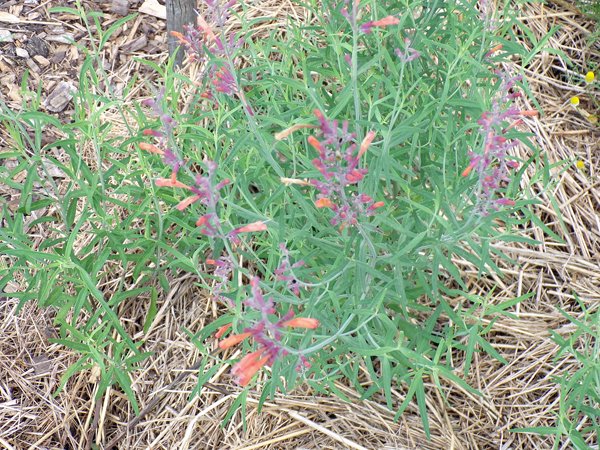 I grew this intriguingly named hyssop, Root Beer or Sunset hyssop, because it's supposed to smell like root beer, and the flower colors are like sunset.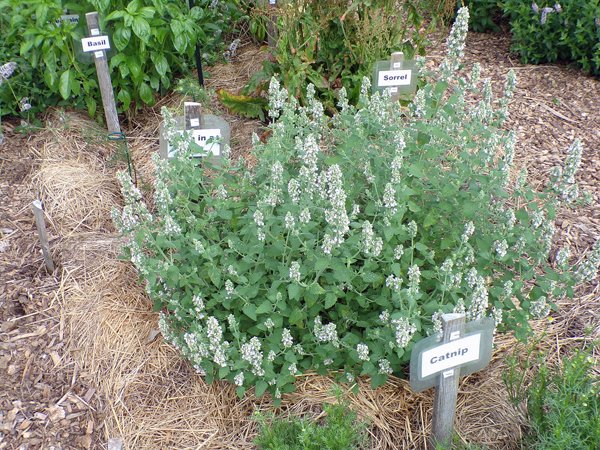 The catnip is for the old cat.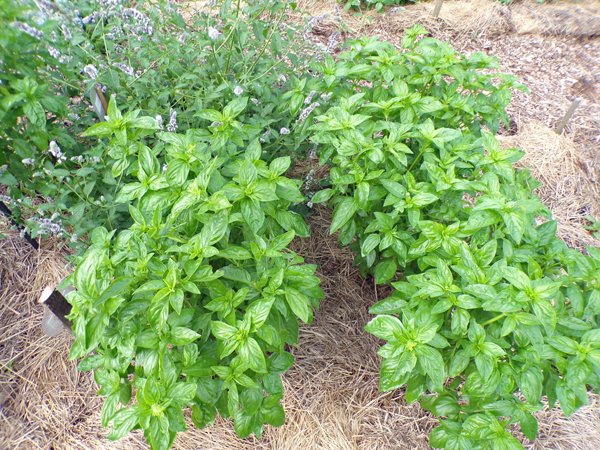 This basil variety, Aroma, is really nice. It does well here, with a raw milk treatment each week to keep the mildew away. It's for culinary use and for feed supplement when dehydrated for the chickens.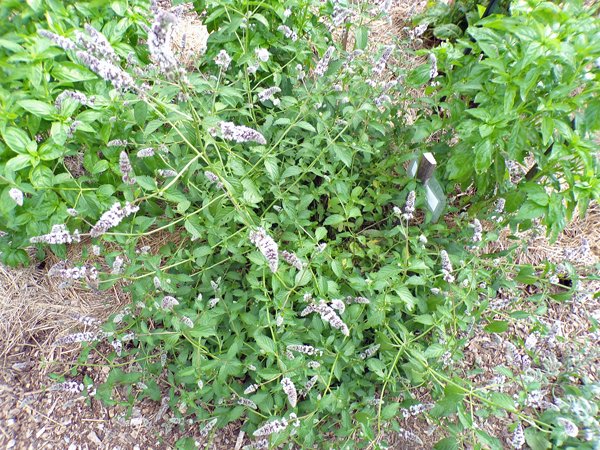 The basil shares a bed with the spearmint. The spearmint is grown in a sturdy deep pot to contain it.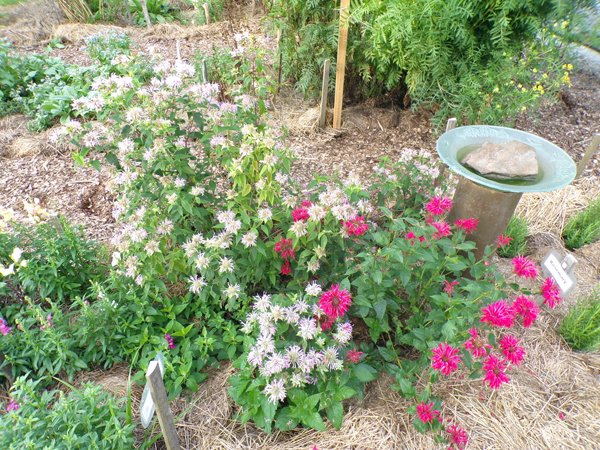 I had an enormous stand of the lavender in this bed. Last year I gave away most of it, and received 3 plants of the red. One died but the other 2 have taken and are doing well. This is also dehydrated for the chickens in winter. It's both for health and as an attractant due to color.
Part 2 will have Rows 4 – 7 and will be posted tomorrow.