Did you ever watch a television show that had a 20 episode season, and only a dozen episodes of story related content? Well, this post will be kind of analogous to to one of those 8 filler episodes. If I'm being super generous, I could say it has some relevant character development. Since this post will lack any specific purpose, it will be a bit more rambling than most. I will, however, include some pictures. One thing I have learned, nobody wants to see my text only posts or 3Speak baby chick videos.
I'll start things off with a little bit of the why of this post. I work for a living half of the year, and since the season is only 6 months long, I'm EXTREMELY busy for most of that time. I'm an equipment operator, mechanic, painter, and general jack-of-all-trades for a local paving company. One of my jobs that I'm fairly proud of is the re-painting of Victory Lane at Watkins Glen Raceway. It was a rush job with some unique requirements (apparently the previous paint job got slippery when champagne was spilled on it) that came out absolutely perfect.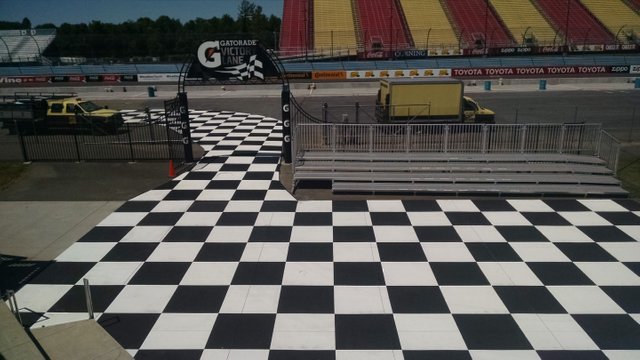 On a typical day, I'll work that job for 8-12 hours Mon-Sat, and 3-6 hours every other Sunday. Each day when I finish that job, I come home and do homesteading chores and projects until 8-10pm. Then I shower, eat, relax, and work my posts or some other hobby until I fall asleep. As the homestead chores start to routinely run later, well arranged posts will become more scarce.
One thing I've learned about keeping people's attention is that absence makes the people (and the algorithms) grow forgetful, so sometimes when I don't have time to post quality, a little quantity is better than nothing. Fortunately for me, I can type pretty fast, and have plenty of pictures. If I'm not fussy about the pictures telling a particular story, I can bang out a post like this in 20-40 minutes.
I work my bigger projects in my off season. Below is a pic of my trial build for what is now being scaled up to a home heating rocket stove build. This had a 4" diameter burn chamber and riser. The barrel here is a 15? gallon drum I scavenged from work. The rest was built from clay I processed from my yard.
The rocket stove mass heater is a project I've been dreaming of and planning for years. Winters here can get pretty cold, and the house isn't getting any younger. Since I have a lot of trees that need to be cleared, and since rocket stoves work best with small fuel, this will allow me to heat my home with wood scraps that I have in abundance.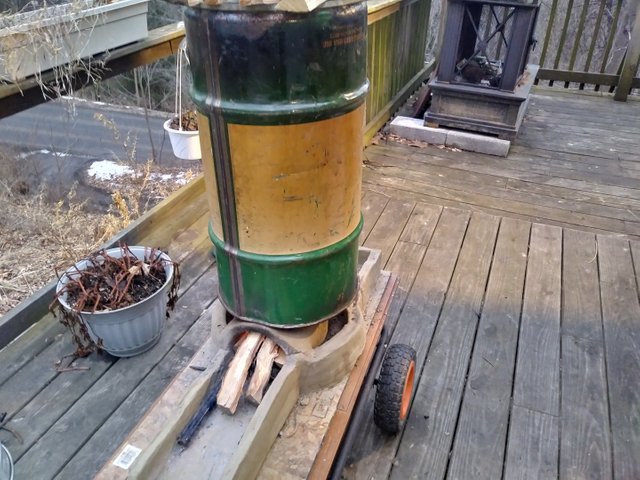 The ArborVilla Homestead was covered in prickers when I moved in. When I say covered, I mean you couldn't walk into or out of the house without getting poked by something. Fortunately, most of those prickers were black raspberry and wild rose, which I've gladly cultivated rather than cleared. I added currants sometime around year 10, and they seem to like it here as well. These berries get used to make wine, jam, syrup, pie filling, and whatever else we might want some fruit flavor for.
One of the main reasons I like cultivating wild foods is that I know they already grow well where they are. Even in the worst years, I still get a decent black raspberry harvest and more rose hips than I'll ever use. There is also a lot of wild grapes beginning to creep into the edges of the cleared areas that I hope to someday begin coaxing harvests from.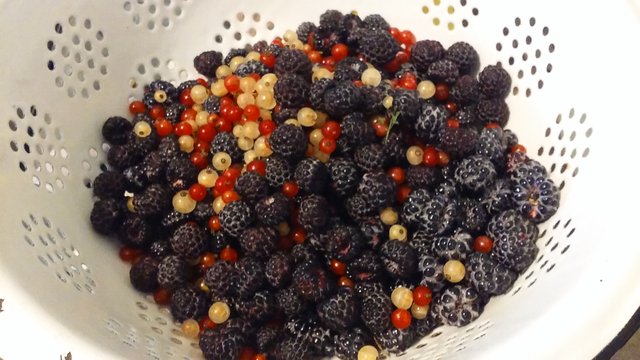 Well, was that enough to keep me in your feeds? Will you like my ramblings any better with some pictures added? This is the experiment, nothing left to do now but post and count the results.
Thank you as always, wondrous readers. I hope I'm keeping your attention... ; )