Okay, in the last post I had said that Summer 2 would be called The Overgrowth. Well, now that my magical kitchen witch is back into full swing helping out, I've been able to tackle more of the outdoor tasks under the blazing sun, such as trimming. As a result of this (and two months with practically no rainfall) we're not nearly as overgrown as I had expected to be. I would like to promise more precise prescience in the future, but, well, I can't see the future.
I like to get a good attention grabbing pic on the post, so I'll lead with this fabulous harvest. This is red clover, chamomile, and heal-all, which are major ingredients in my yard tea as well as some of our other ointments and potions. None of these were planted by me this year. The red clover and heal-all have grown here for as long as I've lived in the place, all I have to do is harvest them before I mow the lawn. The chamomile reseeded itself from last year, though I did technically plant some of them when I moved them into a row. This is about a pound or two of flower heads, and smells absolutely wonderful.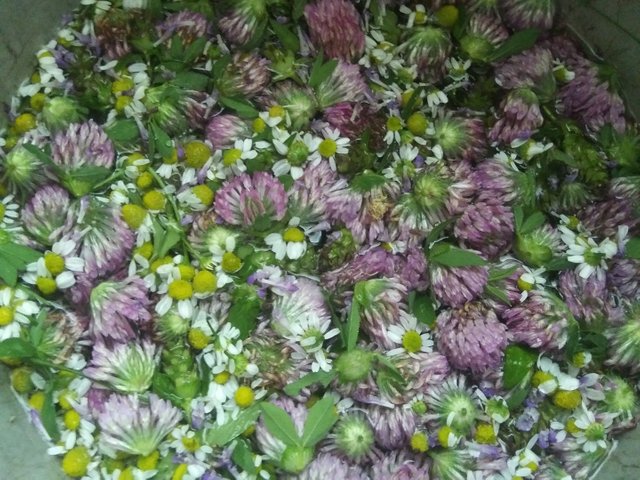 This year we've gotten our first real raspberry harvest. These plants have been in the ground for three or four years now, but are not in an ideal location. The trees behind them have grown more quickly than I anticipated, and they do not get enough sun. Hopefully those trees will be contributing to some woodworking projects come next spring! The raspberries were meant to made into things like jam, or frozen for later, but instead just went straight into our greedy, smiling faces.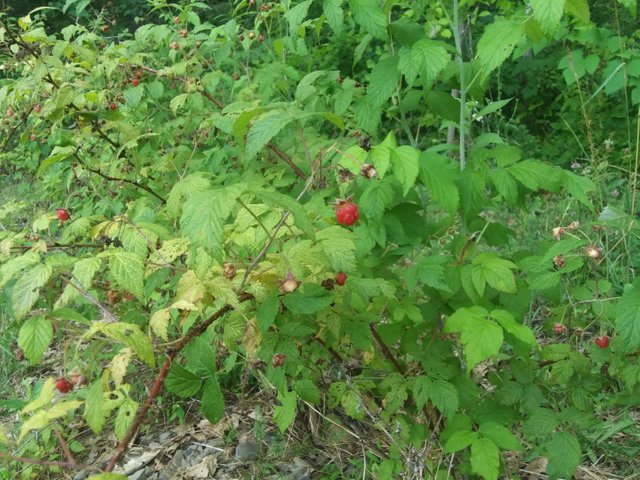 This bloom from one of our new lily trees was real blessing. We picked up red lily leaf beetles from some cheap white lilies I got a couple years ago, and they've been doing significant damage to all of our lilies ever since. Everyone tells me to use Sevin to kill them, but I've found that Sevin also has a devastating effect on our local honeybees, which finally came out in force this year for the first time in about 6 years. These beetles are actually very easy to control if I just have the time to spray the plants down thoroughly twice a day. It's not the beetles themselves that destroy the plants, but their larva, which wash off easily. It's still a magnificent flower, despite the damage.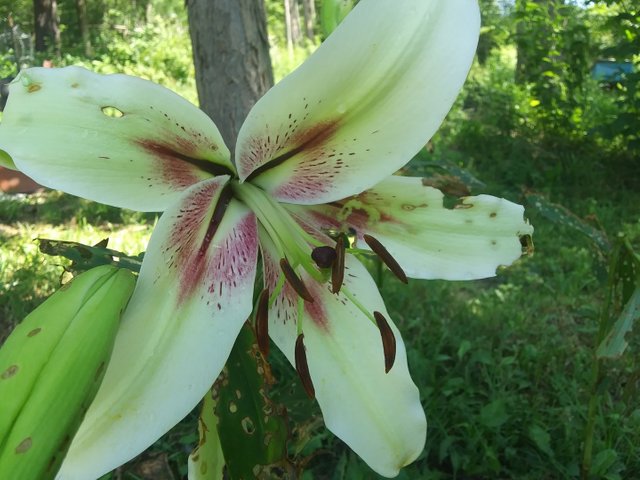 Have you ever seen a triple-blooming thistle flower? I hadn't, until this wonderful freak of nature. I like to leave a couple thistles growing every for the birds, who really love the fluffy seed heads in the winter. This plant, as you can see, is a magnificent specimen. I would estimate that it has about 100 flower buds on it.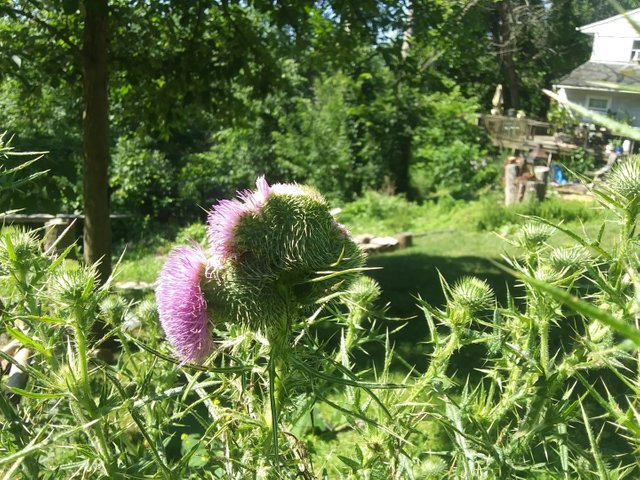 I like to let my lawn stay weedy, because in my area, most of the weeds are either edible or medicinal. The little flowers in this pic are heal-all, the broad leafed weeds are plantain (a fantastic remedy for bug bites) and the heart-shaped leaves are wood sorrel, an edible with a nice tart, lemony flavor. The dried out stuff is my grass, which is not enjoying the dry summer. The lawn does not get watered, I save the water for things we eat.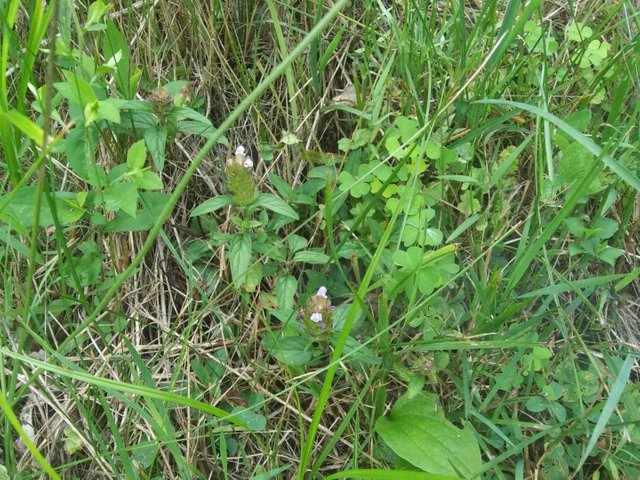 These pretty flowers are ones that I haven't identified yet. They grow out of what appears to be wide blades of grass, and will sometimes be red or purple colored. If anyone out there knows what this is, I would appreciate an ID in the comments!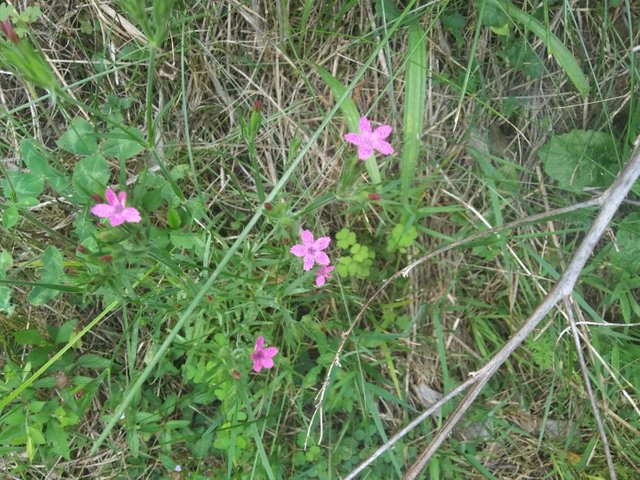 Here is my haphazard 'row' of chamomile, at the edge of the brassica garden. The right side of the pic has been harvested, the left side has not. This is the fourth or fifth time harvesting from these guys this year. I always leave some behind to go to seed, and on the plants that have no more flower buds, I cut them back down to about 6" off the ground to encourage new growth.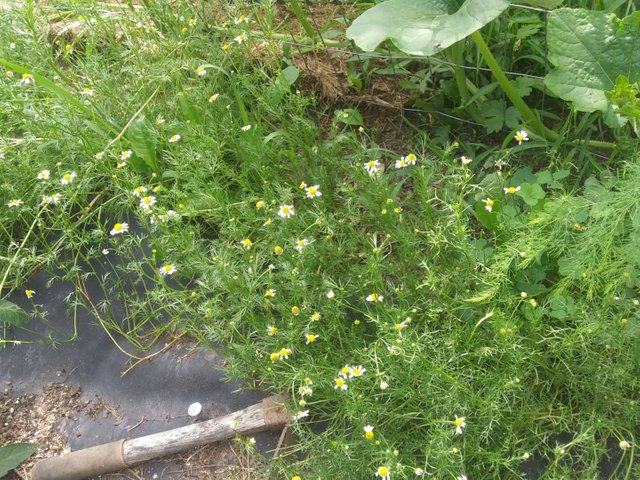 This lavender actually survived the winter outside in just a cell. It's one of many seedling starts that should have been planted last year, but was not. It seems to thriving now that it's been in real dirt for a while, but still no flowers yet. Lavender has been one of the most challenging things for us to grow here on the ArborVilla homestead, but I think we're finally getting the hang of it.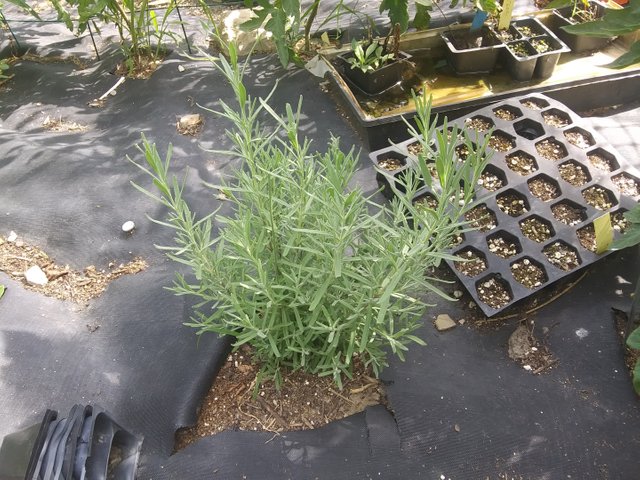 We had some extra space in the brassica bed this year, so I put in some Mortgage Lifter tomatoes, which have not done well anywhere else I've tried them. It seems that they have finally found the right home.
The chickens have been turning into ferocious jungle beasts this summer, which is great for me because it keeps the tick population at approximately 0. Our older hen, Juliet, has been busy sitting some eggs that will hopefully be hatching soon, so big ol' Bubba Rooster has been spending more time keeping these younger ladies out of trouble.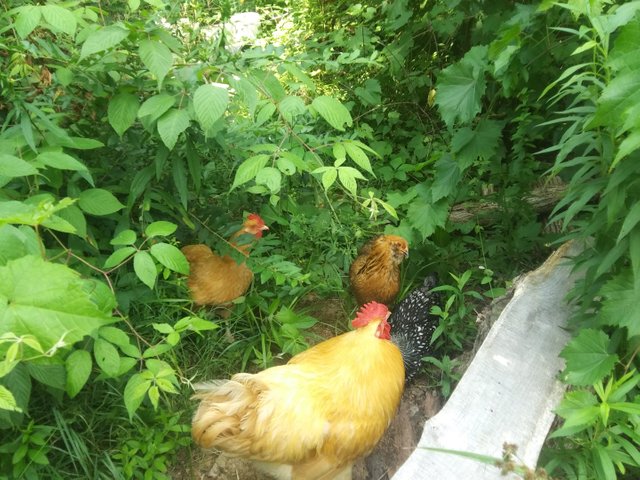 I have to throw in an extra chicken pic, because they're just too adorable. All that overgrowth you see behind them is wild blackberries that have overrun an old project area I call the Pioneer Village.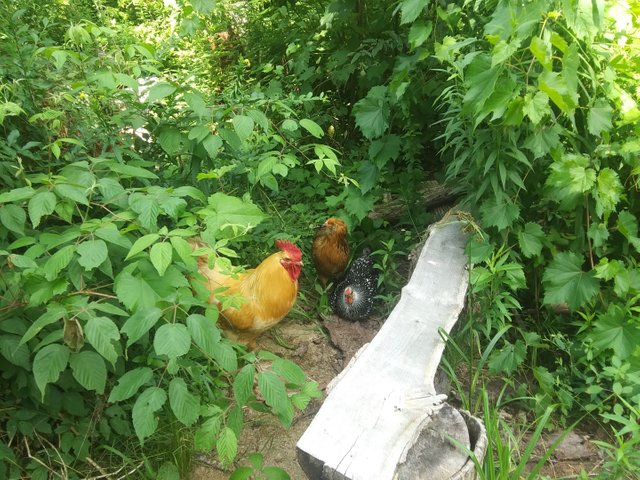 The peppers this year are doing fantastic. While everything else sags and looks miserable in the sun, these guys just throw out more peppers. Hopefully this year we'll be able to make enough hot sauce to give some away. Last year was bit on the skimpy side, so I hoarded all the homemade hot sauce to myself. I am generous with my abundance, but stingy in a drought.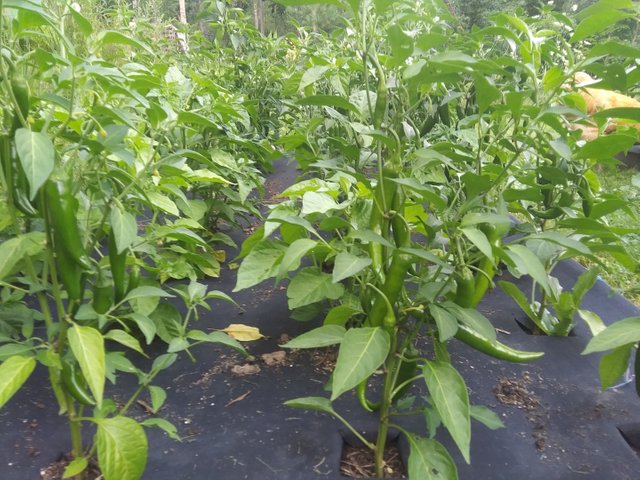 The bell peppers I had to buy at Home Depot may yet turn out to be worth the money I spent on them. They haven't begun showing their colors yet, but each plant is full of peppers bigger than my fist. We're hoping to save a generous amount of roasted red (yellow, and orange) pepper this year. It's become a favorite pizza topping and is one of the absolute best fillers for quiche.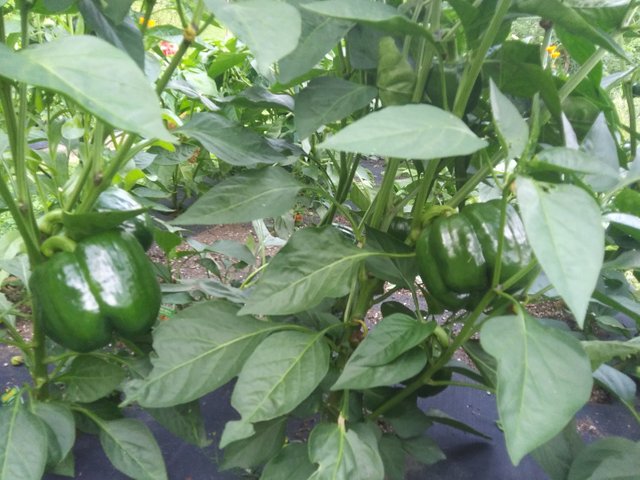 An overview of the two pepper beds, with Bubba keeping an eye on me. The little spots of orange in the bed on the right are calendula flower. We started growing those a few years ago; they're another ingredient in many of our remedies. They are also an excellent slug deterrent, a pest that we had many struggles with until I got the forest pushed back a bit more.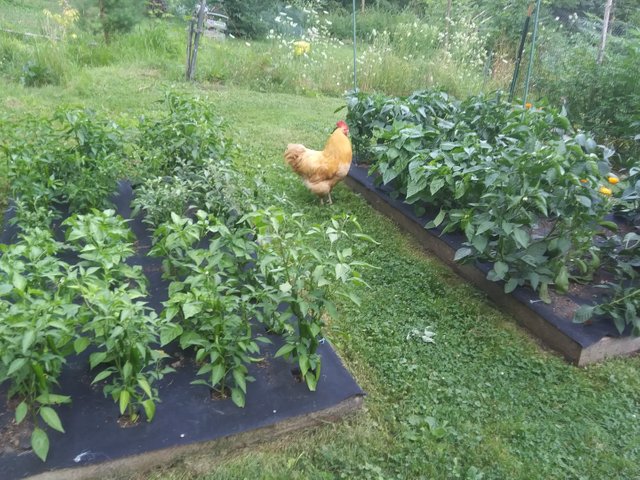 This butternut squash is having a great year, throwing a fruit about every 2 feet. We've been using butternut squash as a replacement for pumpkin. It tastes the same (or better) in all the recipes we use pumpkin for, the toasted seeds are even better than pumpkin seed, they don't take up as much garden space, and they keep through the whole winter just sitting on a shelf in the basement. They also seem to be less attractive to the deer and woodchucks, who would regularly stop by and chew my pumpkin seedlings right down to the ground.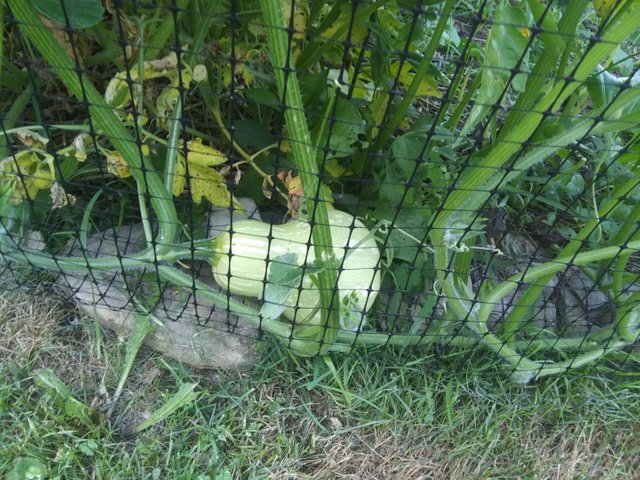 My wall of beans! the ones on the cheap green fence are green pole beans, and the ones in front of them are a yellow bush bean whose beans are black when dried. Though they've both been making tons of vegetation, the pole beans still haven't begun flowering, and the bush beans just started about 3 days ago. Beans are a great vegetable for poor soil, and were initially the only thing that got planted in this bed, which was tilled into hardpan clay.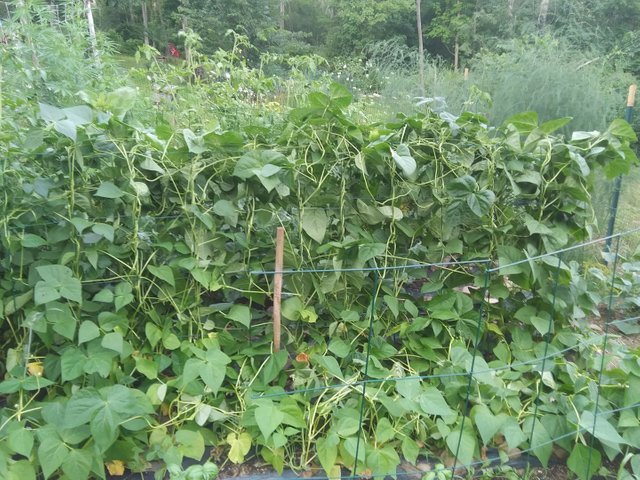 The wall of tomatoes is fruiting out much better than the beans, and is in serious need of a hefty trimming. Our tomato harvests have been historically poor, and I always end up buying some for our canning purposes. This year I planted about 3x as many tomatoes as normal, so naturally, each plant is producing about 4x as much as they usually do. I would estimate that I currently have about 100 lbs of green tomatoes on my many vines.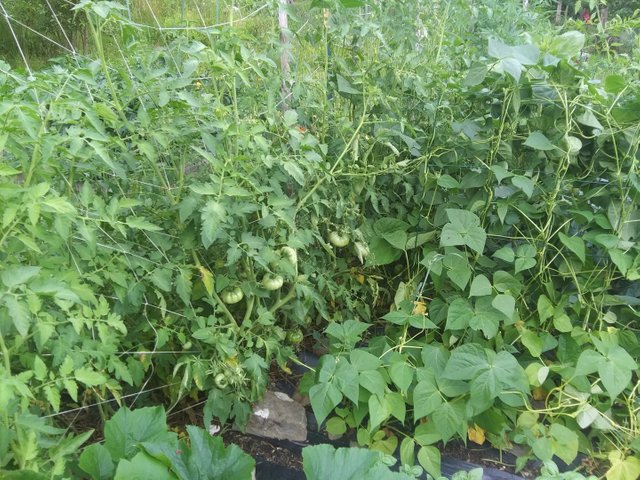 Another first for us this year after many years of waiting will hopefully be some grapes! While they are looking better than they ever have, I started with some promising bunches last year that all dropped before they ripened. Our grape trellis is in the same area as the raspberries, but with a bit more sun exposure. Hopefully they too will benefit from some dropped trees next year.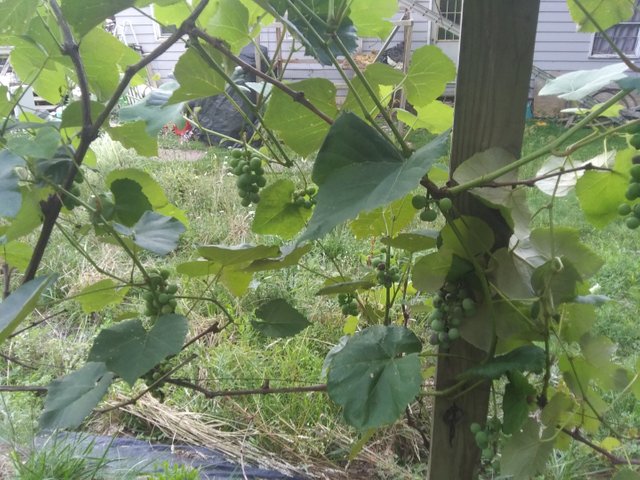 And finally, another parking lot! If you're an engineer or architect out there who designs these sorts of things, I would like to say the following...
QUIT PUTTING THESE ISLANDS IN THE MIDDLE OF THE PARKING LOT!!!!
I know the trees are pretty, but the islands allow water to get under the blacktop, which hurries its decay. The tree roots also get under the blacktop, which pushes it up and destroys it. The trees eventually block the lights, making them useless. The leaves build up on the parking lot, attracting insects, and hastening the decay of the blacktop. We actually tore out this whole parking lot, because of these problems, and put it back exactly the way it was. I appreciate the fat paychecks, but would much rather spend my time on new, useful construction, rather than repairing poorly planned but pretty pavement.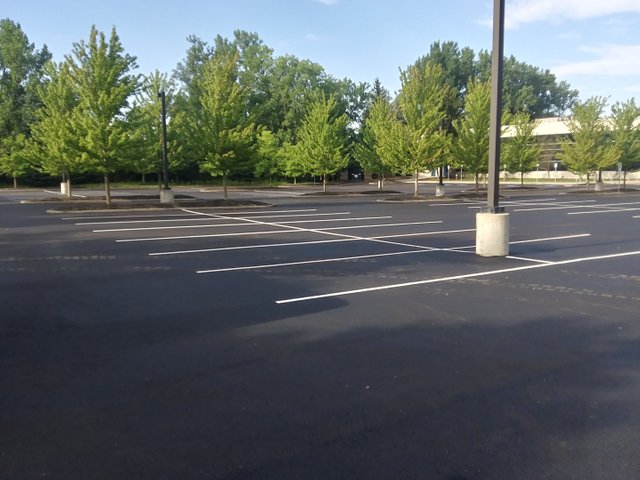 That's another wrap, folks. Once again, I know it's been a bit shy on useful information. I swear that my off-season will be filled with posts that educate and teach useful skills. Until that school is back in session, I hope you enjoy my shameless self indulgence, and as always I look forward to seeing you come back!