Today I finished up a really fun build. It is a full sized clip point. I guess you could say it is a hunter style. It was built for a friend that lives in Wisconsin. When she ordered it she wanted something that was big but practical. She wanted something that she could use around her farm, but also where out and about. So I got right to it.
The knife is built out of 3/16" 1095 steel. It is fully heat treated for durability and edge retention. I also went with my new favorite look, the dirty bevels. I love seeing the shiny blade body, but the bevels are still the same color they were when the knife was tempered.
The handle is made out of a couple of different pieces. I used green layered micarta, and black G10 liners. This gives it a fun and unique look. The liners add a nice solid line of color between the blade and the green. Then the green micarta is always fun. It has layers of material, so as you sand it and shape it you can see different patterns.
I definitely think it was a great idea to buy some already annealed steel. It came to me already soft and ready to work. I was able to jump right into the build and I was able to skip a few steps. It really made a difference working with already softened material. The tools ate through it like butter!
When this gets shipped out I will be started the next build for a homesteader in Northern Arkansas. It will be the same material and roughly the same size. It will be a drop point tip with maple handles. I will be using a blue G10 liner and stainless steel pins. I think it should be a pretty awesome look.
I hope you all are enjoying these builds, and maybe you're even thinking about getting one of your own! I most work with PayPal, but I would also accept Steem! Blades for Crypto!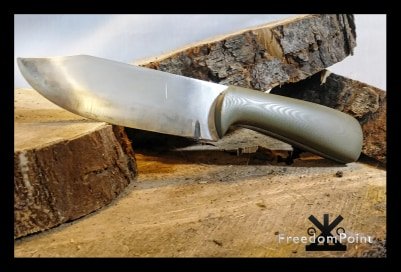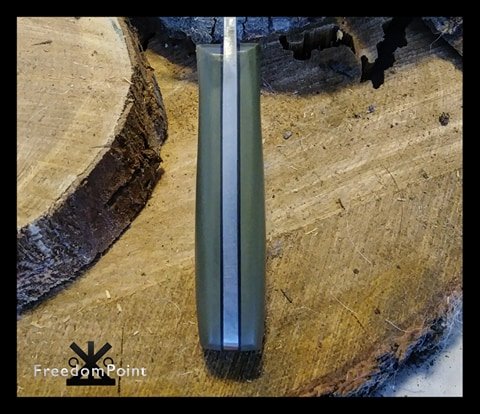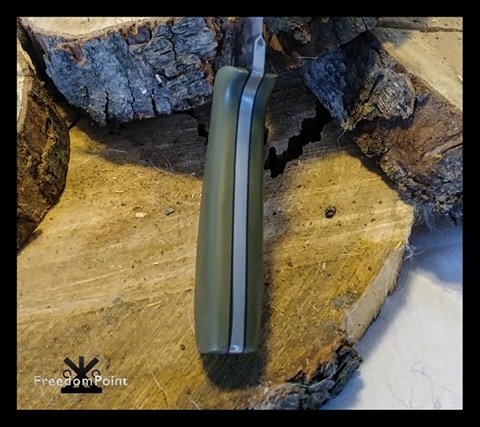 Be well
~The Yeti
Join me on Discord https://discord.gg/zyqFjJ3
https://steemit.com/@freedompoint