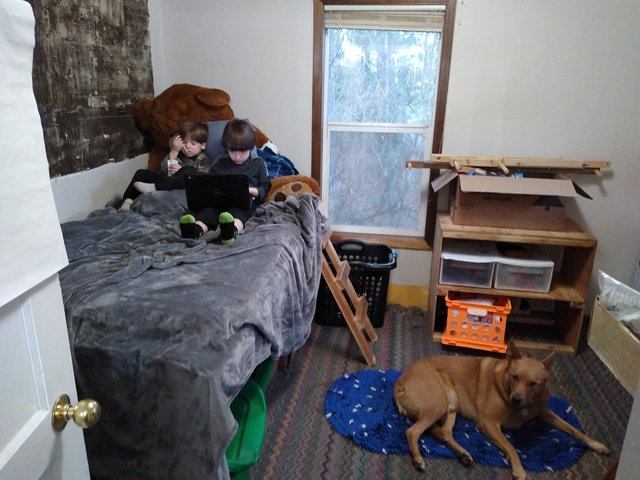 Yesterday was a momentous day. They boys now have their own rooms. You couldn't tell by their instantly huddling on the bed and watching the chromebook and PBS kids. It has taken me a large number of days to get the move done, but it is just shuffling shit a few feet apart and wedging things in the holes. J is ecstatic and also had a bit of trouble sleeping his first night. Though R did to. I was in the bathroom this morning around 6:30 and R came lumbering in all bleary eyed. I told him to go back to bed but he ended up on the couch staring. He ended up sleeping for another 3 hours.
I had to go to town for grain since there was not enough empties for the recent batch of grain.
This proved to be a shit storm of a task!!!
I loaded up 7 barrels onto the trailer and managed to get them secured to a tight feel. I then drove to town and was in Hillyard when the first incident happened. Going around the corner by the Safeway the trailer tire scrubbed the curb and caused the trailer to jerk, causing the barrels to dislodge and tossing 2 55 gallon drums into the street. I pulled into the parking lot right away, parked, retrieved my barrels, re-secured them all, and went on my.
I made it within a block of the brewery. I took the next street north in order to approach the barrels from a specific way. I went around the next to last corner and apparently the boards slipped. I went around the last corner and the barrels slid off the trailer into the street. I then had to load them on the trailer and drive the 150 feet to the brewery.
I managed to get the 4 barrels of grain loaded and cinched down and then brought home. I unloaded them this morning into the garden. I will go and get the other barrels tomorrow morning.
Today was a Cub Scout hike, trip to Napa, family time, and a bit of rest for my body. Tomorrow is going to be fun. I have to get grain then in the evening @stryeyz and I are going to dinner then to the Slayer/Primus/Ministry/Phil Anselmo concert in Spokane!!!!!!!!!! PRIMUS, MINISTRY, & PANTERA!!!!! HOLY FUCKING BALLS!!!!!!!


14148

Daily Activity, Gardening, Home Improvement, House Chores, Play with kids/grand kids, Walking, Weight Lifting