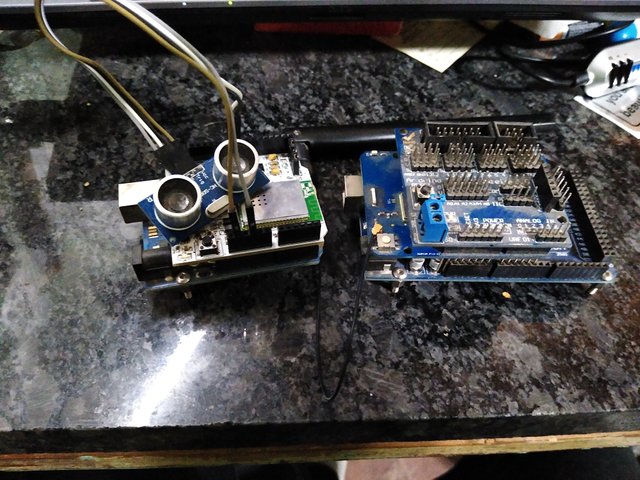 Wasted day for the most part. I have been trying to figure out how to get the Arduino parts that I have to setup into a system that will email me when a package is put in our box. I have a number of various pieces but none of them seem to allow me to do the simple thing of emailing when the ultrasonic sensor detects a shorter range. The concept is that I will mount the sensor on the bottom of the box so that even if a thin package is dropped it will detect it and send me an email.
I have a few Unos and a Mega, 2 CC3000 wifi shields, another wifi shield, an ethernet shield, and a few other various shields. None of the wifi shields I have will allow me to simply setup smtp. I have had a very difficult time finding any code examples that show anything close to what I need. I have cobbled together some simple code to get the range and wifi setup, but the smtp side is confounding me.
I am verging on buying a Pi to make it easier to code what I need. At least then I will be able to use python for my program rather than the arduino ide. Part of it is that I just still am not good at writing code and am fumbling my way through and what I am trying to do does not exactly have the correct code available in the wild.
I finally threw down on a new laptop. I have had this one for over 6 years and I am unable to use the keyboard since many of the keys don't work well anymore. The last time I used it on a trip I fritzed out the monitor hitting the keys to try and type. So I got a solid rig with an i7-9750h, 32 gb ram, and 1/2 tb ssd and a 1660Ti with 6 gb of vram. Along with it I got a 24" monitor as I love having my double monitor now, but am ready for an upgrade.
Today was all the same as yesterday unfortunately so my step count is way down. I am going to start drilling logs for mushroom plugs though tomorrow and have scouts in the evening.


6552

Daily Activity, House Chores, Shopping, Walking, Weight Lifting