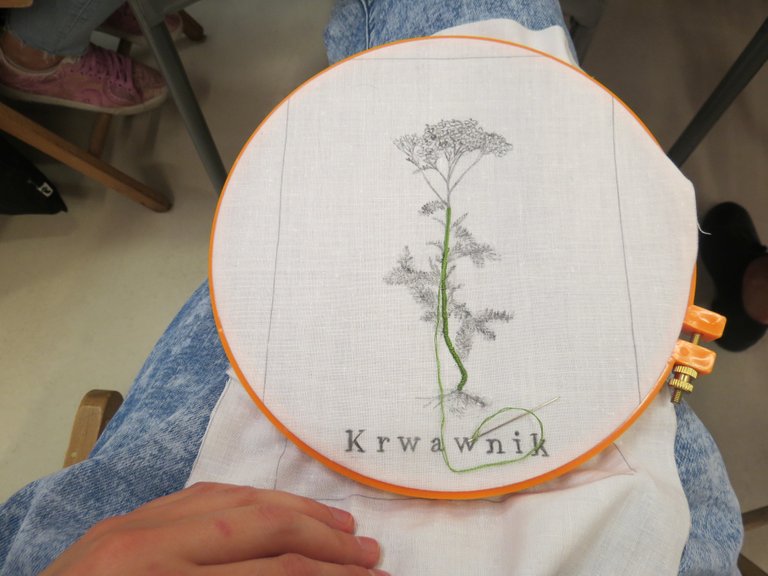 A few months ago I signed up for botanic embroidery classes. As you have probably noticed, I love nature and I thought that it would be nice to learn different embroidery techniques, thanks to which maybe in the future I will embroider myself a nice image on a t-shirt, bag or denim jacket. In class, we embroidered various edible plants that can be found in the area. I got a yarrow. A plant I remember from my childhood. When I went for a walk and saw the characteristic white and yellow balls growing on a strong, green stalk, I picked a handful of them, shook them in my hands and after a while threw them away, and my hands smelled of a specific, slightly spicy smell. I remember that I liked the ritual of turning balls in my hands and throwing them in different places. At the time I did not know that this plant has "secret powers", and I quote which ones ktomalek.pl
It has anti-inflammatory and antibacterial properties. Antihemorrhagic, reduces both external and internal bleeding. In addition, infusions of yarrow stimulate the digestive tract, relax the smooth muscles of the intestines, bile and urinary tract, increase the secretion of digestive juices and bile. In addition, they help regulate the menstrual cycle and alleviate menstrual discomfort. On the other hand, when used externally, it has anti-inflammatory and astringent properties, soothes dermatitis and mucous membranes and accelerates healing of wounds and burns.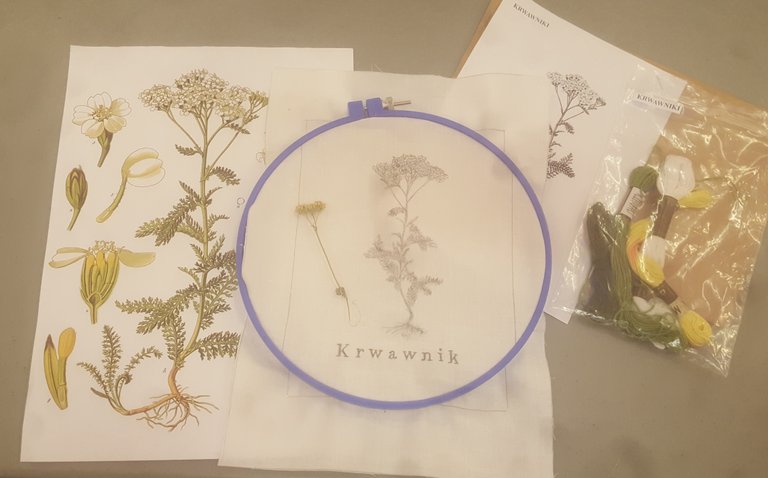 At the beginning of the course, each person received a sketch of the embroidery plant, embroidery tambour, a set of mouline threads and plant photos, as well as dried flowers. We also received advice on which embroidery method would be best for individual elements - stalks, leaves, etc. These were only suggestions, each of us decided on the final choice of technique.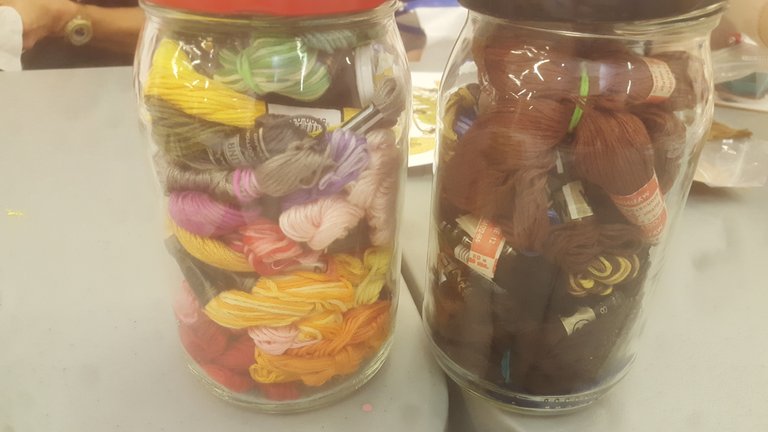 I was a bit worried that these classes would be boring, and the interest in nature is not enough to attend them regularly. Fortunately, my fears quickly turned out to be false. Embroidery was a very pleasant, relaxing activity. The presence of other people from the group allowed for interesting conversations. In addition, we learned about many embroidery techniques, which may be inspiring in the future. In the photo below we learned how to embroider such large balls, as you can see some of them did not work out, but at the end I managed to make neat knots.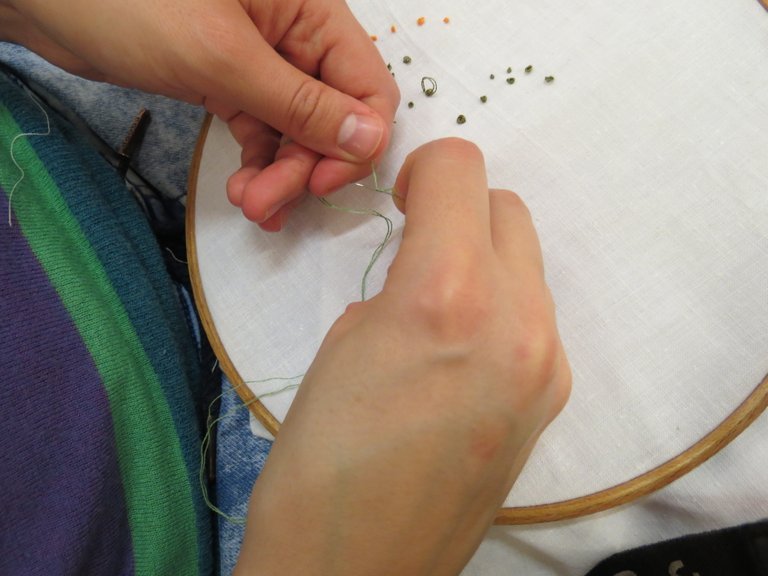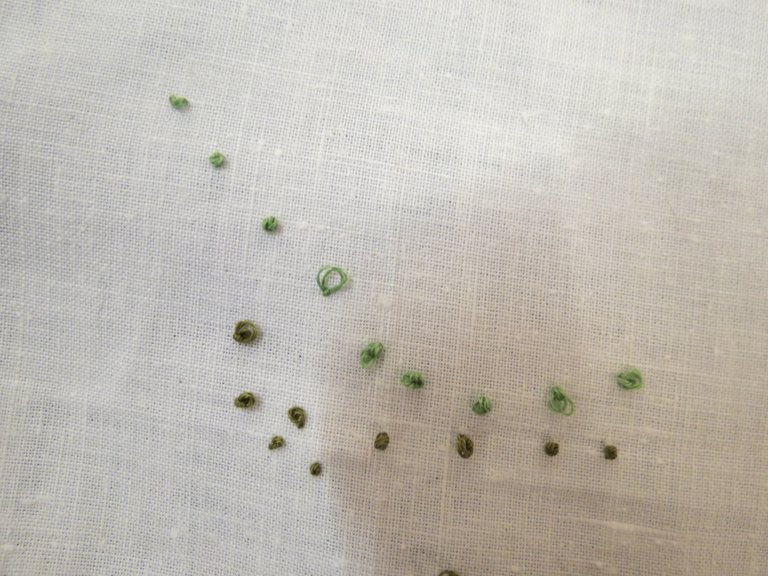 We could also see various unusual embroidered works. I was impressed with what can be created with thick threads. Here are some sample photos of my teacher's work.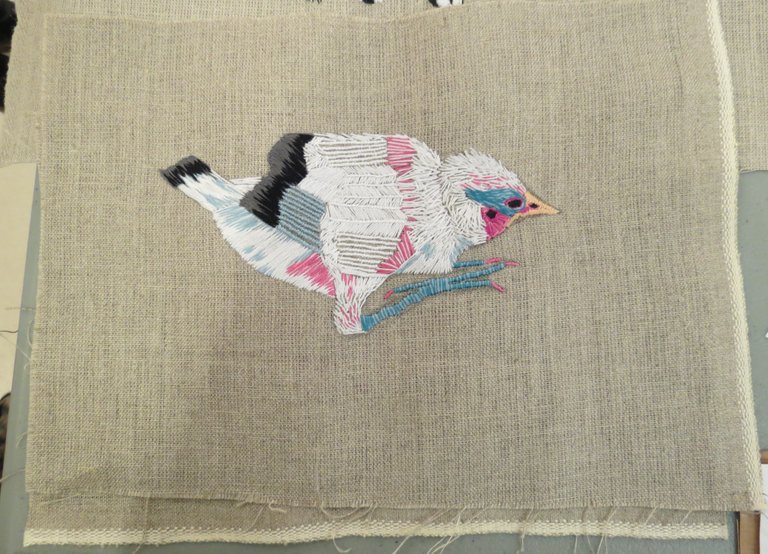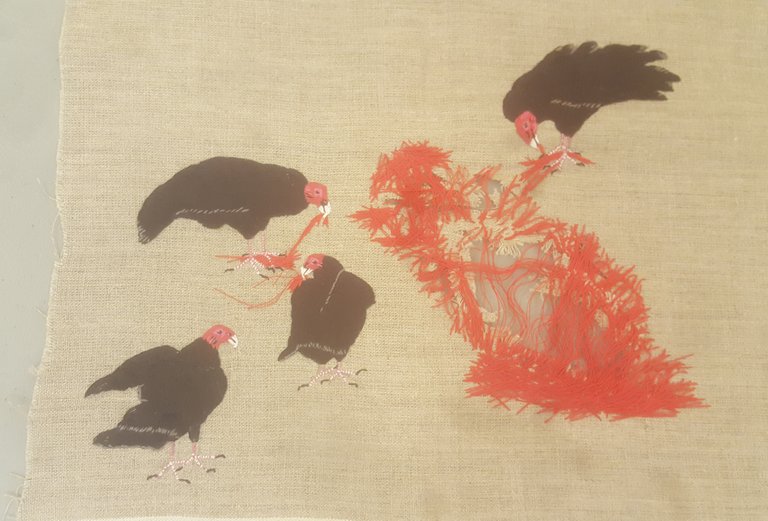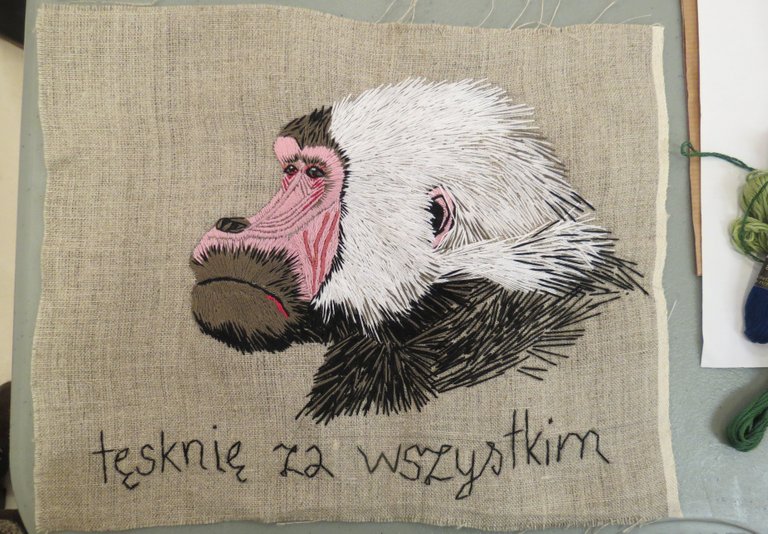 They are very expressive, ingenious, they have a strong message. As for me - wow! They are brilliant!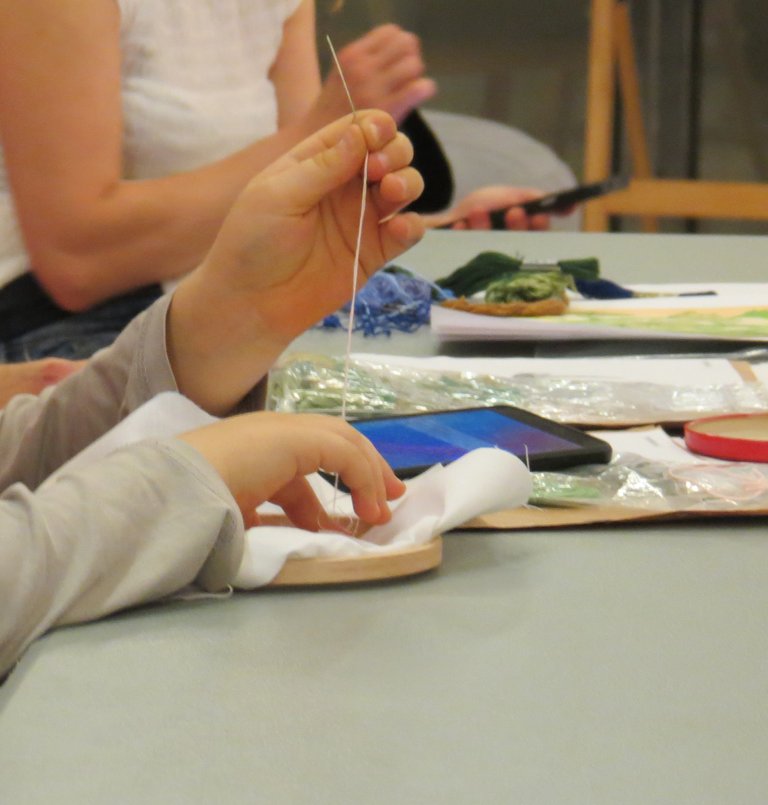 At one of the classes a participant brought her child. She had no one to leave him with. The boy was running around the room, it was obvious that he was bored. I suggested that he also embroider. Our teacher agreed, and the boy willingly agreed to join us. He embroidered throughout the whole class and managed to create a beautiful, swashbuckling flower. I think it's worth giving children such challenges, proposing non-standard activities. In this case, the effect was amazing. Instead of getting bored for two hours, the kid gained a new skill and had a great time.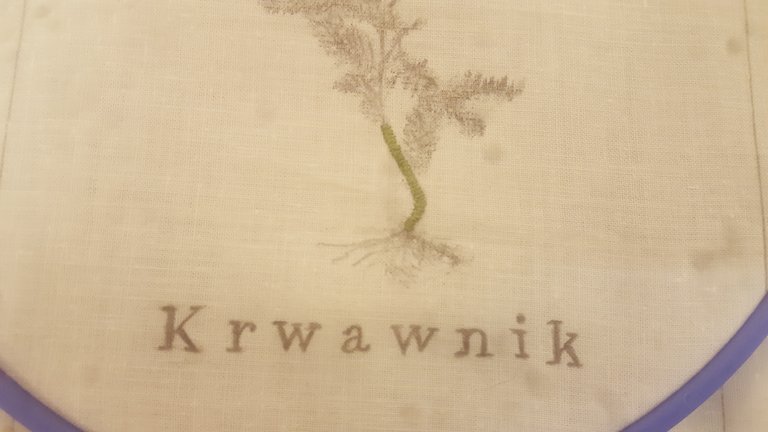 I started my embroidery with a stalk. In the photo you can see black spots, because I made them with a phone that had a damaged glass and as it turned out the camera lens: /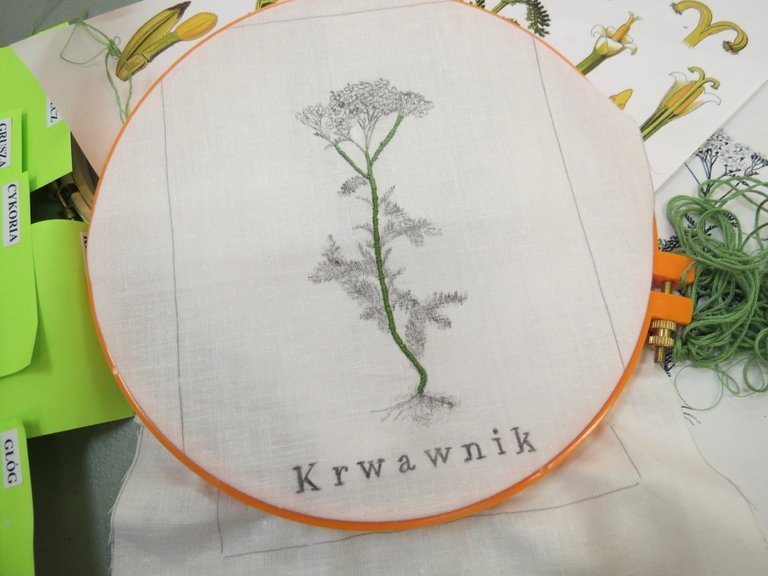 I continued embroidering the stalk for a long time, and the next parts of it went quickly.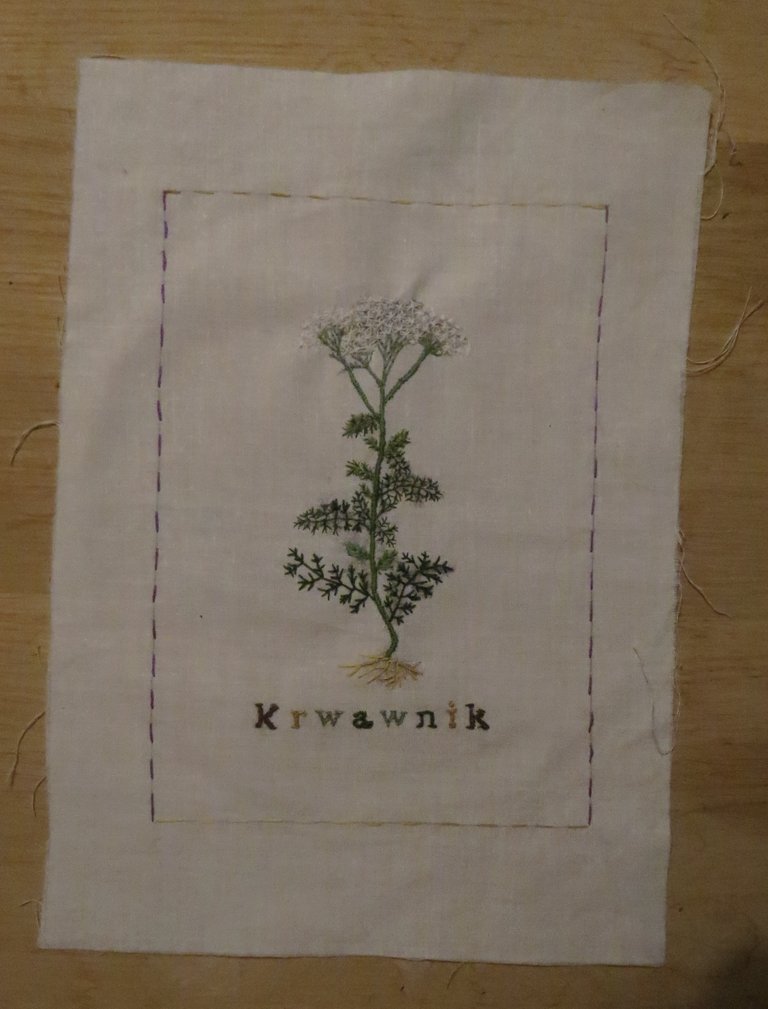 This is the final effect. I am still considering changing the border lines to red. It would probably fit more than the purple and yellow threads and would refer in color to the name of the plant - yarrow.
Original content by @katiefreespirit