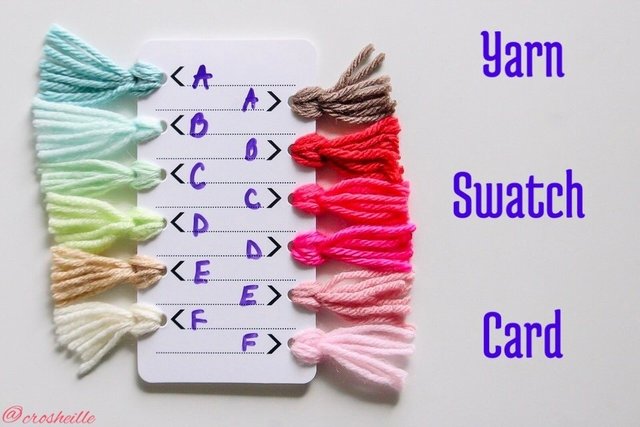 Well hello there! Yes I know it's been awhile since I've posted on #NeedleWorkMonday. I've been enjoying reading your posts from week to week though. I haven't worked on anything new. I have set a goal to finish my mother's broomstick lace scarf by the end of this month. She was supposed to have it last Fall season but I kept getting caught up and busy with other things. She really wants to wear her set this year so I have to make sure that happens.
I did want to show you however, this cool swatch card I received. My SIL's father had possession of this Simply Crochet magazine and was holding it for me. That's one thing I do love about being a needleworker, people always give me craft related things they don't want. I hardly ever turn them down :D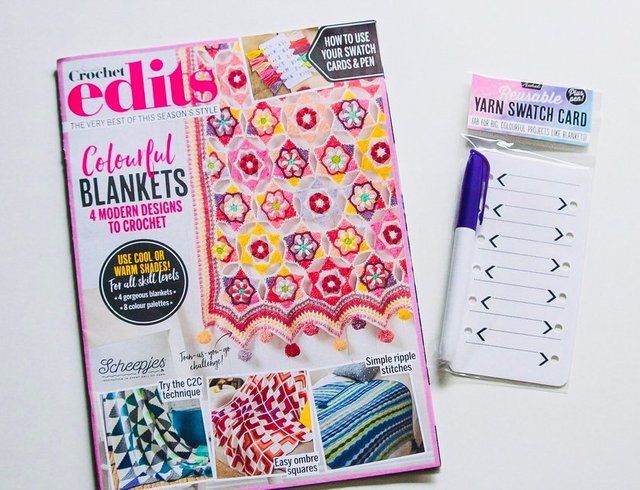 The magazine package included this extra issue that had the card and dry erase pen with it. This swatch card is great to use for big projects like blankets where you will be using multiple colors. I love that it's reusable!
As you see in the first photo I just labeled the colors with letters. I would probably never use more than six colors on a blanket so I labeled the card with two color schemes for two projects. This was just for showing purposes so I used my scrap yarn. You could also label the card with the name of the colors to keep track as well.
The idea is to plan out the color palette for your project to see what works. Line them up to see which colors go together and rearrange them until you find the perfect color pattern for your project. These cards also serve as a reminder of which colors you were using should you have to leave the project for a long time then come back to it. You can write the name of the project you are working on at the top of the card for a reference.
Here's what the back looks like...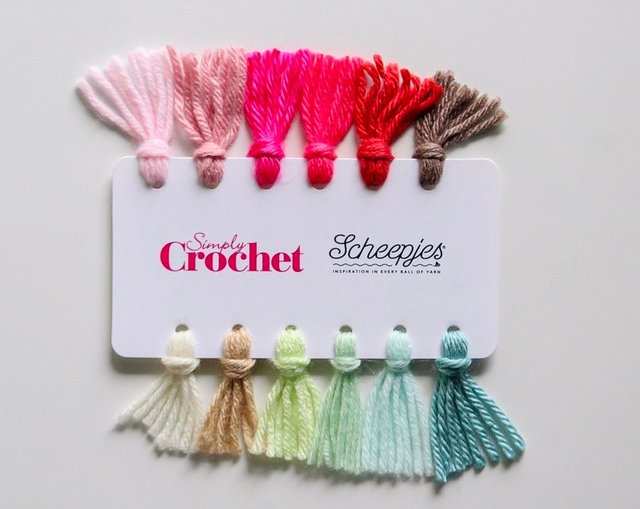 I took four small strands of each color and looped them through the holes with a G hook. It reminded me of using color swatches to pick paint for your house.
Afterwards I decided to crochet up some samples of what each color scheme looks like...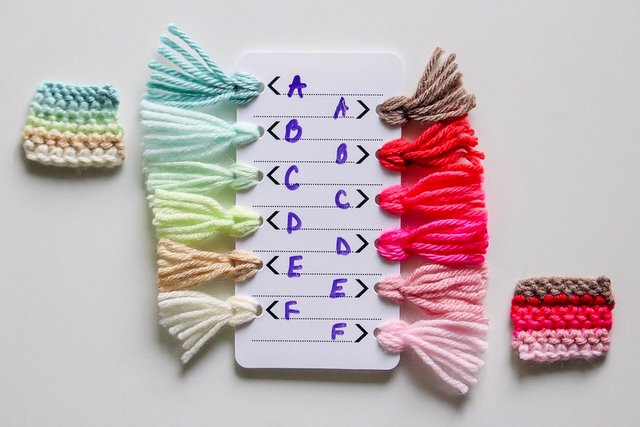 When you're going to spend a lot of time on a big project I think taking a little time to plan out your colors is worth it. You can easily see how the colors will look together.
Honestly though, the only reason I have this card is because it was free. I wouldn't go out or go online just to purchase one, instead I'd make it myself. All you need is card stock paper and a hole punch. You can look on Pinterest to see the many ideas that people share, they are really simple to make.
I do plan on using this card the next time I make a blanket! If you ever decide to make these cards for your projects please do share ;D
Thanks for Hanging Out!
All photos are my own and were taken with our Cannon EOS Rebel T6.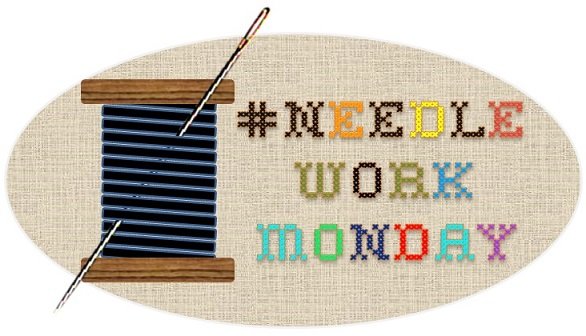 Logo/Banner created by @rigaronib!