Halbzeit / Halftime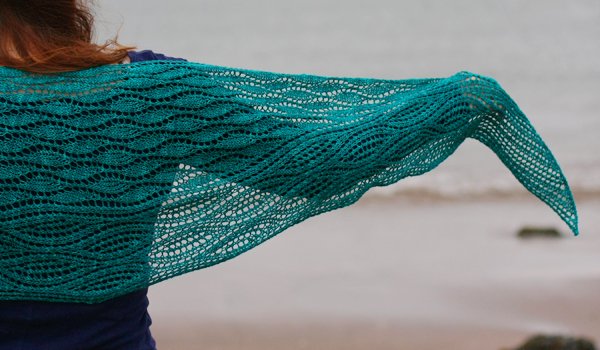 Picture source: Tincanknits.com
So wird dieses Tuch eines Tages aussehen (abgesehen von der der Farbe) und ebenso, wie weit ich mit dem Stricken jetzt bin. Ich habe vor etwa einem Jahr, am 16. Januar, mit dem Stricken des Estuary Tuches begonnen und endlich die Mitte und damit den Wendepunkt erreicht. Das Lacemuster ist an sich nicht so schwierig, aber es erfordert volle Aufmerksamkeit. Meistens stricke ich immer nur eine Reihe und muss eine Pause einlegen. Mal sehen, wie lange es dauert, bis ich diesen Schal fertig habe ;)
That's how this shawl will look one day (well, not the color) and equally how far I am with knitting it. I started knitting the Estuary shawl about a year ago, on January 16th, and finally reached the turning point. The lace pattern is not difficult per se, but it requires that you pay a lot of attention. Mostly I only knit one row at a time and have to take a break. Let's see how long it will take for me to finish this shawl ;)
Ich habe ein Bild von der Seite der Designer verwendet, weil Lace-Gestricktes nicht sehr fotogen ist, bevor es gespannt wurde. Die Garnfarbe ist ein wunderschönes gräuliches Violett mit Tweed-artigen bunten Stippen - was auf den meisten Fotos völlig langweilig braun aussieht. Unten sind Fotos vom aktuellen Zustand des Tuchs - ich habe ein Bild gemacht, auf dem es vor den Jalousien hängt, man kann das Muster dort besser sehen.
I used a picture from the pattern designer's page because Lace fabric is not very photogenic before it has been blocked. The yarn color is a nice grayish purple with colored specks - which looks totally boring brown on most photos. That's how the shawl looks now - I made one picture with it hanging in front of the blinds, you can see the pattern a bit there.
Seine Länge beträgt jetzt 80 Zentimeter, also wird der fertige Schal doppelt so lang, nach dem Spannen noch etwa 15 % mehr - mehr als lang genug, um mich warmzuhalten!
Its length is now 80 centimeters which will make the finished shawl twice that length, blocked it will gain approximately 15 % - more than long enough to keep me warm!
What's on my needles
Die wieder-gestrickten Socken - einer ist fertig bis auf das Abketten, der nächste wird dann gleich angefangen.
The re-knitted socks - one is finished but for the bind off, the other one I will start immediately after that.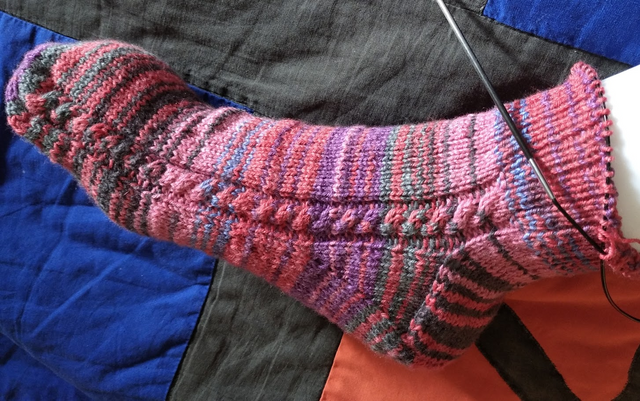 Ich habe einen kleinen 2x2 Zopf an der Seite gestrickt, ich wollte mal keinen "Vanilla"-Socken. Muster sind bei Garnen mit Farbverlauf etc. oft schwierig, weil das Garn das Muster "schluckt". Diese Zöpfe gefallen mir aber sehr gut. Im Nachhinein hätte ich vielleicht eine "normale" Reihe mehr machen sollen zwischen dem Überkreuzen der Maschen, aber hinterher ist man immer schlauer ;)
I added a little 2×2 cable to the side of the sock - something to keep it from being "boringly plain". Patterns with color changing yarn can be a problem because often the yarn "swallows" the pattern, but I quite like these cables. In hindsight, I would have added another "straight" row between the cabling - perhaps next time.
---
---
5% der Einnahmen dieses Posts gehen automatisch an @needleworkmonday, unseren Gemeinschaftsaccount.
5% of this post's rewards automatically go to @needleworkmonday, our community account.