ONLY ONE - Only one photo, a moment, a history, a perspective.
---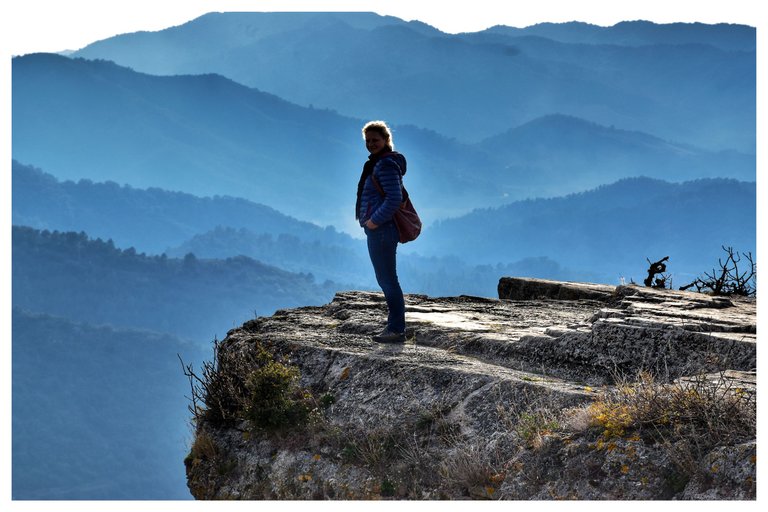 Priorat (SPAIN)
---
---
Hier steht meine Freundin am Rande des kleinen Dorfes Siurana in der spanischen Provinz Tarragona (Katalonien, Spanien) auf einem Felsvorsprung. Das Dorf zählt zur Zeit ca. 30 Einwohner. Im Gebiet Priorat findet man ein kleines, langsam etabliertes Weingebiet mit grossen Weinen. Wermut (nicht Martini Bianco) wird noch direkt aus grossen Plastikflaschen und mit grünen Oliven serviert. Kleine Straßen schlängeln sich durch die mit Reben bestückten Hügeln mit unzähligen Kurven.
---
Here my girlfriend is standing on the edge of the small village of Siurana in the Spanish province of Tarragona (Catalonia, Spain) on a rocky outcrop. The village currently has about 30 inhabitants. In the Priorat area you will find a small, slowly established wine region with great wines. Vermouth (not Martini Bianco) is still served directly from large plastic bottles and with green olives. Small roads wind through the vine-covered hills with countless curves.
---
Aquí está mi pareja, de pie a las afueras del pequeño pueblo de Siurana, en la provincia española de Tarragona (Cataluña, España), sobre un saliente rocoso. El pueblo tiene actualmente unos 30 habitantes. En la zona del Priorat se encuentra una pequeña región vinícola, lentamente establecida, con grandes vinos. El vermut (no el Martini Bianco) aún se sirve directamente de grandes botellas de plástico y con aceitunas verdes. Pequeñas carreteras serpentean por las colinas cubiertas de viñedos con innumerables curvas.
---
---

---
PHOTOGRAPHER : Lukas Bachofner




HOMEPAGE : lukasbachofnerfoto.com (Under Construction!!!)




INSTAGRAM : lukasbachofnerfoto
---
!

I took and edited all the photos myself. There is a possibility that the pictures of the Only One - Series have already been published in another post in another community. There is no intention of plagiarism behind this!!!
---
| KAMERA | Nikon | D5600 |
| --- | --- | --- |
| LENS | AF-S Nikkor | 18-140mm |
| | | DX VR 1:35-56 GED |
| | AF-S Nikkor | 55-300mm |
| | | DX VR 1:4.5-5.6 GED |
| SMARTPHONE | Xiaomi | Note 10 Pro |
| PICTURE EDITING | Snapseed | Android App |