ONLY ONE - Only one photo, a moment, a history, a perspective.
---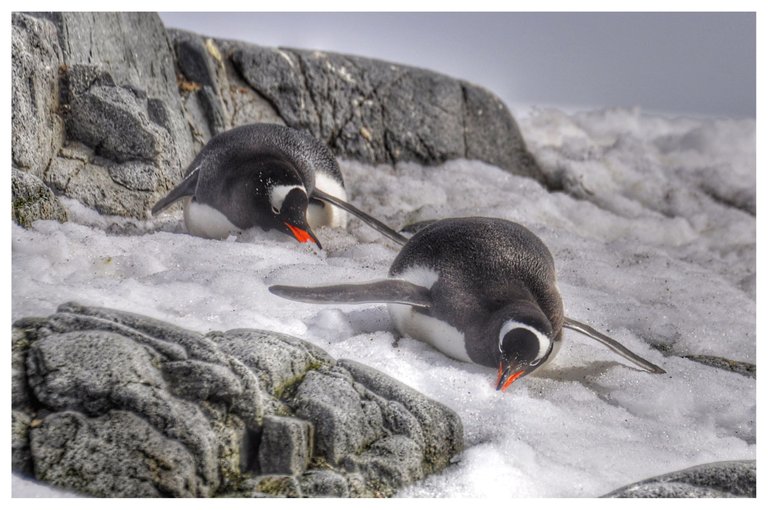 Port Lockroy (ANTARCTICA)
---
---
Dieses Bild habe ich während eines Landganges in einer Servicepause im Naturhafen, Walfangstation und Fotschungsstation Port Lockroy in der Antarktis aufgenommen. Dort befindet sich auch der südlichste Souvenirshop der Welt. Die herumtollenden Pinguine (im Bild Pygoscelis papua) in den Servicepausen zu beobachten, entschädigte die fünf Monate Arbeit an Bord eines kleinen Kreuzfahrtschiffes (im Restaurant) voll und ganz.
---
I took this picture while on shore leave during a service break at the Port Lockroy natural harbour, whaling station and research base in Antarctica. The southernmost souvenir shop in the world is also located there. Watching the frolicking penguins (in the picture Pygoscelis papua) during the service breaks fully compensated for the five months of work on board a small cruise ship (in the restaurant).
---
Tomé esta foto mientras estaba de permiso en tierra durante una pausa de servicio en el puerto natural de Port Lockroy, estación ballenera y base de investigación en la Antártida. Allí se encuentra también la tienda de recuerdos más austral del mundo. Ver retozar a los pingüinos (en la foto Pygoscelis papua) durante las pausas de servicio compensaba plenamente los cinco meses de trabajo a bordo de un pequeño crucero (en el restaurante).
---
---
---

---
PHOTOGRAPHER : Lukas Bachofner




HOMEPAGE : lukasbachofnerfoto.com (Under Construction!!!)




INSTAGRAM : lukasbachofnerfoto
---
!

I took and edited all the photos myself. There is a possibility that the pictures of the Only One - Series have already been published in another post in another community. There is no intention of plagiarism behind this!!!
---
| KAMERA | Nikon | D5600 |
| --- | --- | --- |
| LENS | AF-S Nikkor | 18-140mm |
| | | DX VR 1:35-56 GED |
| | AF-S Nikkor | 55-300mm |
| | | DX VR 1:4.5-5.6 GED |
| SMARTPHONE | Xiaomi | Note 10 Pro |
| PICTURE EDITING | Snapseed | Android App |