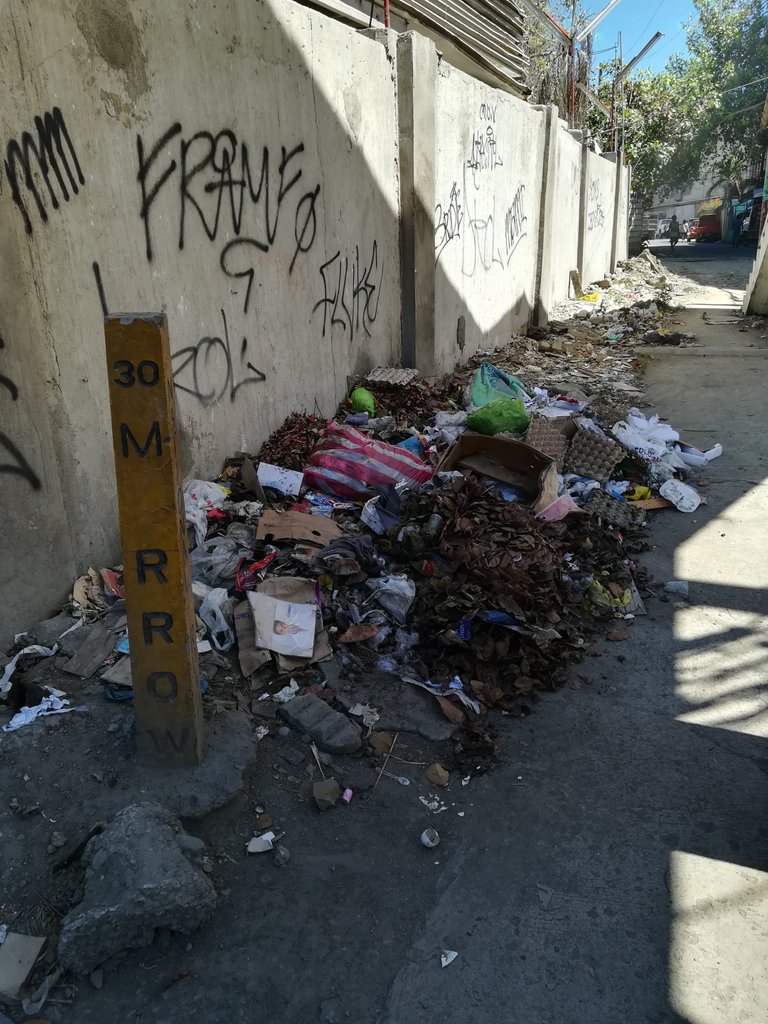 image was taken outside of our school
Maybe the world for other people was indeed beautiful. It's nice to live on because of high technology, they made modifications of buildings. Before the night was so dark but now even though it's night, it's so bright like morning. There even places that never sleeps in the night, not to forget lot of delicious food around the world. You can experience of flying even though you don't have wings. You can soar under the sea to see different things and creatures. You can see someone even though they're far. Lot of different reasons why I could tell that the world is so beautiful. It's worth to live when you're having fun. Despite from the beautiful things in the world, there are many reasons also that I could tell the world now is so ugly unlike before.
Imagine the establishment are so beautiful but outside of it has dirty soroundings. The factory establishment's were throwing poison or waste into the sea, river and land. This waste could kill living things in the world.
The forests are crying because many people are cutting it to build a new establishment and what's worst is that they don't plant a new one. Many animals were dead because there aren't enough food and shelter for them. Not just animals, insects or anyone because we are also included of it. It feel's so hot day by day that has passed.
Human became so terrifying these days. Imagine they are only focus on physical appearance instead of looking what's inside the heart. In work, instead of helping each other. They will keep on stepping someone so that they can reach on the top. If they can't reach on top, they will pull you down so both of you will be in the ground. How can you trust people nowadays when most of the people now have two faces. He's/she's a good person when talking with you but when you turned your back on them they'll talking bad for you.
Never trust on the sweet words that will be talking to random people. I don't know but people would love to hear a beautiful lies rather than listening of ugly truth in the world. They believed the sweet words of different people that's why those people who knows how to talk good will take them fir granted. There are those people who will show you the goodness they've done through social media. But when you look into their back you'll find that what that person did was just for promotion of himself/herself.
I know most of you saw good things of the people in the internet, like helping random people or feed other people. I'm telling you don't make yourself fooled by your own eyes. That people who shared like that were just lies. Why they need to share like that if they're purpose is to help. How they captured it when that person needs help already. It means before they'll help it, they'll make sure to capture of himself/herself before helping. What if that person need's help desperately but they couldn't because they must promote themselves beforehand.
Did you know also that money is so smart these days? If you have money you can finished studies and easily can apply a job. I don't know how the money became smart but I think I know the reason. People are just too greed that they'll might forget their pride just for the money. What is the value of education if everything can be handled by money. Don't think also that who have big mouth are smart. You might be surprised that they're just good in talking but no idea how to work from it. Especially those people who keep on nagging even though what they said has no value at all. They just wanted the impression if people.
I think the most main reason why people didn't value more about humanity is because of this social media. Imagine even in one household it's rare for them to talk because they're busy on social media. Instead of talking inside the house as a family but they'll forget as long as they can share to the world that they'll need someone to be with them. If people will be addicted on social media it will be hard for them to talk with someone in person. It will be hard for them to go outside to see what is the real beauty of the world. They'll miss to experience what it means to be human. Don't let yourself live in the social media because most of them are lies. It's hard to know the real people when not meeting them in person.
Just telling you that don't do bad in the world so much. I know we are all human but we can minimise in doing bad if we'll just think the consequences after.
Thank you for reading...
image is mine
huawei p8
d' dreamboy,
@mrnightmare89