No, not pie-eyed, but Pi-eyed. My first touchscreen was faulty, but Amazon sent a replacement. I double-checked everything with the new screen and the old one. The line of dead pixels on the first screen is definitely not a cable fault or a problem with my Pi. The new one is working fine so far, though.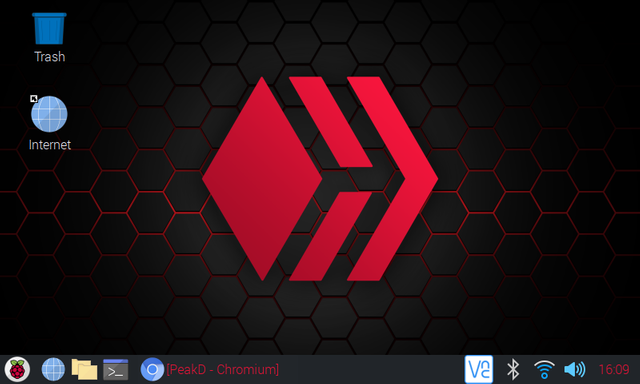 The wallpaper is from @nateaguila's gift to the community here. I also tweaked the UI colors to match Hive.
I'm still running the basic Raspberry Pi OS, but I intend to set up a new NOOBS Micro SD card for experimentation. I'm considering everything from Ubuntu to Android to trying to make Windows 2000 work on this thing, just to see what mischief I can manage. I also want to try to get FreeDoom running and link my PS4 controller via Bluetooth. We'll see if I can make that work.
I left out the camera module for now, although I left the LEGO-style plate on the side with its camera hole, because LEGO will never not be awesome. I am still largely pleased with the Arteck unergonomic keyboard and mouse, although I had one strange incident where one keystroke kept going. The key wasn't stuck. I don't know where the issue came from.
One other issue common to any of these screens that employ the video out ribbon cable is the inability to simultaneously use the micro-HDMI ports to link another display. Whether that concerns you or not depends on your needs. One small note: The lower resolution requires me to use the F11 key to pop into full-screen mode to access most drop-down menus in most programs. A minor frustration.
I have full access to Hive and PeakD though, and once my battery pack arrives, this will be quite portable. Hive on the go from a DIY Linux machine is still way cooler than just buying an off-the-shelf tablet or laptop.