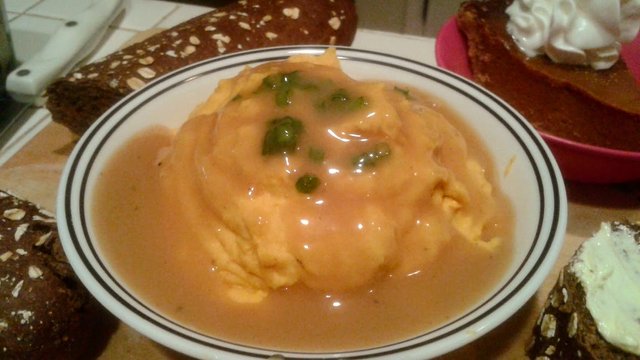 Mouth-watering, Scrumdibliumptious, Mmm-Mmm-umami, Home-Style Mashed Potatoes. Complete recipe and photo steps shown below, along with all my favorite fixin's.
Pumpkin Mashed Potatoes
Reciped improved and adapted by @creativetruth
A little backstory first, and then we'll get to the actual recipe and instructions.
By my best recollection, this is only the second time I have attempted to make mashed-potatoes from scratch. Growing up in my household, a fresh-cooked meal was often a rarity. My siblings and I relied on frozen dinners and boxed foods. Most of us had never even tried a salad until we were 13 or so. We often visited friends for dinner, and gushed with delight at how wonderful fresh green vegetables could taste when properly prepared.
Visiting my grandmother was always a special treat, as she happily served us fresh mashed-potatoes, buttermilk biscuits, pancakes, and fried chicken by the bucketfulls in the manner of her Oklahoma Southern style.
When my siblings and I cooked, we often found ourselves making comfort foods from scratch, because neither of our parents seemed to know how to use a mixing bowl and measuring spoon. The type of foods that never taste remotely similar to the ones nuked in a microwave from frozen are the ones we found ourselves researching the most.
The last time I tried making mashed potatoes, I was probably a teenager. The potatoes were grainy, and watery, and separated from the milk and butter creams. The flavors were so flat, salt and butter could barely make it palatable.
No surprise, every Thanksgiving and Christmas holiday when this dish was served, I was never asked to help make the mashed potatoes, or any of the primary dishes for that matter. Instead, I found myself improving my cooking skills making baked desserts like pumpkin pie and pumpkin bread. I would prepare it the day before or after the holiday to get the space and independence I needed to experiment and refine my craft. Pumpkin had become a flavor I have grown to love, and I think I have nearly perfected it over the years.
In adulthood, my family eventually became accustomed to visiting my oldest sibling's house, when she would invite over to share in the Thanksgiving holiday. She developed her own recipe for mashed potatoes, and it was always a smash favorite by everyone. Her recipe included cream cheese and sweet potatoes, with gravy and stuffing on the side.
Last year, our family suffered a tragic loss when this sister passed away. It was brain cancer that slowly paralyzed her over the span of a year and finally took her life. This happened so shortly after our last Thanksgiving to celebrate our time together. Her husband lovingly tried his best to reproduce her culinary wonders for us as she suffered the final effects of paralysis, but we were less interested in the food that year, and more invested in spending time together. We're always going to miss her hospitality, generosity, and companionship.
So this year, I decided to try reviving this recipe. Recipes are such a wonderful way to bring back the spirit and presence of lost loved ones. Something inside me is always hoping to make my Dutch and Native American ancestors proud, even though I know so very little about them. Every swirl of the mixing spoon, and every dollop of cream is added with loving reminders of how it should be done just right.
Please enjoy my own mash-up of this classic comfort food. I think you'll appreciate the results. This is the first time I have made it this way, and I doubt it will be the last.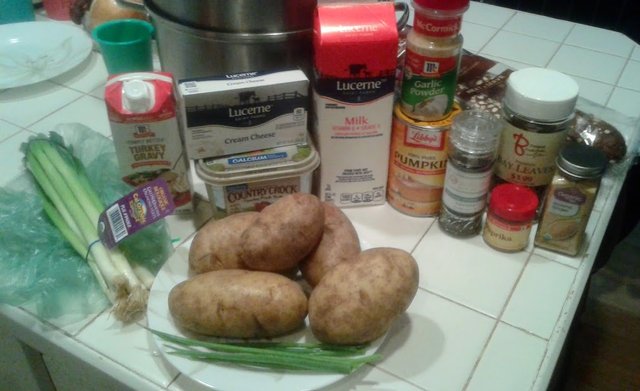 And now I proudly present the recipe.
Ingredients
Pumpkin Mashed Potatoes
5 Russet potatoes (some big, some small)
8 oz Cream Cheese
1/2 cup Milk
4 tablespoons Country Crock (or Butter)
15 oz canned Pumpkin
Spices (Optional)
1/2 to 1 teaspoon of each
Salt
Ground Pepper
Paprika
Ground Ginger
Garlic (salt/powder, minced, or fresh)
Chives (fresh)
Bay Leaf (used in boiling the potatoes only)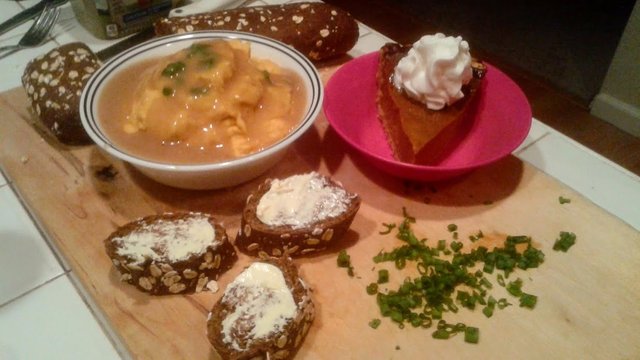 Side Fixin's
Turkey Gravy
Toasted Brown Bread
Butter and Chives Garnish
Pumpkin Pie and Whipped Cream
Step By Step Instructions
Select about 5 Russet potatoes and peel. Place them in pot with enough cold water to cover them.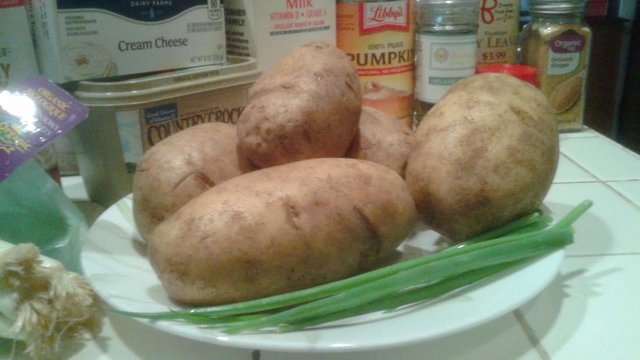 Tips:
Cut the potatoes into large cubes. They will cook more evenly, and this allows the water to drain out better too.
Flavor the water with a teaspoon or so of salt and a bay leaf.
Flavor the water one step further by adding a tablespoon of chopped green onions. Mom claims thew white part is the sweetest.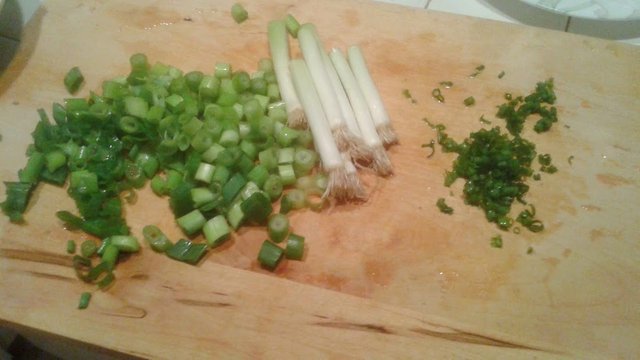 Some people like to fry up the potato peels. I add them to my garden compost.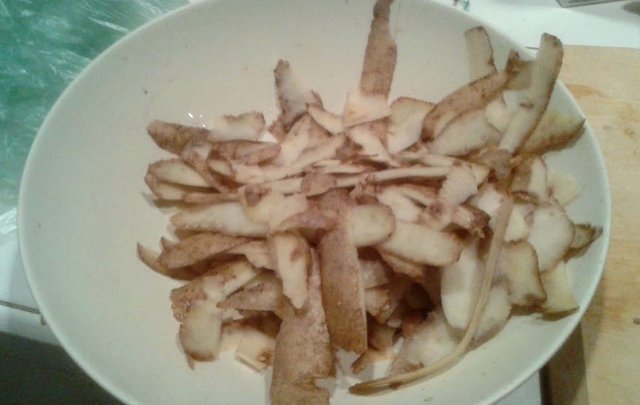 Peeled potatoes, like apples, will oxidize quickly and develop pink and brown spots, so dunk them into the water as soon as they are peeled to retain the clean white flesh color.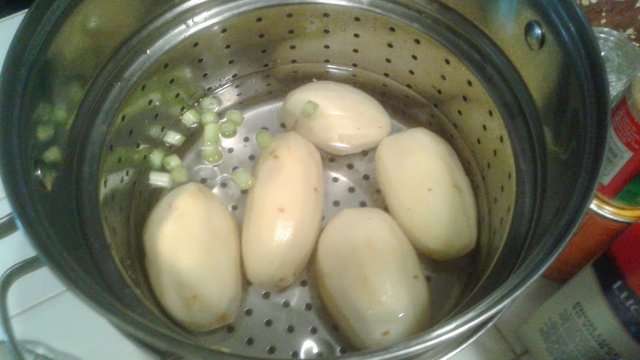 Then chop into cubes.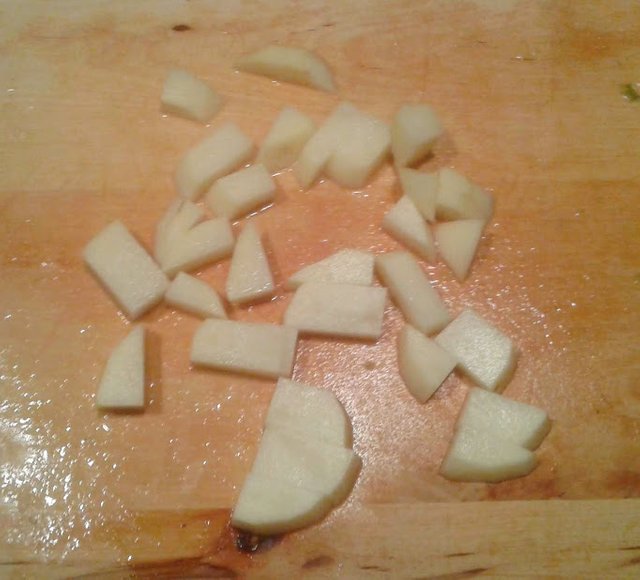 And back into the water they go.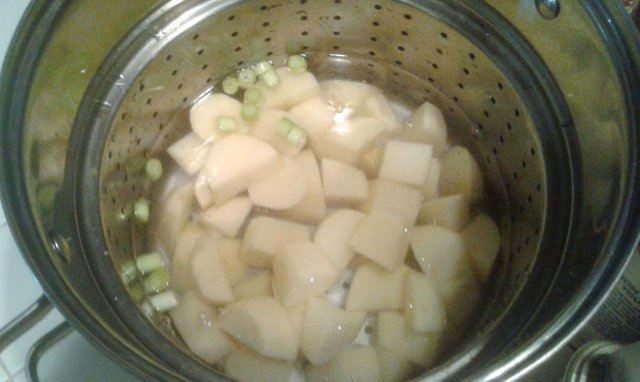 Set aside half of a potato, and chop it into smaller cubes, approximately 1/2 to 1 inch wide at most. We're going to make some Mmm-Mmm-Umami flavors that will go into the mashed-potatoes.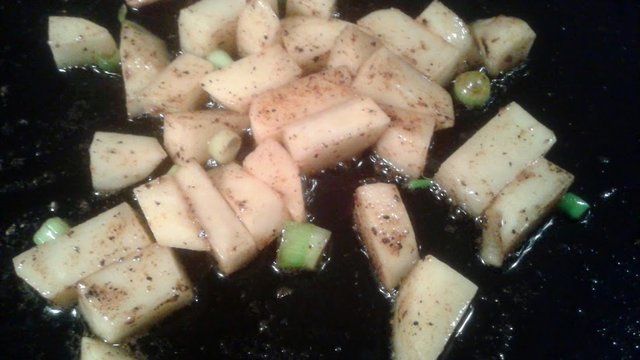 In a pan with a tablespoon of hot oil, coat the potato cubes with the spices (salt, pepper, paprika, and ginger.
Throw in some green onions optionally for additional flavor.
Garlic is also a good idea to add in at this stage. If using minced or powdered garlic, add this later when the potatoes begin to brown, because it can burn and smoke quickly.
Cook on medium heat for about 3-5 minutes, or until potatoes brown. Stir and flip potatoes frequently to coat all sides with the cooking oil.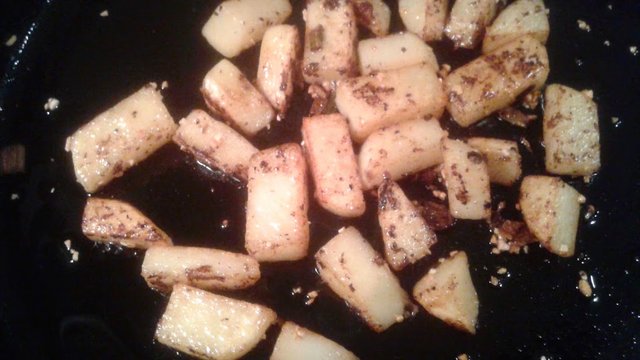 Tip:
Use whichever type of cooking oil you are most familiar with to pan fry. I use Vegetable Oil. Butter can be used, but be careful that the heat isn't too high, as it can burn faster than it will cook the actual potatoes.
The potatoes will feel more starchy and break apart almost like chalk, as an indication that they are cooked fully through. If the potatoes are watery and crisp inside the flesh, continue to cook.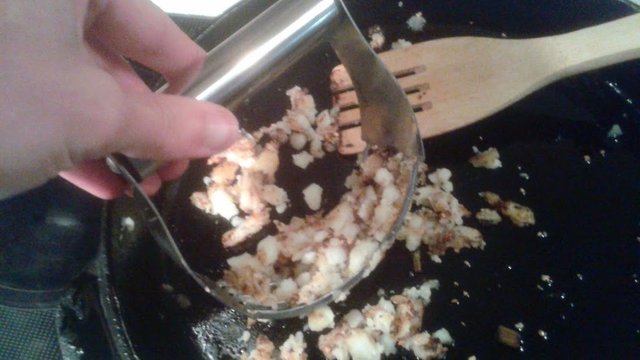 Use your favorite utensil to smash the potatoes in the pan. A fork will work. I used a pastry cutter.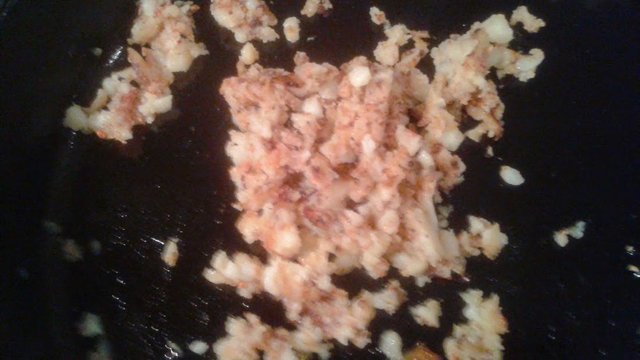 It should look like hash browns at this point.
Next, turn off the heat, and add in the pumpkin.
(At this stage I would begin to boil the water to cook the rest of the large cut potatoes I put into the pot. As soon as the water boils gently, let it simmer for 15 minutes.)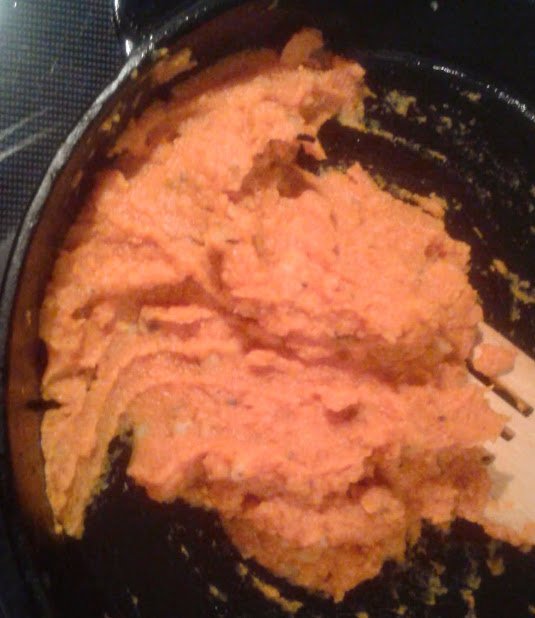 In the frying pan, incorporate the potato crumble with the canned pumpkin real good using a wooden spatula. Fully mix the smashed, brown potato bits with the pumpkin. Allow the pumpkin mash to soak up all the aromatic flavors in the remaining hot oil remaining in the pan.
Use a spatula to transfer the entire pumpkin mixture into a mixing bowl.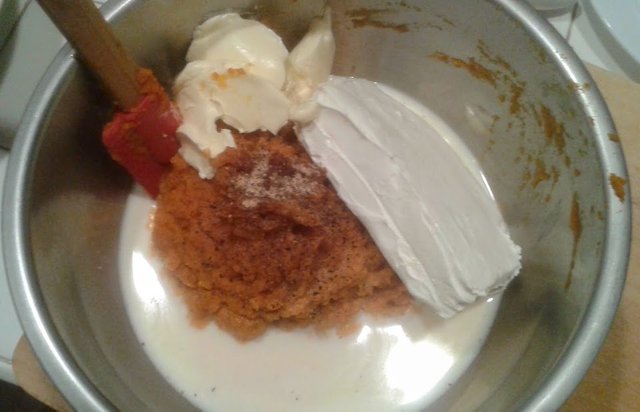 Add the butter, the cream cheese, milk, and 1/2 teaspoon of each of the spices.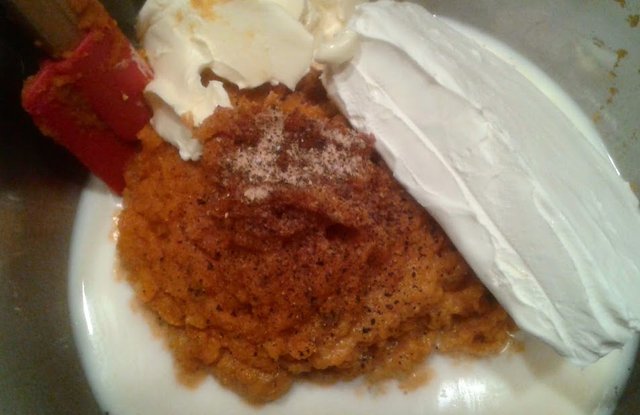 This the source all the flavors that will go into the mashed potatoes. Looks yummy, doesn't it?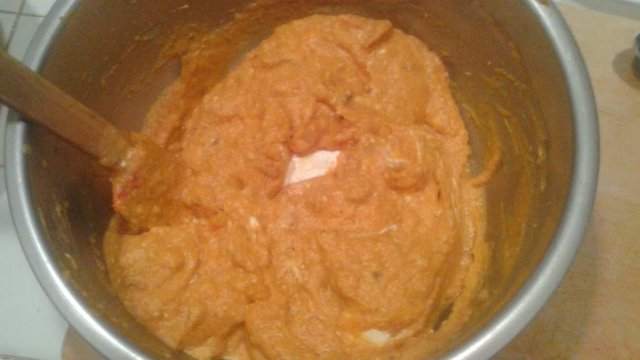 Optionally you can mix all these items together with the spatula, but it's not necessary. We're going to be mashing the potatoes into this mixture quite aggressively in the next few steps.
Time to check on the potatoes I boiled.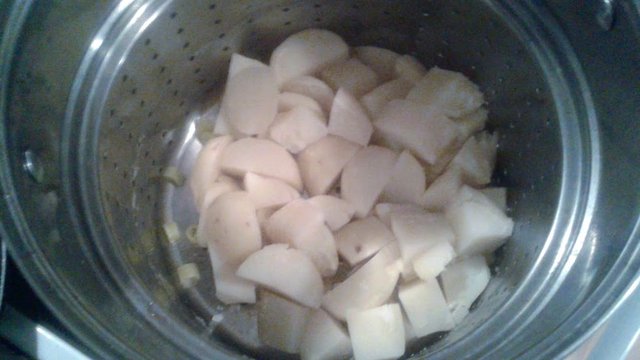 Drain the potatoes, and allow the steam to evaporate for half a minute or so, until the potatoes look dry.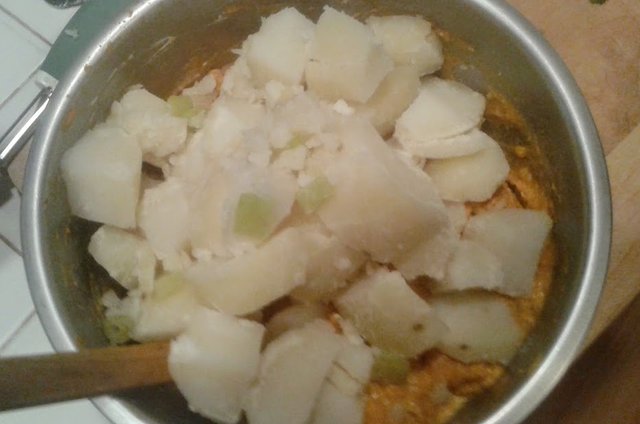 Add the boiled potatoes to the mixing bowl containing the pumpkin mixture.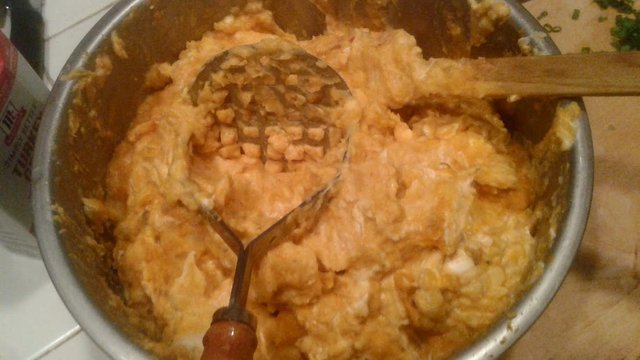 Have fun mashing the potatoes into the mixture. The heat from the potatoes will help to melt the cheese and butter. Kids tend to enjoy this step immensely! Always share the mashing tool with little hands reaching to help.
Tips:
A potato masher is the ideal tool if you have one, because it breaks up the lumps with every press. More importantly, the handle is long enough to keep your hands free of the mess. A fork or pastry cutter will likely get your knuckles coated with sticky potatoes and oil.

To get a creamier blend, use an electric mixer to smooth out more of the lumps. Run on medium speed for 2 to 3 minutes, or until the mixture has the consistency of smooth oatmeal or porridge.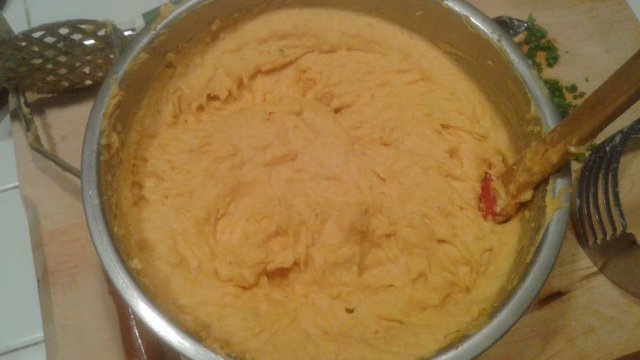 Super Tip:
Keep all of the boiling water drained from cooking the potatoes instead of pouring it down the sink.
If your pot has a steam tray for vegetables, use this to hold the finished batch of mashed potatoes. This will keep the metal mixing bowl hot. Even with the stove off, the hot steam trapped underneath will keep the potatoes hot and ready to serve for the next hour or so.
Without consistent heat, the mashed potatoes will cool very quickly. Tastes best served piping hot.
My pot of hot water will keep the bowl of potatoes hot throughout the dinner hour, long enough to serve any guests who arrive late.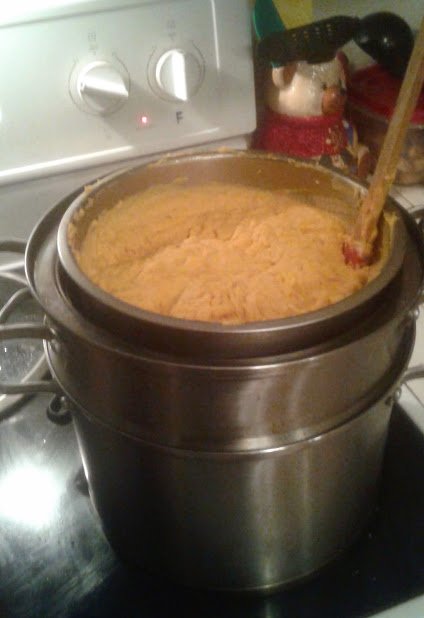 And now the Fixings
Heat up some gravy on the stove.
I used canned turkey gravy and added some salt and pepper.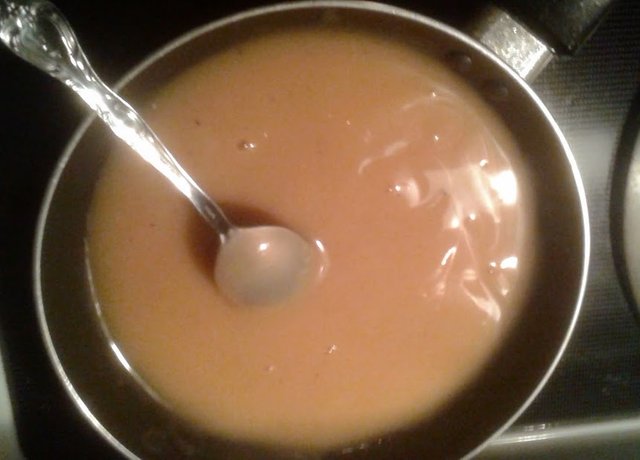 Brown bread is available at some bakeries. It is usually made with oats and molasses for a richer color and slightly sweet flavor.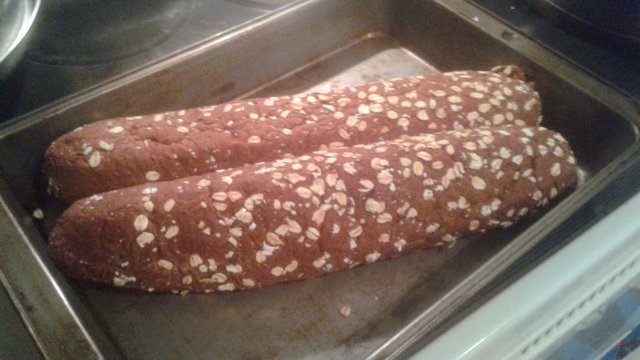 Toast the bread in the oven for 5 minutes at 350 degrees Fahrenheit. Spread with butter. I prefer Country Crock spread.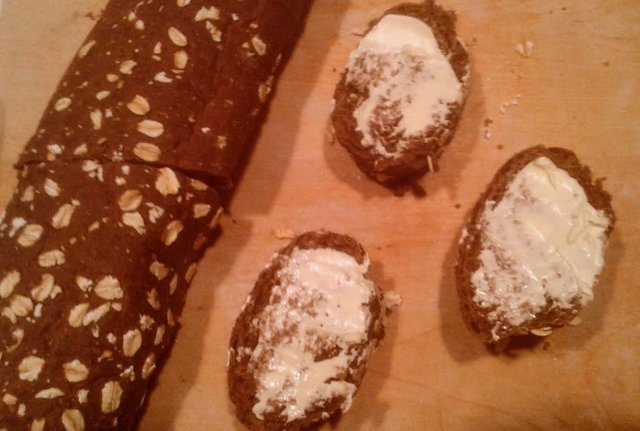 Optionally, experiment by sprinkling with chives as a garnish, and see if you like it this way. This will change the flavor quite a bit, but I think it heightens the flavor of the bread, and adds a welcomed fresh green crunchiness.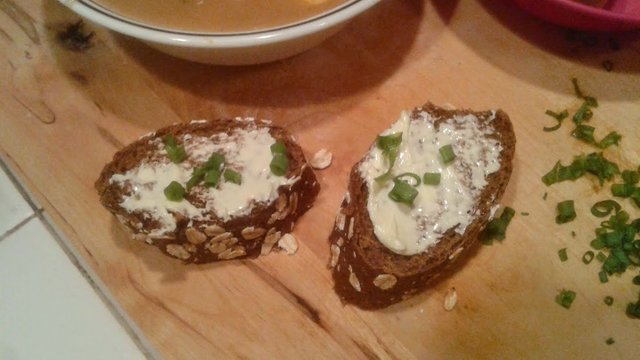 Sprinkle some chives onto top of a bowl of mashed potatoes.
Serve up a slice of pie on the side. (Note: Pumpkin pie always tastes 10x times better the next day. I think it is because the spices soak in and the pudding sets. Warm pie sometimes sweats and separates from the caramelized top layer. Chilled pie has a rich, silky texture and flavors sweet as ice cream.)
This is now a complete dinner.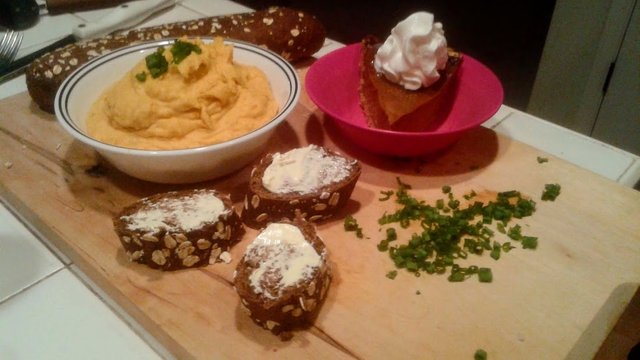 Always allow people to serve the gravy to their own delight. They can glaze the mashed potatoes with as much or little as they want.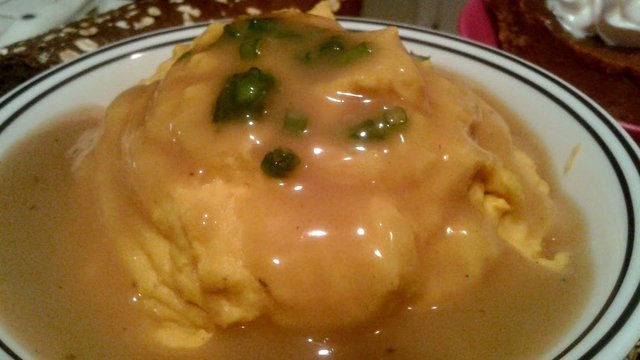 Dinner is served.
Bliss achieved.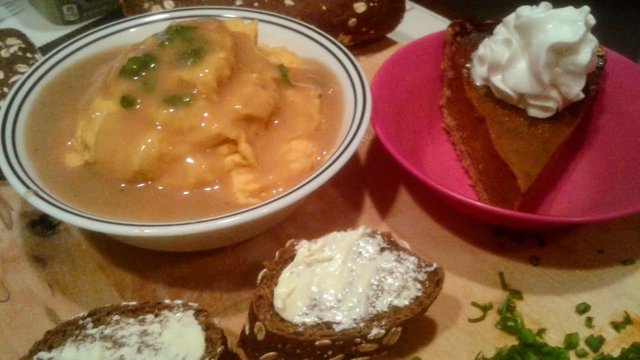 Conclusion
Yesterday we had a disastrous Thanksgiving Holiday. In the early morning the kitchen sink was plugged up, and nasty things kept backing up out of the drain. My dad filled the entire kitchen with pieces of drain pipe and boxes of drain cleaners. All of my ingredients for this recipe I was afraid were going to go to waste!
However, we did end up going out that evening, just my folks and I, for a tasty restaurant meal. We all ended up eating the same Turkey Dinner item on the menu, which was loaded on one plate with everything a holiday dish deserves.
We did end up getting the kitchen sink drained the next day. Turned out it needed a strong de-greaser to rinse off some fatty pork juices my mom had drained recently.
And the next day I found time to make the recipe I pictured here. It was great to have full use of the kitchen again to make a wonderful home-cooked dinner, blending together family memories and holiday appetite cravings.
#diy #how-to #creative #potato #mashedpotatoes #mashed-potatoes #holiday #creative-cooking #family #inspiration #holiday #pumpkin
#orange #gravy #turkey