I'm now controlling the lighting of my aquariums with a smart plug and I want to talk about it.
A few weeks ago, I upgraded my Aquarium shelves and lights. It's a bit of a DIY project I'm working on.
Now that the heavy work is done I feel like going over some of the minor improvements I've made to the overall system.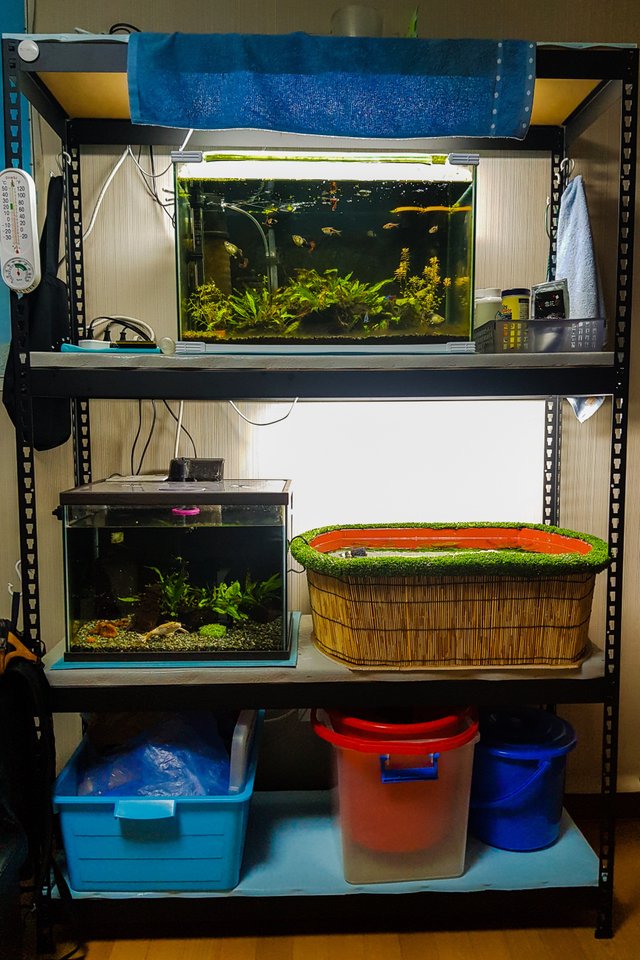 Maybe you will notice, I have a strange looking tub next to my frog. Actually, that's new. I'm not ready to talk about it. I'm still working on it. It's the reason why the lower light isn't centred. I'll maybe introduce what's going on there sometime next month. Aquariums are all about patience. The top aquarium and some of its inhabitants are at least 7 years old and the frog is 4.
Why the Smart Plug?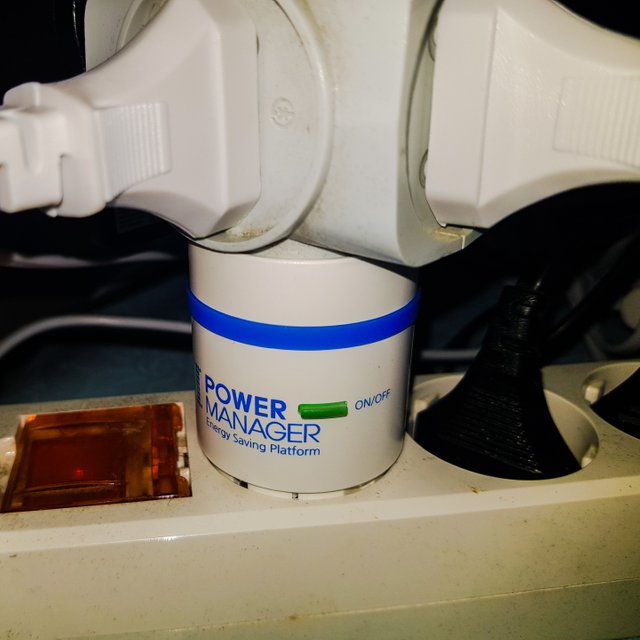 I decided to automate my aquarium lights a long time ago. I had an analog timer before, but as with the lighting, it was time for an upgrade. I have a central control in my apartment for all the lights and wall sockets. I could just turn off socket 3 in room 2 (yeah boring name), but I have other things plugged in there that should not be turned off like filters.
I considered my options which were a new analogue timer, a digital timer, or a smart plug. I'll go over my specific reasons for choosing the smart plug in a bit. However, I want to mention that I had no idea how functional the little guy was.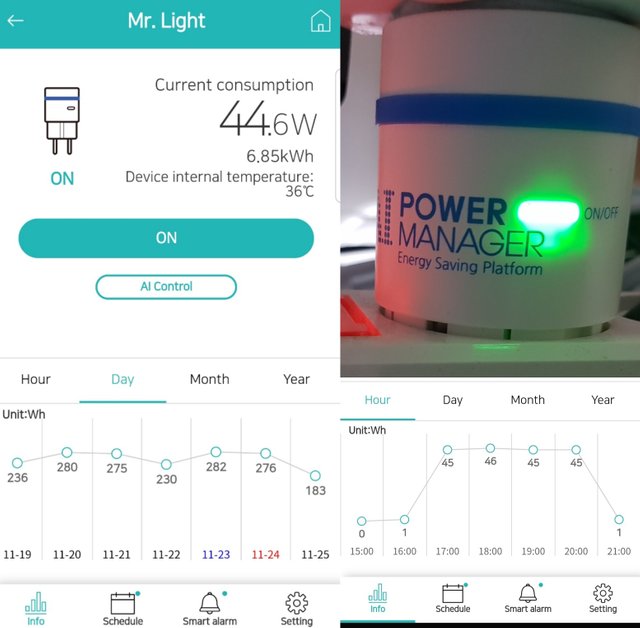 This shows power consumption currently 44.6W, it also tracks use over time.
What is a smart plug
A smart plug looks like something that extends the depth of a plug. I've seen these used for deep sockets, however, there is more than meets the eye. This one only has one plug, however, I have a 3plug split on top of it. I have 2 lights and a small UV filter I don't need on constantly. The only feature you can notice, maybe asides from the QR code to set it up if wi-fi fails to detect is the green light. This is to manually turn it off and on.
However, the real magic of the smart plug starts with the app. Not only does it say current power consumption (44.6W), but it also keeps track of monthly power consumption (6.85kw/h) and device temperature (36C). It can set a complex on-off schedule, be controlled from anywhere on earth with an internet connection and has AI control.
One thing it does well is making sure the program is followed. This thing won't catch on fire because it will shut off if there is a problem like to much load, too hot or just reaching a power use limit I set.
It can even send alerts to my phone. I just have the on-off alert set.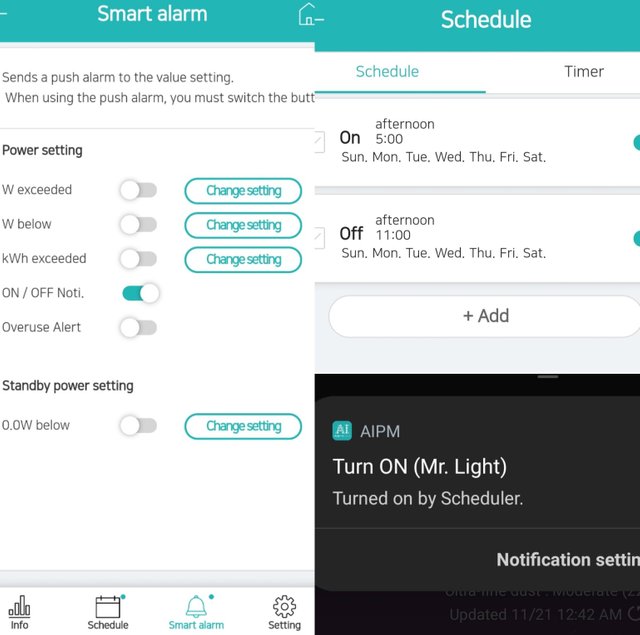 As you can see I have a daily off and on. It can be set for every minute, but I don't want that. If it is already on, nothing happens. If it is already off nothing happens. I still get the notice that it was turned on though.
I can also set notices for power usage alerts. However, Since it is a simple light set up with a constant load this is unnecessary.
What do I use it for?
As you can see, I just keep a simple schedule of on at 5pm every day and off at 11 pm every day. I want to establish a stable pattern to see how the aquarium plants and algae :/ react to the new lighting. The animals are fine unless I make it a disco or never turn off the lights, the should get sufficient ambient lighting. I think 6 hours a day is enough.
Does it Work?
As long as there is power and the internet, it will work. The best part is it stores data remotely. If it loses the connection, it will just stay on or off. you can set it to turn off if it loses the connection or just stay in current state. It will remember the settings.
The power consumption works well enough, too. My lights are 20watts each, but draw 25 each. The tiny UV light is 2.5W on a USB plug. So mine draws 44~46W (it varies based on temperature among other things). I took the picture around day 25. 45w X6hr (5 to 11) X 25 days = 6.75kW. Considering the meter said 6.85kw/h and I've turned it on a few times during the weekend, that's pretty damn accurate. It's definitely useful, especially for things that use a constant or known amount of power.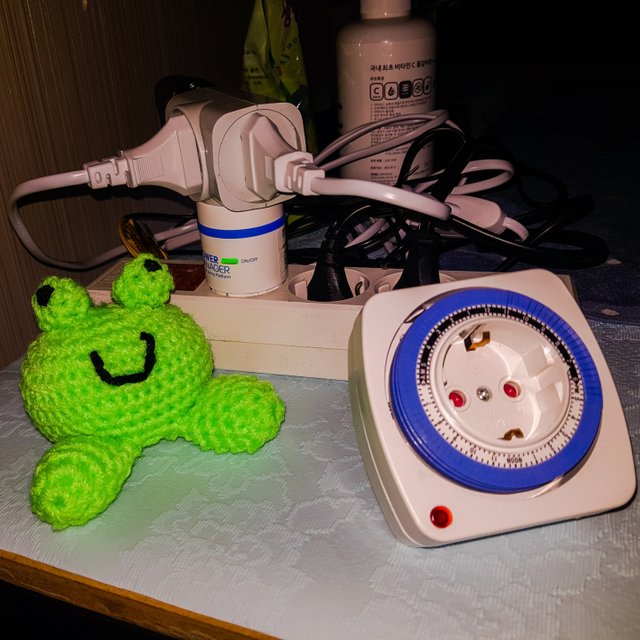 These timers are simple to use, but you need to adjust the time every so often, especially if the power is cut. However, they maintain their setting due to the analog nature but only turn off and on. The worst part is they do make a clicking sound after a while.
Other uses
I was thinking of other uses for myself, but asides from experimenting or turning on a dumb appliance (like a coffee machine) I don't have much use for it.
If your coffee machine doesn't have a timer, this will work. Some brands that make the best coffee aren't automated. Also, setting them up can be a pain. The smart plug is easy after the 1st time.

It can be used as something perverted and evil like a remotely controlled torture device to discipline your captives.

If you want to spook some people, this will work. Hell, get a few and make a haunted house.

If you want to check how much power doing something confusing like laundry is (washing machine + some in the dryer + steamer + iron), this will help. This has great potential for business.

If you want to grow plants this can help with lighting and pumps. It would be great for hydroponics or aquaponics.

It is great for remote locations. It is a very subtle way of knowing someone tripped a motion sensor. Who will suspect the smart plug telling on them? It also lets you know if something turned on.
I'm sure it can be used for complex experiments. However, in that case, maybe a better control system would be useful.
The biggest advantage is it will automatically start up again as soon as it gets an internet connection and remember the settings.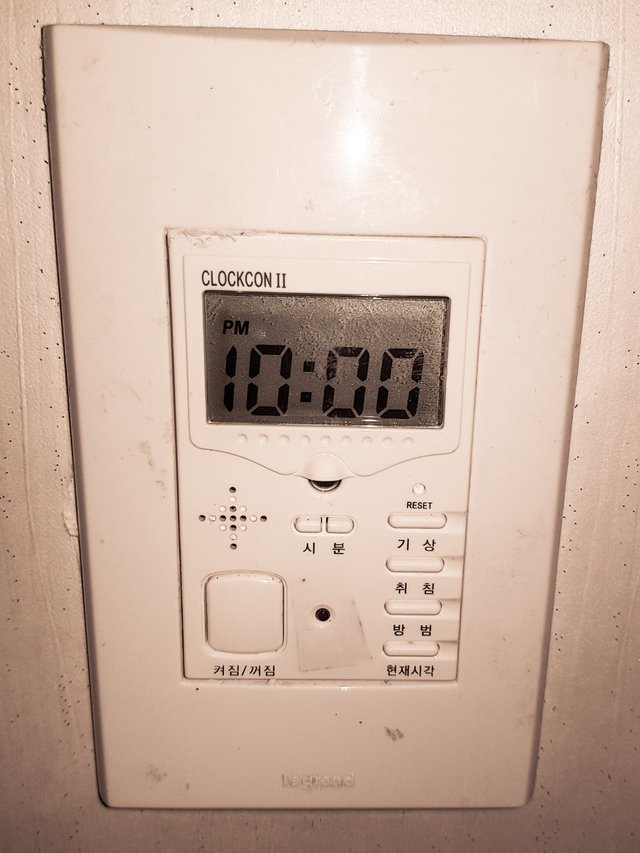 These are a huge pain. They are insanely complicated to program because the screen usually sucks. They remind me of the 1990s. Also, if the model doesn't have a battery or the battery is dead, it will reset whenever the power goes out. Chances are you forgot how to use it and you need to read the manual again if you have it or can find it online. This one controls the light in my bedroom as some kind of cruel alarm or something. I'm not sure what else it does, I've never set the damn thing. It just says 10:00 all the time.
Why not Digital or Analog?
As mentioned digital is complicated. Analog is ghetto (it's the current year bro). Both are bulky. Analog can make a clicking noise. You may completely forget how to set digital.
However, you do need the Internet for a smart plug. If you don't have the Internet, you probably aren't reading this review.
Also, it can be hacked or used to spy on you. I'm not too worried about someone hacking my aquarium lighting, but I wouldn't want this thing plugged into a critical medical device or my computer.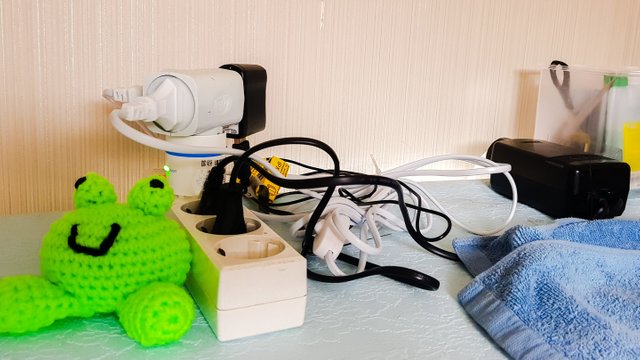 So why did I buy one?
Actually, I didn't buy it. My analog one was making clicking noises (they never last more than 2 years without doing this). I thought about getting digital, but it looked complicated and just as bulky. Then I remembered I already had a smart plug. I assumed at the very least, it could function as a timer and it was just sitting in the drawer.
My wife won a 'google at home' spy device. I told her we are not inviting google into our home. However, it did come with the smart plug. I had no idea what it could do. Oddly, Google Home cannot control this smart plug (it only controls my Xiaomi filter which also has an app).
Do I need this? No. However, it doesn't make noise and it looks nicer than the other controllers. I probably won't need to mess around with it again. Also, it doesn't block other plugs.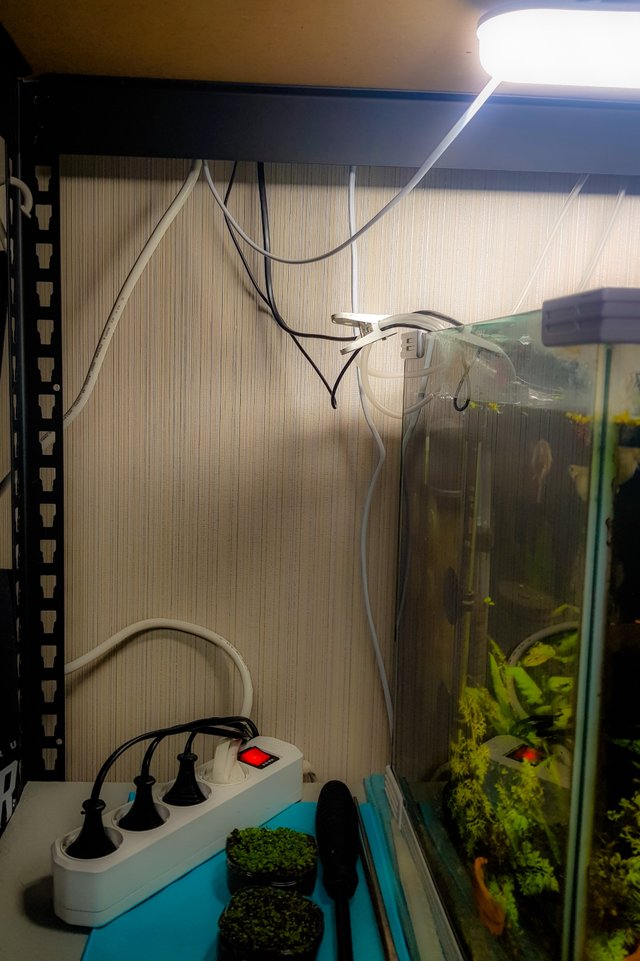 As you can see, I've made my aquarium wires slightly neater. I could hide them more. I was thinking of making them climb up the poles. I don't want to use twist ties because I move them around a lot, so I would have to use hooks. In any case, it doesn't look that bad.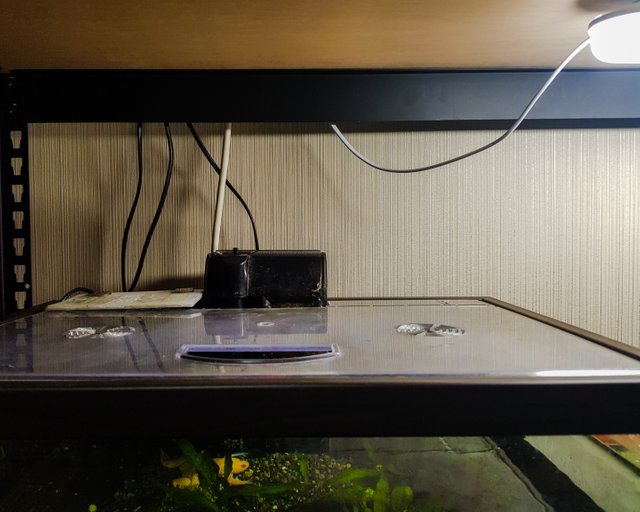 One thing I did was try to put everything electric up top to protect them from flooding. Water and electricity don't mix well. I don't want to cause a short. I also have my air pump above everything to prevent flooding.
As mentioned, it's a work in progress.
What do you think?
So what would you use a smart plug for?
As a remote on-off switch
As a timer
To manage power consumption
Something weird or evil
Because you can!
Who the hell wants a smart plug?
Final Thoughts
Actually I'm impressed. Maybe I'll get some more of these. They are like 15 dollars for a single or 30 for a big adapter with 4 separately controlled plugs.
It may be neat to count how many times my wife uses the kettle a week or how many hours of TV she watches a month. Then I ask her and when she says she has no clue, I can 'guess' and mess with her mind, lol