Jan 8 2020
GATE PROJECT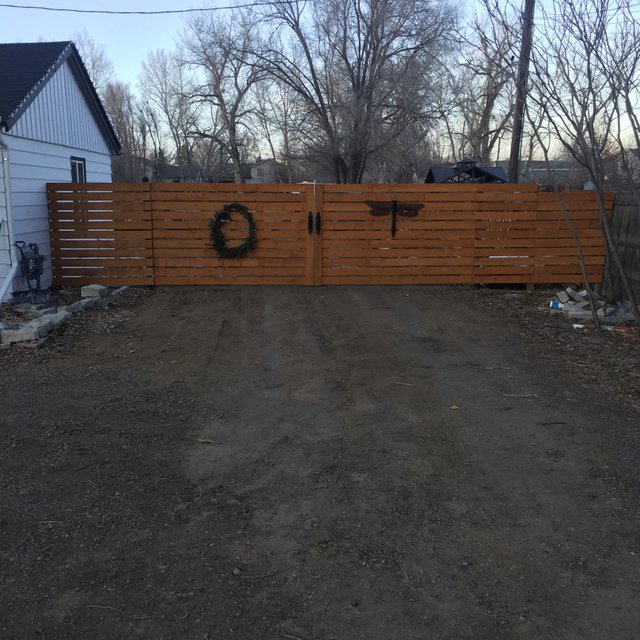 We moved into our new place in May after 2 years of trying to find something that wasn't just the regular house butted up to our neighbors in the suburbs but that wasn't so far out of town that Rob's commute would be painful. Rushed after our daughter was born and tightened timelines for getting out of our previous home pushed us to make a decision and we did. As often seems the case it was out of our budgeted amount but the small apartment downstairs made it feasible.
We ran into loads of problems when we moved in from finding repairs not done that the previous owners had stated they'd do, to the standing eminent domain of the first 10 feet of our property, to hidden permitting problems and the like. After a short stint of trying to take legal action against the issues, we found that it would be prohibitively expensive to pursue. We backed off with clenched fists and pounding hearts.
But with all our projects ahead we felt the need to make the lot more private. We dug a hedge at the front with a short fence behind it.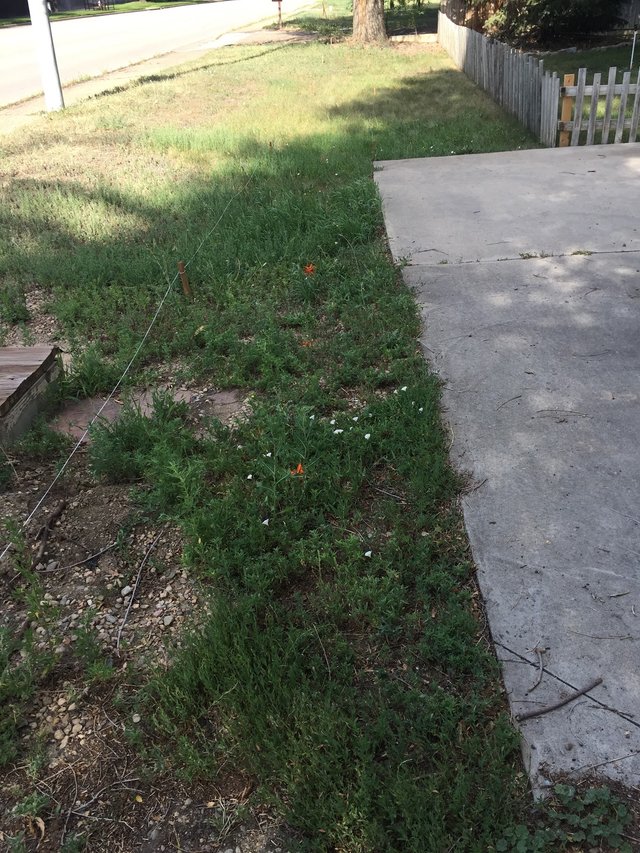 And we planted some very small Green Giant Arborvitae. I had done some research and figured they'd grow fast into the sheared hedge I'm imagining here in the future. We spent 75$ on 25 or so plants so they are "small," like probably won't make it small. I had budgeted for a bit over a thousand dollars for some decent sized shrubs. We'll see if we need to supplement next summer if we don't see growth.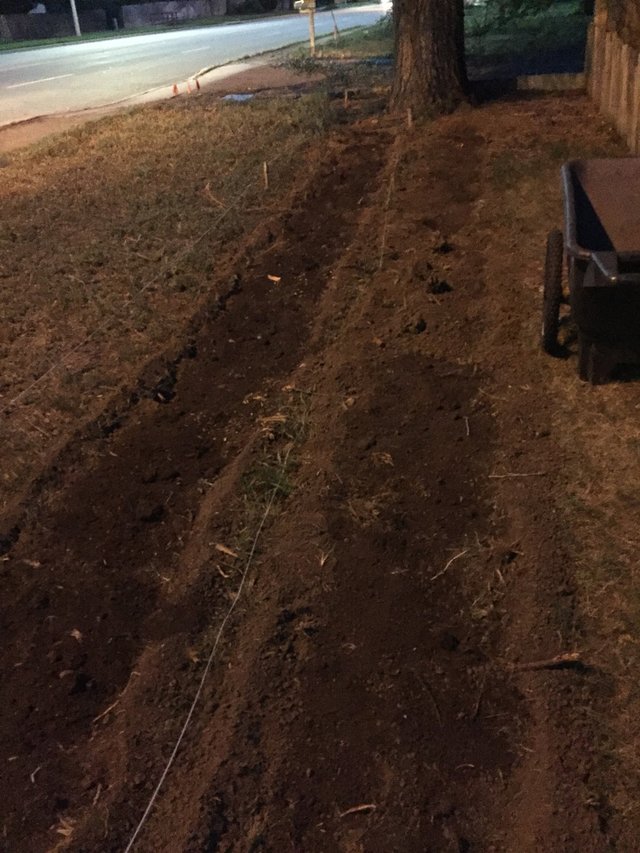 And after all that we began short order on the gate. We got a quote for $2800 but it wasn't gonna look the way we wanted. So of course we decided to build it ourselves. We have a shop now so it makes sense. I took measurements with lots of research on how to actually take correct measurements… I'm now very thankful I paid attention in Geometry class but it still took relearning. From there I drew up some rough plans: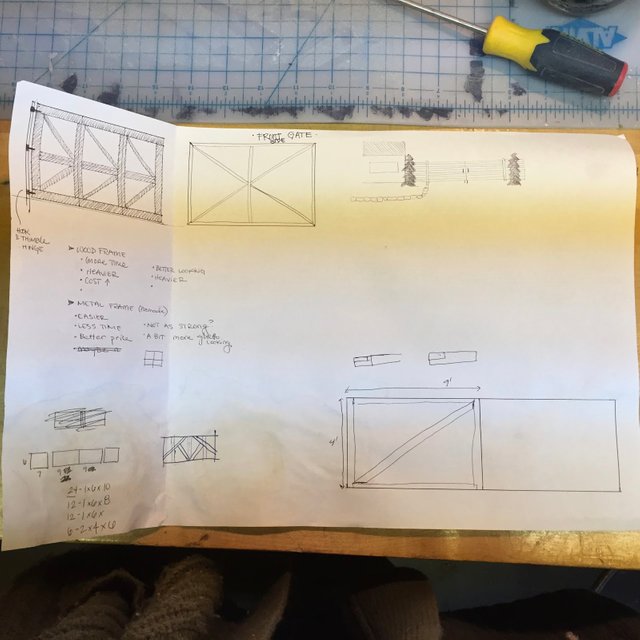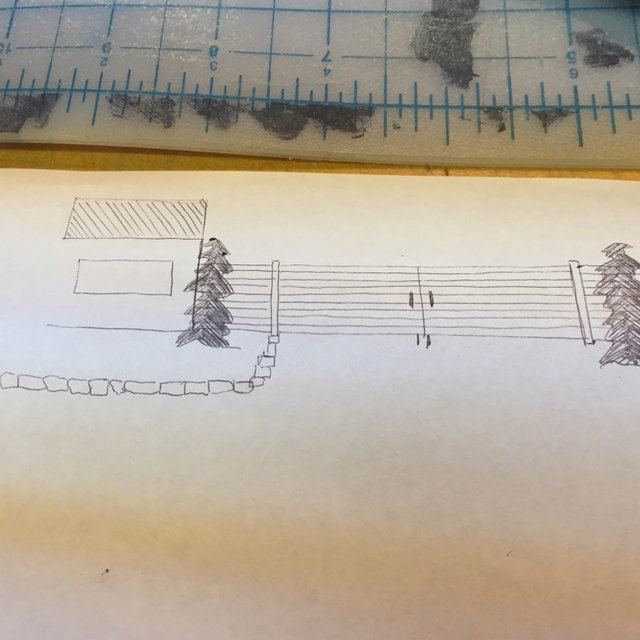 I wanted a horizontal gate, just felt like the kind of stuff you see pinned on Pinterest. Makes it beautiful.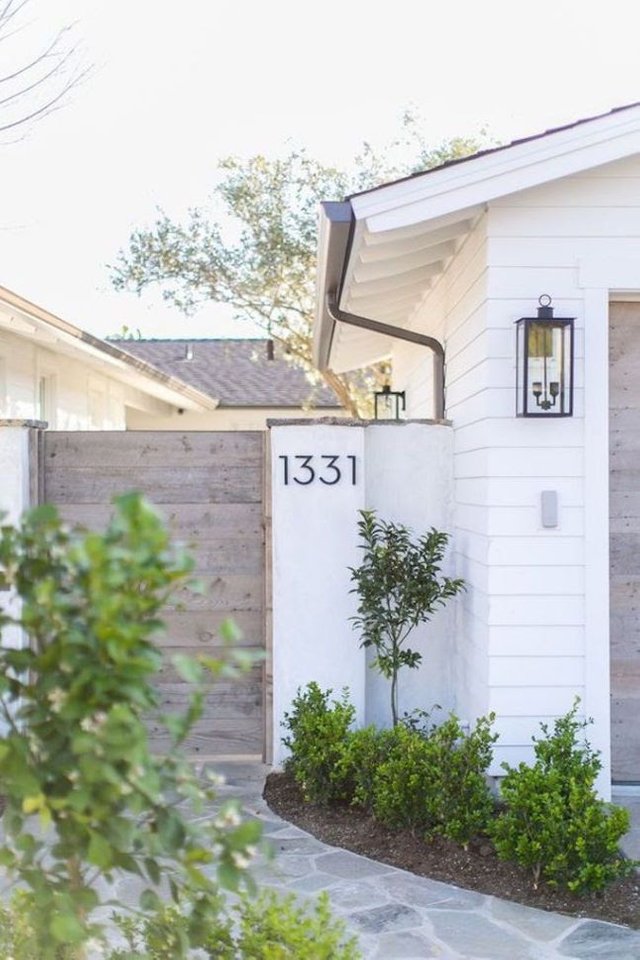 Apparently this is a Kelly Knutt Design, (The photo links to Becki Owens' site where she shared a photo of the design). And I'm in love with the soft whites and wood tones of the style, and that white exterior stucco work too. But our home doesn't really fit with the stucco work theme. Either way the fence they used is the horizontal slats I was looking for.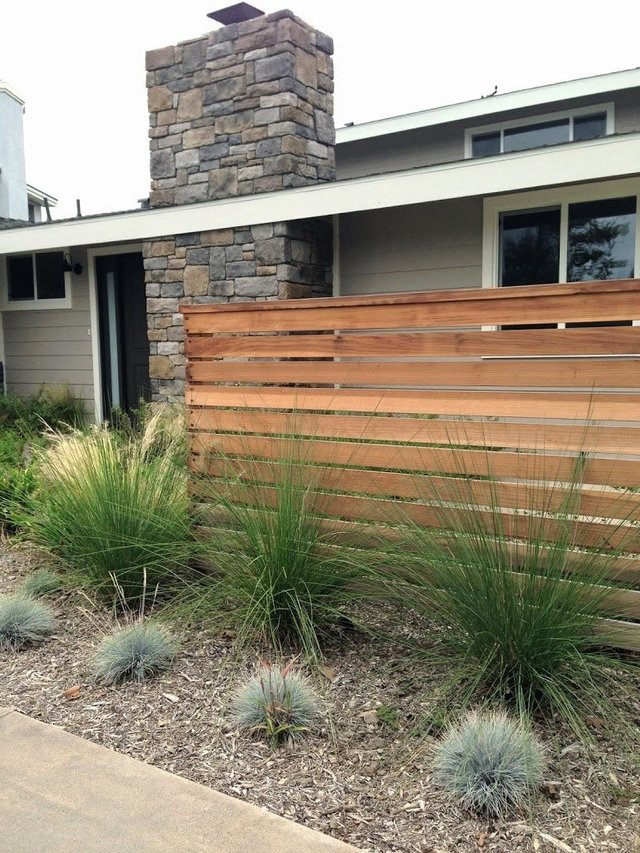 Another gorgeous home with some amazing landscaping. I'm going for these looks. Thanks for the inspiration, Greige Design. Their home for the Rossmoor's doesn't have enough wood for my taste but I appreciate the soft comfortable feeling the clean whites give me. I'm just a bit more funky I guess.
And I read through a few tutorials about how to do it, like this one from Dunn Lumber: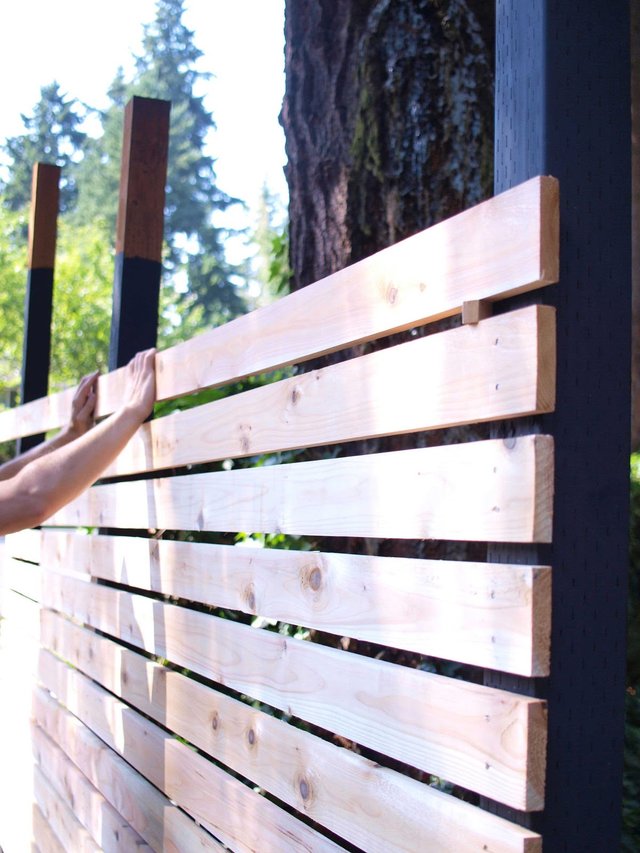 There are so many resources online that I bet I spent a day or more doing this research, mixed into other things like writing or plant research or whatever comes up when you get dragged into the online world. But hey, that's where I come to meet you right? It's not all bad, If it's balanced with the doing.
Other images are harder to source, like this one of another horizontal slat fence.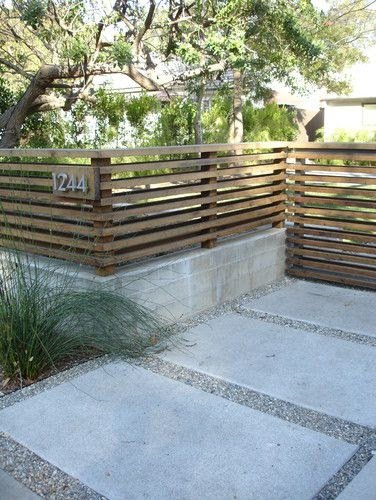 I appreciated the inspiration from these and others who's work in sharing their projects and ideas have benefited me. I know how much effort has to go into the balance of both creation and sharing it too. This is beautiful stuff and I read once that it's a good idea to make the world you live in beautiful. It makes living in it that much more enjoyable when you think you're life has magic and the people and things in it too.
After the inspiration research and then drawings I had to come up with the material list. How much were we gonna need? Again, math, and I never liked math. But I've learned it's a wonderful tool.
With calculations made I first scouted materials at my local "Resource Central." I work there part time and I love the place, I'm a trash junkie I guess. I love reuse. There are so many beautiful things that have lasted the test of time and are available for reuse. Makes we wish city politics didn't get in the way sometimes though. Often what comes into the yard is what drives my idea for the next project and how it will turn out. Myself and others included have been bewitched by the magic of this place. Ask and you shall receive, sometimes when you least expect it. I'll have to take you there sometime.
I even looked at their gate for inspiration.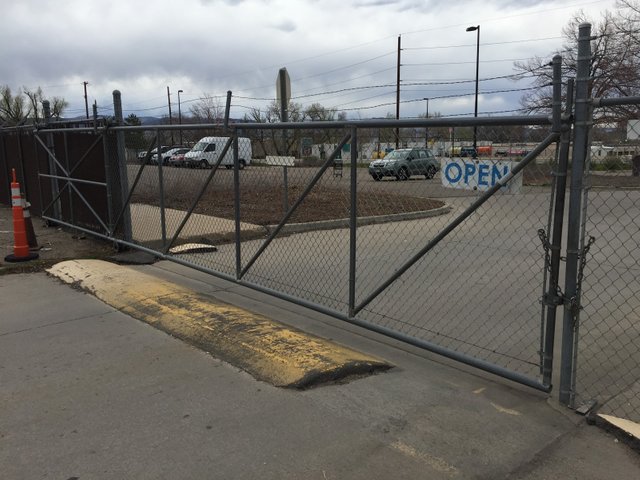 I found some 4" or 5" galvanized steel pipes from Resource and some heavy duty hardware,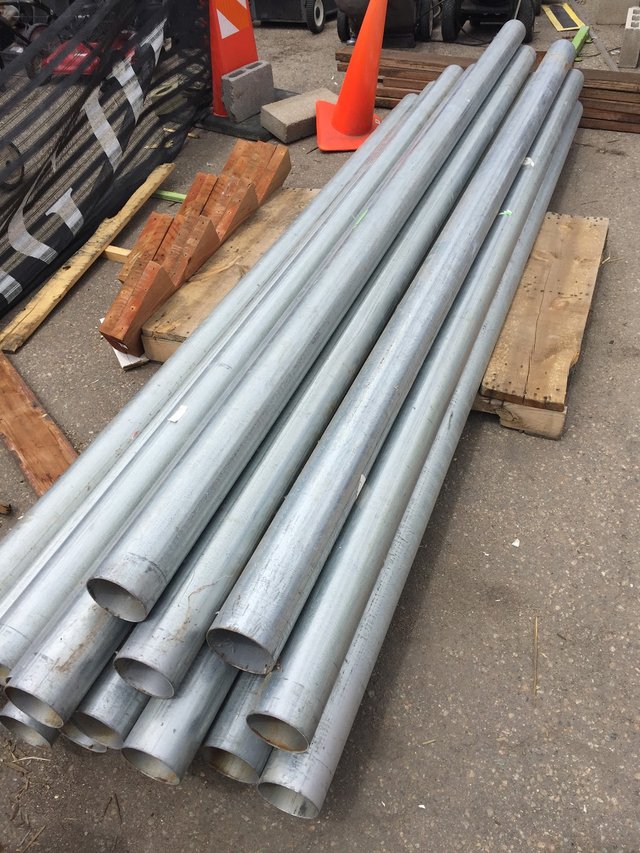 and these gorgeous blacksmithed handles.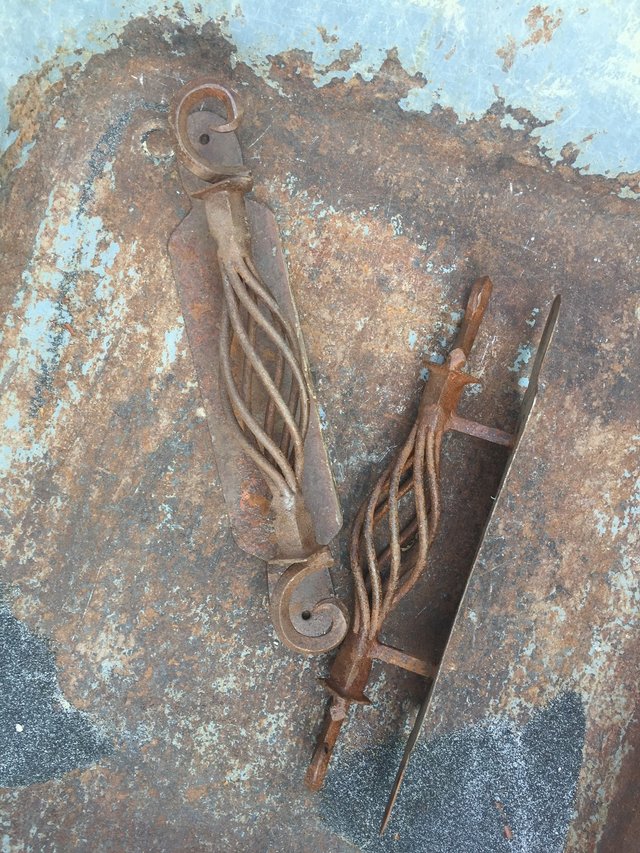 The rest of the lumber came from Home Depot. I haven't found a good lumber shop around that has the same competitive prices. On rough pine I have a great source at United Wood Products off the Diagonal. But for good cedar fence boards the box store is the way and I appreciate it for that. My mind wonders into the idea of opening my own wood lot and I have to reel it back in. We are building a fence here!
This first picture gives you an idea of what everyone passing by on our busy street could see, the chaos of project building. I prefer to be anonymous. Probably picked that up from Rob, hence his dislike of being in photos. But I'm the picture taker and someone has to be standing there.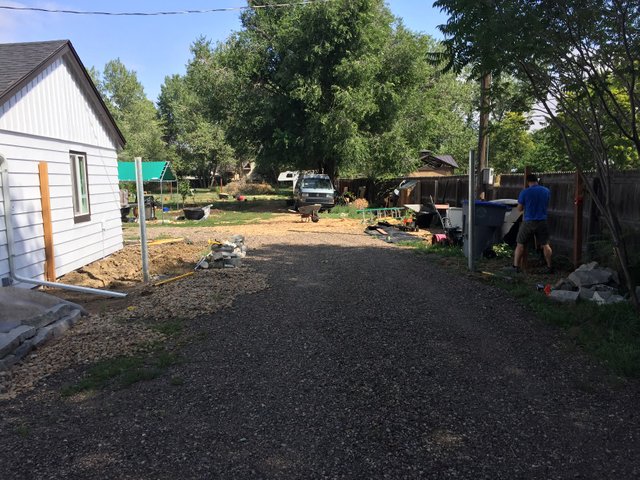 Rob took control of the gate building on this project and did a superb job of interpreting my drawings and flowing with what seemed to be the right way to do things. We watched some YouTube videos too of course. And I know that we learned a lot from Paul Ricalde's video "Build a 12 ft Gate that Will Not SAG!" His video is really helpful for the construction of the gate structure and we followed a lot of his direction on that front.
But ultimately we had to figure it out ourselves with our own tools. I've learned to go with Rob's flows on that and it really works out well. Even for projects we've never attempted before. Are there errors, hell yeah. But we've learned to fix them, work around them, or just plain except them. "Go with the flow," is really the best way to put it.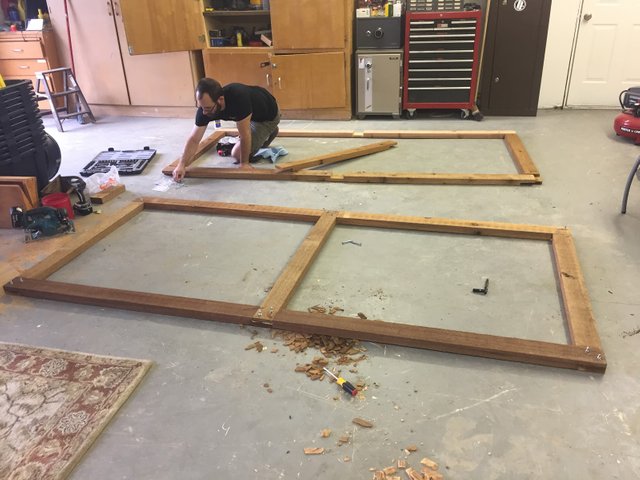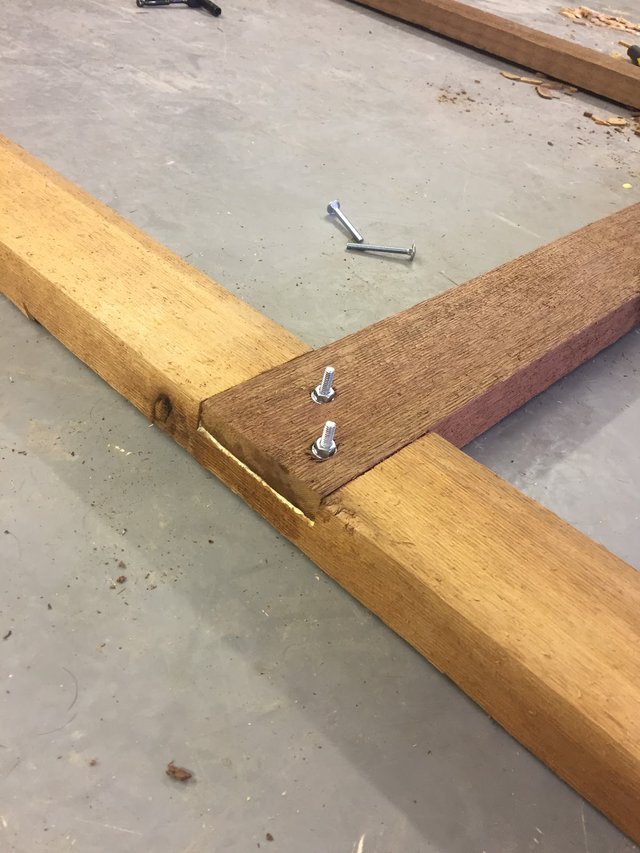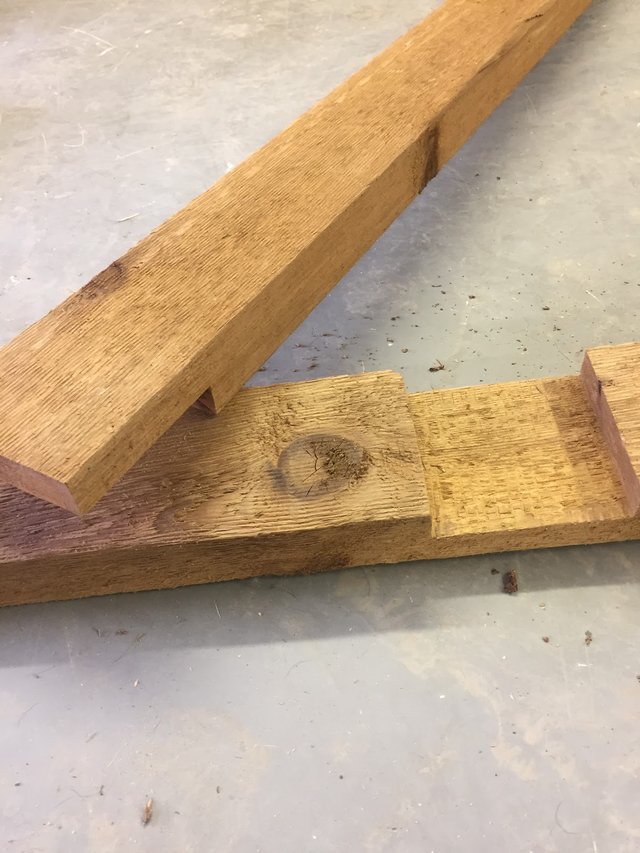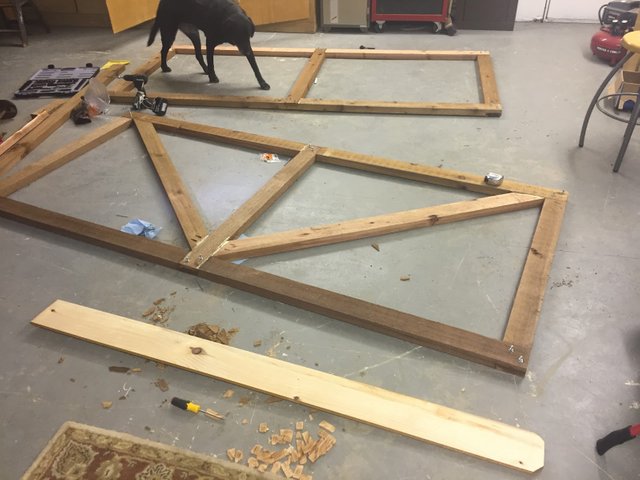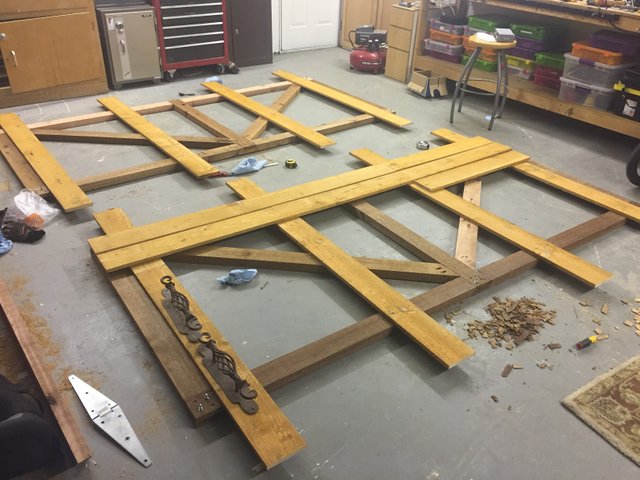 I know there's not much explanation to that but directions aren't my specialty I have too many other directions to head. There are tons of amazing woodworking blogs out there but for now I'd go to them for ideas on how to do the work, we literally made this up from watching a bunch of videos and looking at pictures we liked.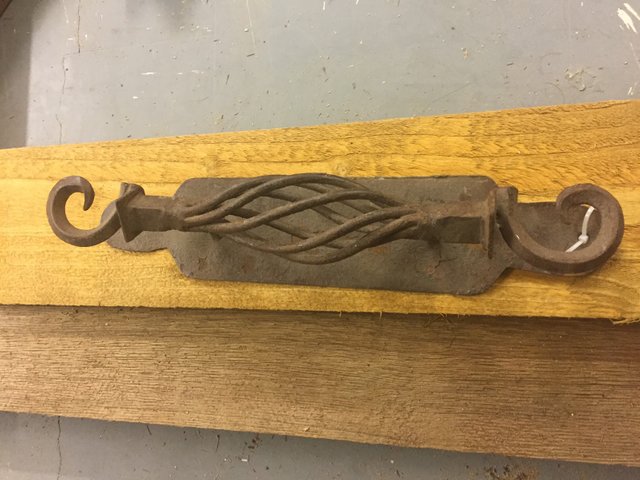 The beautiful handles that I've held onto for a while, (I didn't know how I was going to use them until the project began, but sometimes when you see something at the 'source you just gotta get it and save it for later).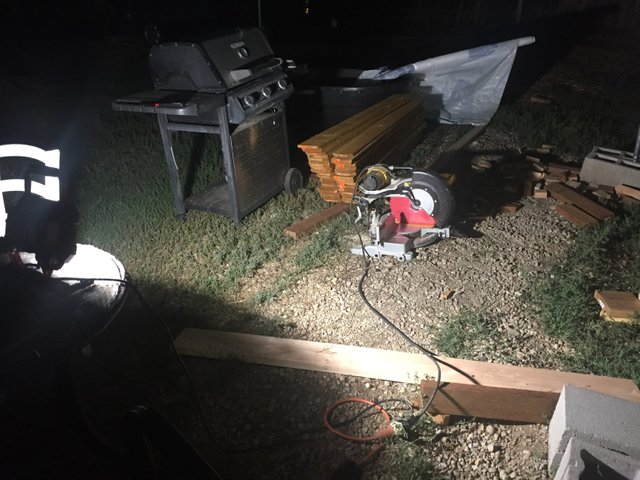 It was summer so working into the night isn't a problem, except this year was very mosquito-y.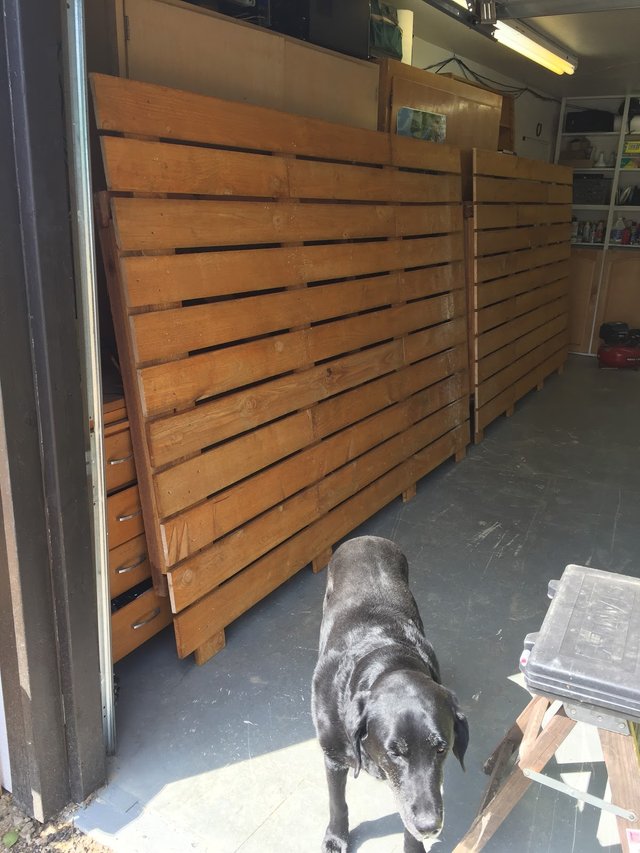 These are the gates built in the garage and waiting to go up. Trillium is an "inside dog" she prefers to be inside so when we do outside work we make her hang outdoors for a bit.
Rob digging holes for our posts. My shoulders got f'd up this year digging so many holes and moving so much mulch, but Rob's are going just fine. It feels too early to feel the aches of our bodies in our early 30s. Is this what we have to look forward too? Is this what everyone had to look forward to, always?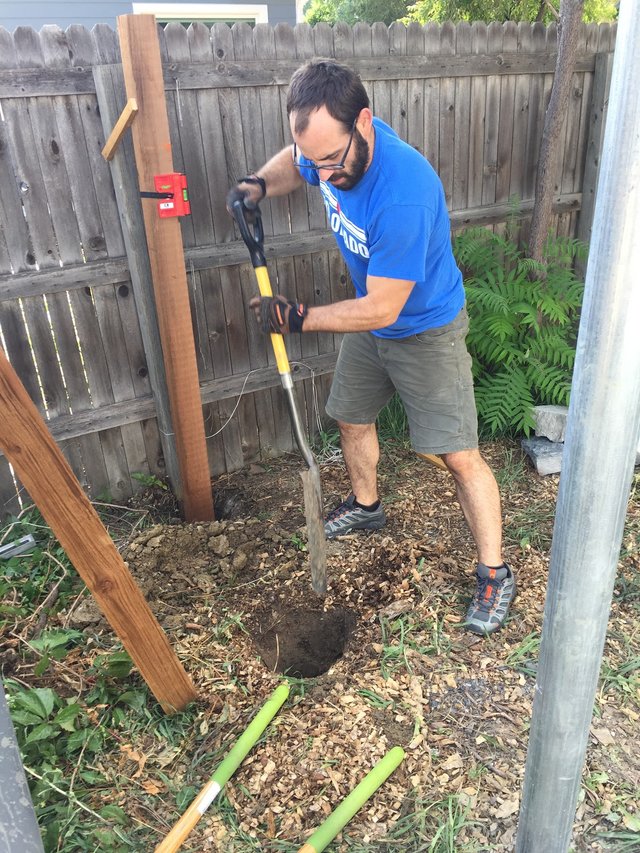 Here's that view of all the posts going in to block the driveway.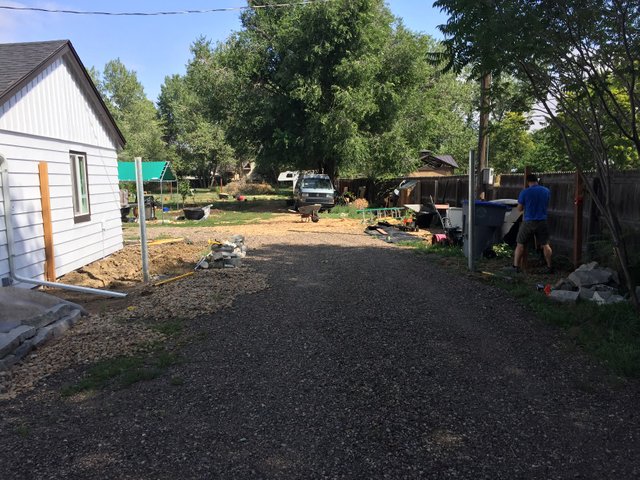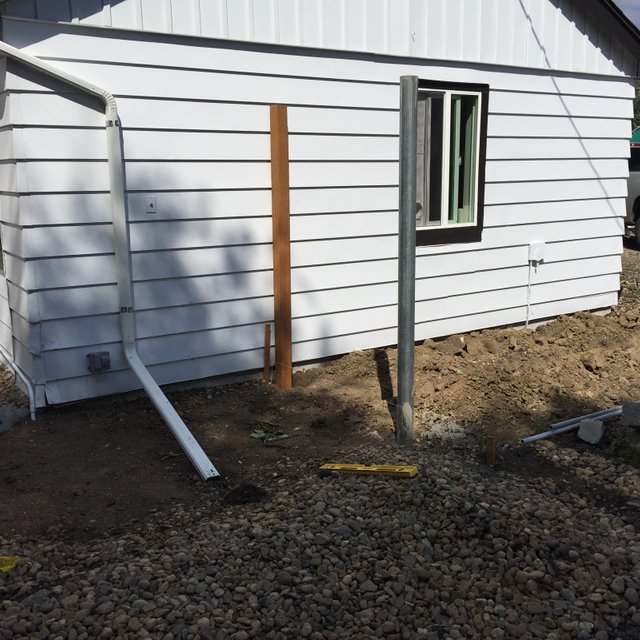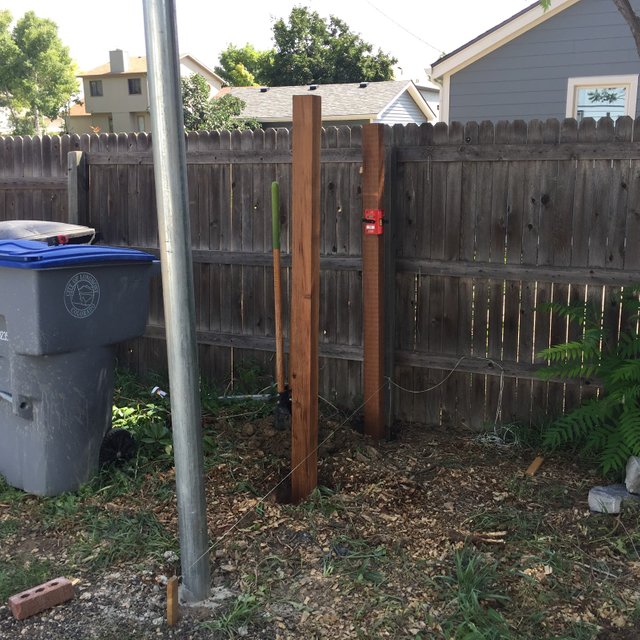 Rob mixing concrete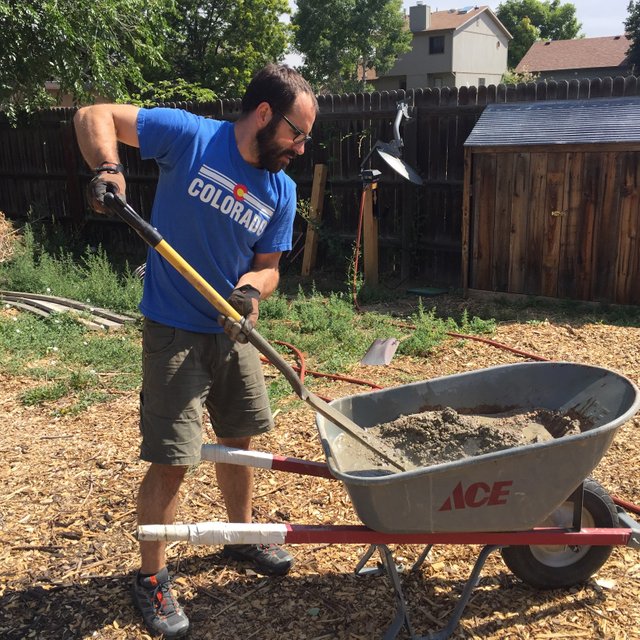 Putting the first gate up, Rob propped it on other lumber and took the level to it. There are a lot of steps to building a gate like this.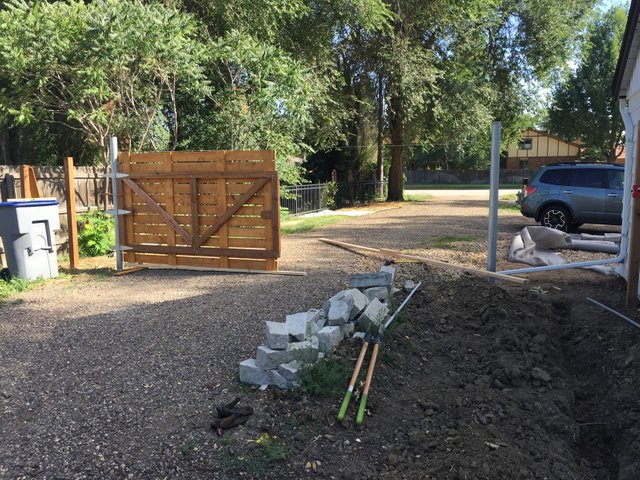 Rob did the welding of the hardware to the galvanized poles (Don't have a heart attack, we ground off the coating, used masks, and were outdoors).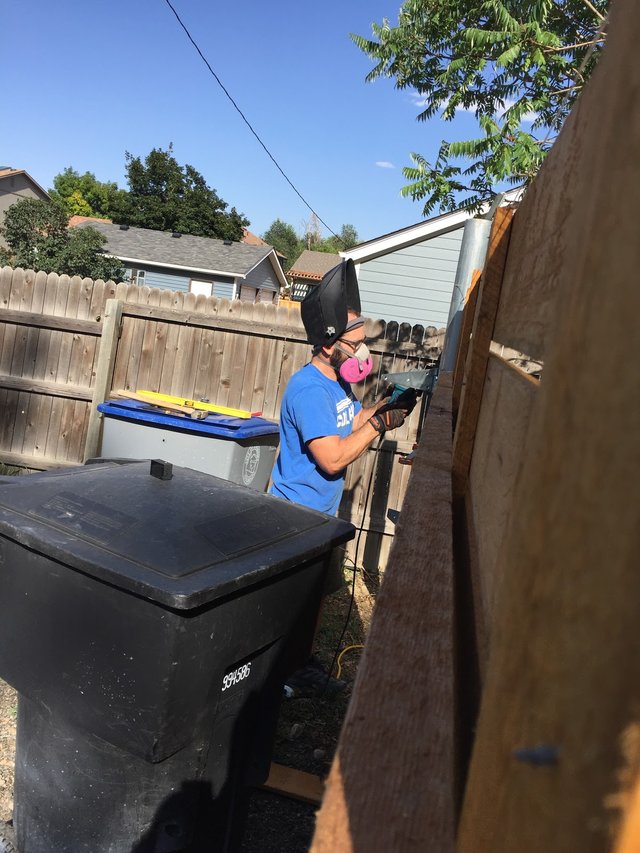 Both gates up! It was pretty exciting to see this.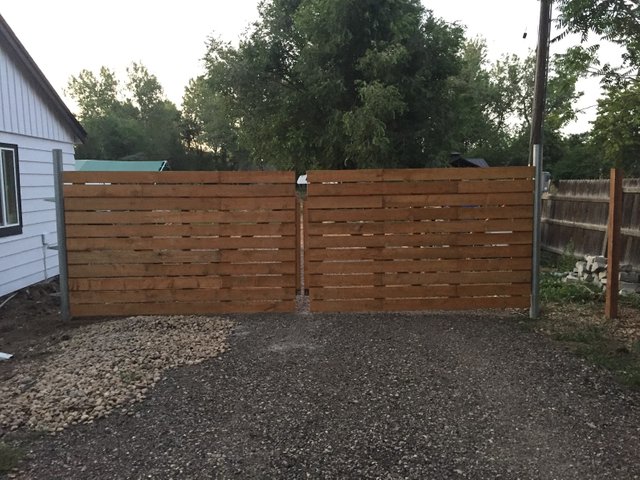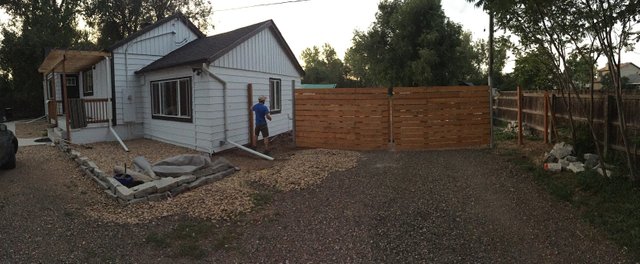 Then we "simply" had to put up the fence slats. Keeping things level can be tricky.
There were discrepancies of course. This was our first gate ever.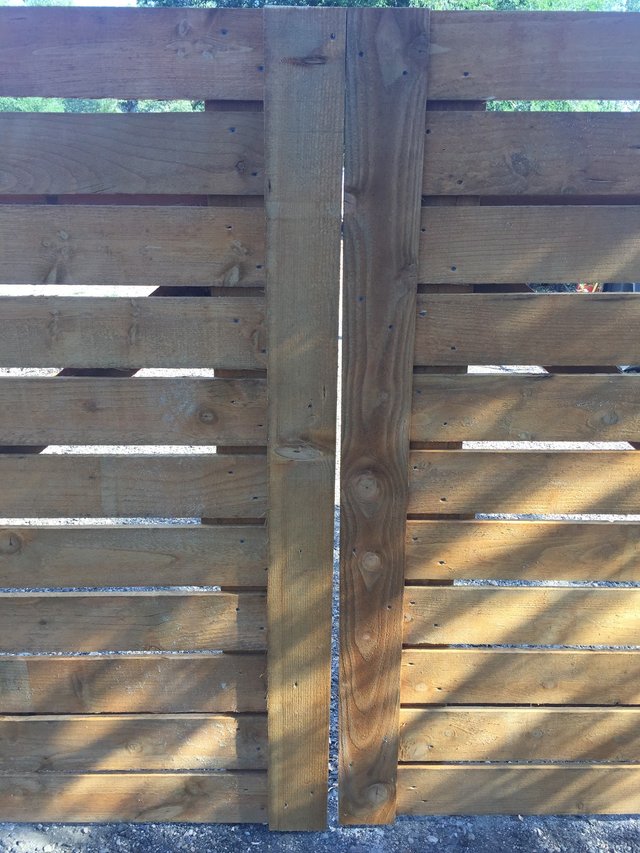 We fixed the discrepancies with some new screw placements, and now you can't really tell.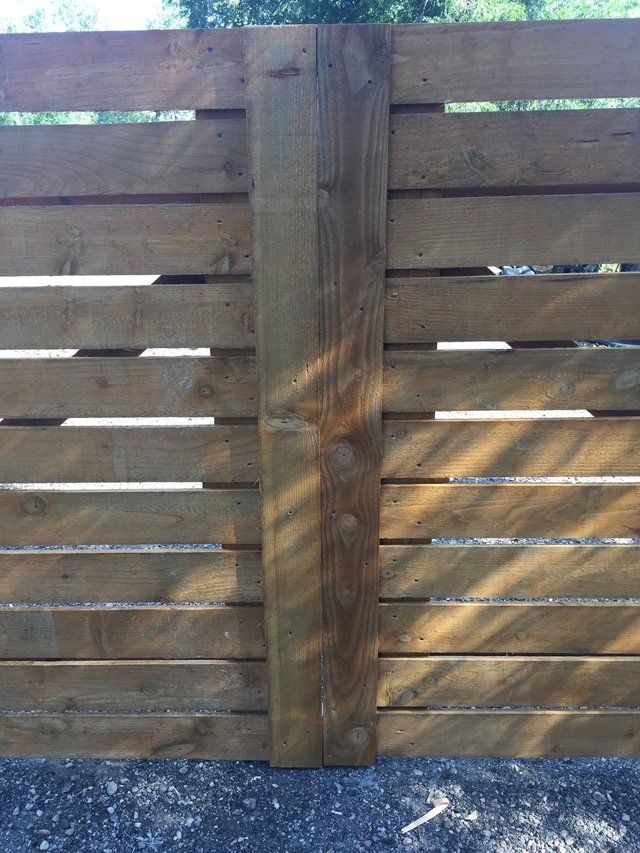 The inside view… it really makes it more private.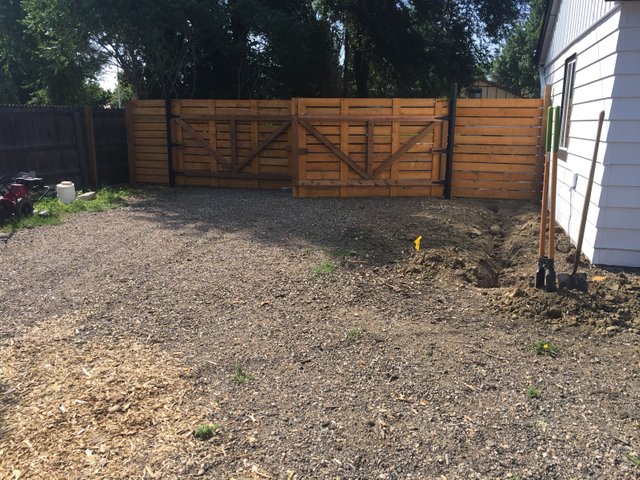 There's those handles again. They were pretty rusty though and not extremely comfortable to grab so I borrowed a friend's sandblaster. They are very enjoyable to use if you have the right protection.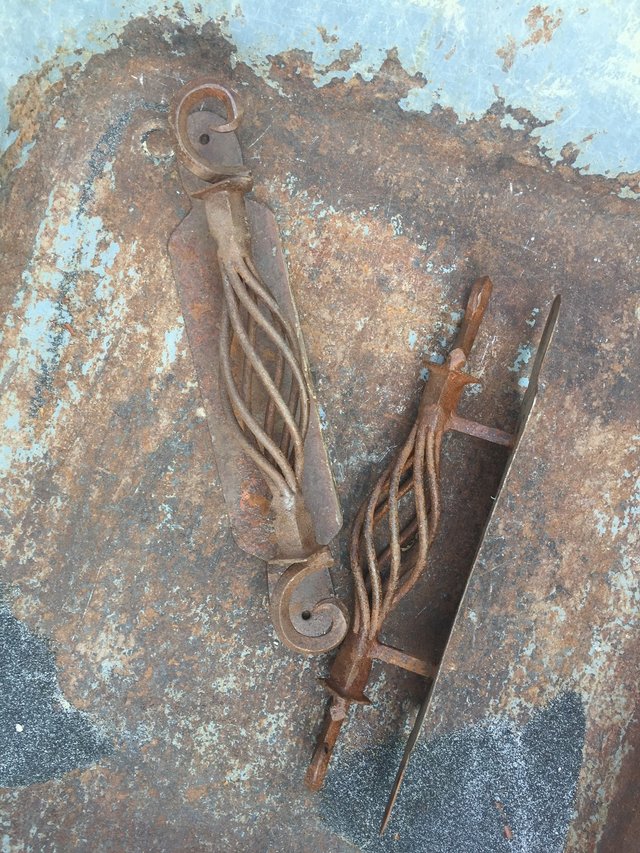 Bezo's helped with this purchase of gate latches. We do use the shit out of Amazon and I'll tell you what. I appreciate Bezo's for changing the world for us. Yes there are things you can love and hate about a person but I, from what I know of the guy, think he did a great thing for mankind. Yes he has too much money but that's his burden to bare. I digress into a philosophical conversation over the sight of a gate latch. Who am I?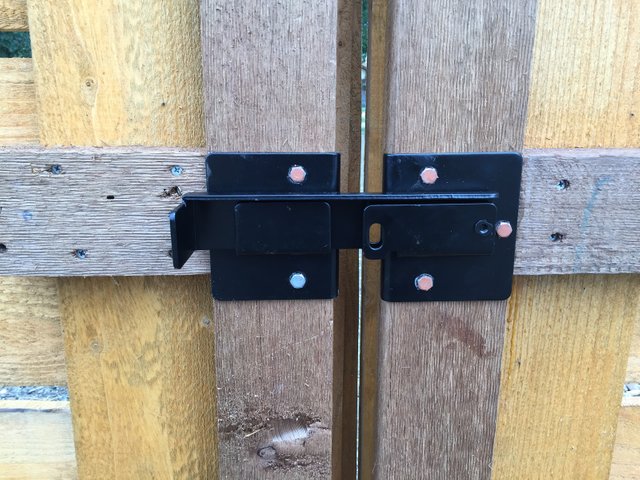 We painted the poles and hinges black after we cleaned them up from the welding and were pretty happy with it.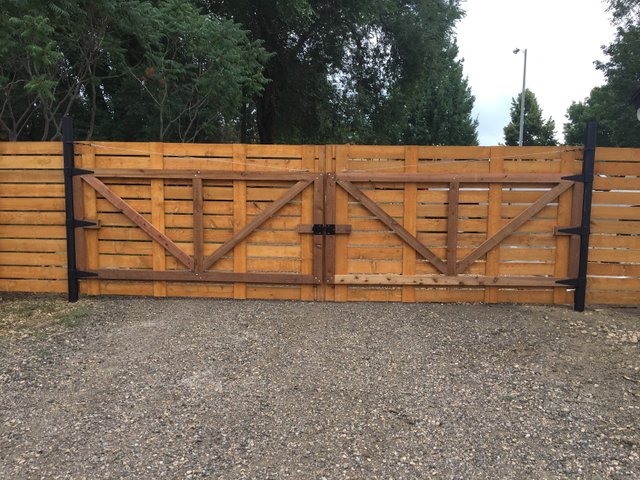 And we painted the sandblasted handles black too. They look brand spanking new. New old.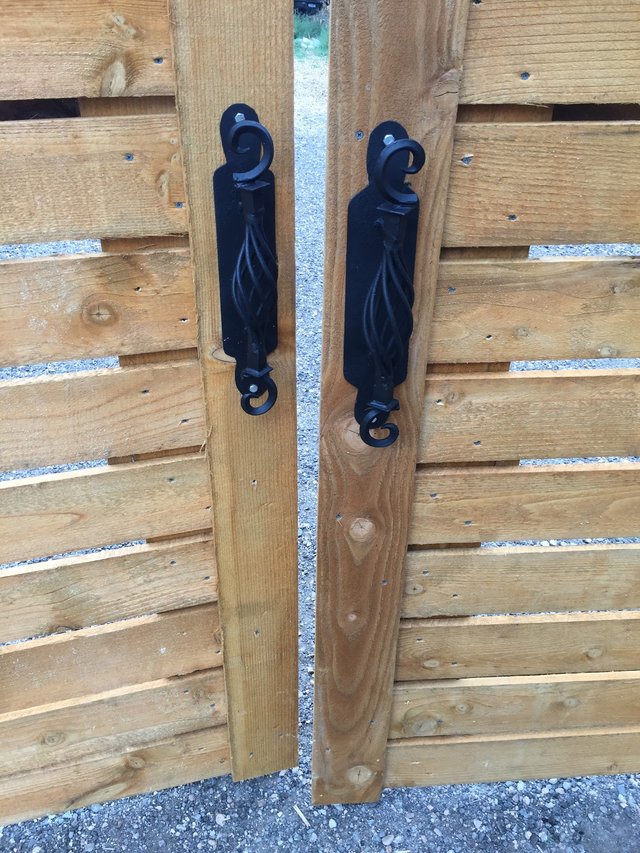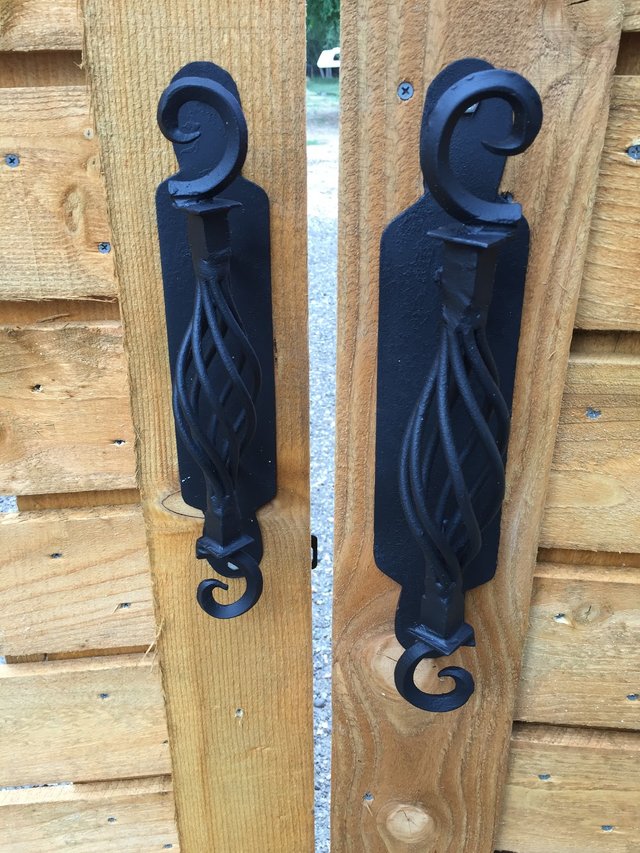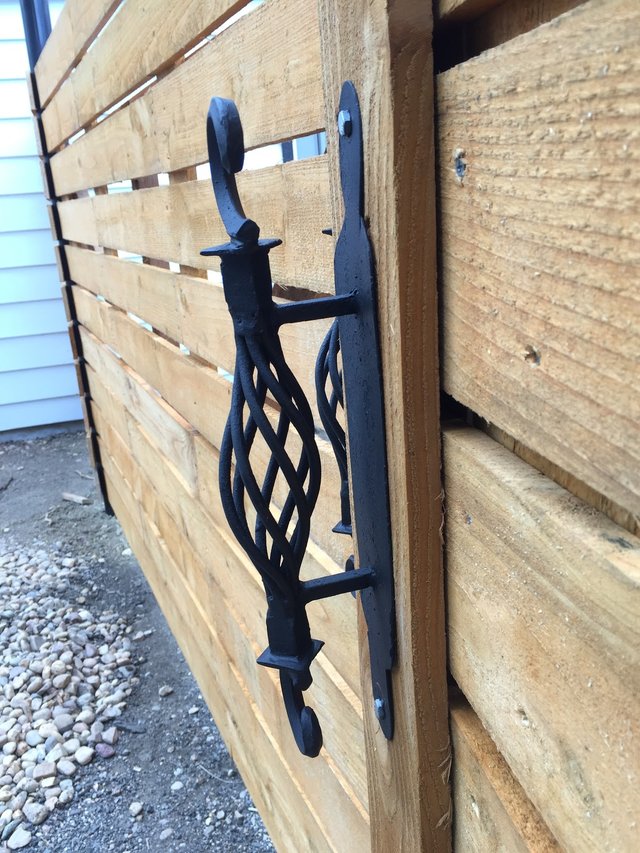 Now a few months later, the gate is holding up great, but the gas company moved our meter and tore up the gravel drive in front of it… so now it's a muddy mess. And I've got some landscaping to do.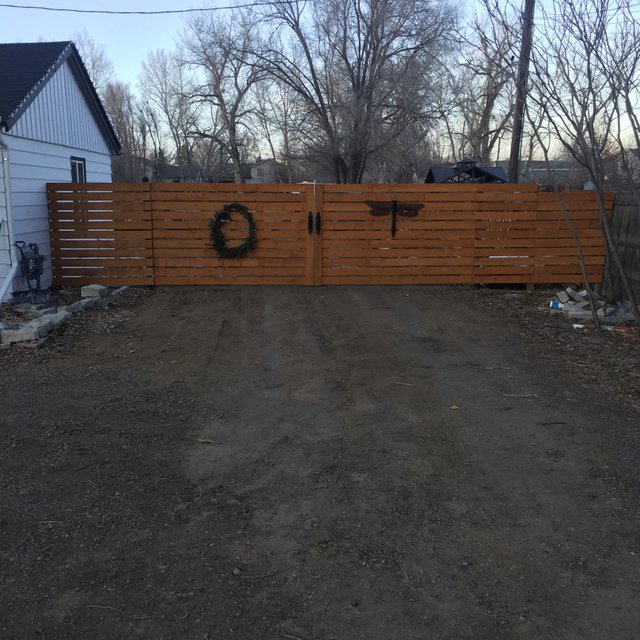 West Side Fence Project:
We finished up the gate and fence on the west side of the house as a pedestrian gate and putting that up made the property feel much more secure and I no longer have to worry about Trill always wanting to be in the front yard.
These are my measurements and plans.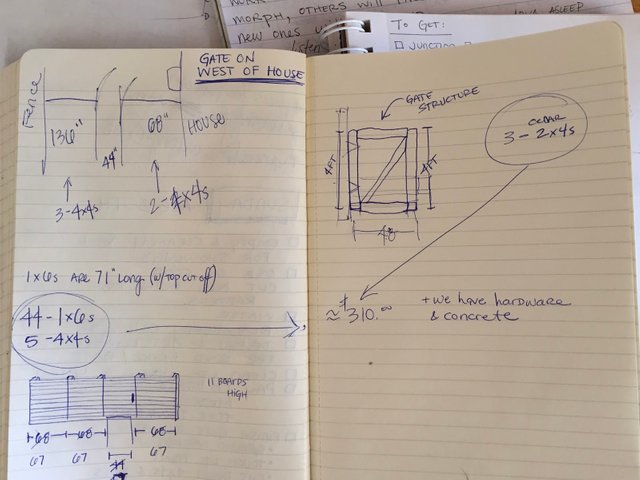 And then we got to work, digging posts, pouring concrete, building the gate, and cutting boards to length. It was easier this time because we knew what we were doing. Sort of.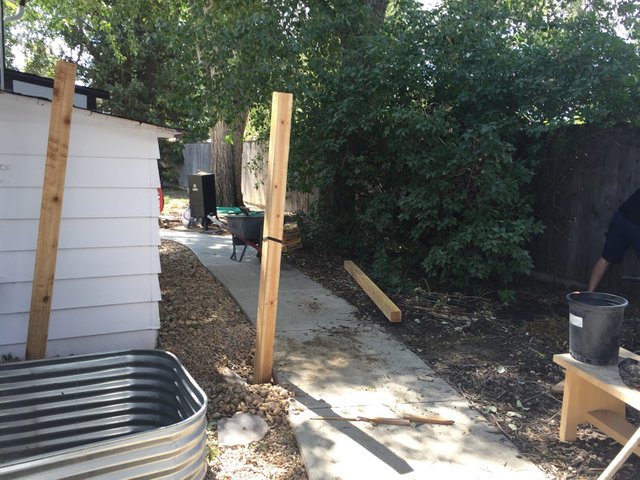 And then we started putting it up.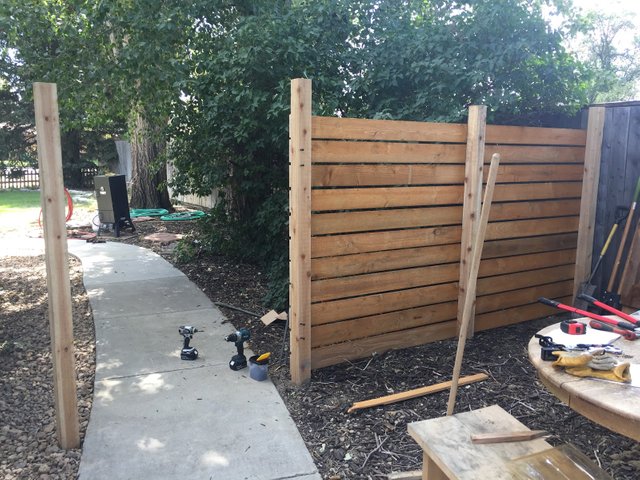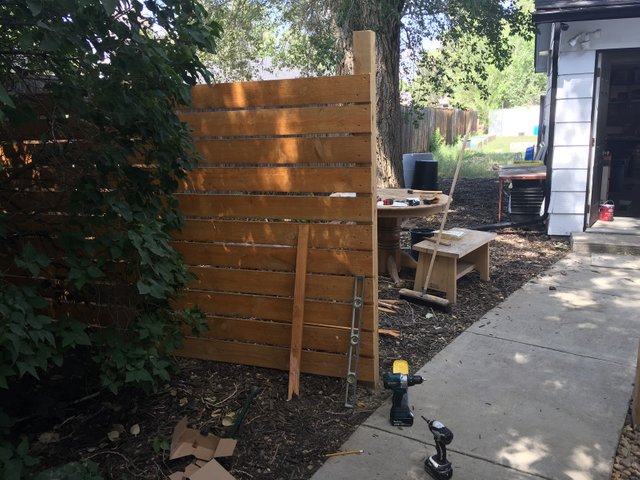 Here's how the side gate turned out.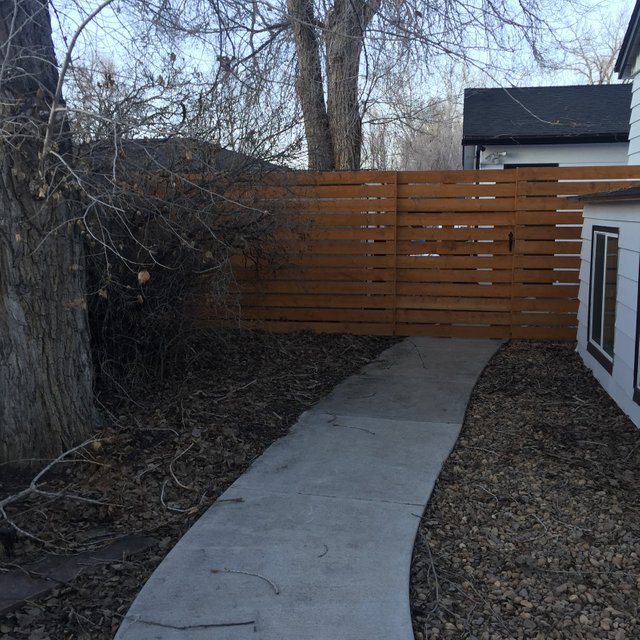 So satisfying.